It was my birthday this week! I love birthdays so much; mine, obviously, but also everyone else's. I mean, it's the day you came into the world, let us celebrate! And as I said in my last post, every day we are alive is a gift, every birthday we celebrate is a blessing, let's have some cake.
My driver's license was set to expire, and so off I went to renew it; there's nothing quite like official government photos to make you aware of your chronic Bitchy Resting Face. This is my BRF in 2016: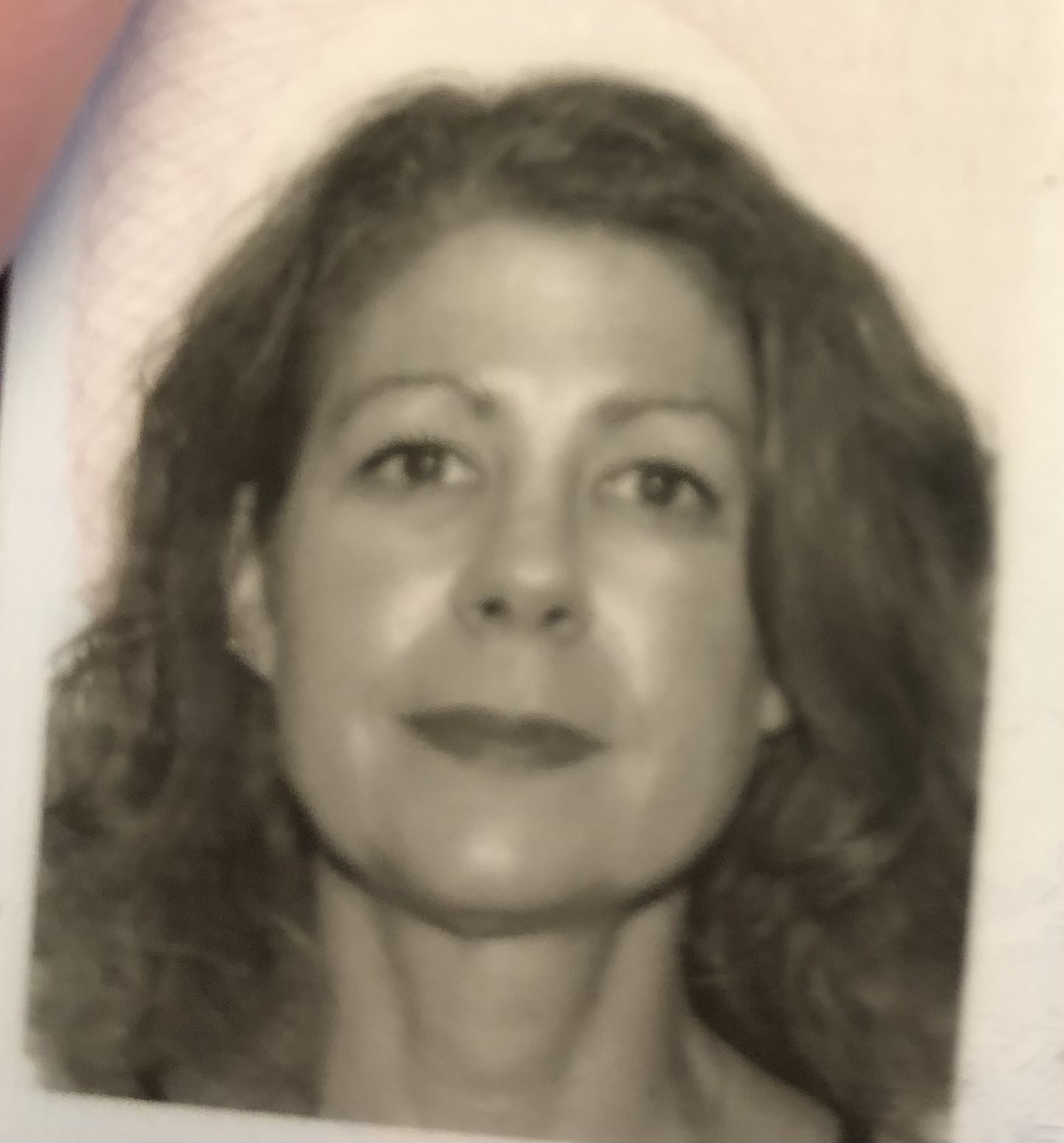 And here's me now: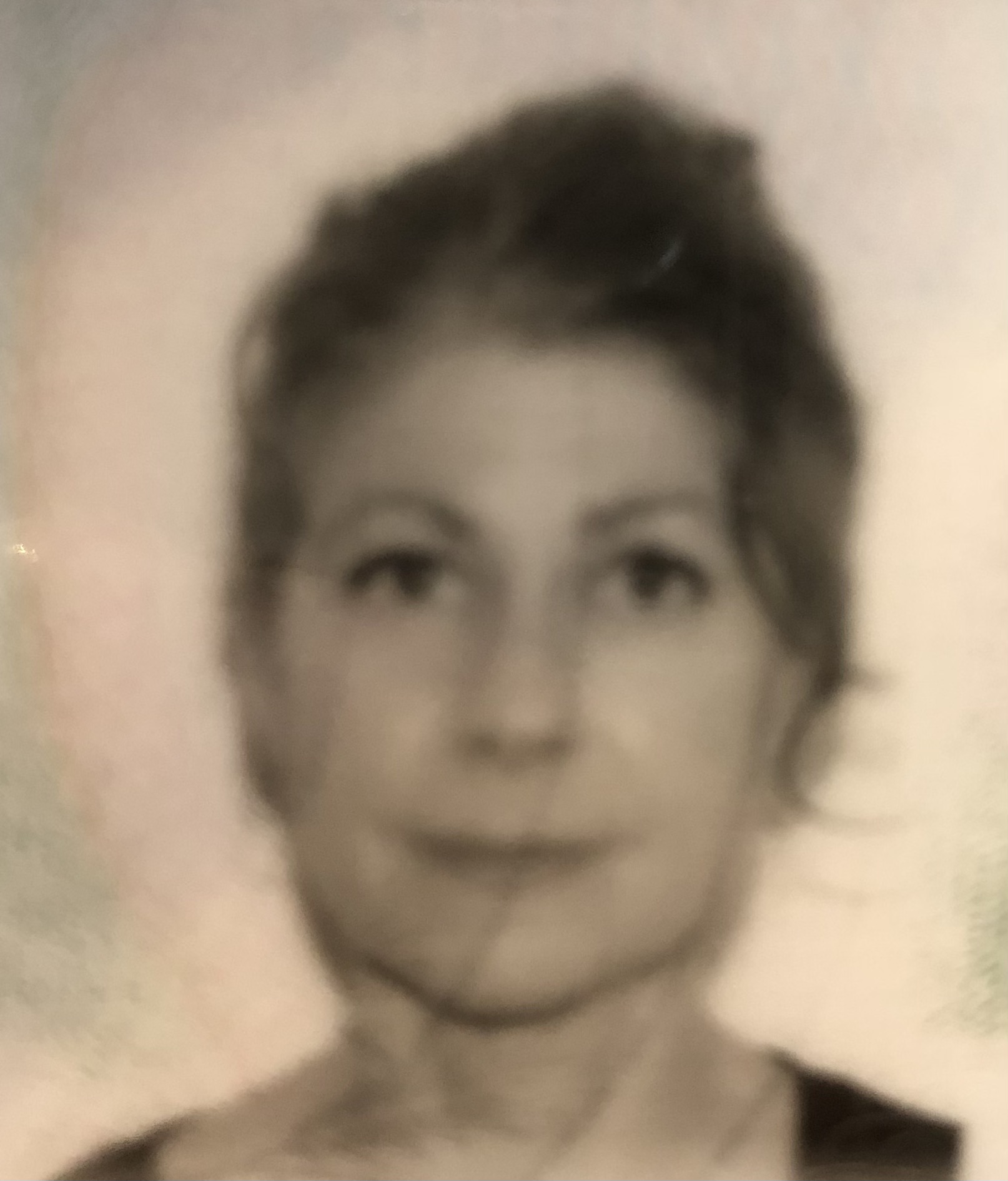 After I turned 40, I really ramped up the skin-care regime; before then I was still breaking out occasionally – acne AND wrinkles, wow, thanks – but in my 40s those pimples finally (FINALLY) stopped (please god, I hope I didn't just give myself bad skin juju, I HAVE DONE MY TIME), and so I focused all my skin-care on products aimed at reducing the physical signs of aging (I will NOT say anti-aging, I will NOT). Here's 2016 me, the non-blurry-official government BRF photo: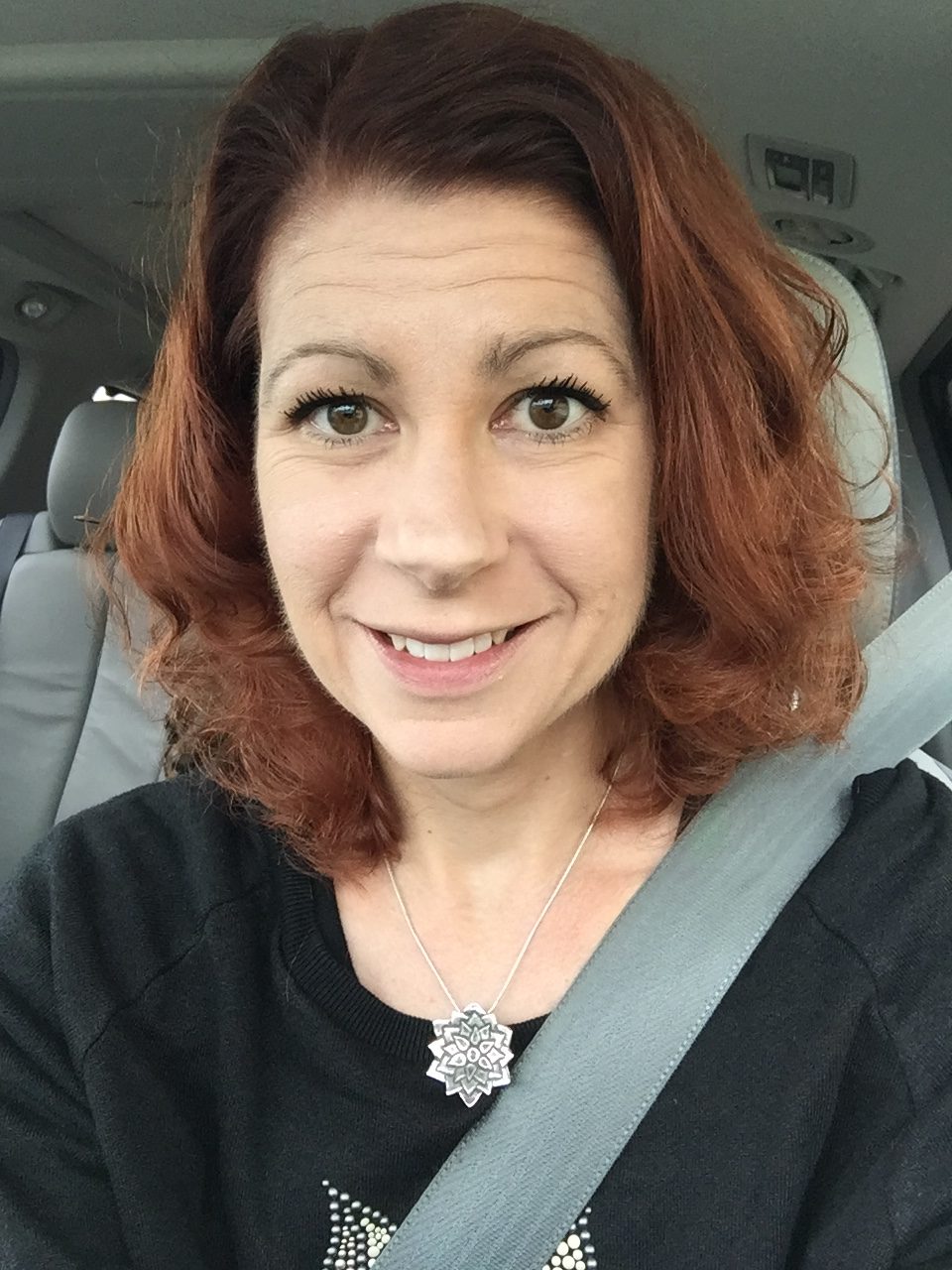 And here's me now: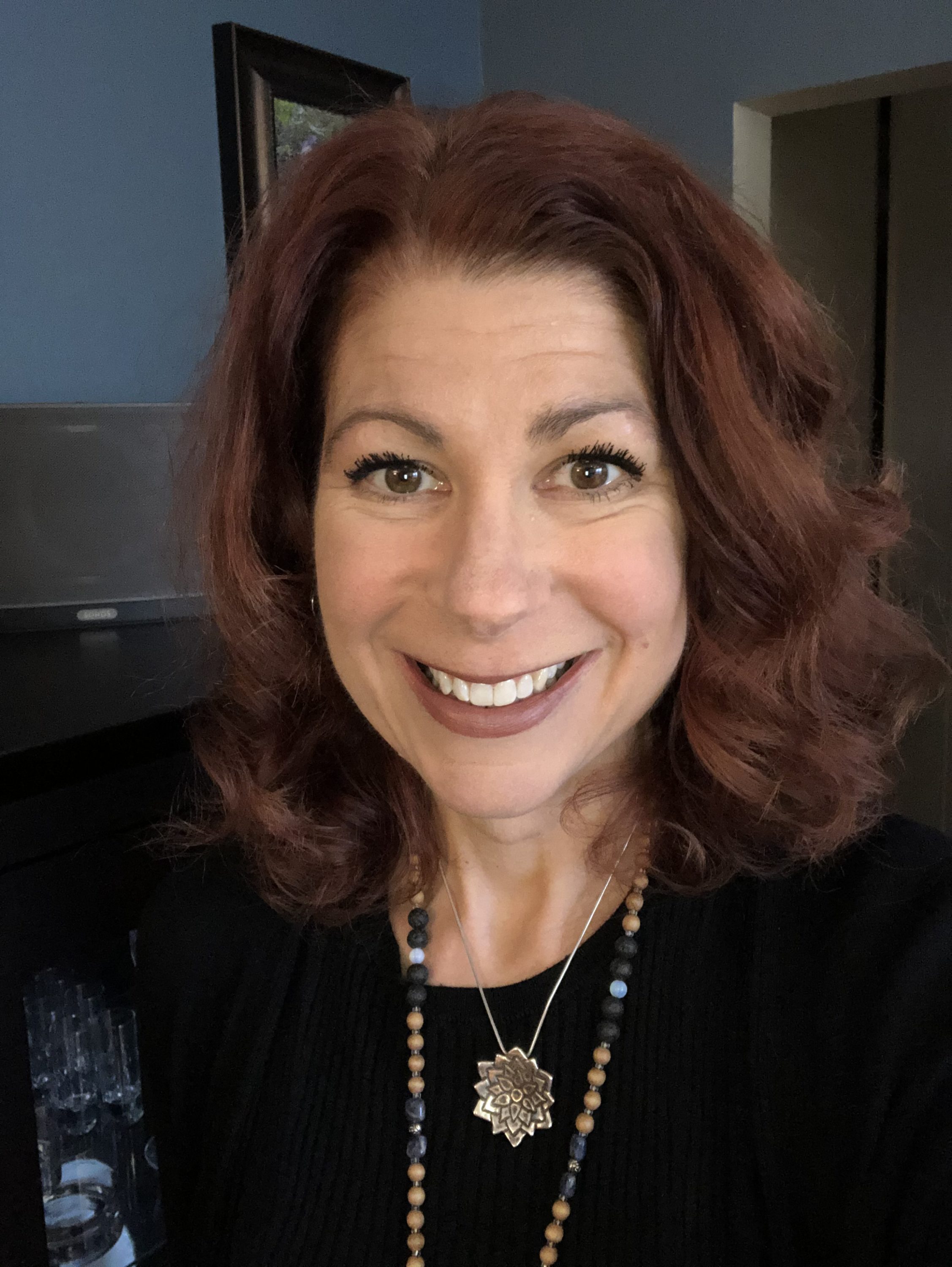 I feel like the regime and products I have been using have definitely slowed the wrinkle roll; I'm not aging BACKWARDS, but I'm also not rapidly spiraling into life as one of those dried-apple dolls. Not yet, anyway. NOT THAT IT MATTERS, WE EARN OUR FACES, AGING IS A GIFT, but you know. I like my moisturizers.
On that note…
Nicole's Favourite Things: The Pro-Aging Skin-Care Edition
You all know me, but in case you're new here, a note: nothing is sponsored, I get nothing for free, Nicole's Favourite Things features items and products that I love and use and paid for. Even though it SEEMS like Neutrogena sponsored this post, they didn't. (Although, that would be nice).
Cleanse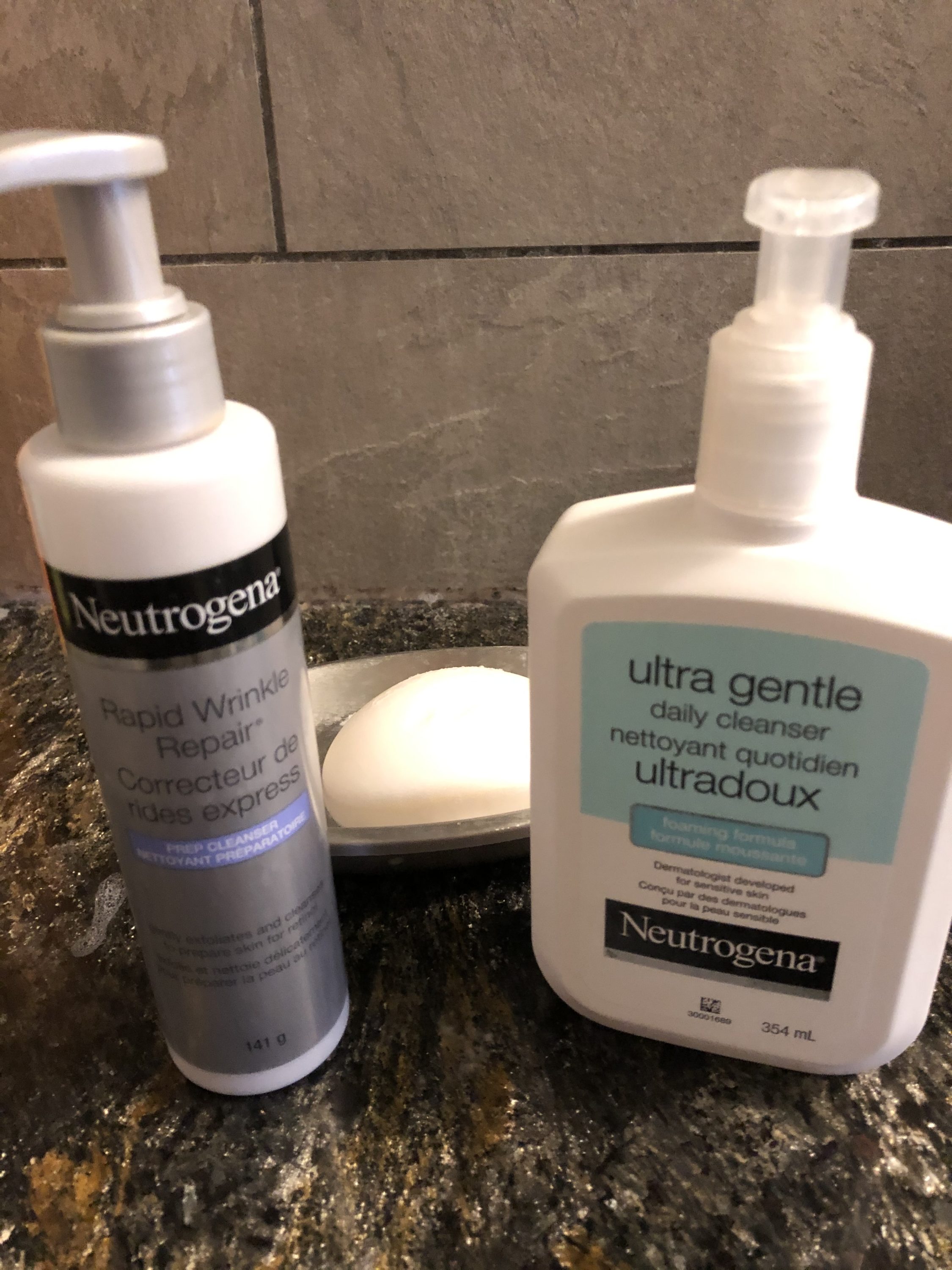 I wash my face three times daily: once when I first wake up, post-workout-in-the-shower, and at night. I am always shocked when I hear people say things like "I didn't remember to remove my makeup before bed" because what. How. Anyway, Dove bar soap with cold water when I wake up, Neutrogena Ultra Gentle Daily Cleanser in the shower (which, heads' up, is more scented than you'd think an "Ultra Gentle" cleanser would be), and Neutrogena Rapid Wrinkle Repair at night. The latter is gently exfoliating and keeps my skin glowy, and it's great for makeup removal.
Good Morning Part One
Since it's generally 4:30 am when I wake up, after washing with Dove and cold water the most I can manage, pre-coffee, is a simple moisturizer: Neutrogena Rapid Tone Repair with SPF 30. This product is really incredible, especially for a woman like me who, as I mentioned before, had acne and wrinkles at the same time. Any leftover red spots or uneven skin tone from said acne is repaired with continuous use. I use SPF 30 at all times of the year because I generally get my daily walk in pre-shower, and you can get sun damage even in the winter, people.
As an aside, it is REALLY hard for me to write the word "acne" in that, I had it. It's funny how that shame just stays with us, isn't it? I could write a whole book on what acne does to a woman's feelings of self-worth and esteem, but for now, I'll just recommend this as an excellent product.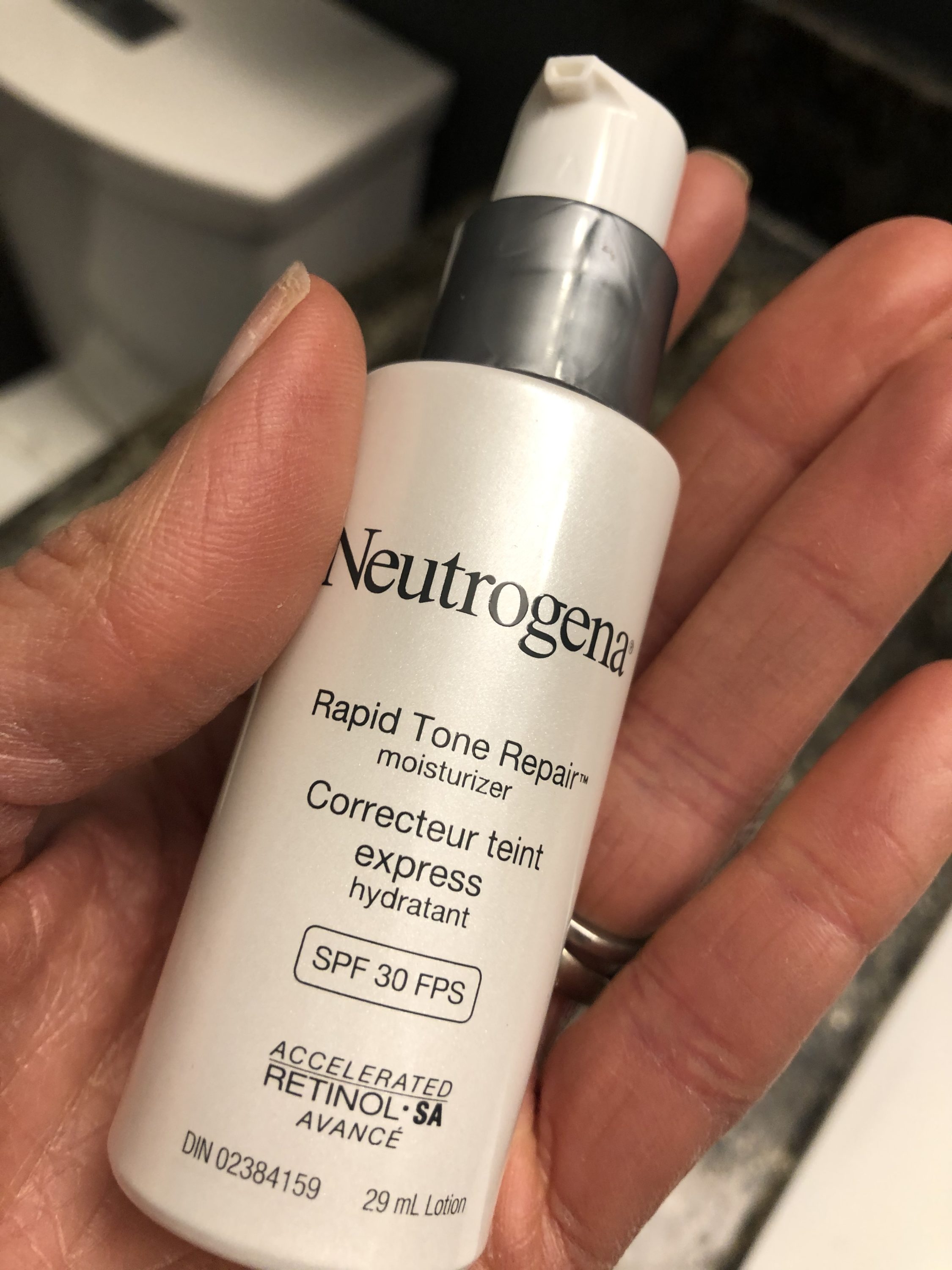 Good Morning Part Two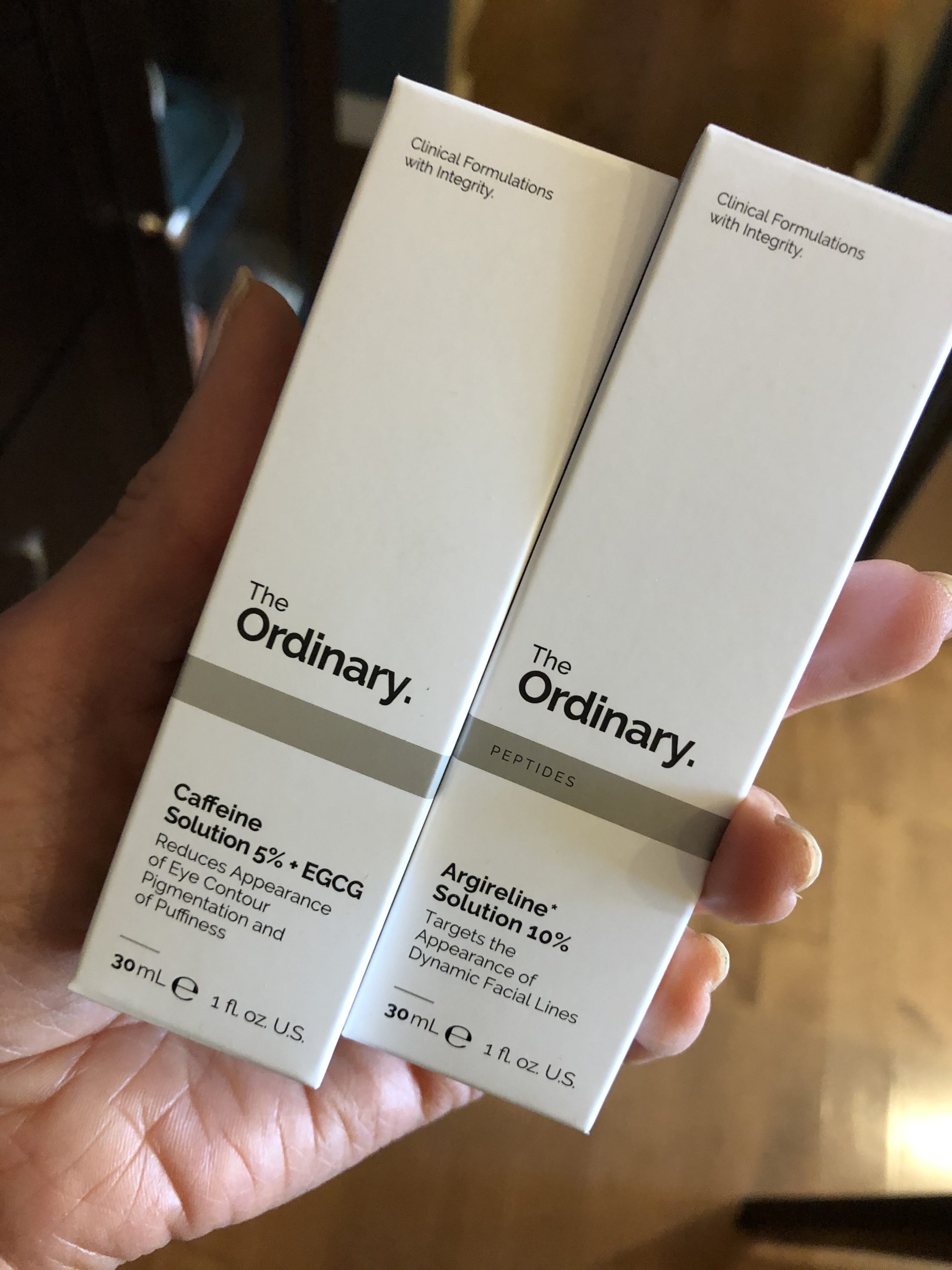 I alluded to these products in my last post: The Ordinary. Fantastic price point – less than $10 per bottle, and each bottle lasts MONTHS – and I think they're effective. The argireline solution is for my forehead furrows (we earn our lines, we earn our lines) and the caffeine solution is for under the eyes to reduce puffiness and dark circles. Post-shower-and-gentle-foaming-cleanser, these two are the first things I apply.
Sun Protection, Yes, Even In Calgary
After using The Ordinary, I apply a BB Cream with SPF; I have been a fan of Smashbox for years, but they are DISCONTINUED, WHAT EVEN, and so as soon as I squeeze the last drop out of this tube, I am going to try this new product, from It called Your Skin But Better: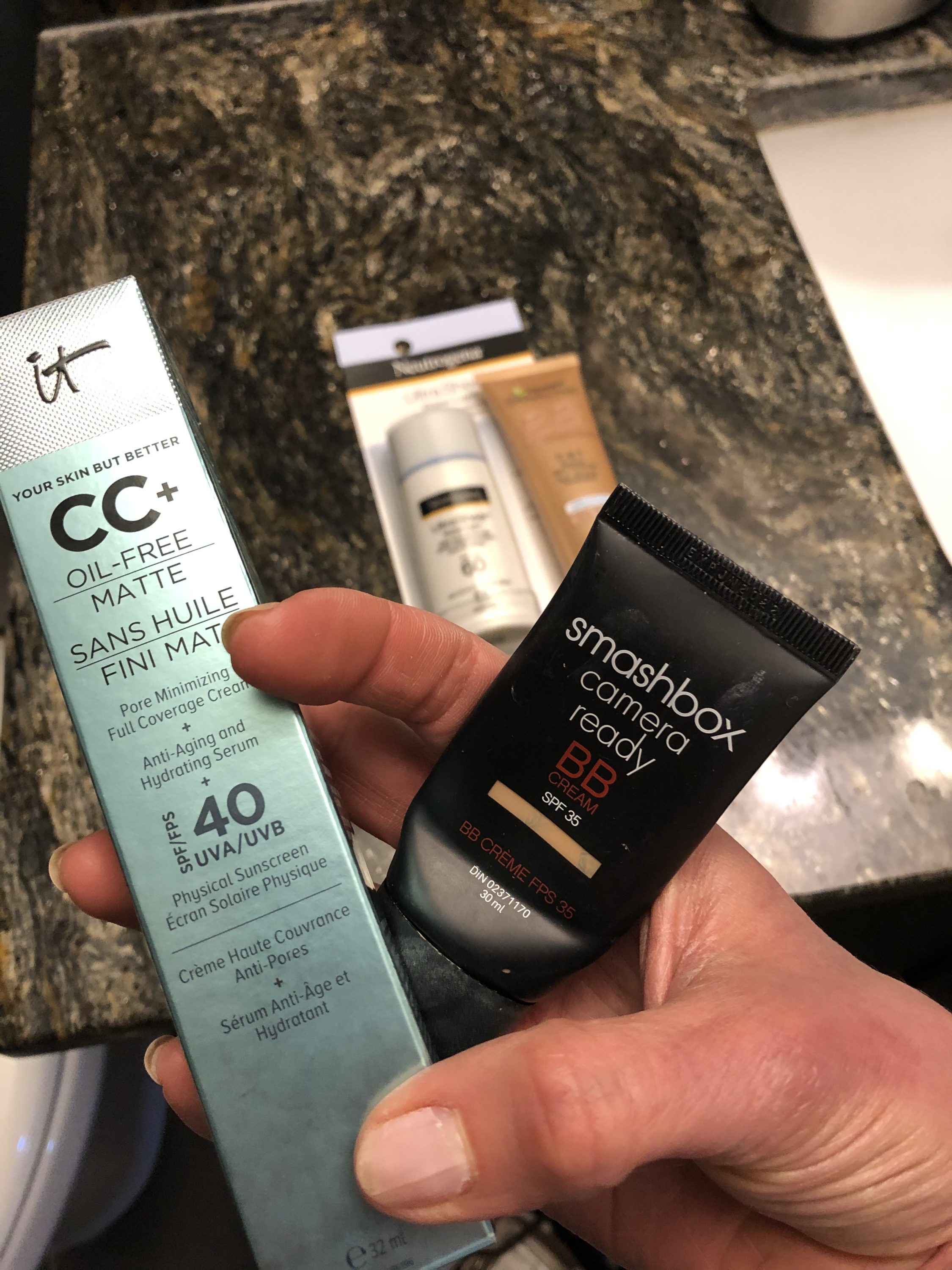 It was recommended to me by a friend, but also, I love the name.
When the sun is more intense – non-rainy-or-snowy days from May to August – I use an intense SPF sunscreen, plus Garnier BB Cream without SPF. I like Neutrogena (hi, sponsor me) because it's light and non-greasy.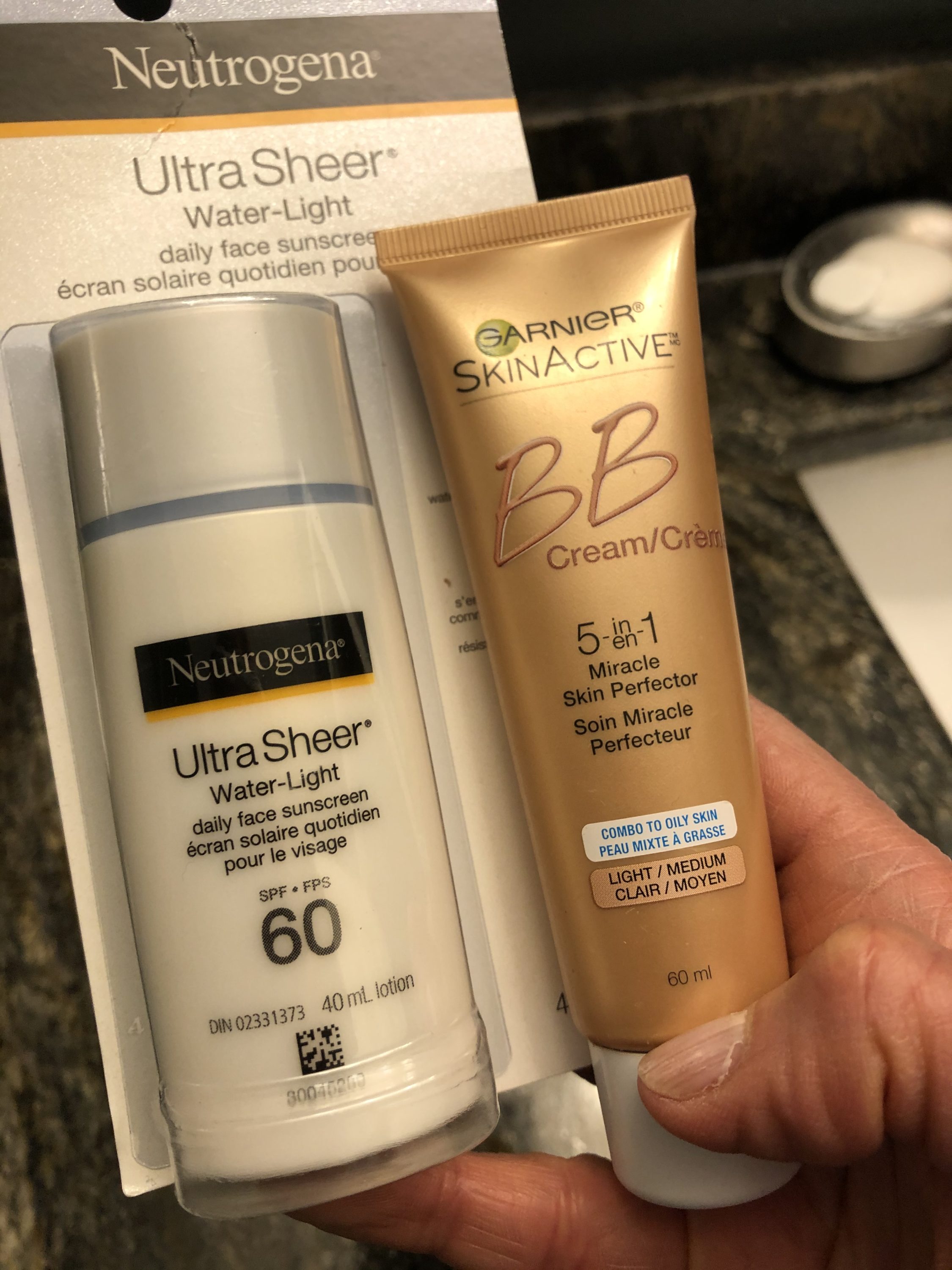 Good Night, Sleep Tight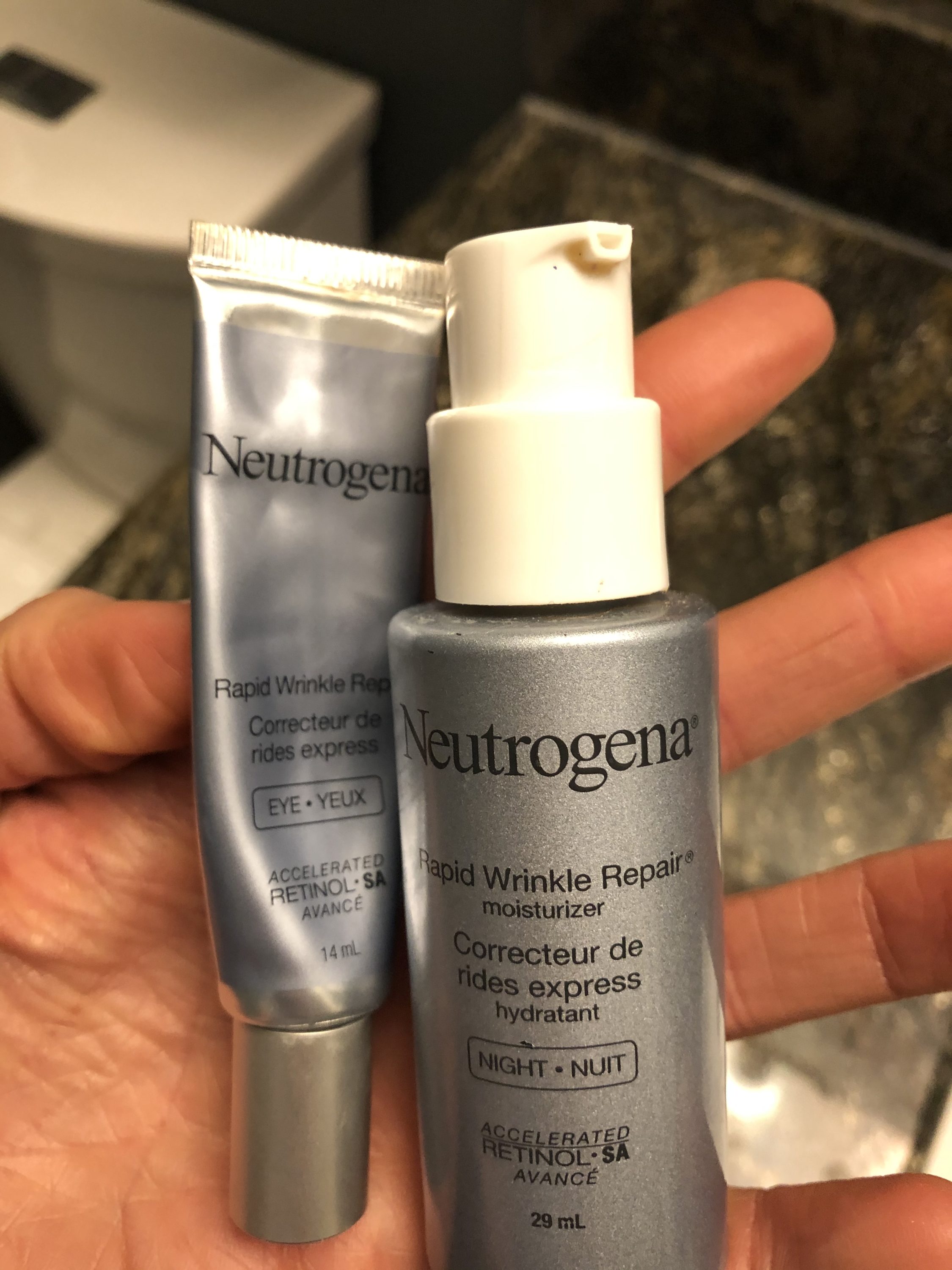 Post-nighttime cleansing with Rapid Wrinkle Repair, I apply the Ordinary argireline solution to my forehead, smooth Neutrogena Rapid Wrinkle Repair Nighttime Lotion all over my face, and then use Rapid Wrinkle Repair Eye Cream underneath my eyes. After I'm sufficiently lubed up, I toddle off to bed to get my beauty sleep. I know, I know, for us perimenopausal women sometimes sleep is a literal dream, but someone told me once that just lying in bed is almost as restful as actual sleep, so I'm going with that.
Those are my current favourite skin products, do tell, what are yours? xo