I really hate the term anti-aging. I know it's just semantics, really, but I hate it. What a ridiculous concept, anti-aging. We are all aging every single moment; as they say in Les Mis, at the end of the day you're another day older. The only way to stop aging is to die, and I do not want that, not for me, or for you. I mean, of course, it is inevitable, we are all going to die at some point – one day nearer to dying – but I hope that is a long, long time away for all of us. Therefore anti-aging equals pro-death, QED, and so I am going to use the term Pro-Aging. We should be embracing aging, celebrating it, even, as we go through our one wild and precious life.
Embracing and celebrating aging, however, doesn't mean we cannot use all the products and methods in our power to minimize and soften the actual visual signs of aging, though. While I am Pro-Aging, I am also Pro-Aging-But-Still-Pro-Moisturizer-And-Keeping-The-Skin-Glowing-And-Supple-And-Maybe-With-Less-Eye-Bags-And-Just-Generally-Less-Haggard-Looking. That's a lot to write, though, so I will stick with Pro-Aging, and you can just mentally add that coda.
As an aside, isn't it something that when MEN visibly age, the tendency is to consider them even MORE handsome than when they were in the prime of their youth, whereas women are considered crones, and not in a positive Wisdom Years kind of way? Gray hair equals distinguished, wrinkles equals life well-lived, whereas for women, the goal is to keep looking the same no matter how many years are under our belts, no matter how well-lived our lives are. It is incredibly unfair, just like everything else in our goddamned patriarchal society, and yet, I am still going to go through my extensive skin-care regime twice daily. I WANT to Fuck The Patriarchy and I also want to maintain my skin's elasticity, so.
All of this is to say that last October, my dear friend Denise (HI DENISE) told me about a product she had been using on her forehead and under her eyes, and I immediately went home and ordered some. There are two things you need to know about Denise, and the preeminent one is that she is a couple of years older than me, yet looks ten years younger. Her skin is amazing. The second thing is that she is a very practical woman: she would never, ever recommend a product that would be at a La Mer-type price point, or one that is available only in an obscure little shop across the city, or similar. When she recommends something, it is always at a reasonable price and available at the drugstore or mall, and this product that she recommended – called The Ordinary – is exactly that. Each product is less than ten dollars a bottle, and I bought mine online at Sephora. I purchased a caffeine solution for day, and an intense one "for dynamic lines" for my forehead, day and night. I have been using them religiously, since late October.
Since, in the words of the late, great Nora Ephron, everything is copy, I took a photo of myself in October, pre-The Ordinary. I thought it would make a great blog post and I envisioned my skin like Denise's, smooth, supple, and, if not totally line-free, then line-free-adjacent.
Here's me in October: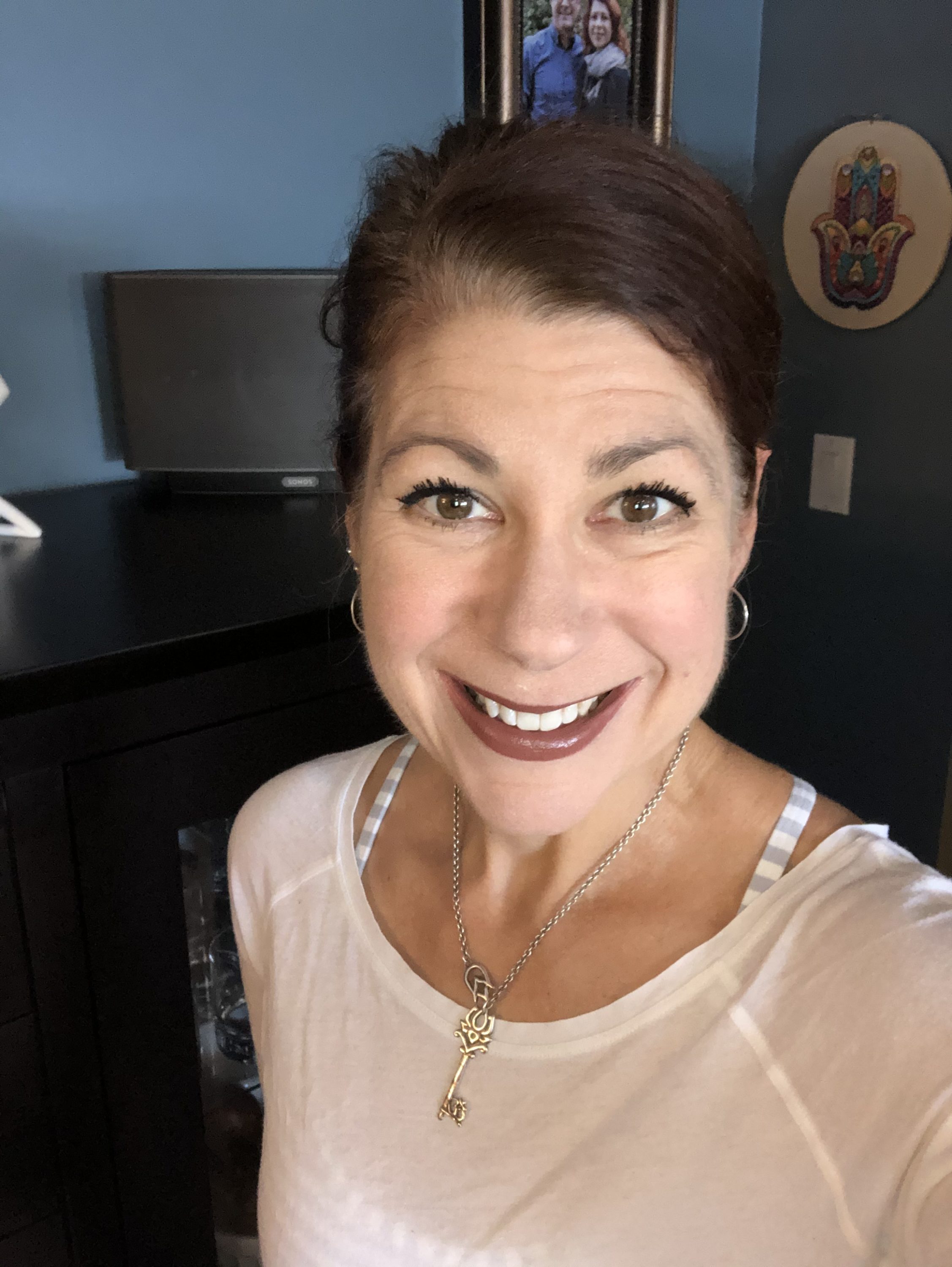 And here's me now, after nearly six months after twice-daily use.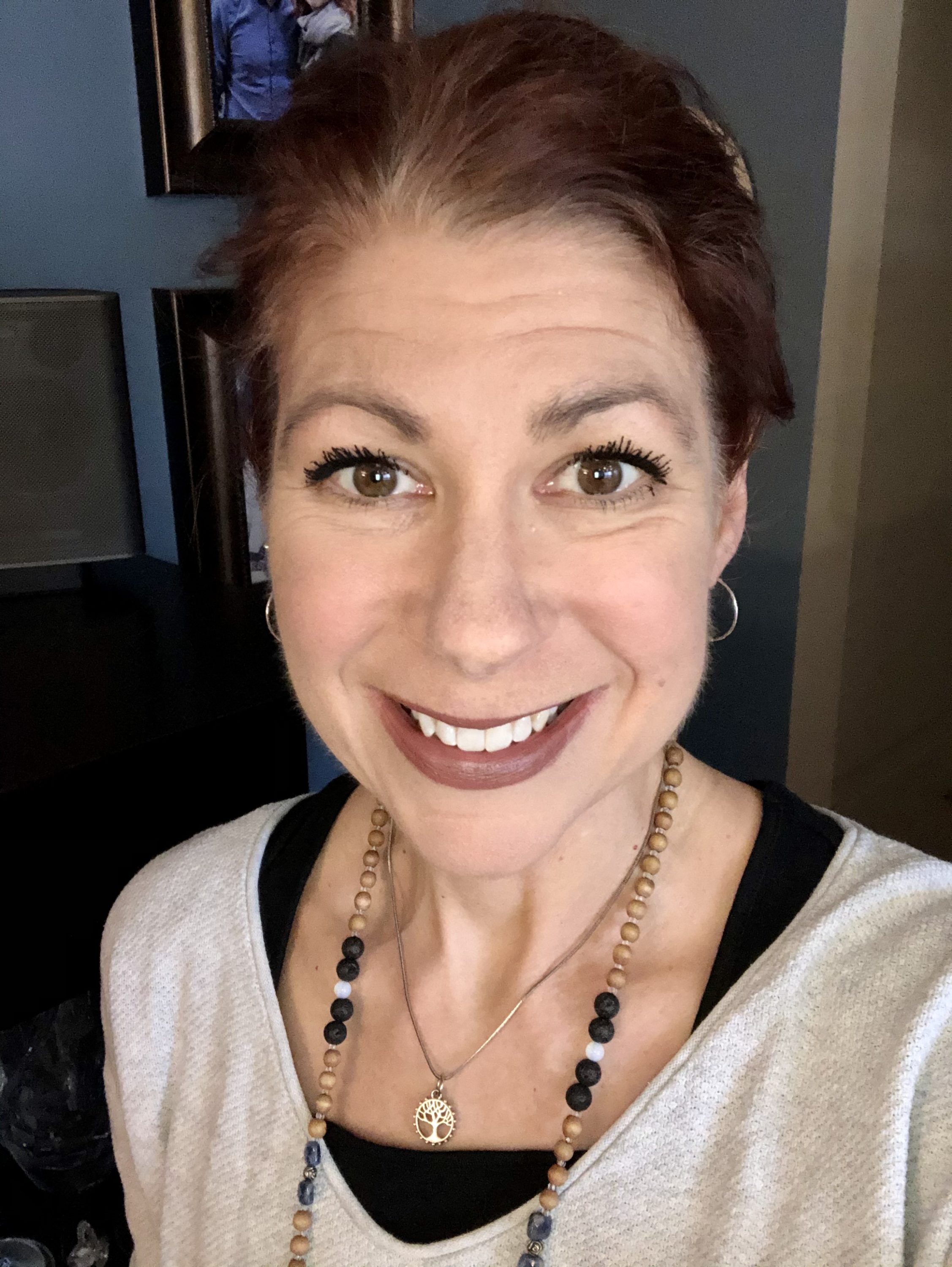 I know what you're thinking. How do I tell her I can't see a difference. How do I tell her she's been buying snake oil. I know. I know.
At first I was disappointed, and then I thought about it. No change in my skin in six months of product usage, six months of a global pandemic, parenting teens, having a husband work a high-stress job from home, and dealing with an elderly dog with cancer; within that time frame a locked-down Christmas, one kid going into quarantine, and our country going from a second to a third wave of Covid cases. Did I mention the schools closed again this week and the kids are home learning, AGAIN? No? I didn't? Well, the schools closed this week and the kids are home learning.
No change is actually a WIN. It's not like I have a control factor, that is keeping me from getting older every single day; no change is actually an improvement. Nothing short of surgery is going to have some kind of Benjamin Button effect, here. After the last six months, by all rights I should look like the Crypt Keeper, or, at the very least, much more haggard.
I am turning 46 this week, and I look 46, and that's how it should be. I am going to celebrate my second pandemic birthday, and I am going to embrace every one of my wrinkles, and every part of me, because it is a goddamn gift to be alive, it is a gift to age, and I hope to see many, many more birthdays and signs of aging.
Outfit of the Week
This week is remarkable in that, for the first time since September, I wore a SHORT SLEEVED TOP. Not just once, but FOUR TIMES this week! Don't get me wrong, yesterday it snowed and today's high is going to be JUST above freezing, and we are going to get MORE snow this week, but let's celebrate the little wins. It was nice last week! I raked the lawn and tidied a couple of garden beds! And I wore this to teach my Friday zoom class: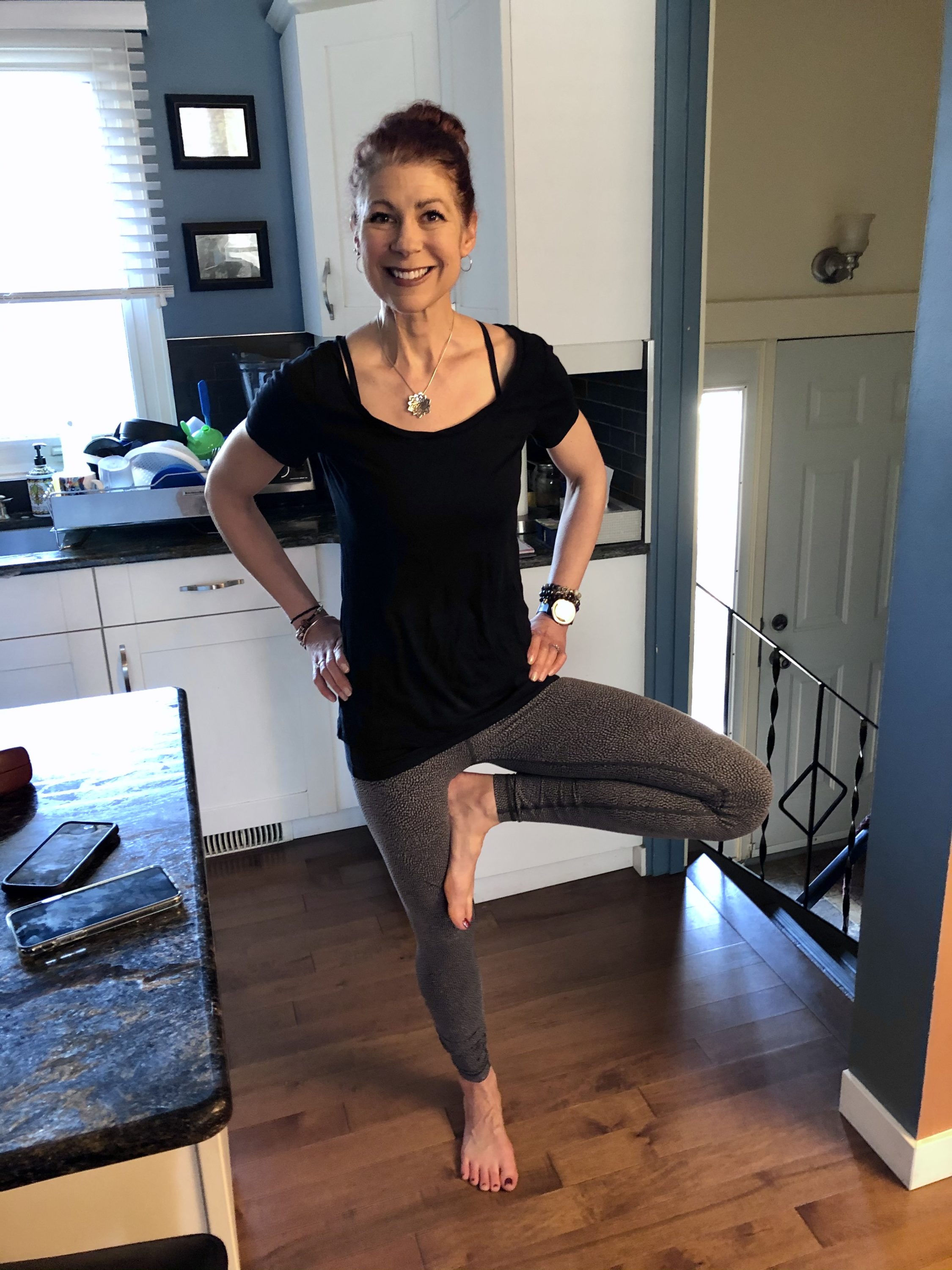 Short sleeved tee! Yoga pants that are really light, with no legwarmers! NO SOCKS.
Pandemic Reading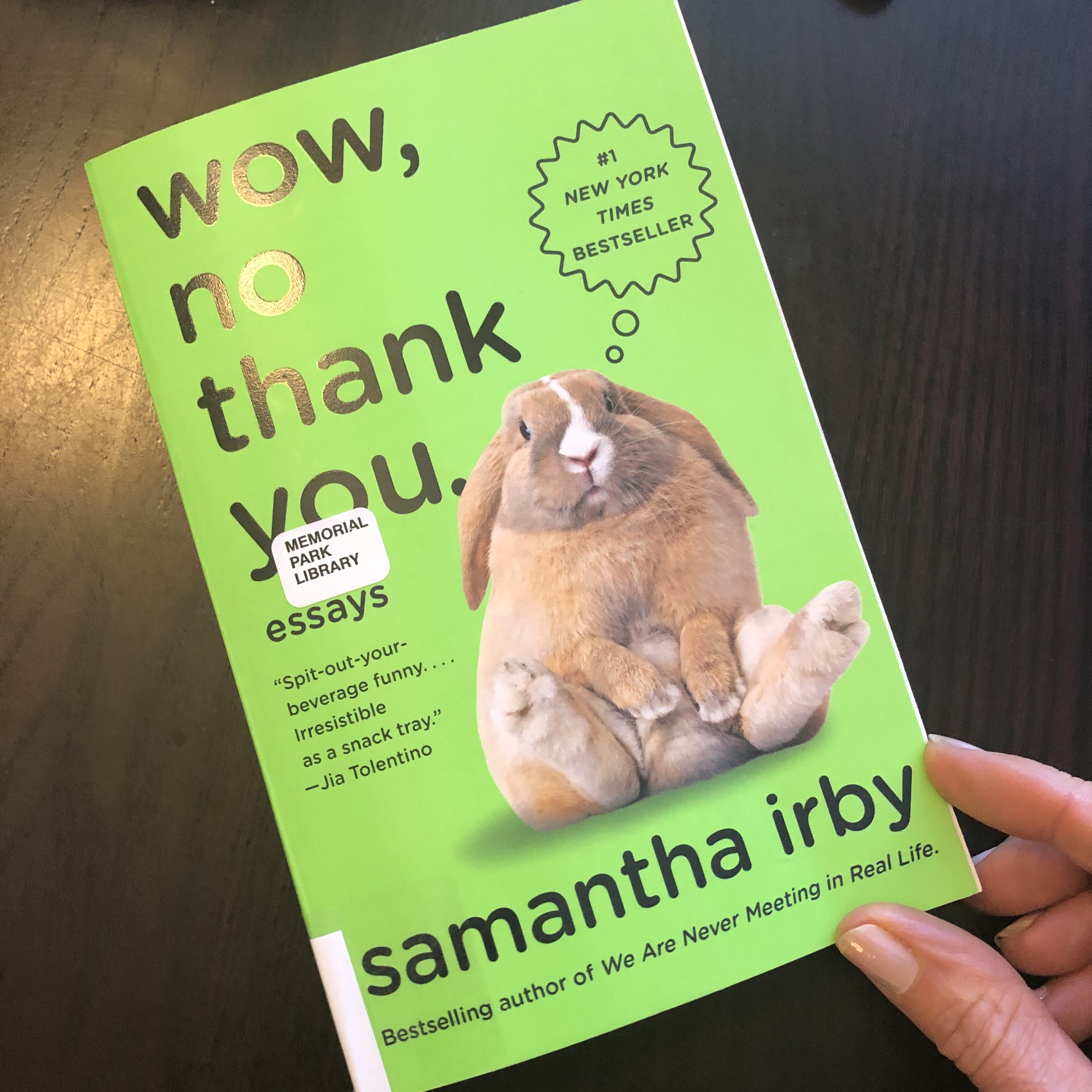 Wow, No Thank You. Fans of Samantha Irby's bitches gotta eat will really enjoy this book of essays. She has a talent for writing about pretty serious topics in a hilarious way. My favourite essay was called "Hung Up" where she talks about the ability to block and mute people on the internet, because you can't do that in real life.
Several years ago, a woman on my Facebook said in her own status "Enough with the kid pictures, I am not interested in them! No one wants to see what you eat, either." I tilted my head to the side for a good couple of minutes before thinking, wow, we are different people. Because I am HERE for the kid pics, and pet pics, and I genuinely am interested in what you had at your last meal. I love your outfit of the day and what you saw on your walk and what you're reading (of course!) No need to humblebrag, full-on brag about your new job, or your kid getting into an elite post-secondary program, or the really cool cake you decorated or sweater you knitted. I AM HERE FOR THAT CONTENT and I am 100% happy for you. Got a new exercise program, or piece of furniture, or bouquet of flowers? I'm interested! Bring it! I have LOW interest in your hot takes about vaccines, or the government, or any kind of weird rant about conspiracies. Luckily, there's mute! If only life could be as curated as our IG feeds! All of which is to say I liked this book, but especially that essay.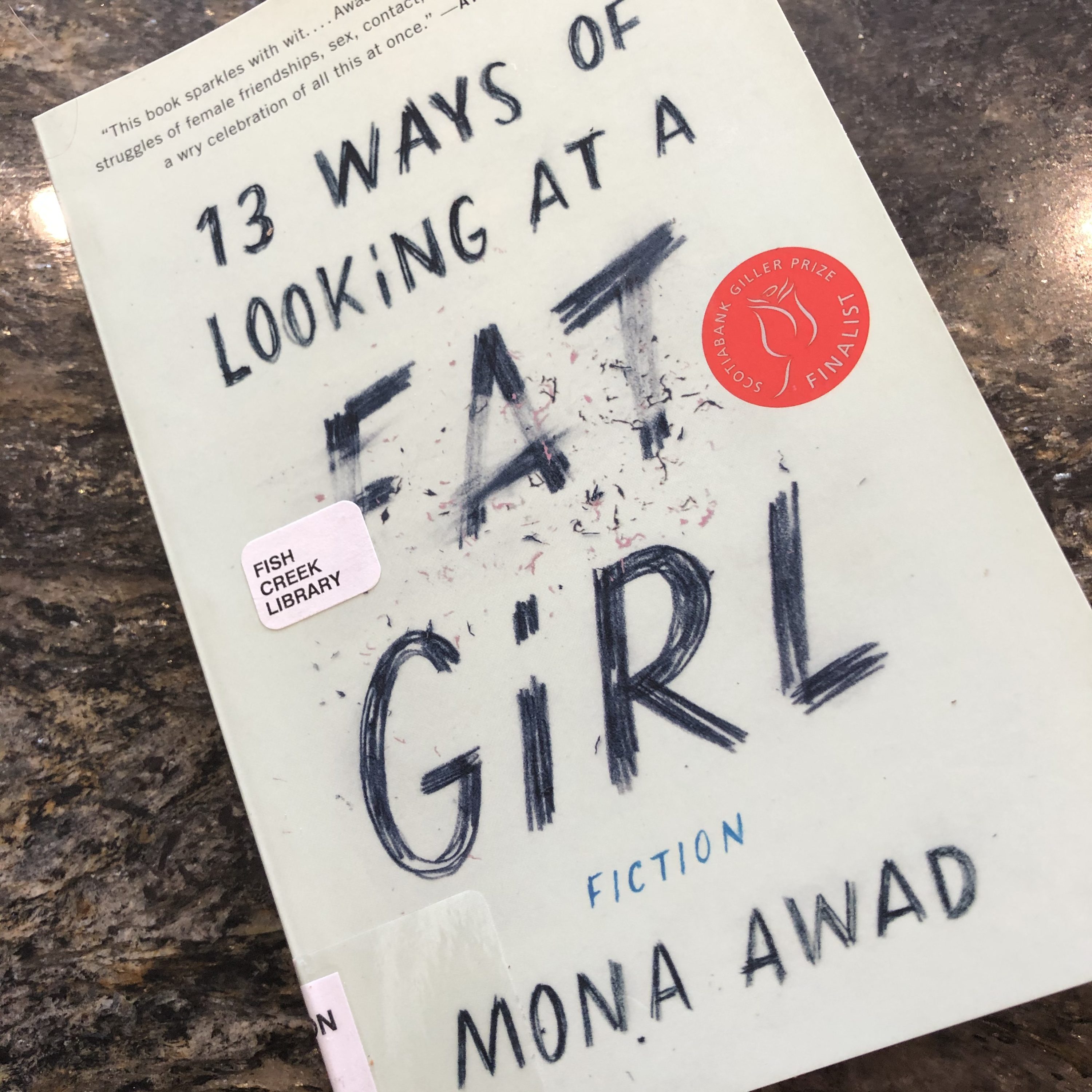 13 Ways of Looking at a Fat Girl. You know when someone recommends a book, and you get it from the library, and the cover seems familiar, and then you start reading and realize you've already read it? After checking my spreadsheet I see I read this in 2019. Oh well, worth a reread, although much of it is deflating and made me feel despondent. I don't think there's a woman alive who wouldn't see herself in at least one of the characters. The book itself covers so much ground with regards to society, how we view ourselves, how we treat ourselves, how others view and treat us depending on our physical appearance, and the overwhelming brain power given over to food and thinking about our bodies. You could write 100 dissertations on this book and still have topics to cover.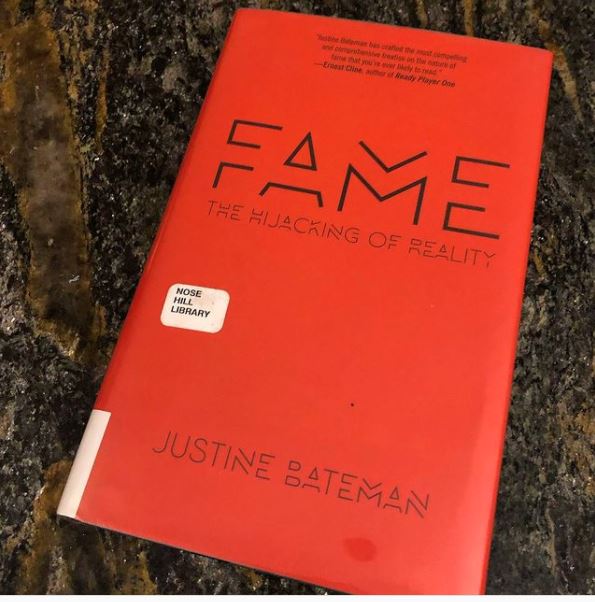 Fame. Justine Bateman's treatise on fame and our society is pretty interesting. The writing style is very conversational, so a quick read but one that gives lots to think about in our reality show world.
Wishing you all a beautiful week and stay tuned for my pro-aging Favourite Things coming soon! xo