I have discovered an enormous upside to the physical aging process, other than the "not dying" part of the aging process. Not dying is a pretty big upside, but this new discovery is also huge.
First, some background. Every morning, because I am vain and also a bit masochistic, I examine my face in my Daylight 10x Magnification mirror, tweezers in hand. I pluck my eyebrows and also stray hairs from other parts of my face, notably the chin and upper lip. Hormones, am I right, ladies? If you know, you know. I feel like this daily ritual keeps me from becoming the Bearded Lady, not that there is anything wrong with that, but it's not generally the look I am striving for. In addition to random stray hairs, I am also on the lookout for something I affectionately call my Magic Chin Hair.
The Magic Chin Hair is a tenacious, wiry black hair that appears intermittently on the underside of my chin, and it is magic because of its ability to grow a centimetre in a 24-hour period. One day I will peer under my chin and there will be nothing, and the next day, the literal next day, there it will be, waving at me in all its glory. If I put a time-lapse camera under my chin, I could maybe watch it bloom like one of those videos showing a rose going from bud to full blossom. Is it silly to ascribe an actual personality to a chin hair? Because for a long while I thought it was just an extrovert, as it always seemed to make its appearance when I had a social event, back when I had social events and didn't have a mask on every time I was around other people. Fancy Christmas party? Dinner with friends? Social event with my husband's colleagues? It was inevitable, the Magic Chin Hair would show up, excited to get its mack on, and I, the cruel mistress I am, would unceremoniously pluck it.
I hadn't seen Magic Chin Hair for a long time, and you may think it's crazy, but I wondered if it was pandemic-related. No need to get up when there's no getting down, if you know what I'm saying. But then I was looking closely at my face, as I do, and I noticed something: Magic Chin Hair was there, but is now white.
Is this a thing that is going to happen to ALL my stray facial hairs? Are they all going to turn white? This is LIFE-CHANGING. White chin hairs are far superior to black chin hairs, and I will die on this hill. Don't get me wrong, I still plucked Magic Chin Hair, white or not I didn't really want a long hair protruding from my face. It feels like that could be a very slippery slope on the way to looking like Santa or Kenny Rogers.
Sometimes a person I haven't seen in 25-30 years will post a photo of their child, and that child will look exactly like the person in question, when I last saw them. It's both heartwarming and unsettling, if you know what I mean. Anyway, I do love social media for that kind of connection; for me it's all about the updates and photos of kids and pets and food and – when it was appropriate – vacations.
It's because of social media that I made kind of an error the other day. I was outside the library with Barkley, dropping books into the chute, and a man smiled at me, a man who looked very familiar. It occurred to me that he looked just like the Facebook photos of a man I went to high school with. "Hi!" I said, "Scott, right?" He shook his head and said his name was Dave. "Oh, sorry, you look just like a guy I went to high school with," I said, and JUST as the words were coming out of my mouth I realized that he was a good many years my junior, and could justifiably be offended by the implication that he and I were teenagers together, when in reality I am probably closer to his mom's age than to his.
That wasn't the only awkward interaction I had at the library. The library is about a kilometre from my house, so the 2k loop is a perfect length of walk for Barkley. I generally have a book to pick up or drop off a few times a week, and so we take that route, and I fasten his leash to the bench outside the door while I dash in to pick up a hold. This is a process that takes about ninety seconds, maybe 180 if I stop to pile a few extra books from the "New and Notable" display in my arms. A few weeks ago I was doing just that and as I was leaving, I heard a woman speaking to the librarian at the door, whose job it is to count the patrons coming in and out and ensuring that everyone is sanitizing their hands upon entry and is appropriately masked. The woman in question was talking about a dog, and I heard her say "I sure hope the owner is in here!"
Uh oh. Was this about leaving my dog unattended for less than two minutes? Did Barkley somehow morph into an aggressive barking dog, rather than the sweet, waggy guy he is? I smiled at the lady nervously and said that I thought that was my dog she was talking about, and was he bothering her? "Oh no!" the woman said. "I just…you know how dogs sometimes look like their owners? I was going to look for someone with really long bangs and wild shaggy hair! I would have never guessed it was YOU."
For the record, my hair that day was in a bun, like it often is. Also for the record, Barkley has since had his spring haircut and I think he lost about ten percent of his body weight.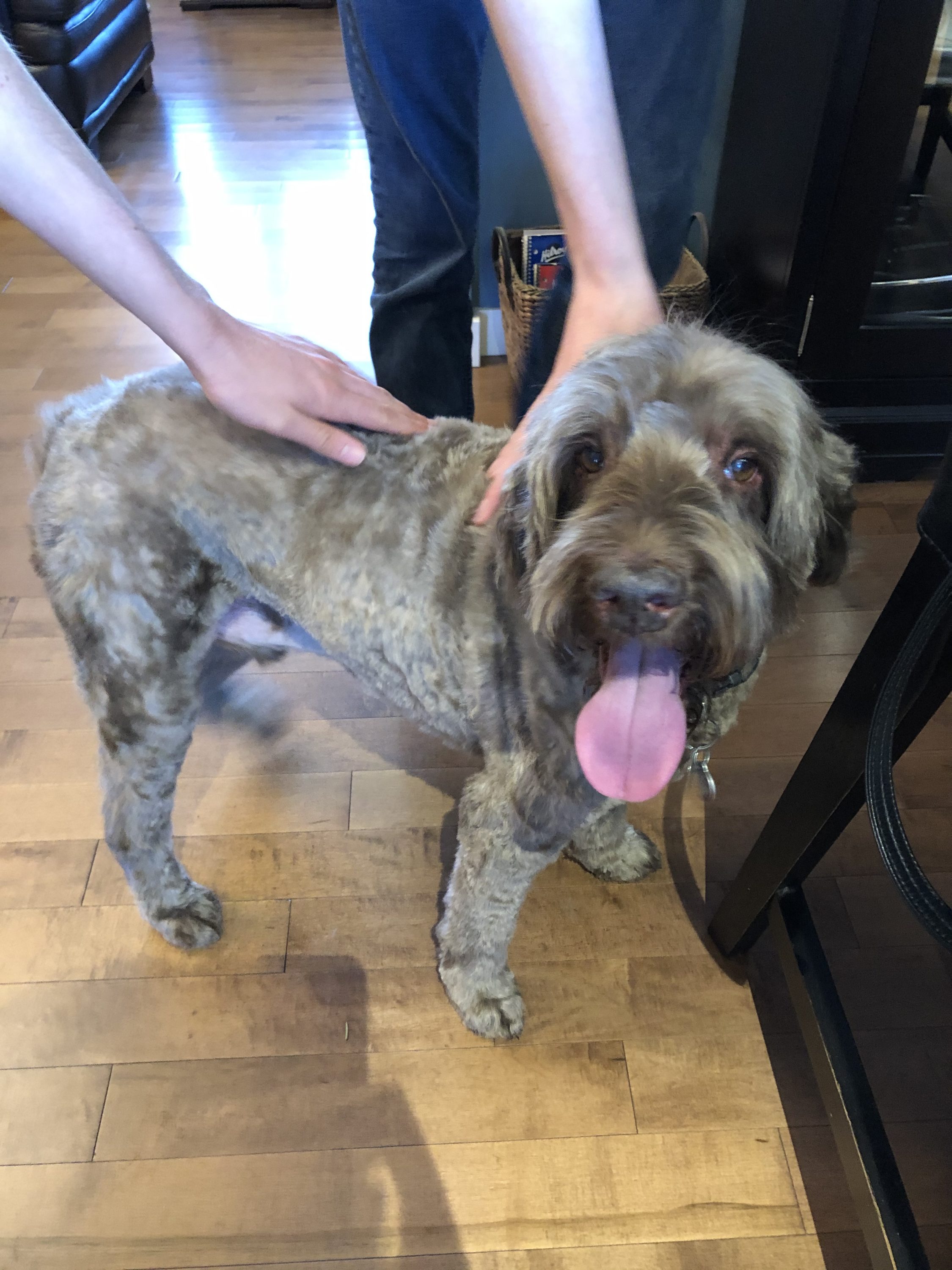 See? Magic.
Outfit of the Week
Recording the outfit of the week makes me consciously appreciate the clothes that I already own, as I shop my closet. I truly believe we should all feel good in our clothes, and I do love my wardrobe. As well as my chin hair, I anthropomorphize my clothing, thinking that each piece gets excited to be chosen for the day. Putting together a cute outfit gives me a lift every single day, even when I have nowhere to go and nothing to do, I still like feeling cute and put-together.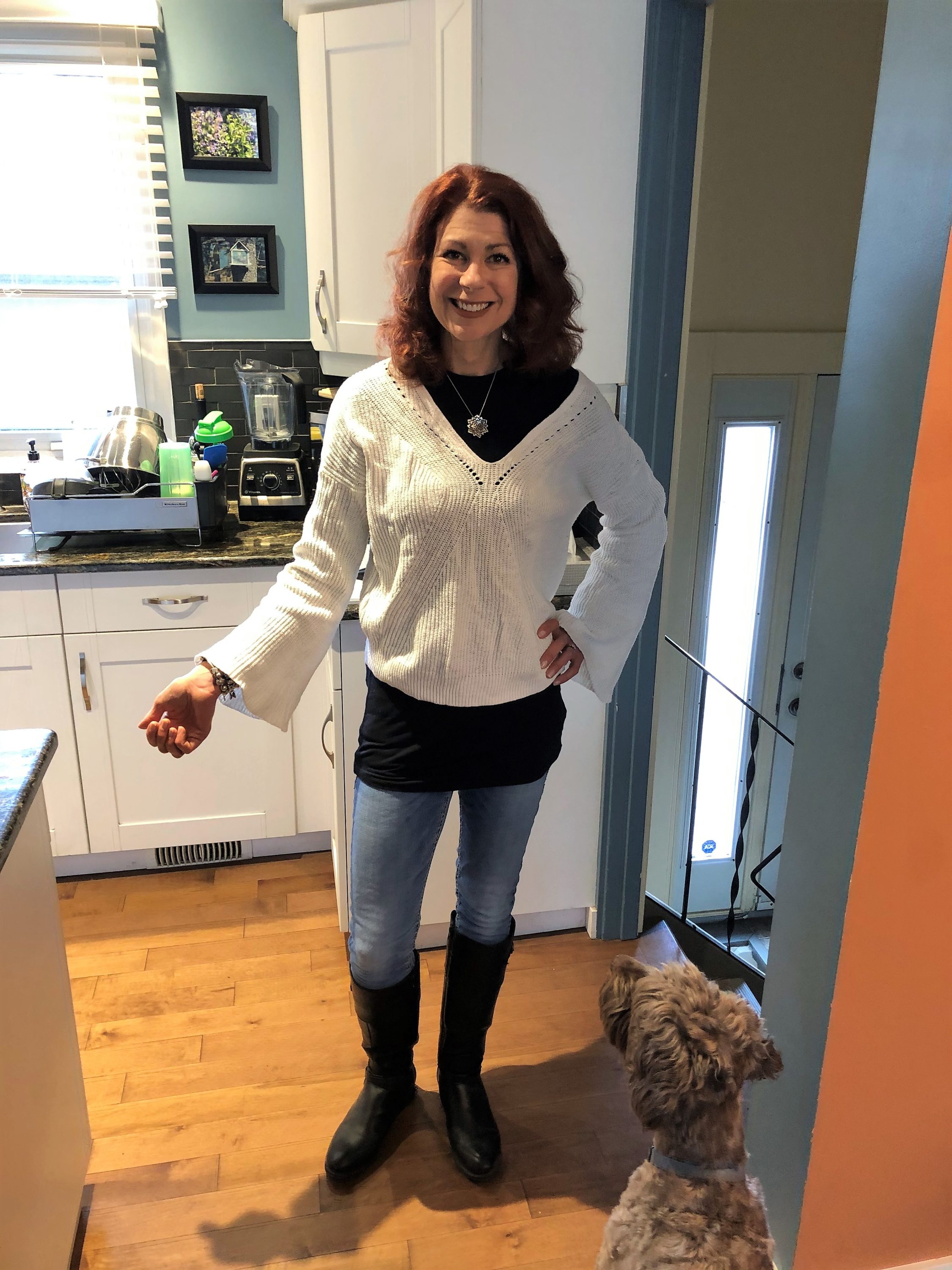 This week's outfit features a sweater that I love but don't wear often as it is very impractical. For one thing: cream. You can be guaranteed that something will be spilled on this by the end of the day. For another thing: those sleeves. I love the way they look but unless I fold them over and roll them up, like we used to do to our jeans back in the eighties, they fall into the dish water or drift dangerously close to the oven element when cooking. It's so cute though. I know for a fact that the long-sleeve tee was purchased in 2010, and my old jeans and boots complete this outfit.
Pandemic Reading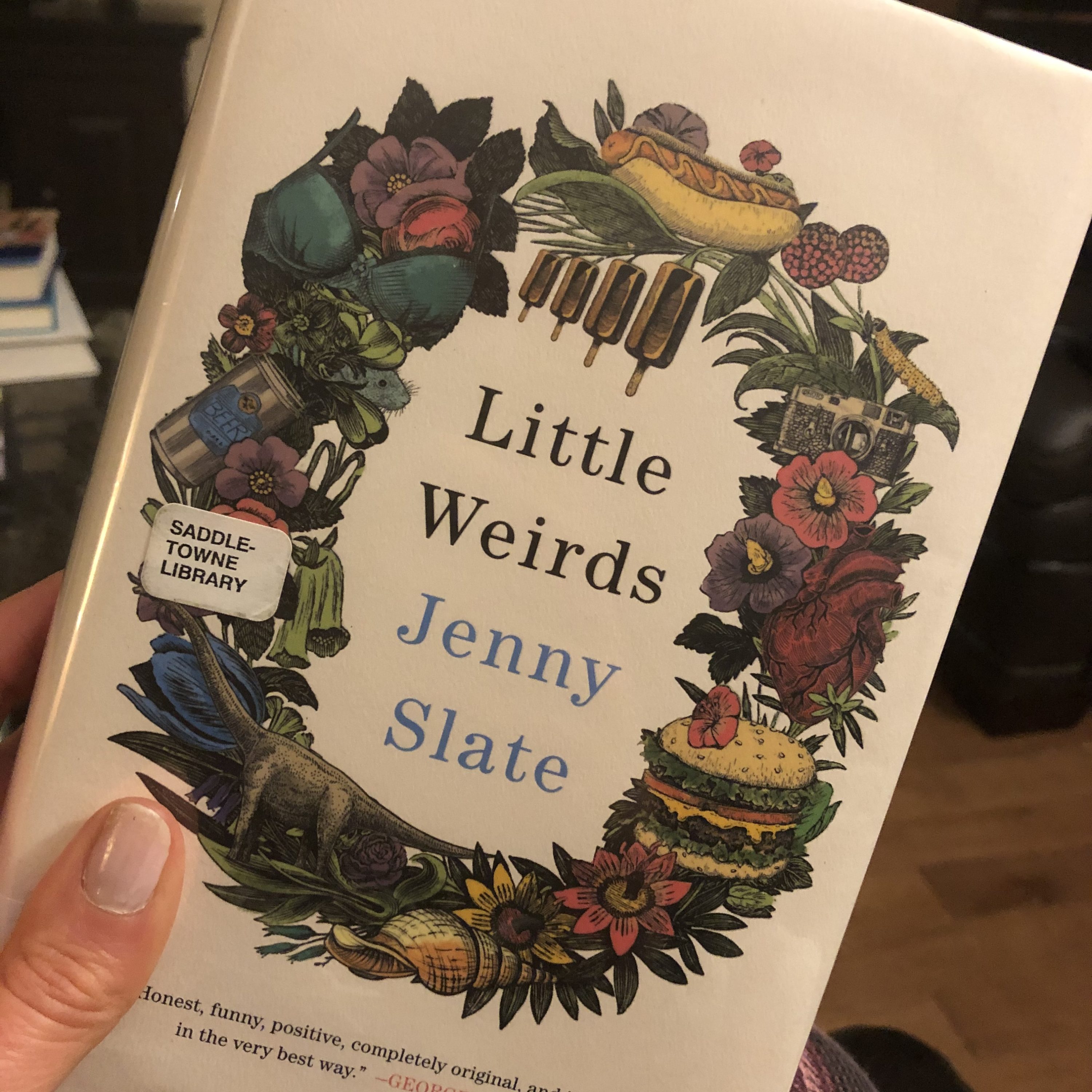 This book of essays was so original and charming! I didn't realize until I read the author bio that she is an actress/ comedian/ the lamb in Zootopia. One of the essays has to do with planning a garden, and how she wanted that garden to reflect what is inside her, and also she wanted flowers that her dog would sniff and the flowers were sticky and ended up on her dog's face, and it was just absolutely sweet and charming, and I felt it in my soul. I loved the way she speaks about herself – "I washed my dear little face" – and I vow to speak that way about myself. Thanks to Swistle for the recommendation (HI SWISTLE).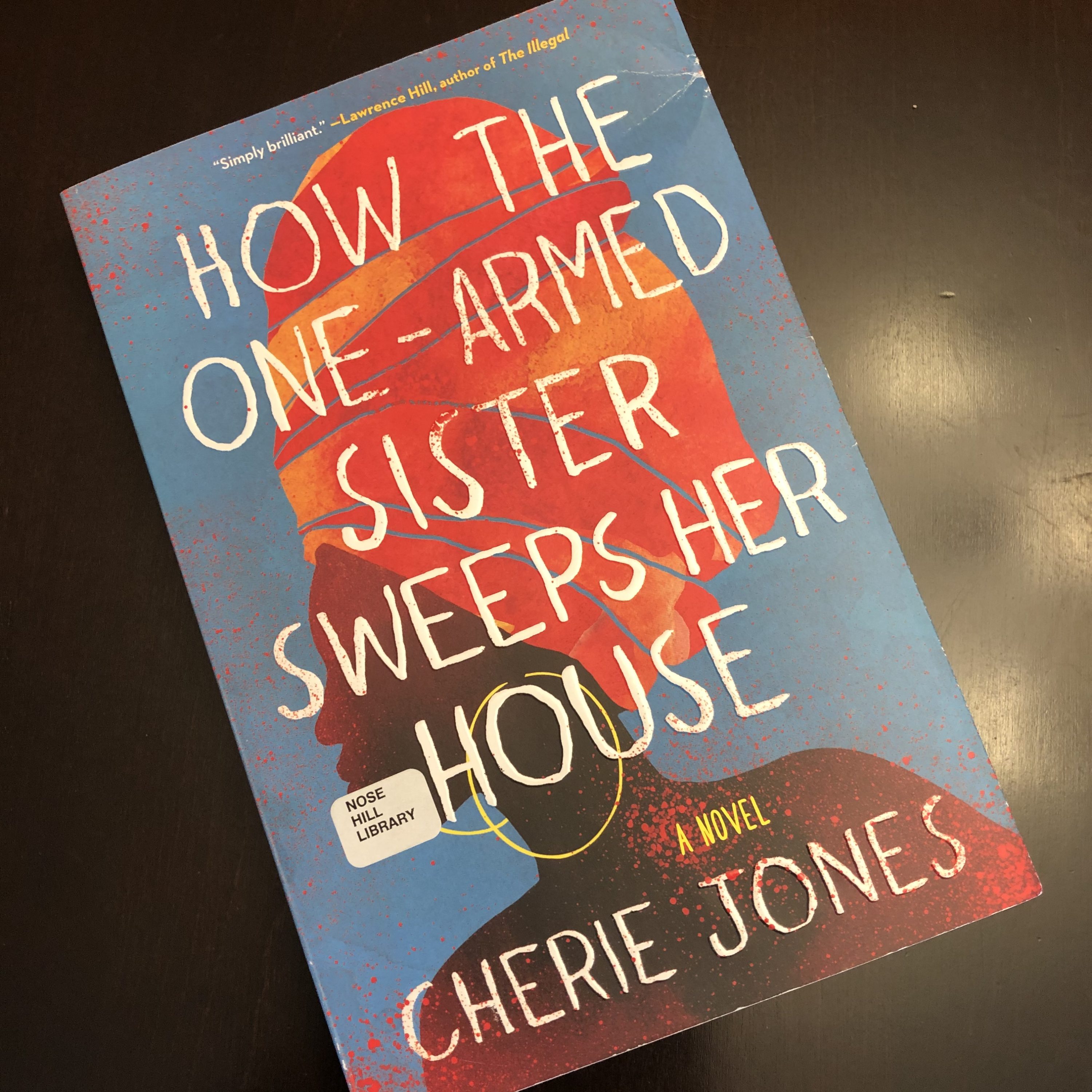 What an incredible, troubling, hopeful book with so many layers and nuanced characters. This deals with a Barbadian woman, and the generations of women before her, who are living with systemic abuse. If you have ever had the luxury of lying on a tropical beach, and have wondered about the lives of the people who are working to make a living from you lying on a tropical beach, well. This is a debut novel and I look forward to seeing more from this author.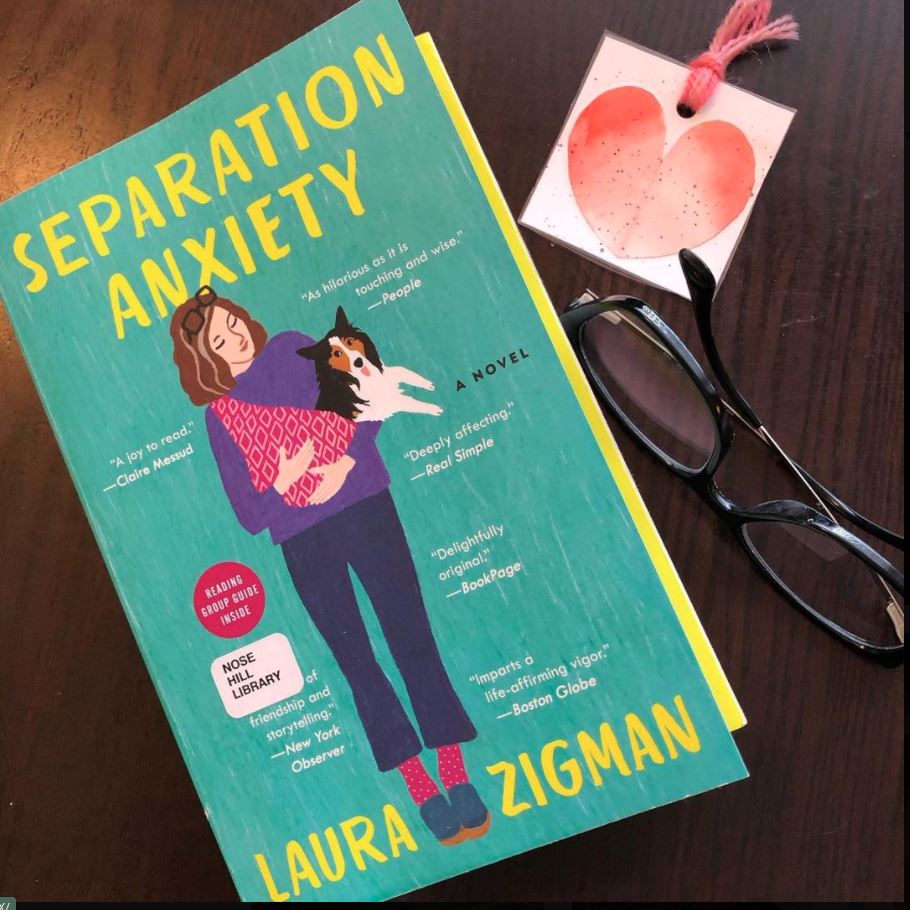 A woman's marriage is in shambles, they're too broke to get a divorce, her son is a teen who doesn't need or want to be around her…so she starts wearing her dog in a baby sling. Seems like a funny concept but was kind of grim and depressing. There were funny parts but mostly it fell quite flat for me.
I hope you all had a lovely long weekend; however you celebrate, I hope there were lovely treats involved! I personally am now about 10% Mini-Eggs. xo