I think we can all agree that household chores have taken on new importance during this pandemic. I like to have a clean and tidy home and that has been amplified by being at home all the time.
It's interesting to me, how different we all are in terms of cleaning preferences: not just products, but also methods. My mom, for example, was a Spring Cleaning kind of person, who would literally clean the house from top to bottom over a 24-hour period, not just in spring but several times a year. She kept a very clean house, and there was always one day a week that was Cleaning Day. I am more of a Short Bursts of Energy kind of person, wherein I like to do one or two things each day, rather than set aside a whole day or weekend.
When I was first married, my mother-in-law told me that HER mother-in-law used to wash the walls monthly. Every single month, she would take everything off the walls, move the furniture, and wash them. My mother-in-law said, in a very well meaning way, "That's just not necessary! Every month. Once every three to four months is plenty!" I remember smiling and nodding and thinking every three to four months? To this day, I think I've washed the walls a) when we've repainted, and not always then, and b) when we were first in lockdown and I was bored. I spot-wash the walls when they look grubby but other than that? No.
In general I spend between 10 and 30 minutes a day doing household chores, depending on the day and not including the kitchen. The kitchen, really, is its own entity. I spend so much time cooking and preparing food, and I am a clean-as-you-go kind of person, and so much more time is spent doing dishes and wiping down countertops. If I add that time up, I will become depressed, so I am not going to do that.
One thing I will NOT do as an adult is dry dishes. That was one of my chores as a child and to this day I cannot stand it. If no one is home to dry them, I pile everything into the drying rack and allow them to air dry; the only exception is if I have wine glasses or the coffee pot in the drying rack and I am trying to fit something heavy in there, like pots and pans. I will not risk the life of my coffee pot, and hence the life of my family, and so I will dry it with a feeling of being under extreme duress.
Anyway, 10-30 minutes a day of small things adds up, especially because my house is not very big and I am very fortunate to live with three pretty neat and tidy guys. They do the post-dinner cleanup on weekends, the boys keep their rooms neat and clean, and they are all good at putting dishes away and emptying the dishwasher and not doing gross boy things like peeing on the toilet seat. Don't get me wrong; I am not sure at what point anyone would actually wash the dishes in the sink without being asked specifically, and no one has EVER cleaned the bathroom without specific instructions, or emptied the bathroom wastepaper basket, and there is constantly an empty juice container squished and left on the kitchen island when the recycling bin is literally fifteen steps away and everyone passes it every time they go downstairs, not that I'm bitter. In general, my cleaning time is mostly spent in the bathroom and also dealing with the floor; at this time of year it is generally covered in paw prints.
This month's Favourite Things was inspired by Suzanne (HI SUZANNE) and her Chores Chat, where I discovered I am LITERALLY fascinated by other people's housework methodologies and cleaning products.
Nicole's Favourite Things: The Cleaning Items That Are The Real Heroes Of The Pandemic Edition
Roomba
I cannot say enough about my Roomba. I actually have two Roombas; one on the main floor and one downstairs. I am not in the least exaggerating when I say that getting a Roomba was Life Changing. I mean, I can go about my day while a robot cleans my floors, what could possibly be better than that, cleaning-wise? A ROBOT IS CLEANING MY FLOORS.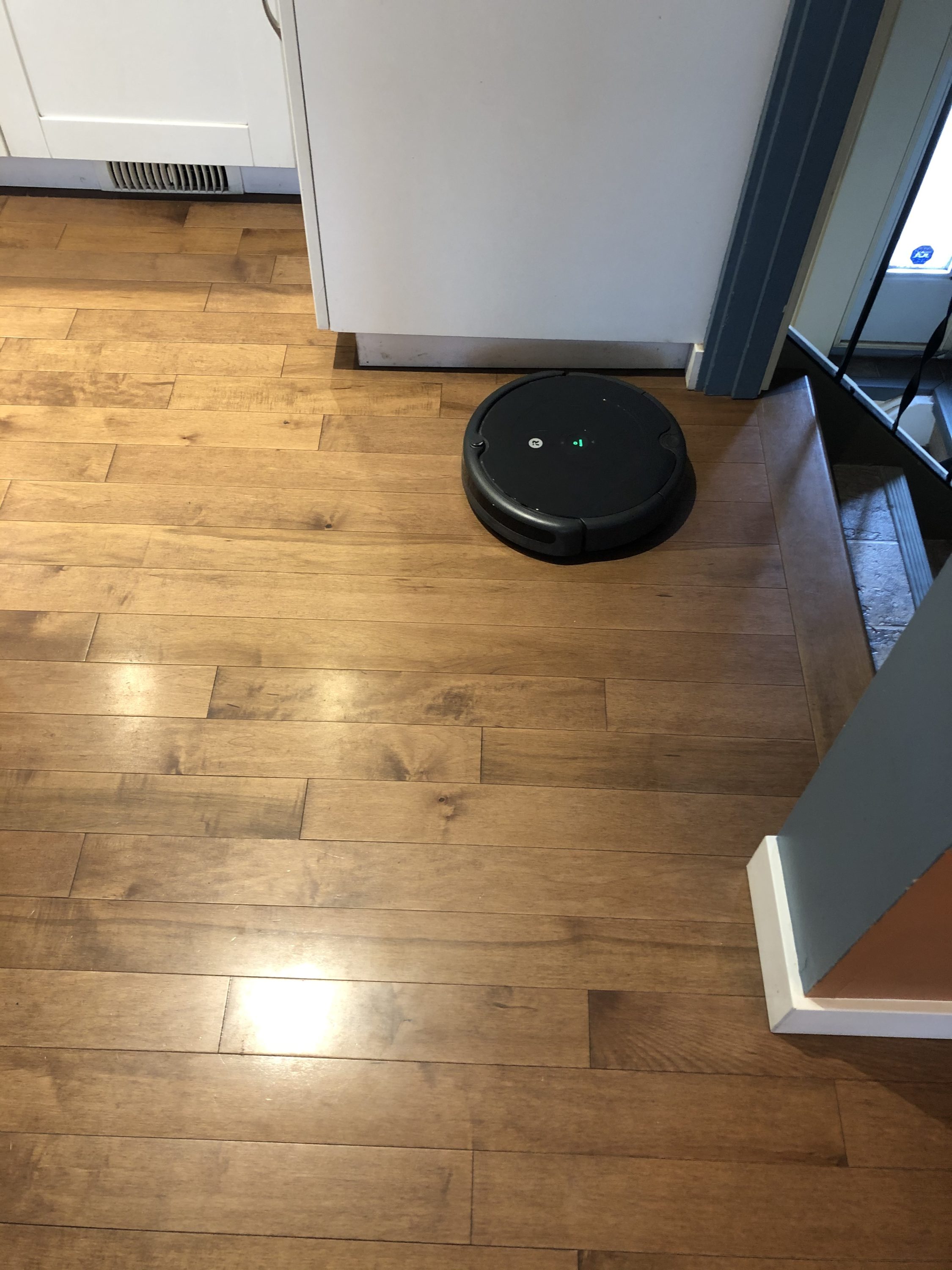 Go, Roomba, go! I believe in you!
White Vinegar
I am going to confess something here: I am a little bit of a hippie when it comes to cleaning products. While we do have some chemical products – for example, toilet bowl cleaners, I am not a monster – I like to be as natural as possible. I know, it's weird to say that during a pandemic, but here we are.
I love white vinegar and use it diluted for washing mirrors, windows, glass shower doors, and the hardwood floors. As a result, my house often smells like a pickle factory, but hey, it works. It's a potpourri, really: vinegar, delicious baking, and elderly dog. Maybe I should market it: Nicole's Home Fragrance.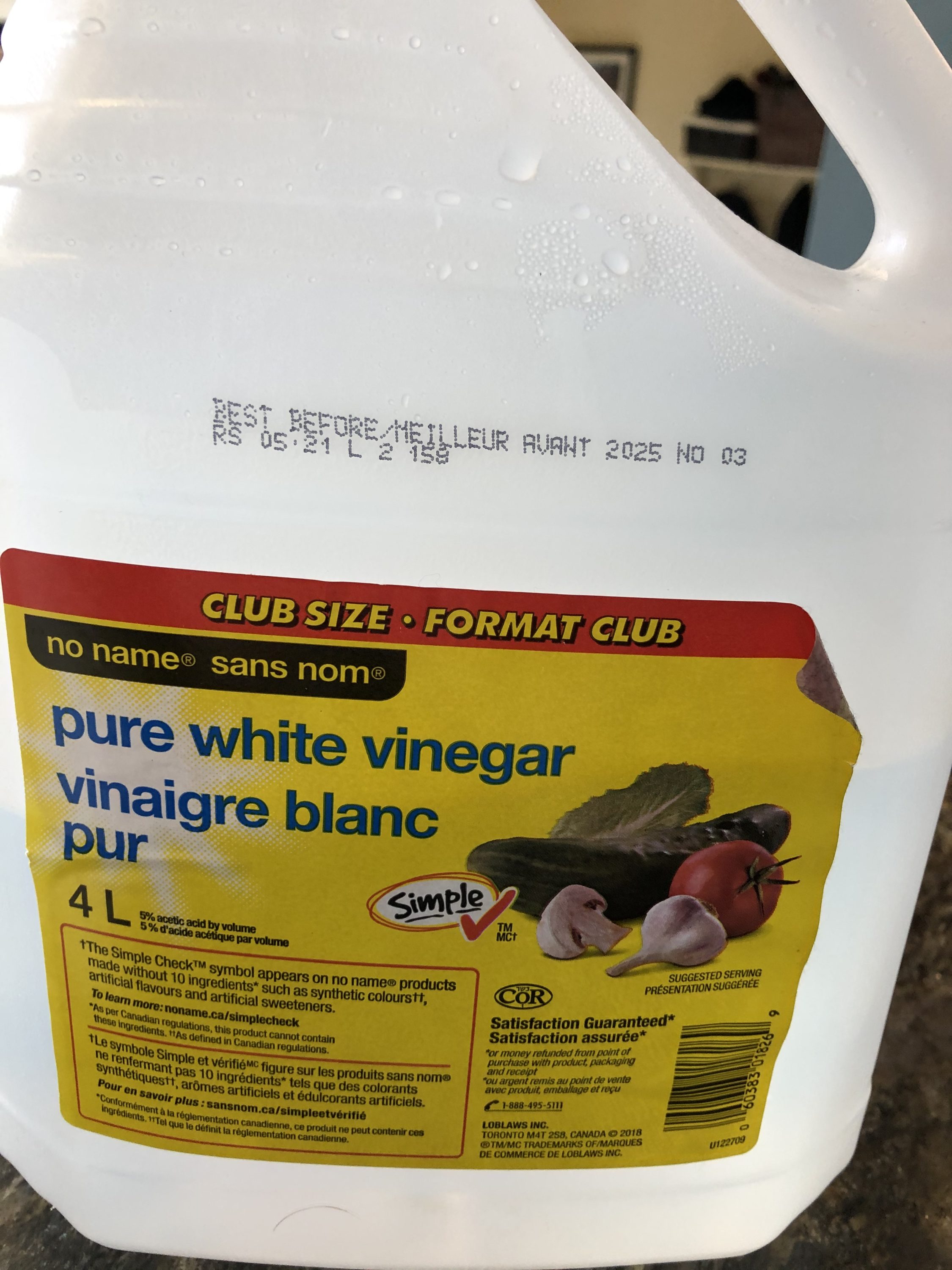 I buy the STORE BRAND because, Scottish.
Swedish Dish Cloths
Another confession: I was almost thirty when I realized that people use paper towels for cleaning. I honest to god thought that those commercials showing people using paper towels to clean up spills were just commercials; I didn't know anyone who used them that way. I know! I know. I was brought up in a house in which spills – and everything else – were cleaned up using rags that were kept under the kitchen sink, and so my house has rags kept under the kitchen sink; rags, by the way, that I have made out of old receiving blankets, pajamas, and towels. Between that and the vinegar I'm practically Ma Ingalls.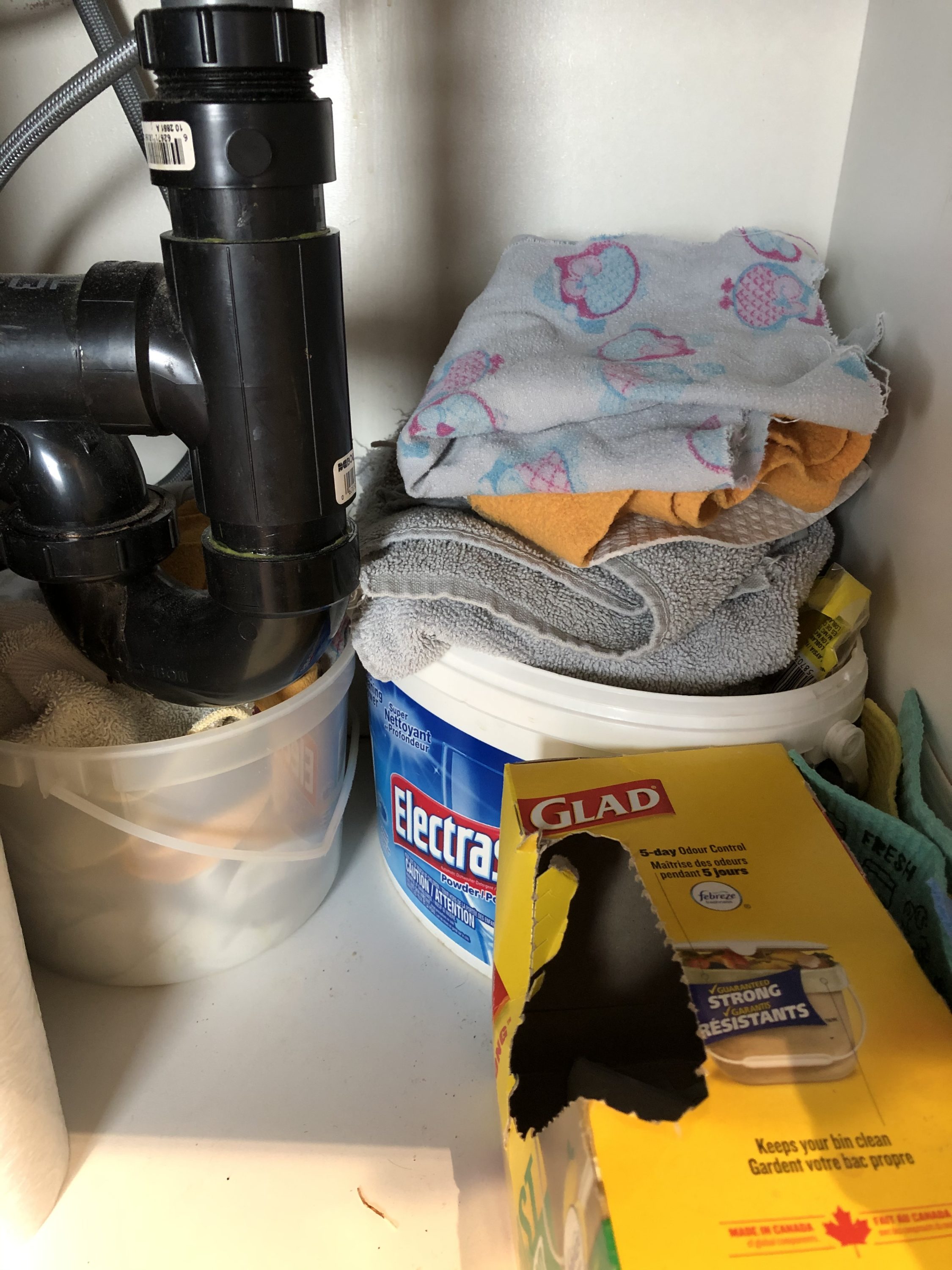 However, someone had mentioned Swedish dish cloths to me, which are like a reusable paper towel. I ordered some and yes, I keep them under the sink. They are pretty and cute, and they work great for cleaning the sink and stovetop, and buffing fingerprints off the stainless steel appliances. I still mostly use rags for everything else though.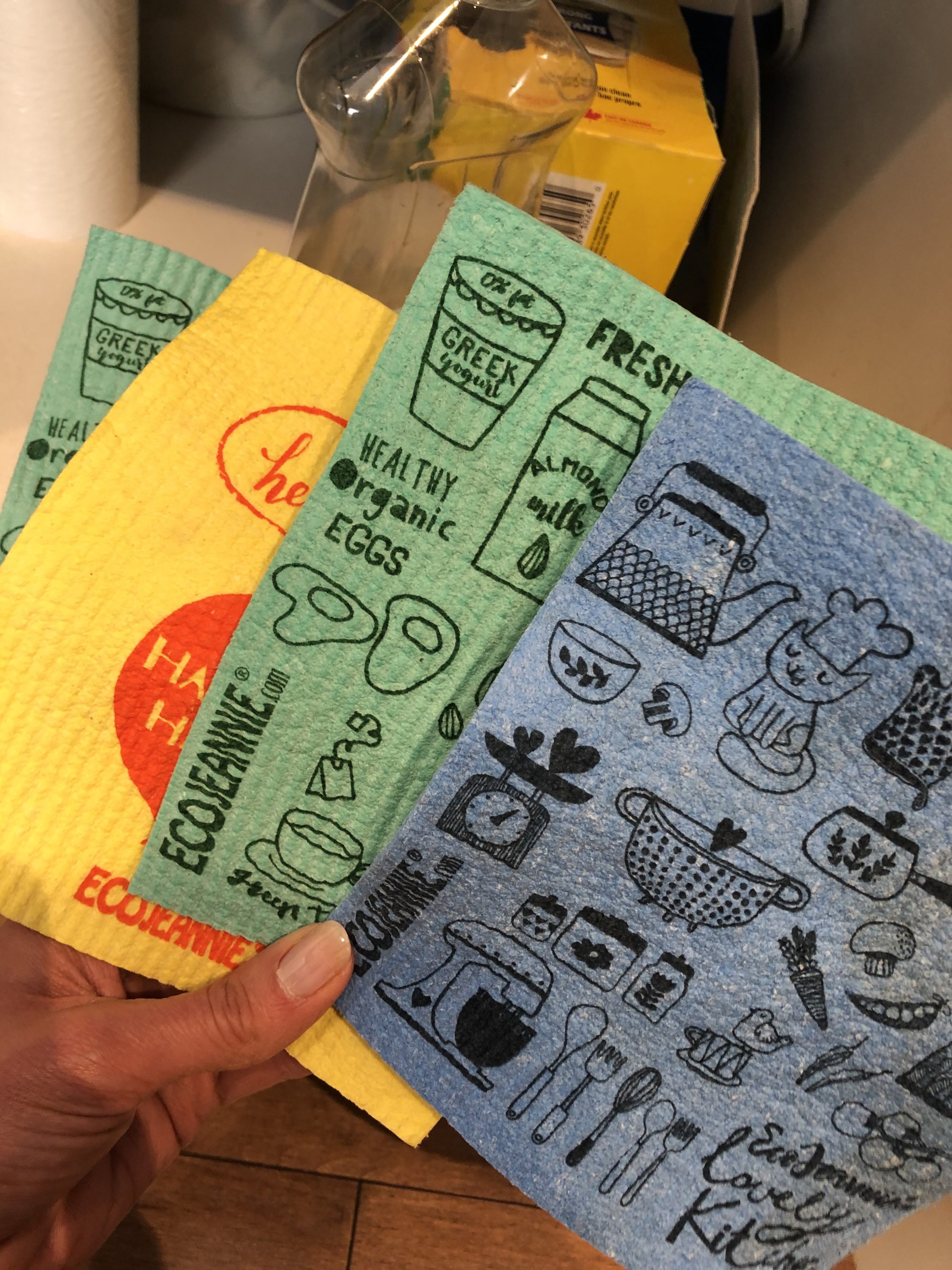 My Mother-in-Law's Dish Cloths
My mother-in-law knits these dish cloths and is extremely generous with them. She can whip off one in an hour or less, and she has literal drawers full of them, so I help myself whenever I visit. As a result, this is in my hall cupboard: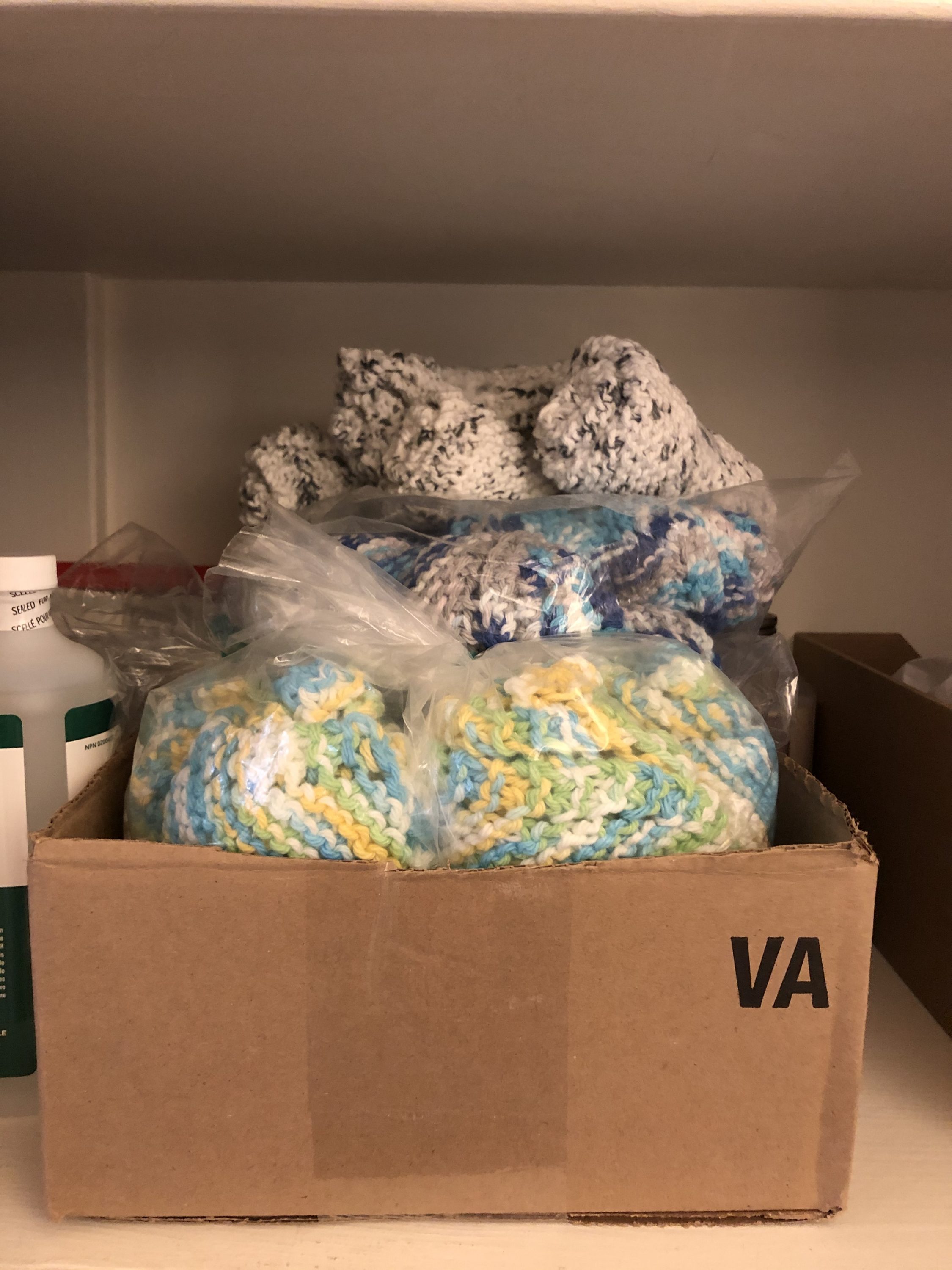 These are my EXTRAS, for when my current kitchen stash wear out and become, in the Circle of Life, under-the-sink rags. I have enough to last me until I'm in the Home. Or dead. My great-grandchildren will be divvying them up amongst themselves and wondering why Great Grandma had so many dish cloths. Anyway, these are great for washing dishes – which I spend an alarming amount of time doing – and also wiping down the kitchen countertops – ditto.
Method Cleaning Products
These hippie products smell good and work well. I use the blue one for the bathroom sink and toilet, the granite cleaner mostly for the bathroom granite but sometimes for the kitchen when I'm feeling fancy, and the antibacterial one for the kitchen sink.
Scrubbing Bubbles
I quick-clean the bathroom every other day with vinegar and Method, but once a week I give it a thorough cleaning: scrubbing the shower tiles and floor. We have two bathrooms in the house and the main floor one is heavily utilized. Twenty-eight showers a week – at minimum – means that the main floor shower gets quite a soap scum and hard water buildup that really, no amount of diluted vinegar and hippie cleaning products are going to touch. I love Scrubbing Bubbles for that purpose; this is the only bathroom cleaner whose smell I can stand. It's fresh and clean smelling, and it really works.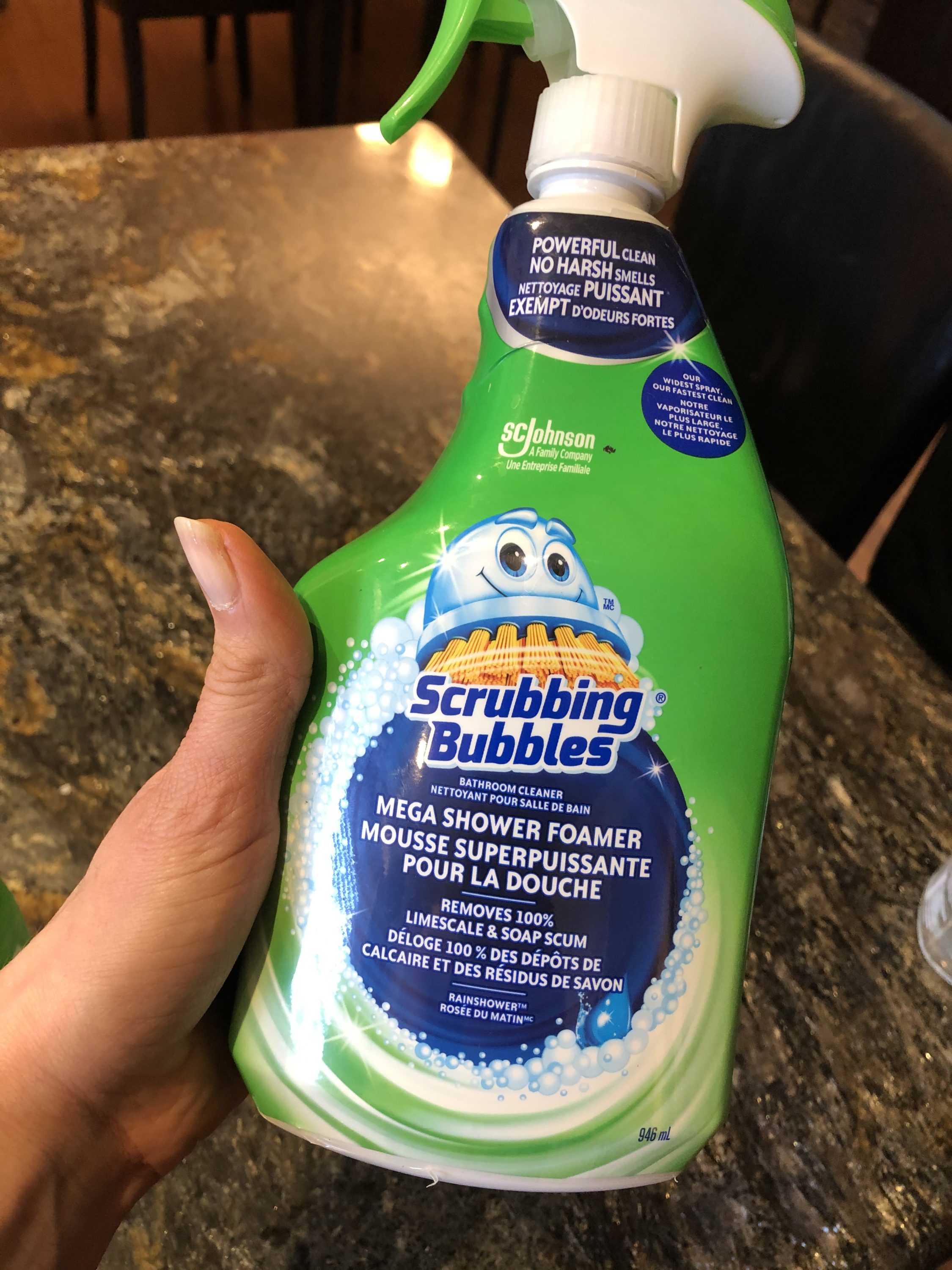 Plus, I like to imagine a the bubbles actually looking like that, in a world we cannot see, scrubbing away happily.
Weiman Stainless Steel Cleaner
Anyone that has stainless steel appliances knows the bane of their existence, fingerprints and smudges. My mom told me about this and WOW, does it ever work. I have tried every hippie method known to man – coconut oil, vinegar, praying to the cleaning gods – and nothing has worked like this.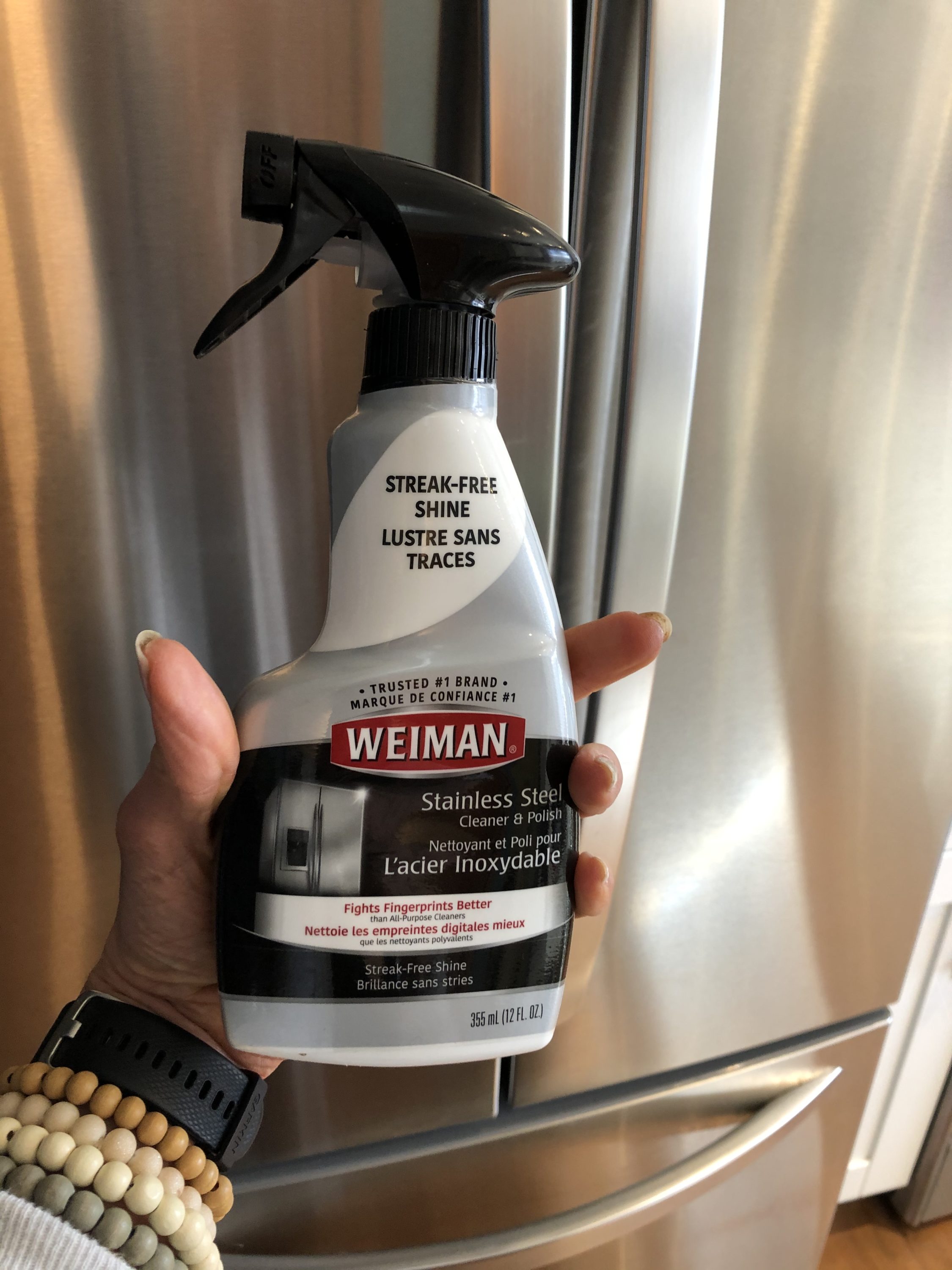 Caveat: be careful when spraying it on the appliances, because if you get it on the floor it is VERY slippery. Be warned! Also, admire my shiny fridge!
Feel free to share your favourite cleaning hacks, products, and methods. Or, don't! If cleaning is not your jam, don't worry, next week we will delve into another favourite topic: Costco. Until then, my friends! xo