What Even Day Is It
Here we are, the last week of school (or, "school") before the holidays, and I am feeling that old familiar what even day is it feeling. When I wake up in the morning, I rarely think in terms of Monday-Friday; instead, I categorize the day by what class I'm teaching or IF I'm teaching. My week is Strengthen and Tone, Seniors, Grocery Day, Foundations, and Ashtanga, but this week my registered classes – 3/4 of the classes I teach – have all wound up for the year, and so I'm feeling a little at sea.
Monday! It's Monday. We are thirty-nine weeks into the pandemic and in a full lockdown.
Library Lockdown
Yes, as of yesterday, we are now in a full-scale lockdown; in other words, it is now illegal to have a gathering of any kind, any number, inside or outside. I feel a bit salty about this, as I haven't gathered with other people in months, and my god, how are we back here again but you know. Perspective. I'm fine. We're fine. Everything's fine.
I WAS horrified to learn that the library is now closed. Our library app has a "for later" shelf where I have listed about 150 titles; the app has a feature that shows which of those "for later" titles are available right now. When I discovered the library was closing, I did what anyone in my position would do, and started putting all of those available titles on request immediately. It was the library version of panic-buying at the grocery store.
I was feeling quite satisfied with myself, thinking of the titles that would come in before the library closed at 5:00 on Saturday, until I found out that, unlike during the last shutdown a) the library is still doing curbside hold pickups, b) the return chute is still open and due dates are still firm, and c) all of the books came in and this is my current To Read pile: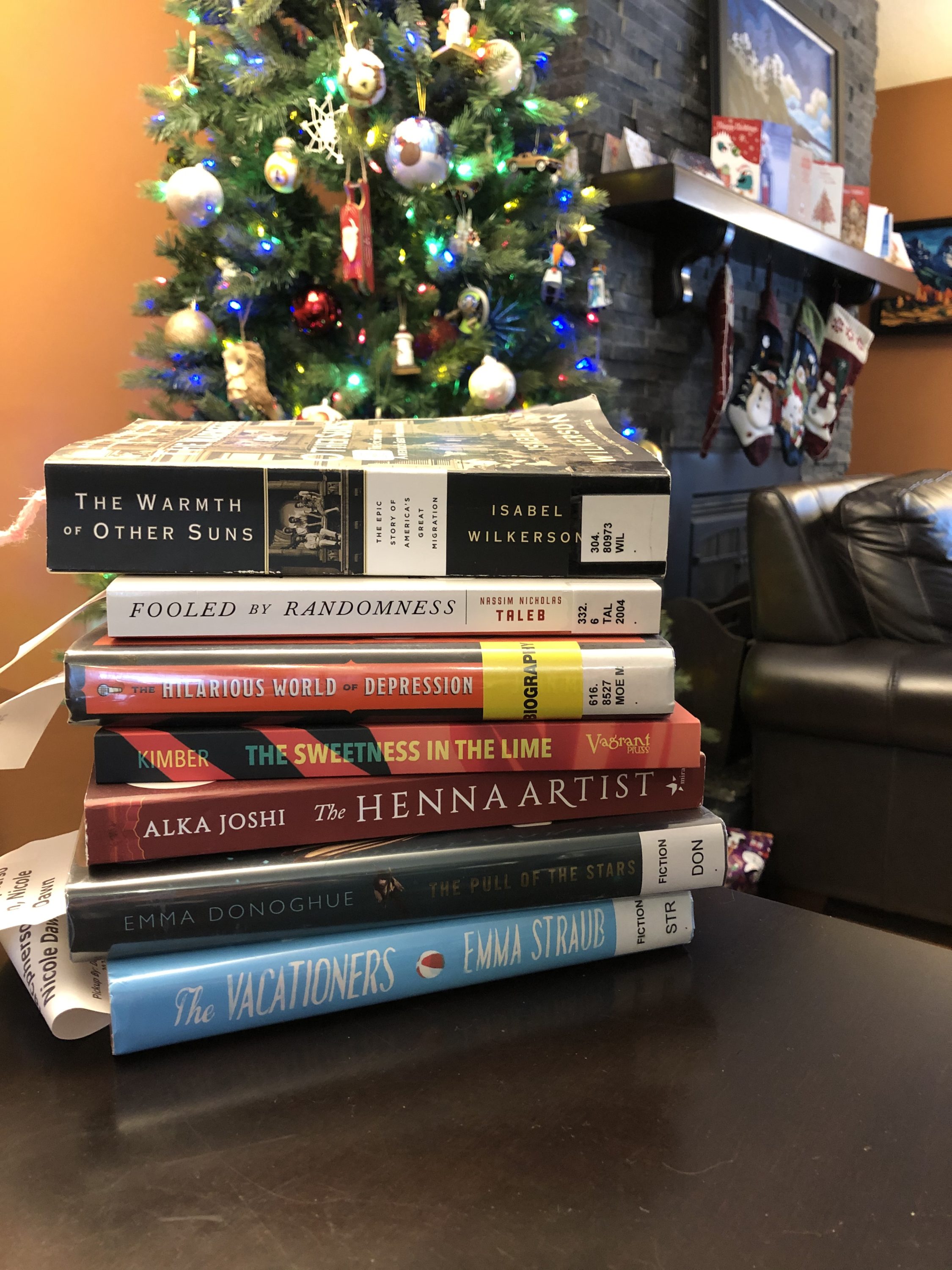 And I have another FOUR titles that I need to pick up this week. Luckily my social calendar isn't exactly packed. It's fine!
Wrapper's Delight
My least favourite Christmas-related task is gift wrapping. I am terrible at gift wrapping. Maybe I should have saved some of those gift bags? But we are a Tear Open The Paper kind of family, so I stand by my decisions.
One of the fun things about doing so much online shopping is that when you go to wrap the gifts, you discover all the things that you bought and kind of forgot about. As I was wrapping, it occurred to me that some t-shirts I had ordered for my older son – whose personal style is jeans and a graphic t-shirt, but not just any graphic t-shirt, it has to be a specific unique random thing that I've often never heard of, who even is Tyler Bryant – had not yet arrived, even though I ordered them in early November.
Not two minutes later, I heard a knock on my door. It was the elderly lady across the street letting me know that she would be away for a few days, and if anything happened to her house, could I call her, and by the way, did I know I had mail? And like a Christmas miracle, there it was, the package of Seinfeld-themed t-shirts with These Pretzels Are Making Me Thirsty and Look to the Cookie emblazoned on them.
Everything is fine!
Speaking of (W)rap
If you are a person who has a Spotify account, undoubtedly you will have discovered your number one song for 2020. My music genres are wildly varied, from hard rock and 1990s hip hop for workouts and running to Broadway show tunes, from mellow 1970s music to soul and Motown, alongside the hippie chanting and instrumental music I use for my yoga classes. I was excited to see what my very number one listened to song was.
It was – wait for it – Walk This Way by Run DMC. I was puzzled – I do love that song, it is on two separate playlists for running and cardio workouts, but I was surprised it was my number one song.
The mystery was solved when my husband looked at his list. His number one song was Let's Stay Together by Al Green, followed by Copacabana by Barry Manilow, two songs he has never consciously chosen to listen to in his life.
His Spotify account is linked to our kitchen Sonos, which is what I listen to when I'm in the kitchen, which, as we know, is many, many hours a week. Hilariously, the rest of his list was filled with Aretha Franklin, the Bee Gees, and the Doobie Brothers, and although I am amused at the idea of him secretly grooving away to Nights on Broadway, you will have to believe me when I say he is not a Bee Gee kind of guy.
Festive Friday
I have declared the two Fridays leading up to Christmas to be Festive Friday, and so last Friday we decorated gingerbread men. This is, as longtime readers will know, an annual tradition that leaves us with dozens of identical gingerbread men with three buttons, two eyes, and a smile, all made by me, and about a dozen of ridiculous messes that no one will eat because that icing is really not that great. Allow me to illustrate.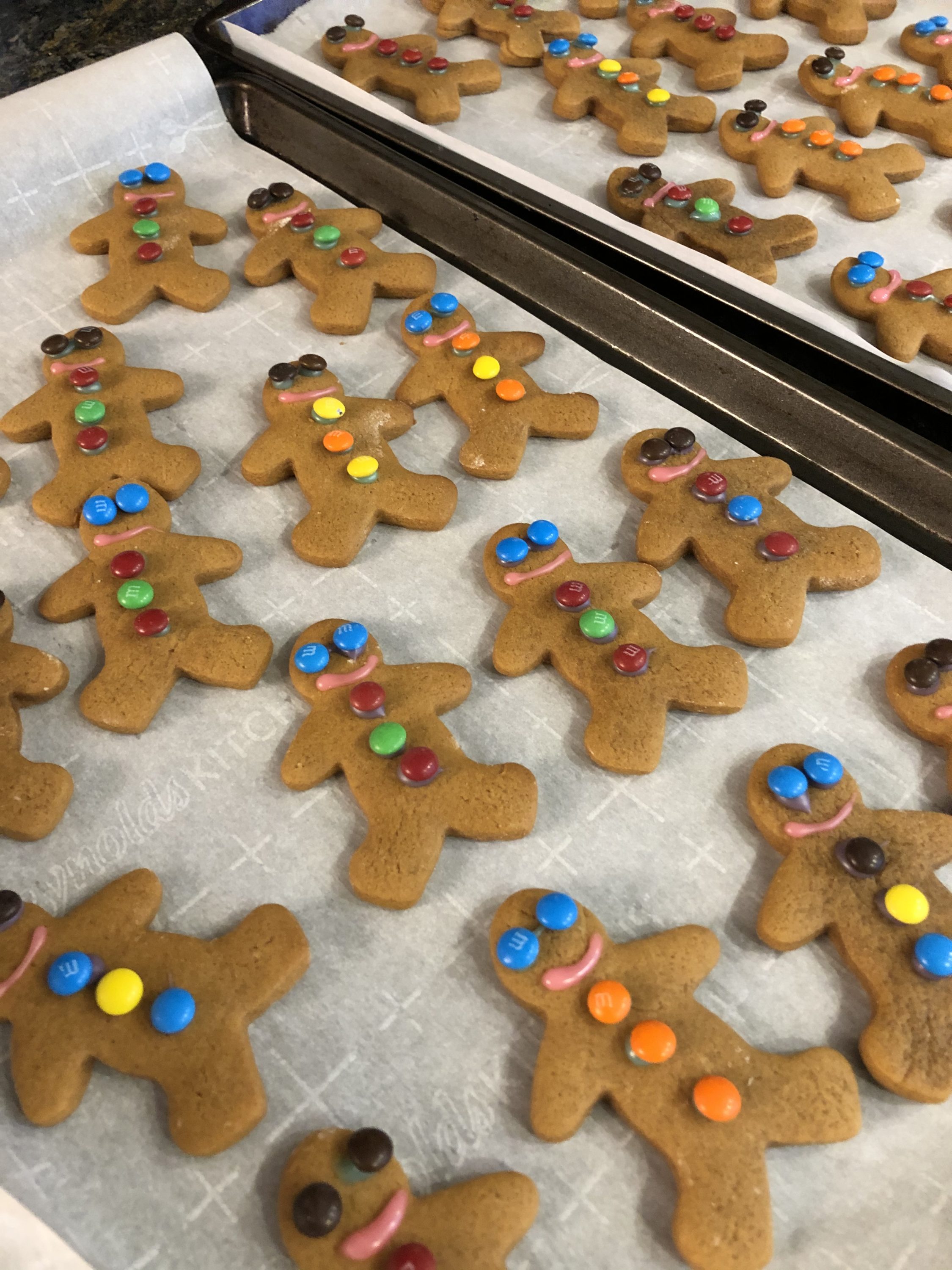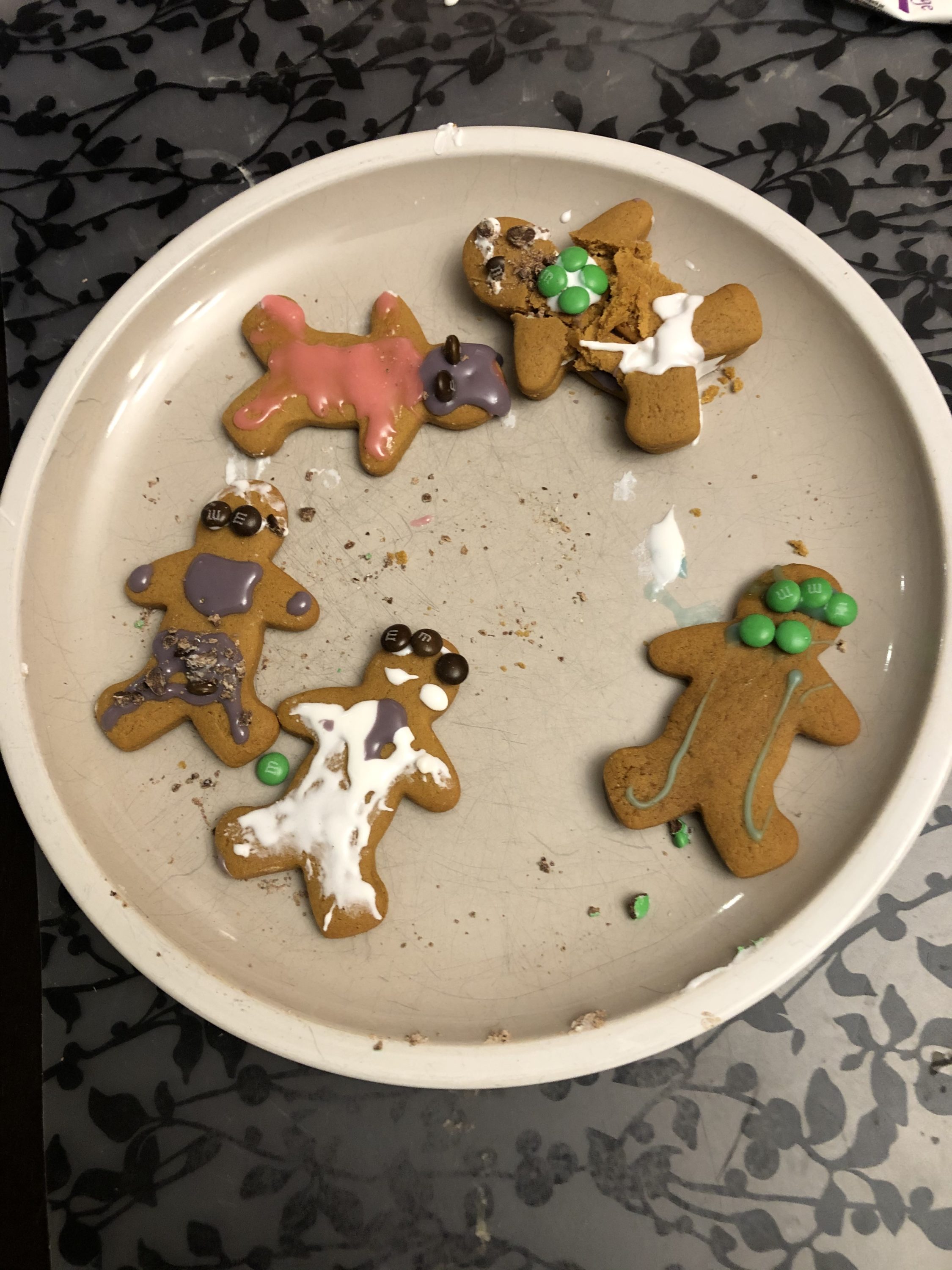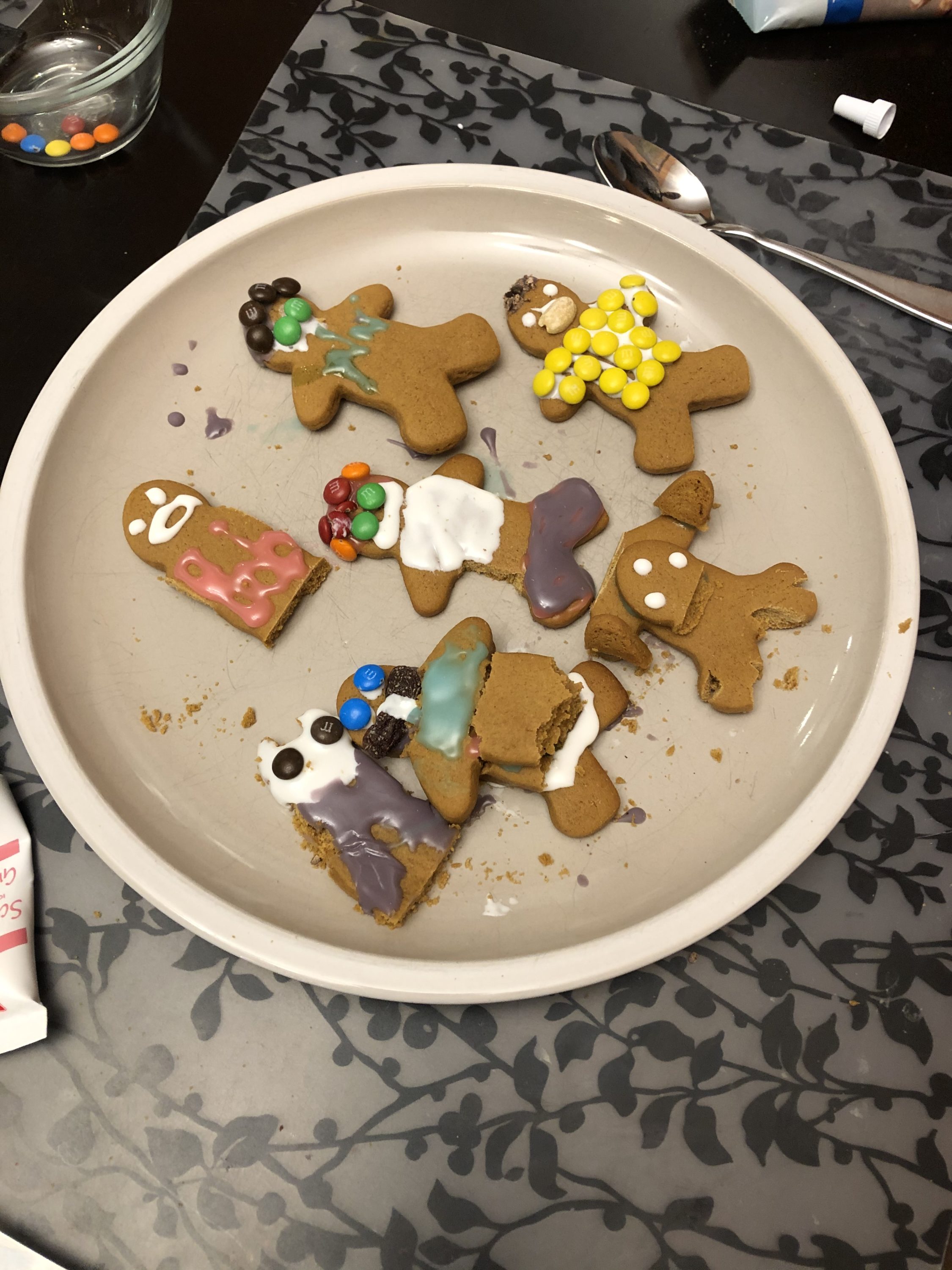 After decorating, the boys proceeded to squirt the remains of the icing tubes into glasses of water, which they drank like tequila shots, at which time I uncorked a bottle of wine.
Pandemic Reading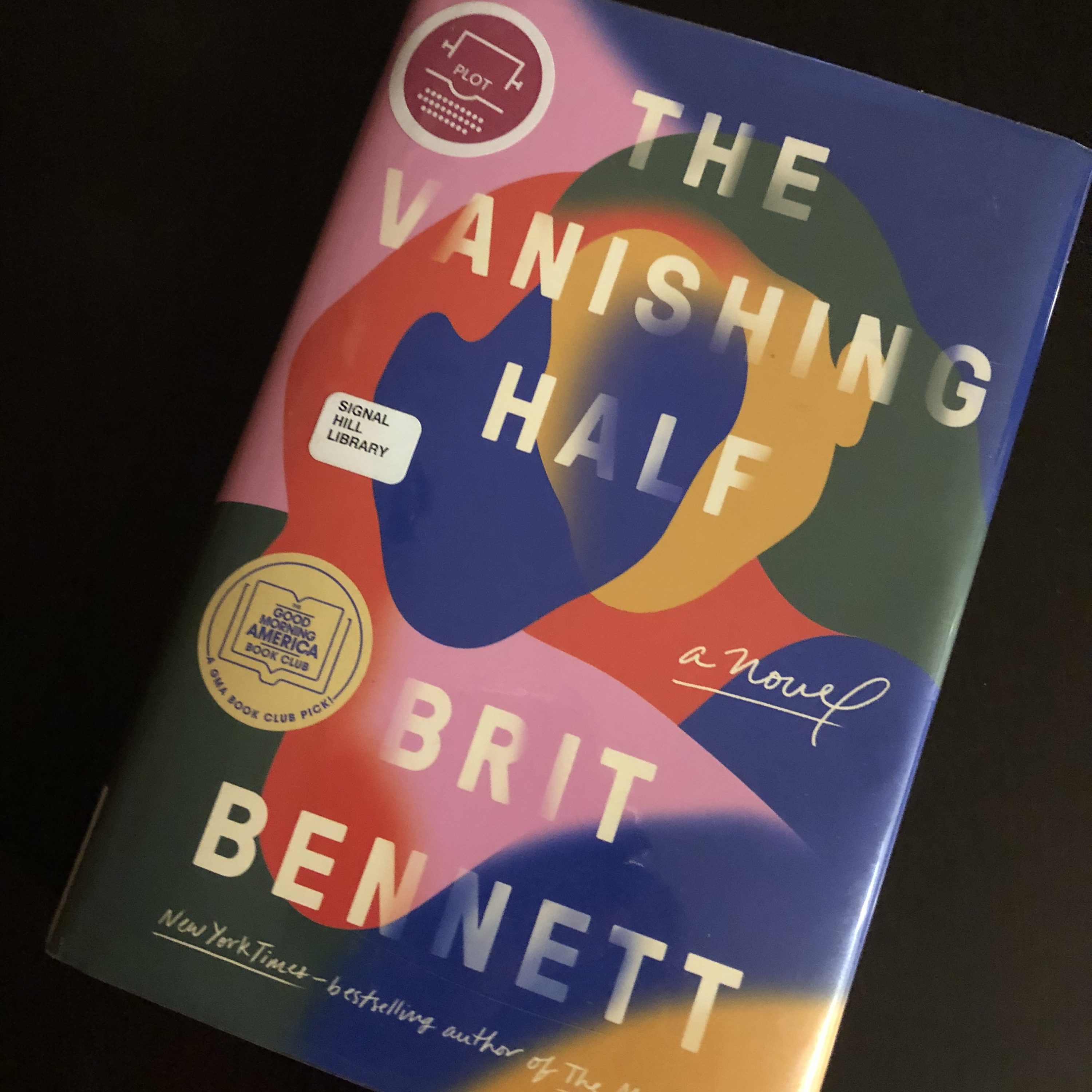 Thanks to Suzanne (HI SUZANNE) for recommending this book. Light-skinned Black twins run away from home to start new lives – separately. It is a compelling read about racial identity, gender identity, and the pull of family. I immediately looked up other books by this author and put them on my (ever-growing) to-read list at the library.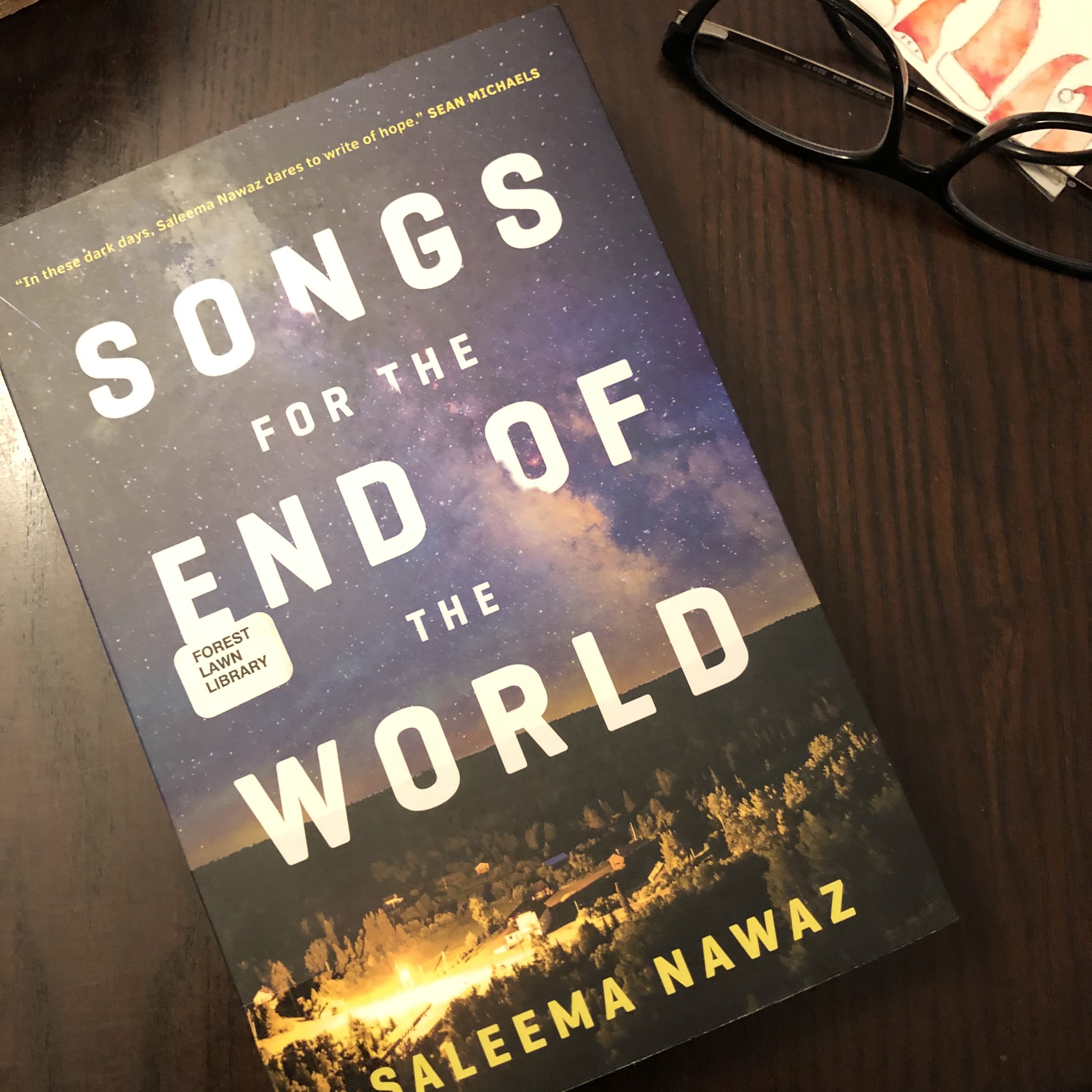 So. Did someone recommend this to me? Was I drunk when I was on the library app? All I know is that I would have never put this on hold if I had read the plot synopsis. DEAR GOD. It is set in the fall of 2020. It concerns – wait for it – a deadly virus that is causing a global pandemic. A deadly NOVEL CORONAVIRUS. The incredibly uncanny thing about this is that it was written and edited between 2013-19, and published MARCH OF 2020, and there are many details about self-quarantine, wearing masks, and end-times panic about groceries. What the what. Why did I even read this to the end, I don't know. It was written in a style I very much like: different viewpoints and timelines, showing how all of the characters are interconnected in the manner of no man is an island, ask not for whom the bell tolls, etc. However. Maybe if we WEREN'T currently living this dystopian nightmare, I'd feel differently about reading it, but we are, and I cannot UN-recommend this book strongly enough. Unless you like reading about the deaths of millions of children, then go for it, fill your boots.
Yummy Things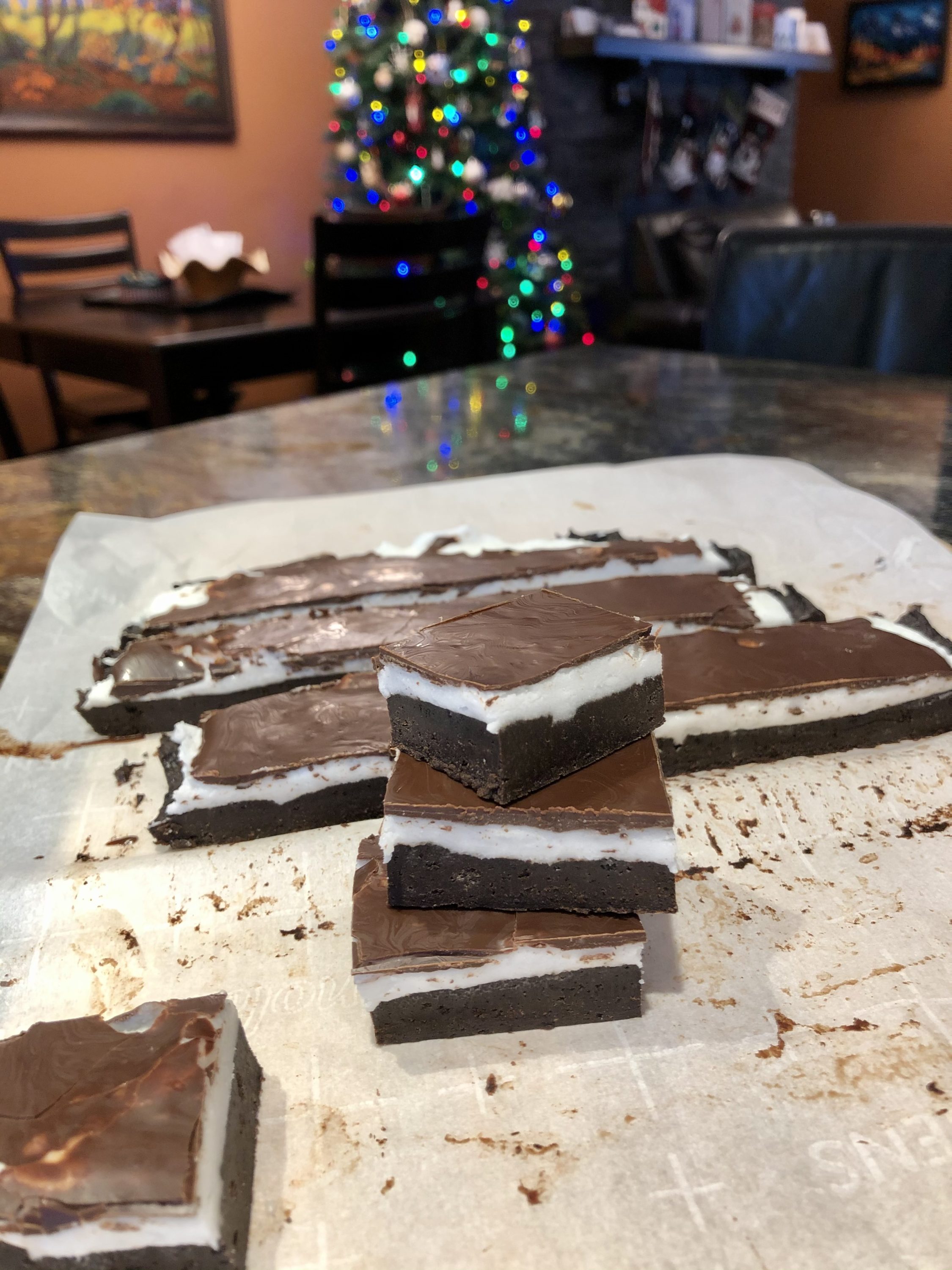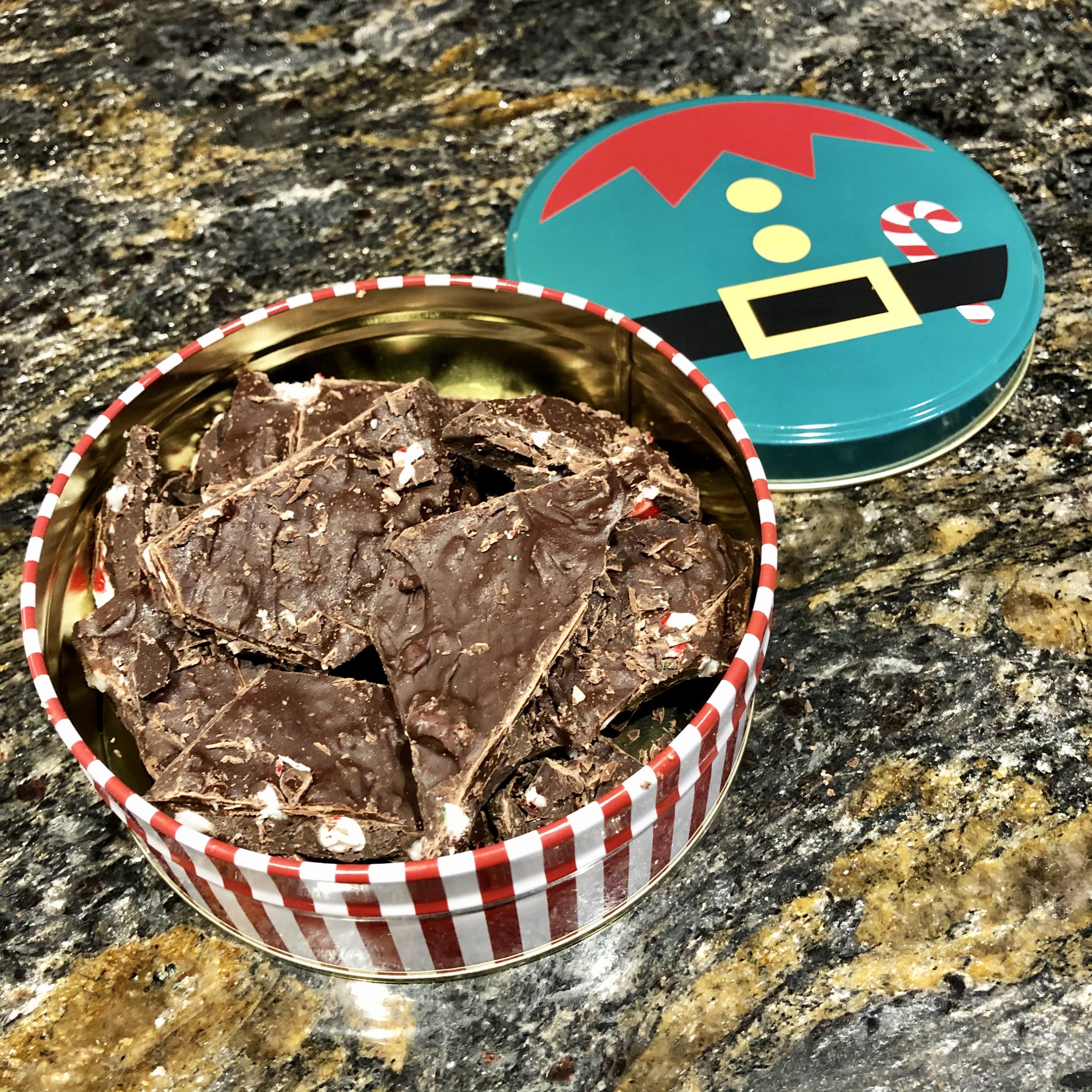 In addition to gingerbread, this week I made mint squares, peppermint bark – the Christmas treat that is so easy and yet always impressive – and chocolate truffles. Important addition to the latter: after rolling into balls, I placed them on wax-paper lined cookie sheets and then put them in the freezer. Meanwhile, I melted 1 cup chocolate chips with 1 tablespoon coconut oil, then dipped the frozen truffles into the mixture. Then I put them back to the freezer, and I'm taking them out as needed.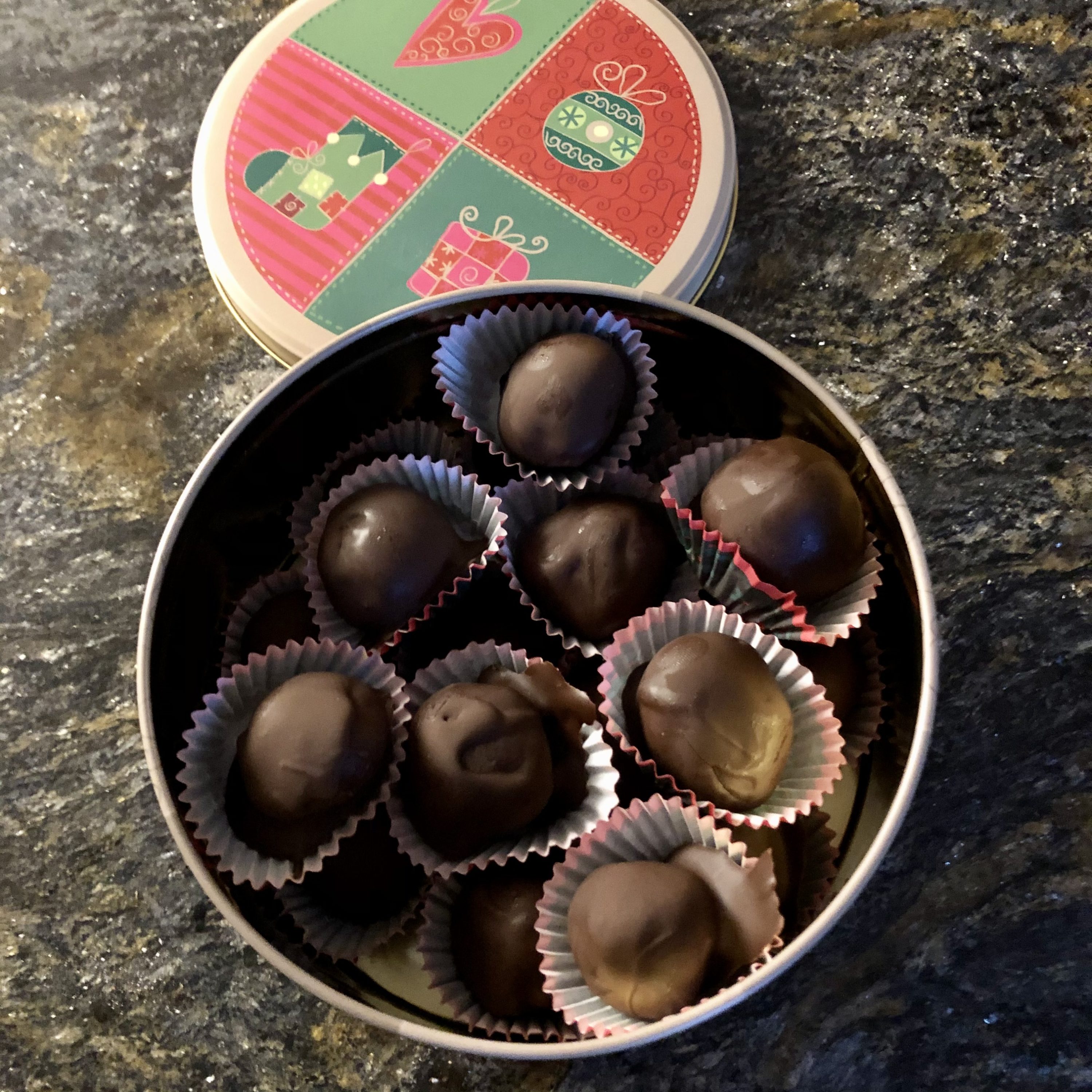 Have a beautiful week, everyone! Are your kids still in "school" this week? Are you all ready for the holidays? Tell me everything. xo