On Thursday I came home to THREE messages on my old-school landline answering machine. I have an actual, physical answering machine, you guys. Anyway. This is not a story about how I am barreling into the next decade with not only a landline and answering machine, but also an iPhone 5s that does not hold a charge and cannot be physically powered off because the power button is broken, but I don't want to start over again with all the apps and passwords and so I hold onto it like a security blanket. This is a story about suddenly having a free afternoon.
Usually when I get messages on my answering machine it's an automated call saying that this is the credit card company calling and I'm heading straight to jail, or similar. But on Thursday, one of the messages was from the new day spa down the street, where I had an appointment for a wax. "Had" being the operative word, since the panicked voice on the machine was telling me that the wax had to be rescheduled, and that this was the only number that they had for me, and please call them back. All of which I found strange, as I never give out my home number, only my cell, and I know for SURE that when I filled out the strange waiver you get with a new esthetician that I put my cell down for my contact. I mean, how DID they get my home number? Well, it doesn't matter. I called and it was indeed, mysteriously, the spa, and not some scam in which people call and leave messages saying that their appointments had been cancelled. Can you imagine if that WAS a scam? It would be the strangest scam ever.
Anyway, apparently my esthetician "put her back out" and so was unable to wax my bikini line. Let's not think too much about how that happened or the strain my bikini line might give a person. The point is, I had a free afternoon.
That never happens! I literally stood there for a solid minute, staring at my old-school landline answering machine, thinking about the hours that stretched ahead of me. What to do first? I tackled my least-liked Christmas job, which is gift wrapping. I hate gift wrapping. I am terrible at gift wrapping. I somehow lack the spatial skills that are required to cut an appropriate amount of paper for the size of the gift and then I also lack the coordination to fold and wrap without it looking like a jumble. My hair seems to fall out from the stress of it all, as there is almost always strands of my hair stuck in the tape. But in any case, it is mostly done now. After that, I tackled some of my Christmas goody jobs and took a very long dog walk.
As well as being the Season of Light, it is also the Season for Decorative Tins. Over the years, I have amassed many, many festive tins and I feel the need to fill them, always. What is sadder than an empty decorative tin, I ask you? Well, you might answer, many things. Moving on! Let's fill those tins up!
Back in the day when I worked in natural gas options trading, we would sometimes get a really big market position that we would want to eventually reverse. My boss was famous for saying "Let's chip away at it" because a giant options position? It's not always possible to reverse it all at once. Small steps. And so it is with life, when faced with a big task, the best thing to do is chip away at it, a little at a time. This is my philosophy when it comes to Christmas treats. If I think about all the things I want to do, it's overwhelming. So, chipping away.
How To Make The Maximum Amount Of Delicious Treats In Minimal Time
Sugar Cookies and Gingerbread
I have talked about this before, how the key to Holiday Happiness is making cookie dough ahead of time, and then rolling and baking when the mood strikes. Who knows, maybe you're a person who likes being in the kitchen for fourteen straight hours? But I am not. My recipe for sugar cookies is here, and my recipe for gingerbread is here. Each dough takes ten minutes to make, maybe 15 if you find your flour canister is empty and you have to bring up a bag from the pantry. Make the dough. Freeze the dough. A couple days before you need the dough stick it in the fridge to thaw. I timed myself and it took less than thirty minutes to roll, cut out, and bake five dozen cookies. If you're a pipe-and-flood person, then you might want to factor that into your time, but I am of the "spread some buttercream on the cookie and then put sprinkles on it" team. Or, in the case of gingerbread, I just stick some M&Ms on with those little tubes you can buy at the grocery, AND I get my kids to decorate, which is only for the people who can really let it go. I mean: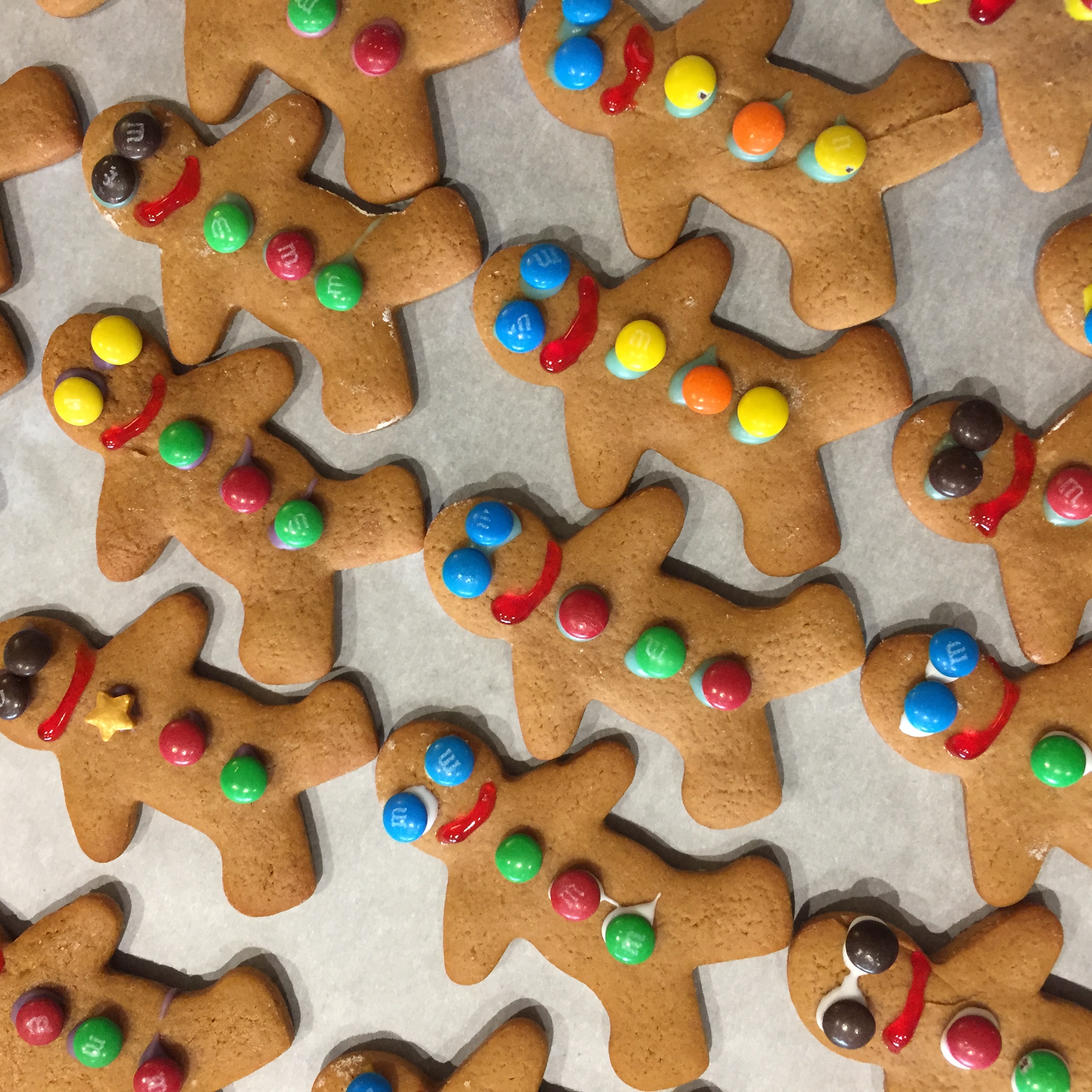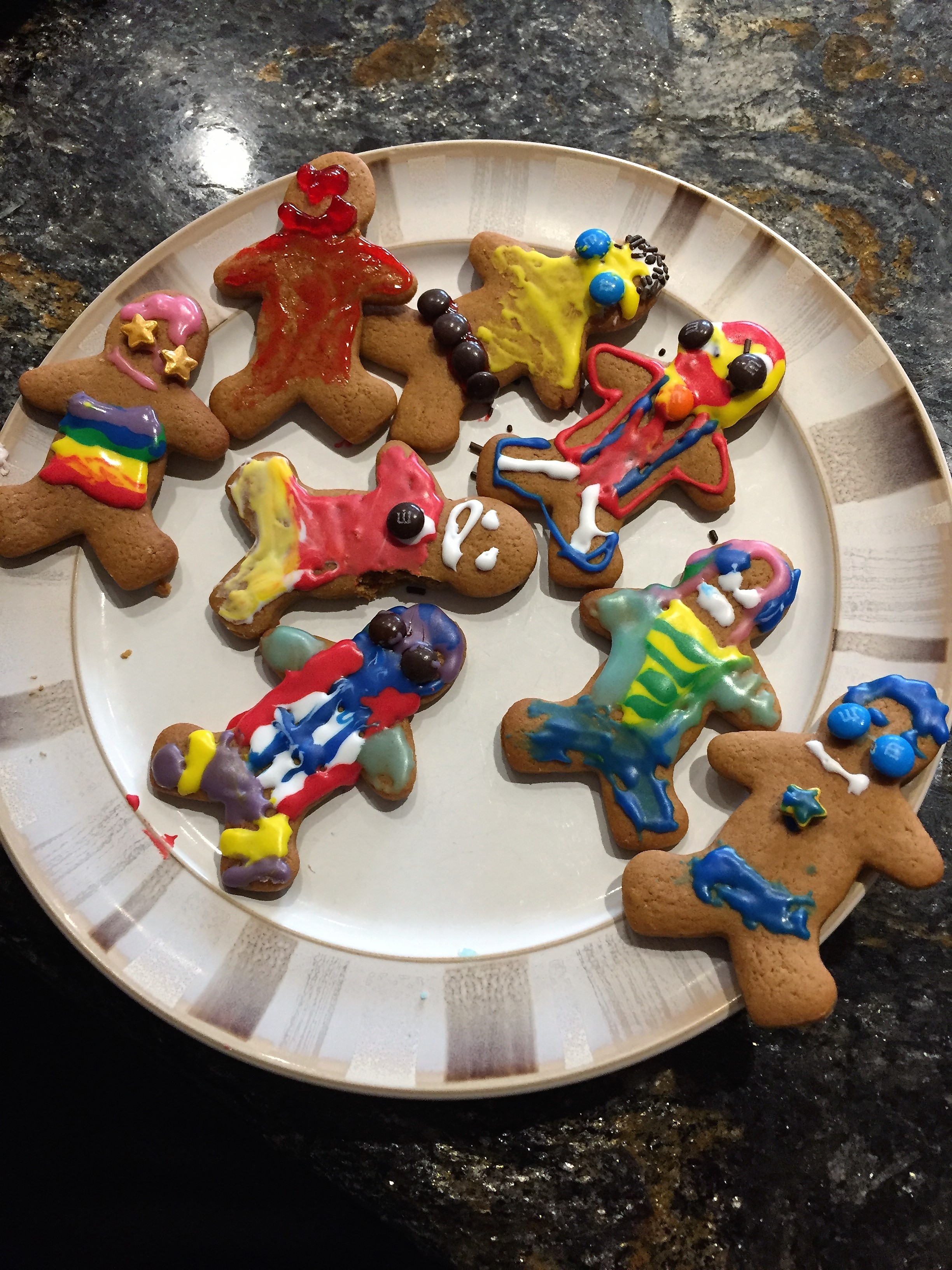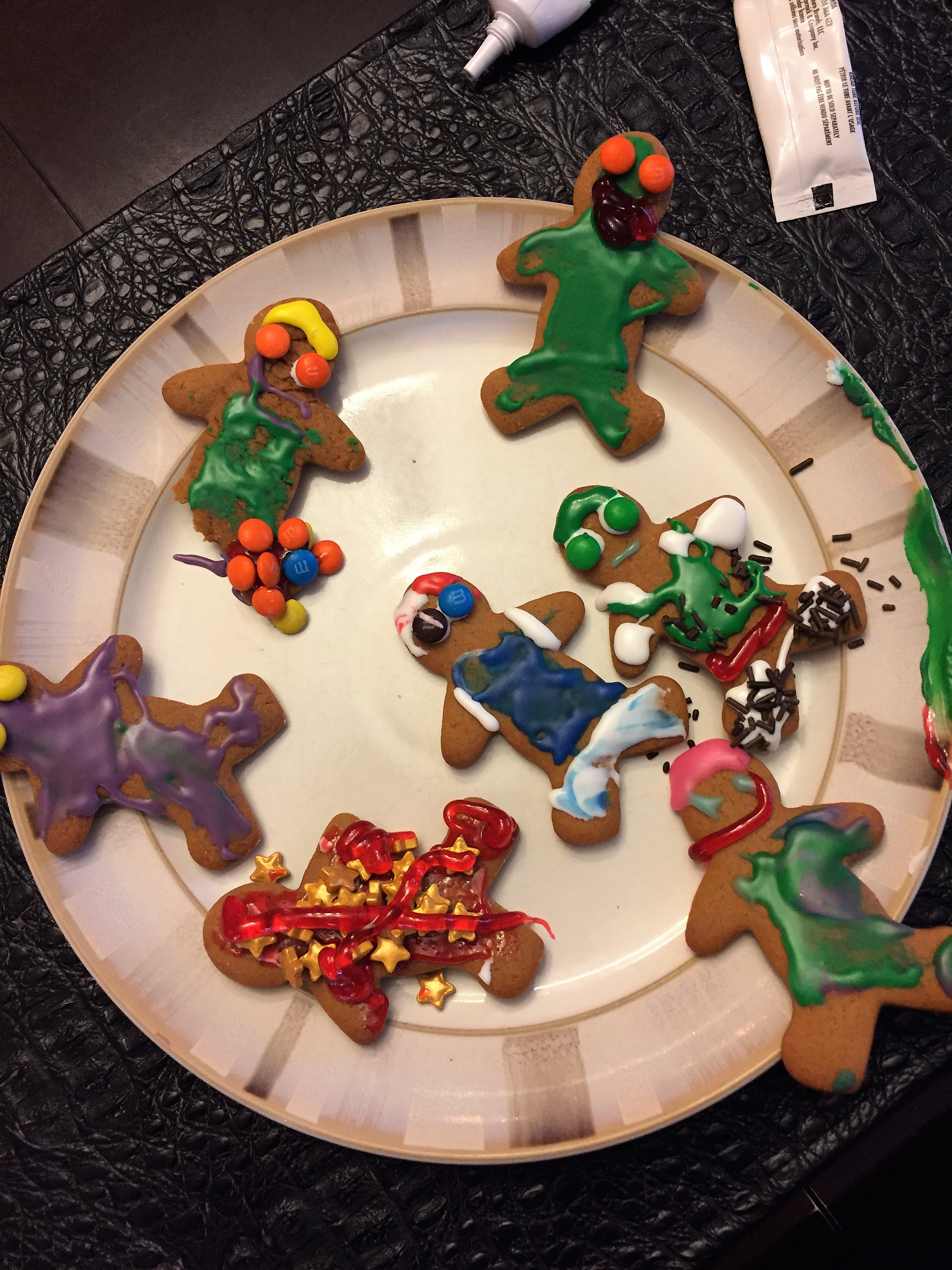 Those were from last year. Stay tuned for this year's creation!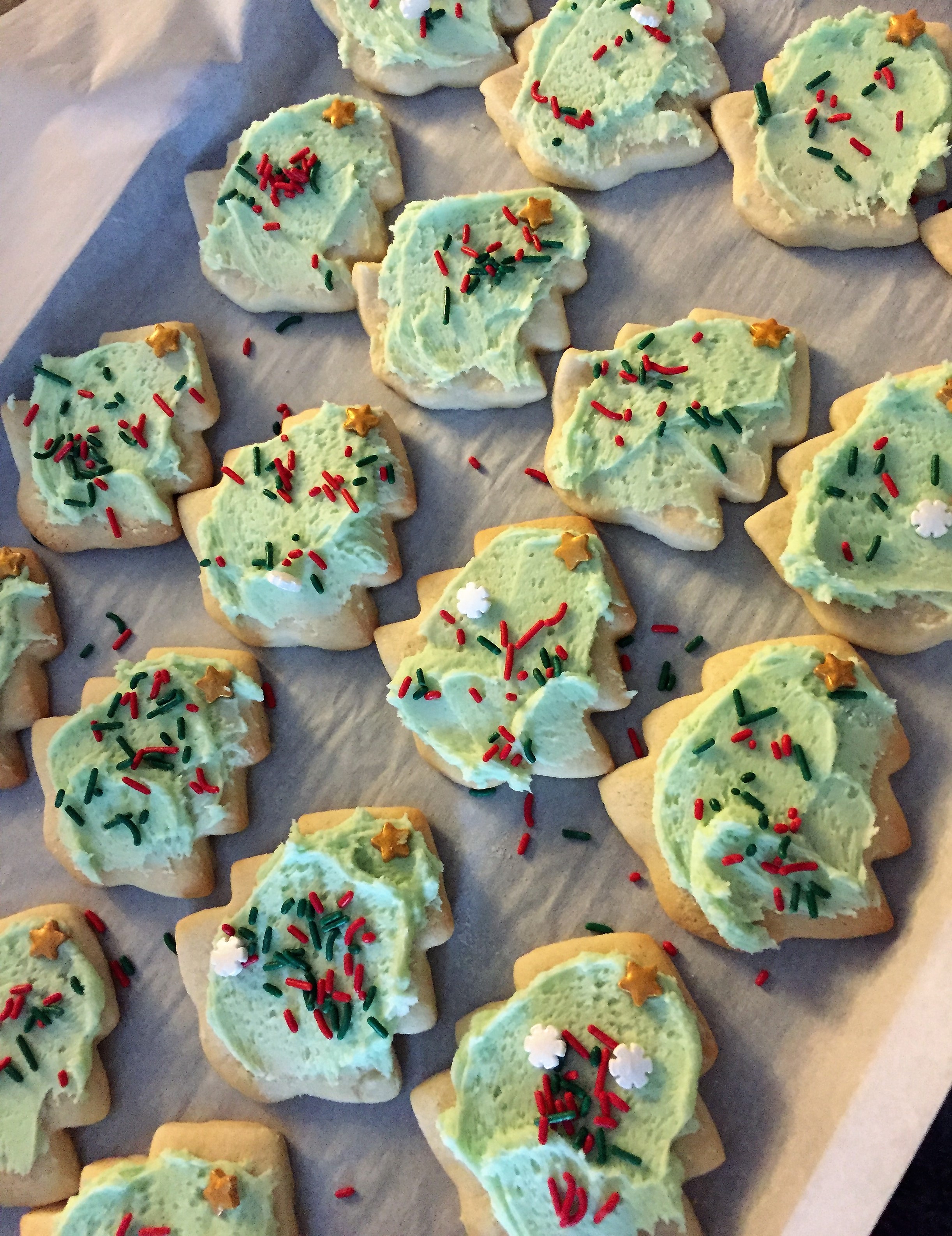 When in doubt, add more sprinkles.
Truffles
I have been making these truffles for YEARS, and I always kind of dread making them, as it's super hard to dig out the hardened chocolate and make it into balls. But this year I had an epiphany, probably from seeing one of those candy making videos on Facebook. So here's what you do: melt chopped chocolate together with coconut milk (the full-fat, canned kind) in a 4-to-1 ratio. Add some vanilla extract, or some peppermint extract, or some orange or almond extract. Whatever floats your festive boat, people! Put it in the fridge for 45 minutes or so, just to cool it slightly. It will be like thick pudding. THEN use an ice cream scoop to put little blobs on wax-paper-lined cookie sheets.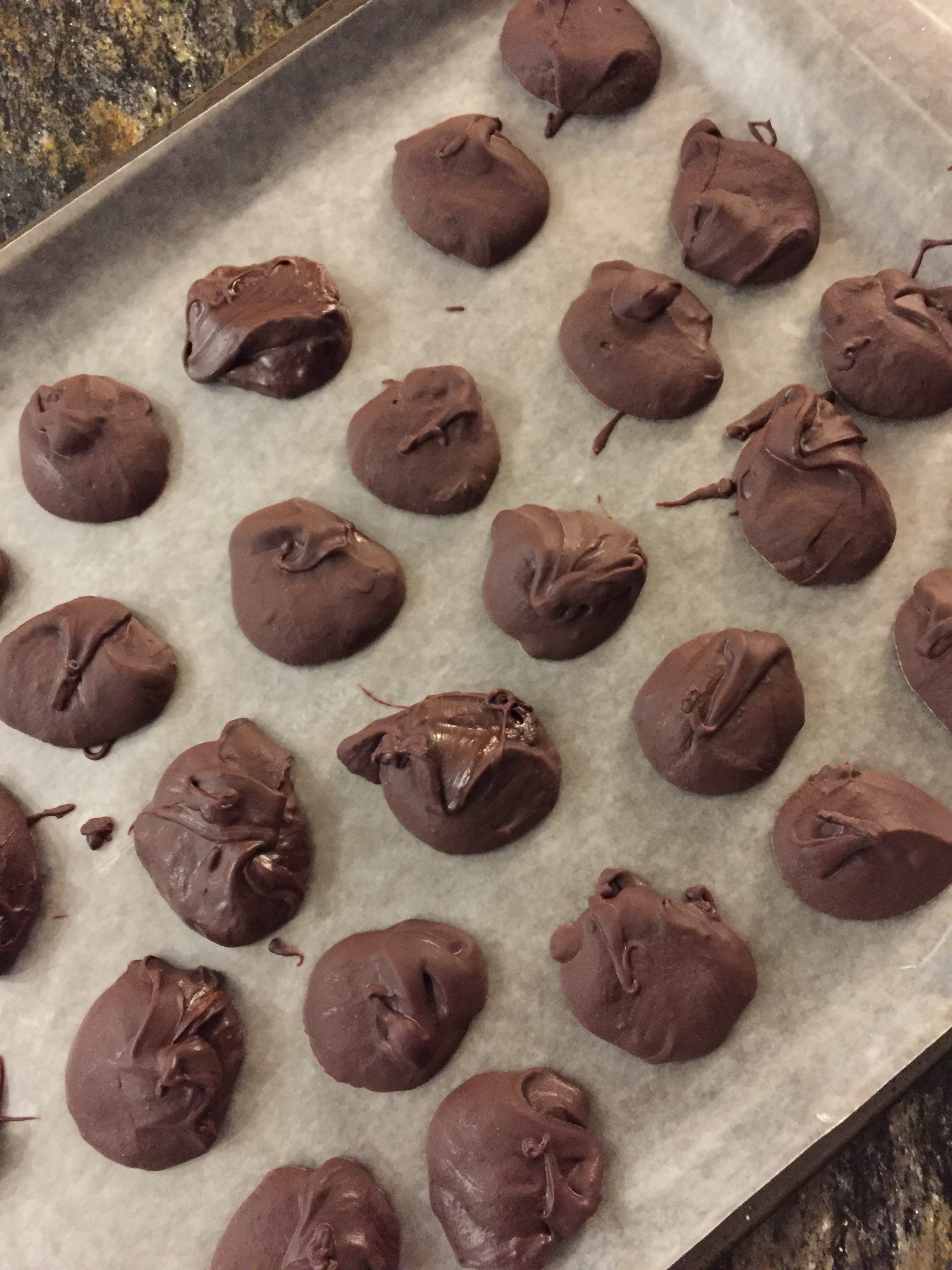 Stick it back in the fridge for another 45 minutes or so and THEN you can squish them and roll them into little balls.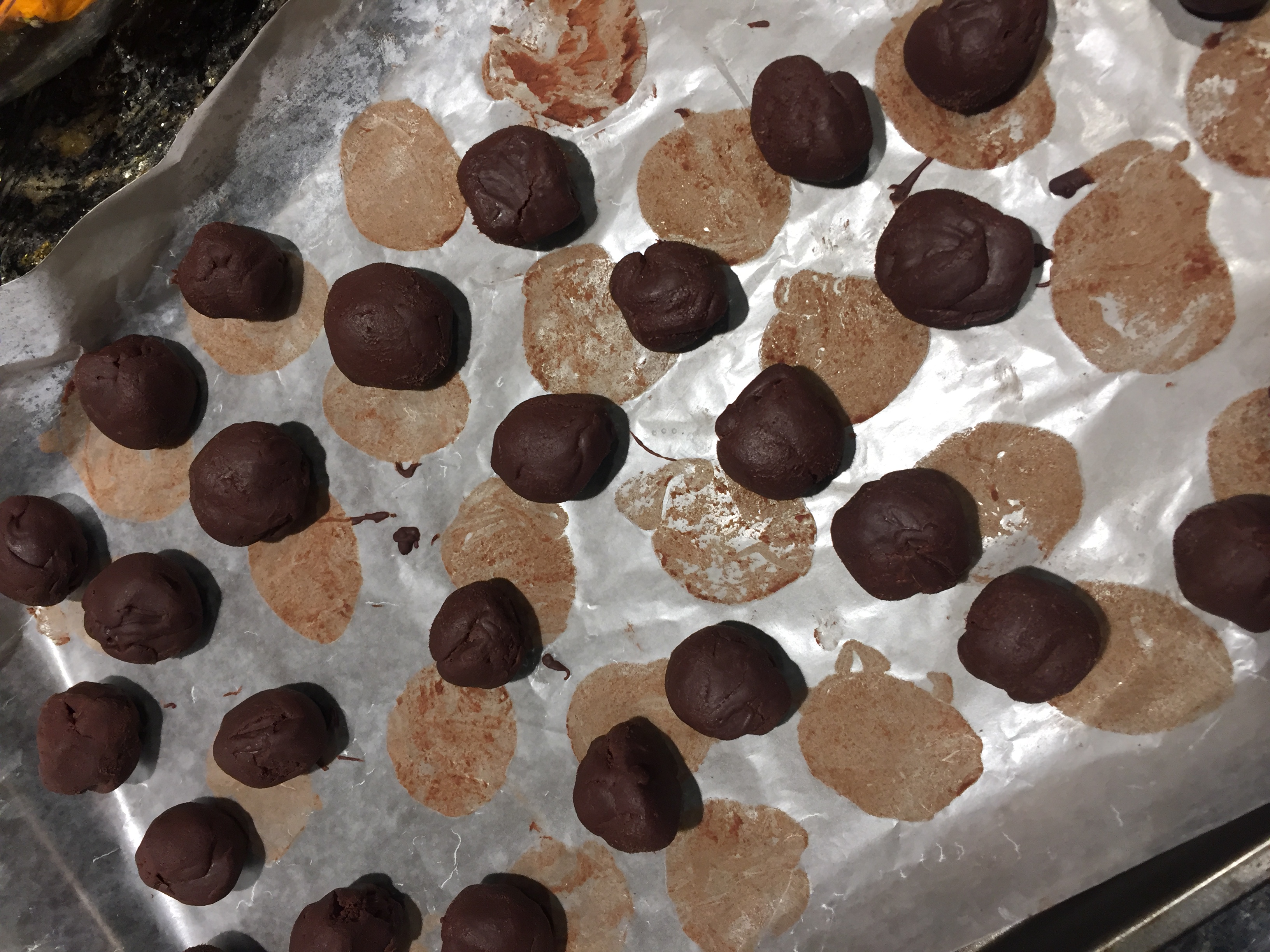 THEN put them in the freezer and forget about them for a while. Days, even. I used to just roll them in cocoa powder, but NOT ANYMORE. I have stepped up the game for something that takes barely any time. When you have 15 minutes, melt say one cup of chocolate chips with a tablespoon of (REFINED) coconut oil. Then grab your frozen truffles, drop them one by one in the melted chocolate, put them back on the same messy wax-paper-lined cookie sheet, and stick it back in the freezer. It takes very little time to set, at which point you can package them up for gifties or put them IN A DECORATIVE TIN.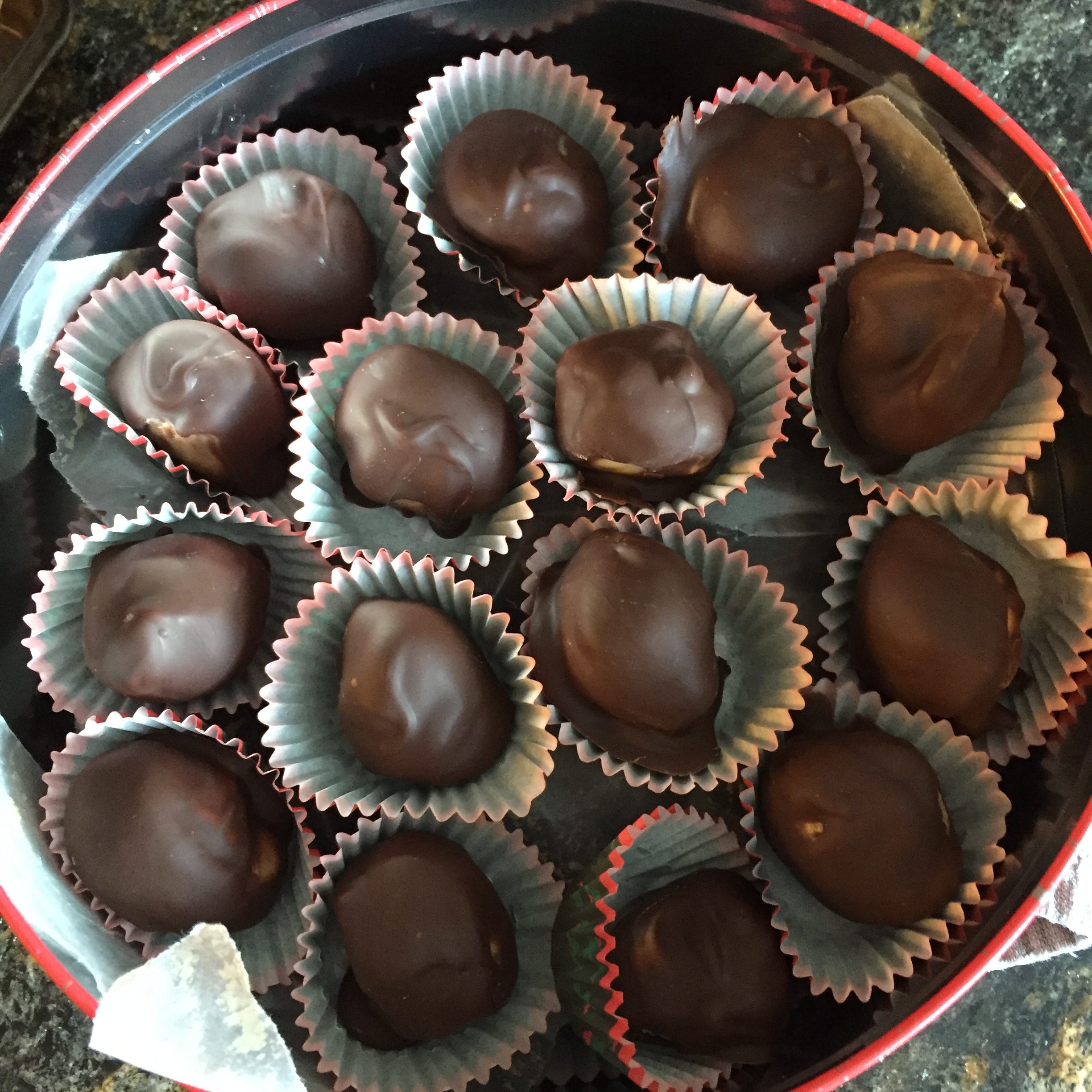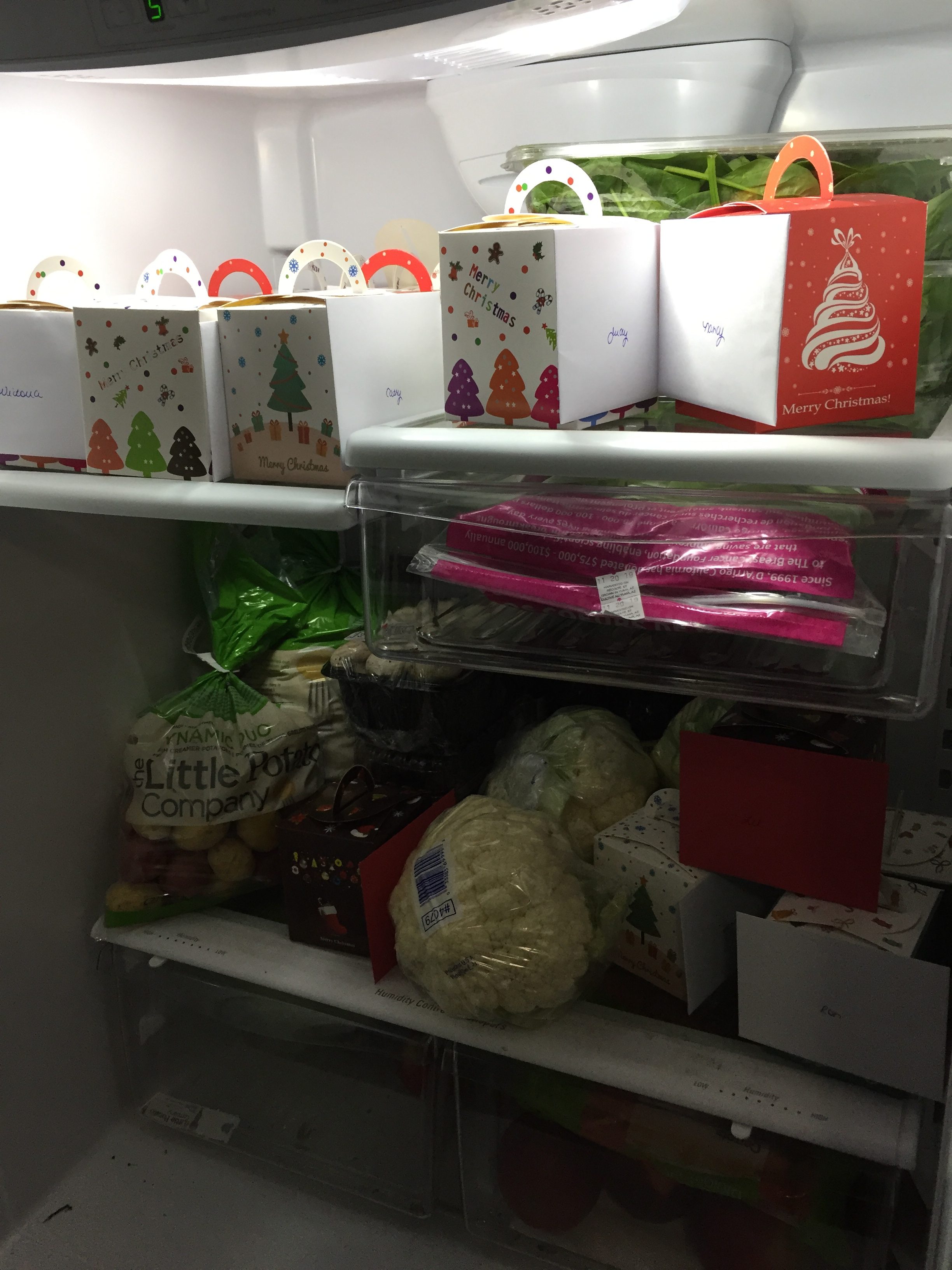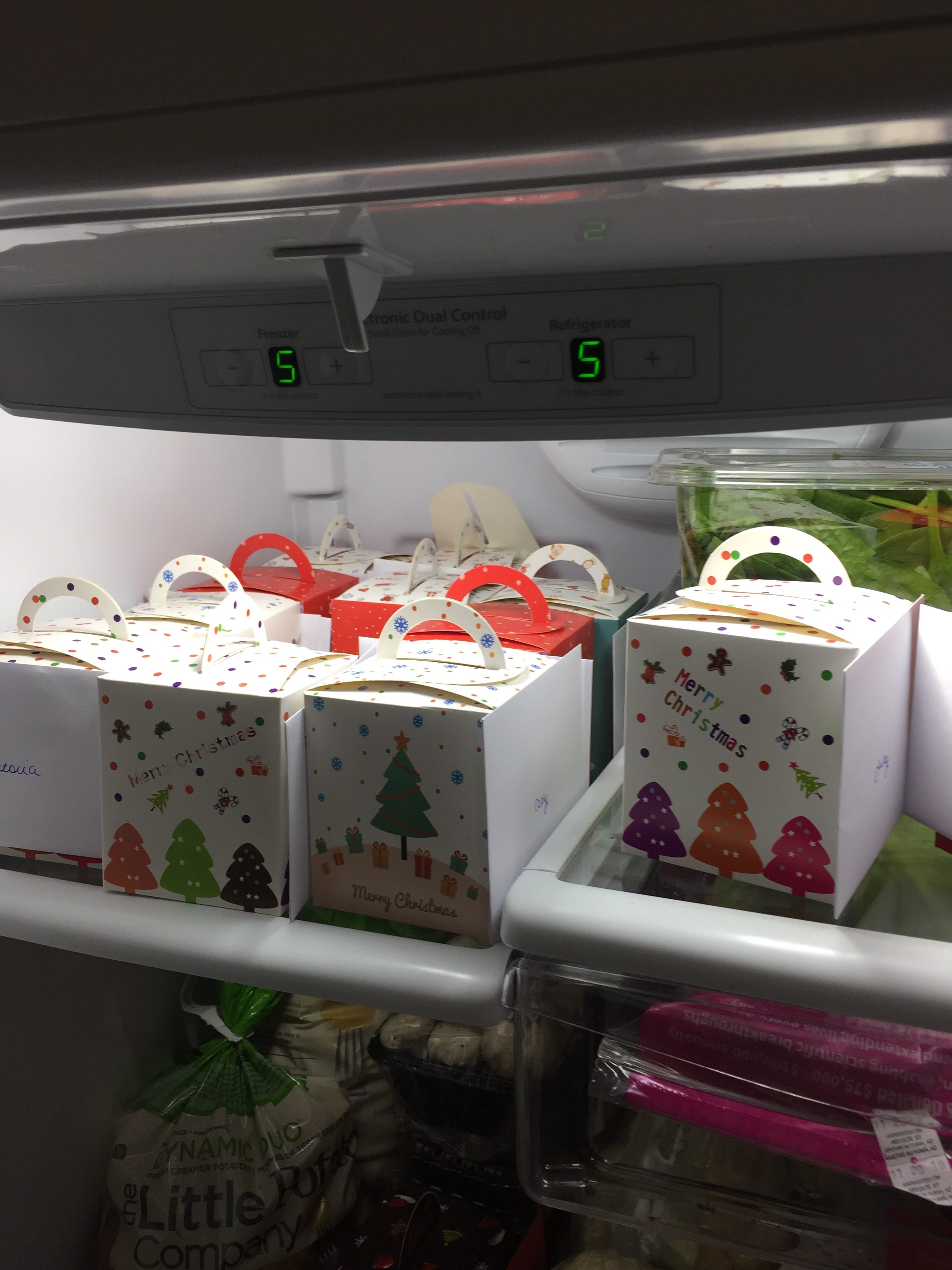 Don't you wish you were in my seniors' class? And YOU get a box of truffles, and YOU get a box of truffles…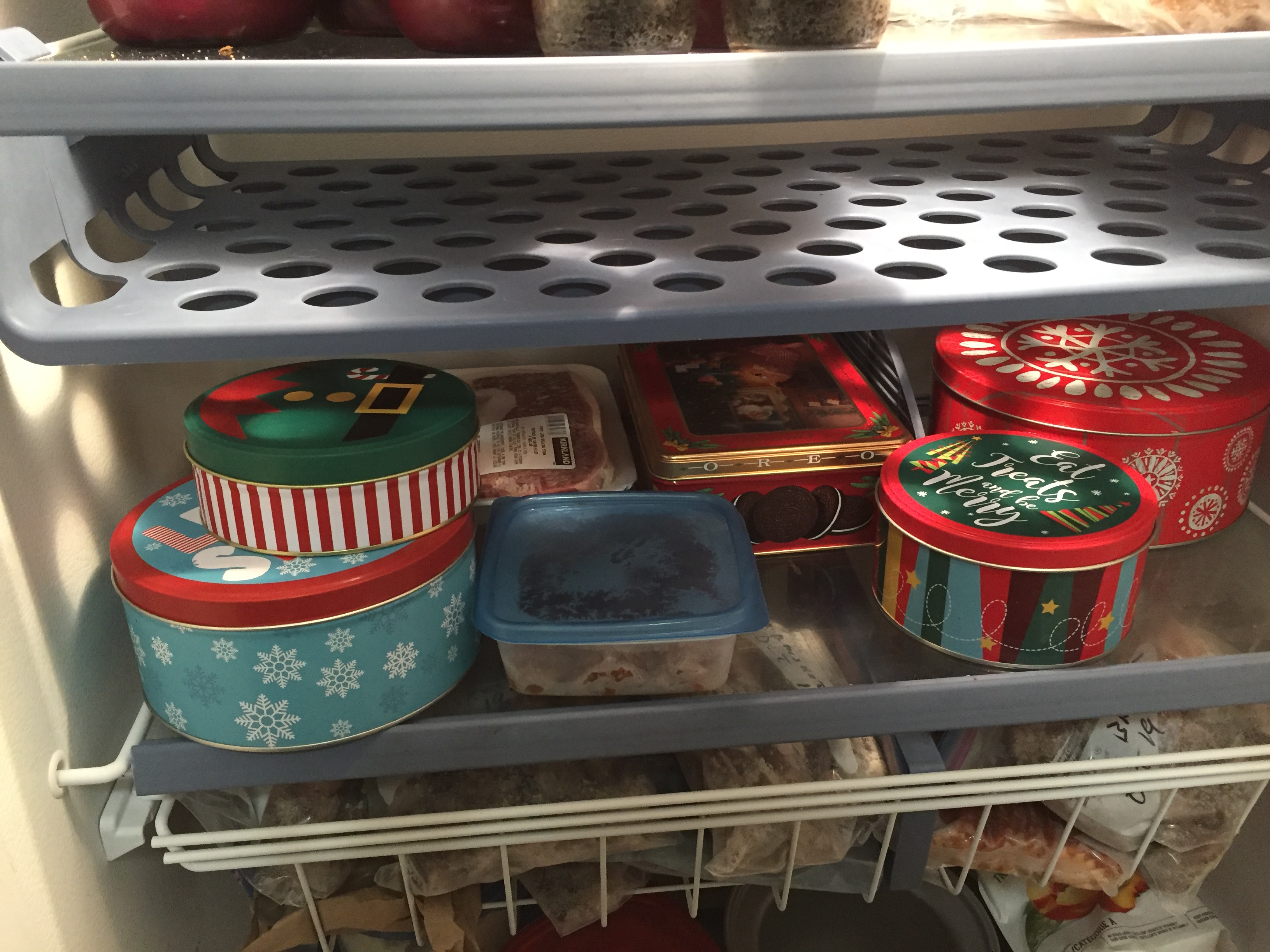 The rest go into my tins in the freezer.
My giant container of tins that are patiently waiting to be filled.
I also made peanut butter truffles this year, which was super easy. Melt together 2 cups of peanut butter and 1/4 cup (REFINED) coconut oil. Stir in a teaspoon or two of vanilla (just pour, it will be fine) and 2 cups icing sugar. Follow the same procedure as above with making them into balls, and rolling them in chocolate coating. EASY PEASY PEANUT BUTTER SQUEEZY.
Peppermint Bark
Literally anyone – ANYONE – can make chocolate bark, and it makes the best gift. You need almost no kitchen skills and certainly no fancy fine motor skills. The only person who I could think of who couldn't make this is my dad, who has ZERO kitchen skills (sorry, Dad, but it's true. Don't make this. I'll make it for you.) Peppermint is my favourite for this time of year, but you people who dislike mint, well, you can put dried fruit and nuts in instead. I have an actual recipe for this, but honestly, you don't need it. I mean, click on it if you like, but I don't get paid anymore for that so who cares? Basically, take chopped chocolate or chocolate chips, any quantity. One cup? Six cups? Who cares! Just put it in a saucepan, put it on low heat, and stir until it's melted. Or microwave it. Whatever. Melt the chocolate, then stir crushed candy canes – or fruit and nuts, whatever – into it. Spread it on a parchment-paper-lined cookie sheet, stick it in the freezer, after about 30 minutes take it out and break it into pieces. THAT IS IT END OF STORY.
The thing that is the most tedious part of this "recipe," as it were, is to unwrap all the candy canes. That is a bitch of a job and, circling back to my original point, is one that I did last Thursday afternoon. It took a solid half-hour to unwrap all the candy canes, what with all the little pieces of plastic getting stuck to my hands and sweater. I put them in ziploc bags (I know, I hate the plastic too, but it's only at this time of year) and then I assign my younger son the job to crush the candy canes. Believe me when I say he takes this SERIOUSLY. He uses a rubber mallet and pulverizes those minty sons of bitches.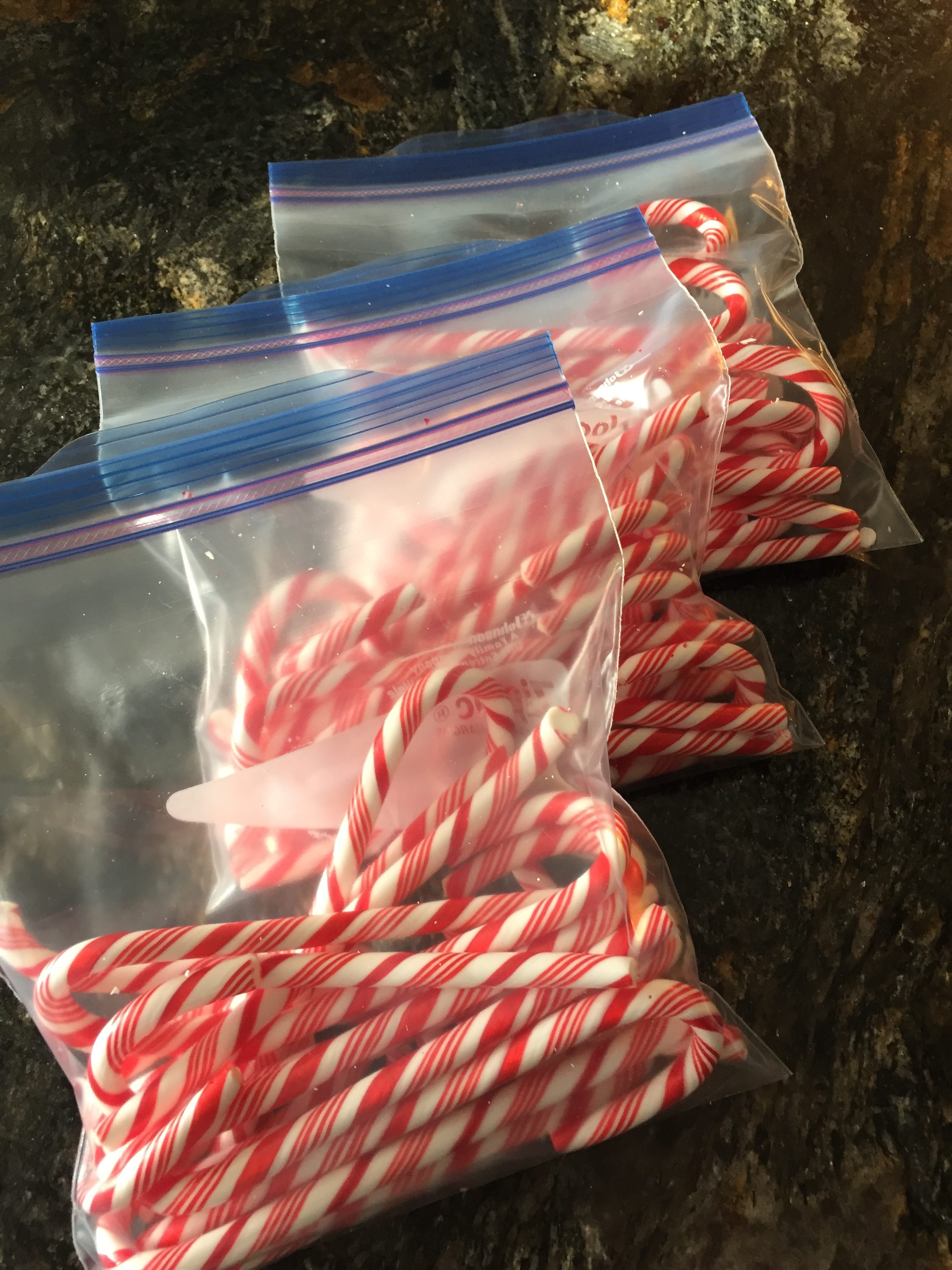 Festively awaiting annihilation.
Gingersnaps
I saved the best for last! My grandma's gingersnap recipe is here, and I can tell you that you will not be disappointed! Unless you don't like ginger, in which case, why would you make these? You wouldn't. But they are the best cookies, easy to make, and the dough should be chilled so you could theoretically freeze it and thaw when needed. Usually I make it early in the day and refrigerate, then roll into balls. I don't find these that labour intensive, though, since there's no rolling or decorating.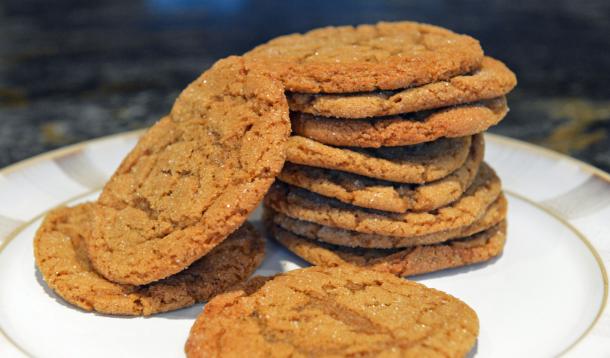 Before this gets any longer, I will close. After all, it's time for my spin class! Which MIGHT be a good idea, given all these treats! Here's to singing and spinning, my friends. Happy treat-making. xo