There is no question that I am not gifted artistically. I am a person who couldn't, say, draw a car without having a car directly in front of her and even then it would be a strange, stickman-like car. Things that normal people might find easy are terrifyingly difficult to me, like gift wrapping or sewing a button on a pair of pants. Actually, the last time I attempted to sew a button on a pair of pants, I accidentally cut a hole in the butt and also ended up with a thick snarl of thread behind the button. When the kids were little, the kinds of crafts we did were things like "decorate this paper heart with stickers" or similar non-difficult ideas. I was always more of a "make your own playdough" mom, rather than the kind would would make pine cone reindeer, if you know what I mean. I know a number of women who have taken up things like knitting or crocheting or even cross-stitch as a way of relaxation, but to me that would be akin to checking myself into a rubber room. That adult colouring craze from a while back? No. I can't.
So when I do something that requires hand-eye coordination and it actually does work out, it is viewed in this house as next thing to a miracle. Therefore, there was much excitement about this: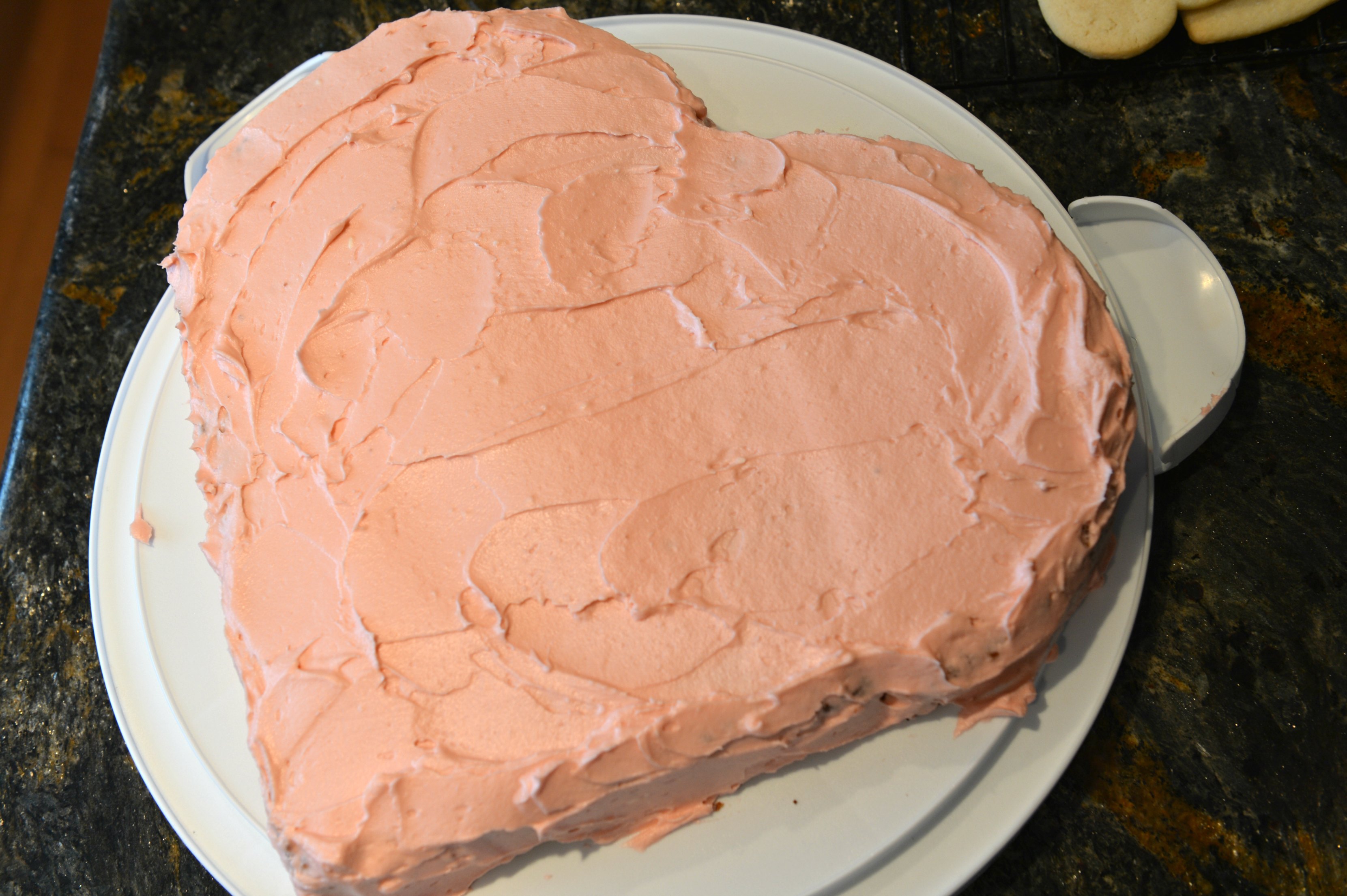 My husband came upstairs from his workout and said "My god, it's actually a heart!"
I know, babe. I know.
We aren't really Buy Each Other Gifts For Valentine's Day people; fifty percent of us are allergic to flowers and pollen, I don't really like having big boxes of chocolates to consume, and I have enough jewelry to last me a lifetime. To be honest, even before kids we didn't really celebrate Valentine's Day (except…well…you know…) but these days I just like to bake all the things for every commercial and non-commercial Hallmark and non-Hallmark holiday.
Sundays are a big cooking day for me; I usually bake some snacks (which last maybe a day or two in this house) and I always make a big Sunday dinner, complete with dessert. I decided I wanted to make a heart-shaped cake but my skills in this department are, as mentioned before, seriously lacking. So I used this tutorial from my friend Maija (HI MAIJA) which is so easy even I couldn't mess it up. I thought about making a red velvet cake – I hadn't made one since I helped a friend with a baby shower, and that baby is now going into kindergarten – but the excessive use of red food colouring is unappealing. Instead, I made a strawberry cake with a cream cheese icing, tinted just a little bit. It was a major hit, and very easy.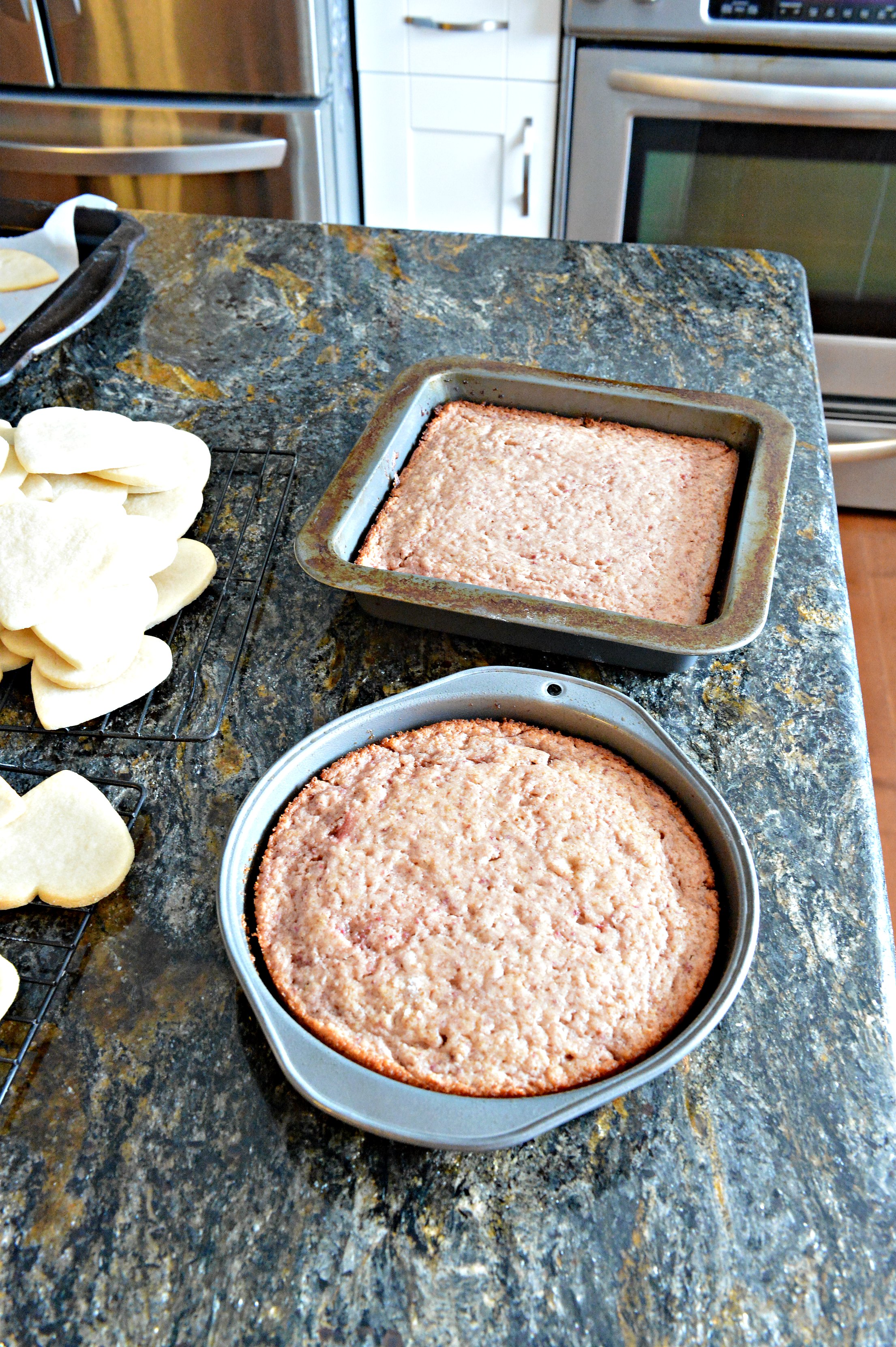 The most important thing here is to make sure your pans are the same size. Otherwise, super easy.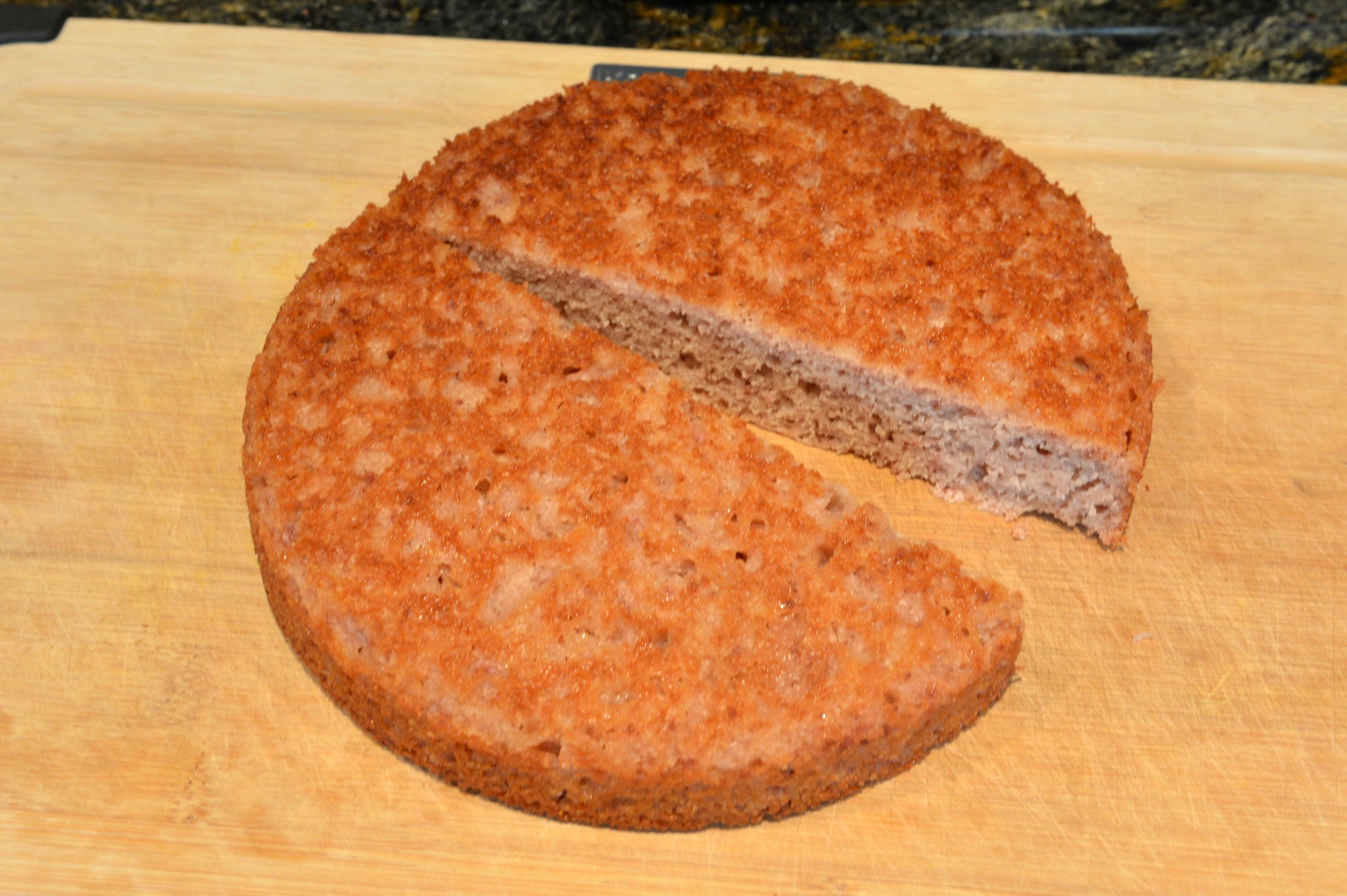 Have I mentioned that my grade seven student is super into the "Circles and Area" unit of math? Have I also ever mentioned that at one point in grade twelve I was known as the "Conics Goddess" for my mastery of the conics unit? I told my husband that and he was less impressed with my conics prowess than I would have hoped. I think his exact words were "That is the nerdiest thing I have ever heard in my life." Well, I never.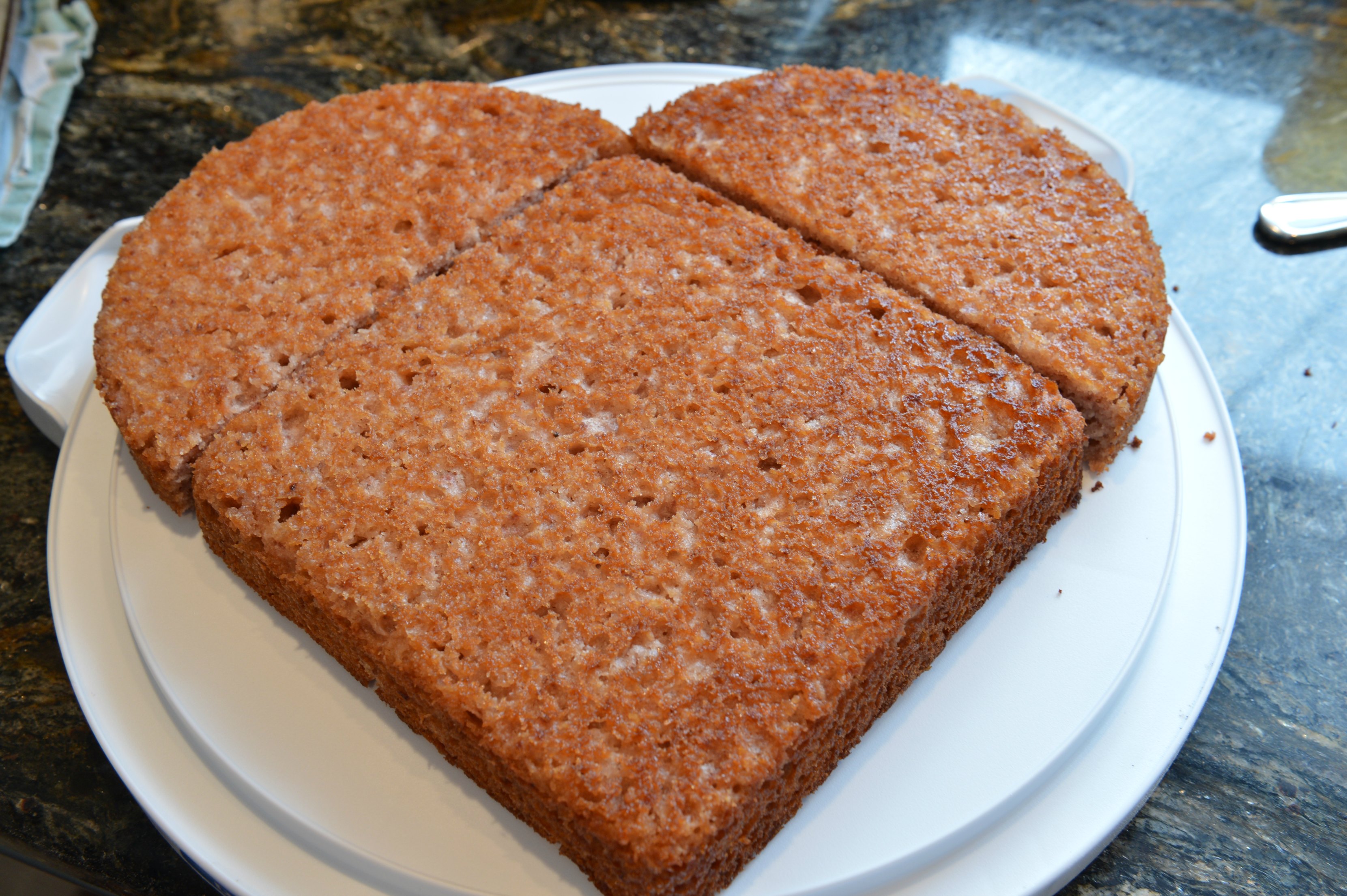 If I can do it, you can too!
I also made and frosted 112 sugar cookies. Why would I make so many, you ask? I really have no idea. I wanted to send some in to the grade six class, but the teacher suggested that since the class is conjoined with another, it would be better to either send in no treats or enough for both classes. Since I realized that my years at elementary school are rapidly coming to a close, I could not and would not send zero cookies. This is my last chance to send Valentine's Day treats to school and I am going to go out on top I was thinking to myself in a crazy, semi-hormonal way. I had some dough in the freezer left over from Christmas, but with all the frenzy surrounding November and December this year, I hadn't marked if it was a full batch or not. I made an entire full batch, and used the frozen dough which was, I soon realized, indeed a full batch. One hundred and twelve cookies.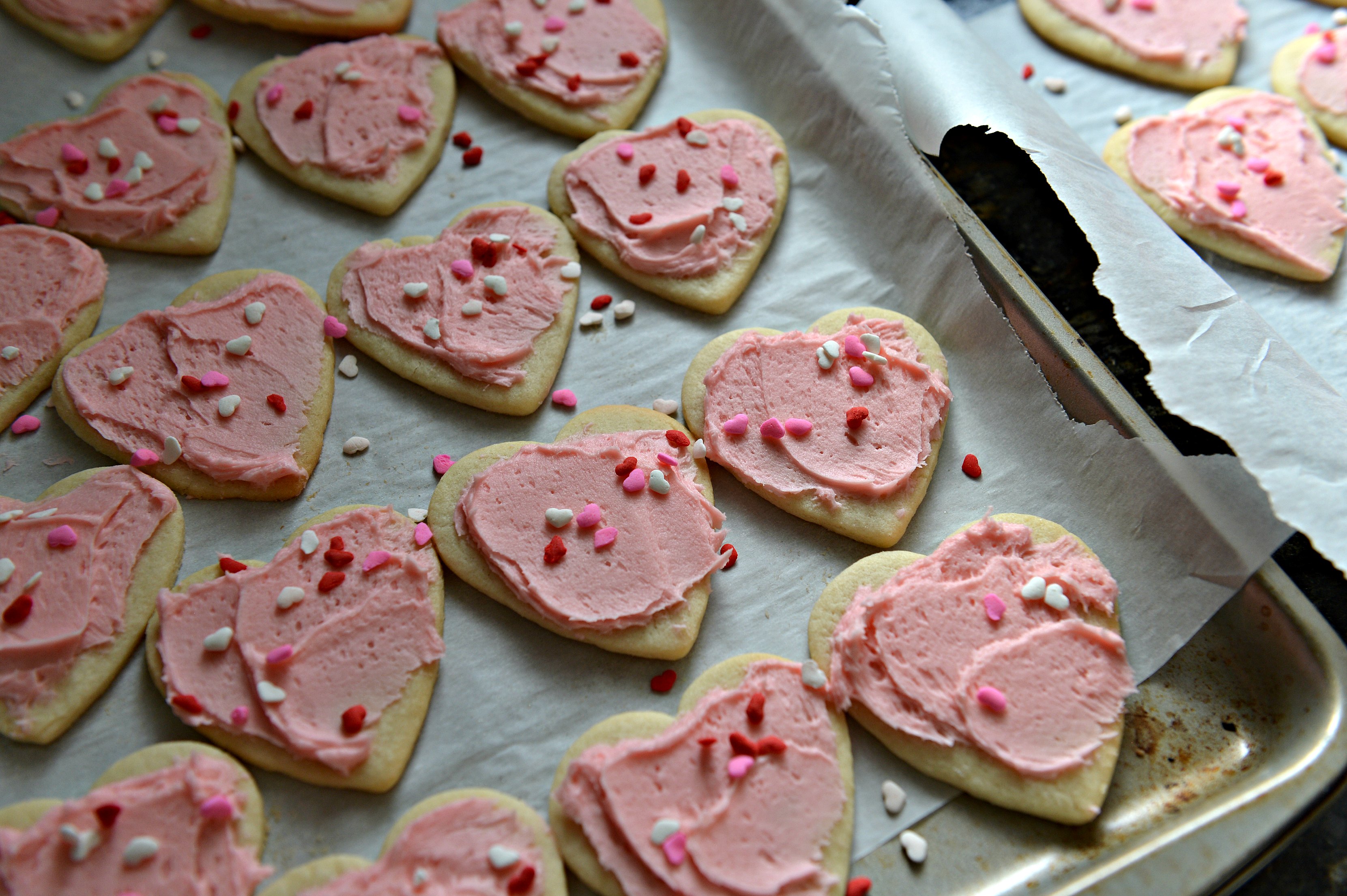 I realized that I have been asked for this recipe many times, so I am going to put it here. I am not going to be modest, because it's not my recipe, it's actually my mom's. They are the best goddamn sugar cookies you will ever have in your life. They were the best cookies when I was a kid, and my mom made these for us and our friends, and they are the best cookies now. They are the cookies that I always get complimented on. Ten-year-old boys have stopped me in the playground to ask me to send their mom the recipe. THEY ARE LITERALLY THE BEST COOKIE EVER. I make them at Christmas, Valentine's Day, Halloween, and for school birthday treats in lieu of cupcakes. They are easy, foolproof, you can make them with your kids, and you can freeze the dough for up to six months. I make the dough ahead of time so I only have to roll it out when I'm baking.
Now, they are not vegan. They are not, by any stretch of the imagination, remotely healthy. But these are TREATS. You could probably sub in coconut oil for butter and maybe aquafaba for egg replacement, but I don't. They are for my kids, they love them as-is, and it's nice to make a recipe that was my mom's. One day I will say that this has been handed down over the generations, but I think I need at least one more generation to do that.
Nicole's Mom's Sugar Cookies
1 cup butter, softened
1 1/2 cups sugar
1 tablespoon vanilla extract
2 eggs
1 1/2 teaspoon baking powder
1 teaspoon salt
3 cups flour
Cream together sugar, butter, and vanilla. Add eggs and beat well. Mix in baking powder, salt, and flour.
Make the dough into a two or three balls, wrap with plastic wrap, and refrigerate for at least two hours. You could also freeze the dough for later use.
Preheat oven to 350 degrees (or 325 if using convection oven) and line baking sheets with parchment paper. This is an important step! Don't forget the parchment paper! Roll out chilled dough on a floured surface. Cut into shapes. Bake for ten minutes for the perfect, soft cookie.
When cooled, frost and decorate as desired. Since I am kind of lazy, I like to just spread a delicious buttercream on top and add sprinkles.
Nicole's Buttercream Frosting
1/2 cup very soft butter
4 cups icing sugar
1 tablespoon vanilla extract
2-3 tablespoons milk
colour, if desired
Cream butter, then add icing sugar in 1/2 cup increments. Add vanilla. Add milk until desired consistency is reached. Whip it on high for a minute to get a really fluffy frosting. Enjoy!