Summer in Alberta: if there is a decent day, weather-wise, you had better carpe diem because you have no idea what will happen next. This is an important lesson I've learned in my lifetime. I took the boys up to my parents' place on the lake because there was a single nice day – Wednesday – in the forecast this week and I wanted to get lots of outdoor activities done. And indeed, we did; we biked, paddleboarded, and boated all before three o'clock in the afternoon, when the kids collapsed for some downtime after all the forced fun, and I had margaritas on the deck with my parents. Sure enough, the storm rolled in shortly after that. Carpe diem.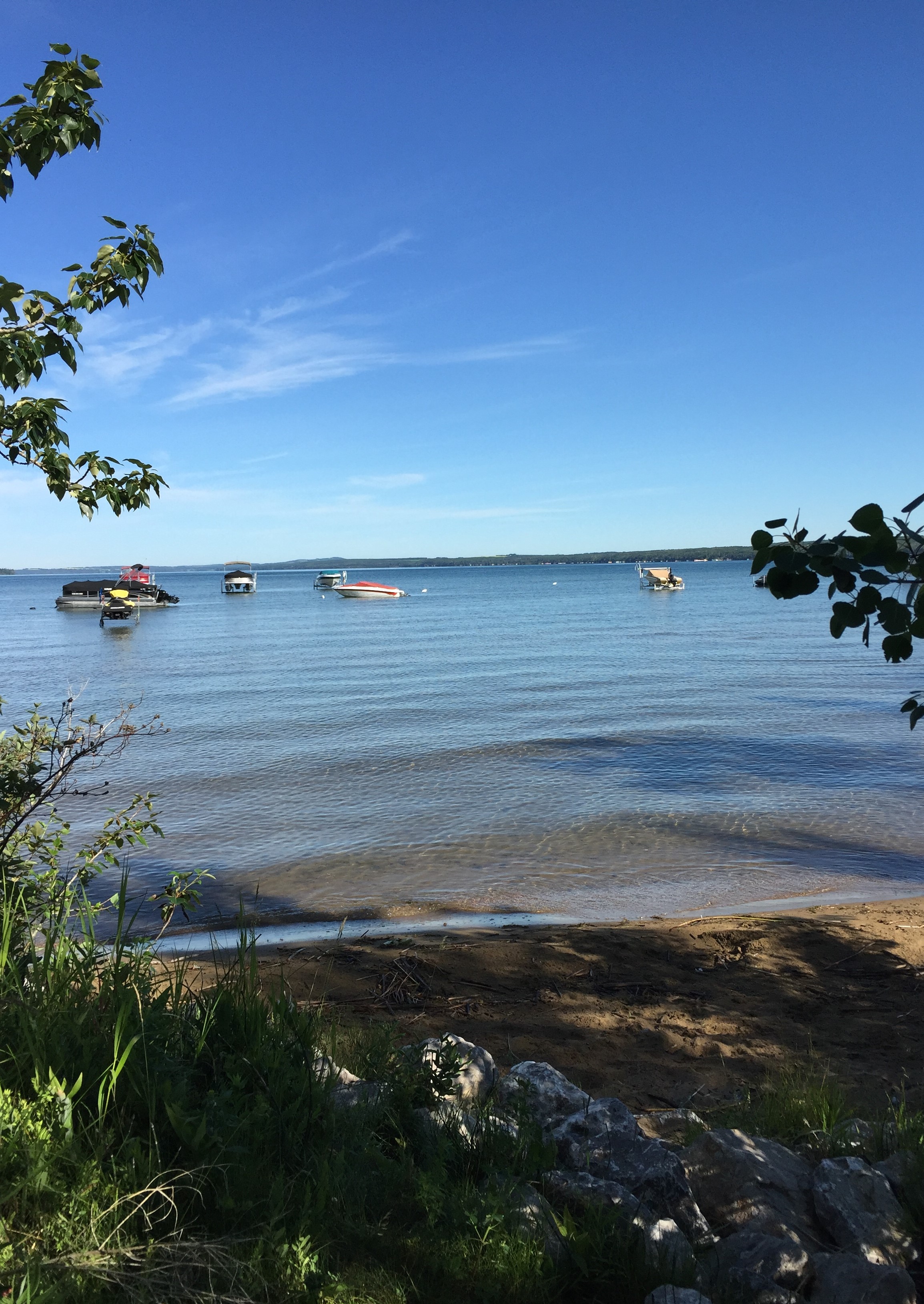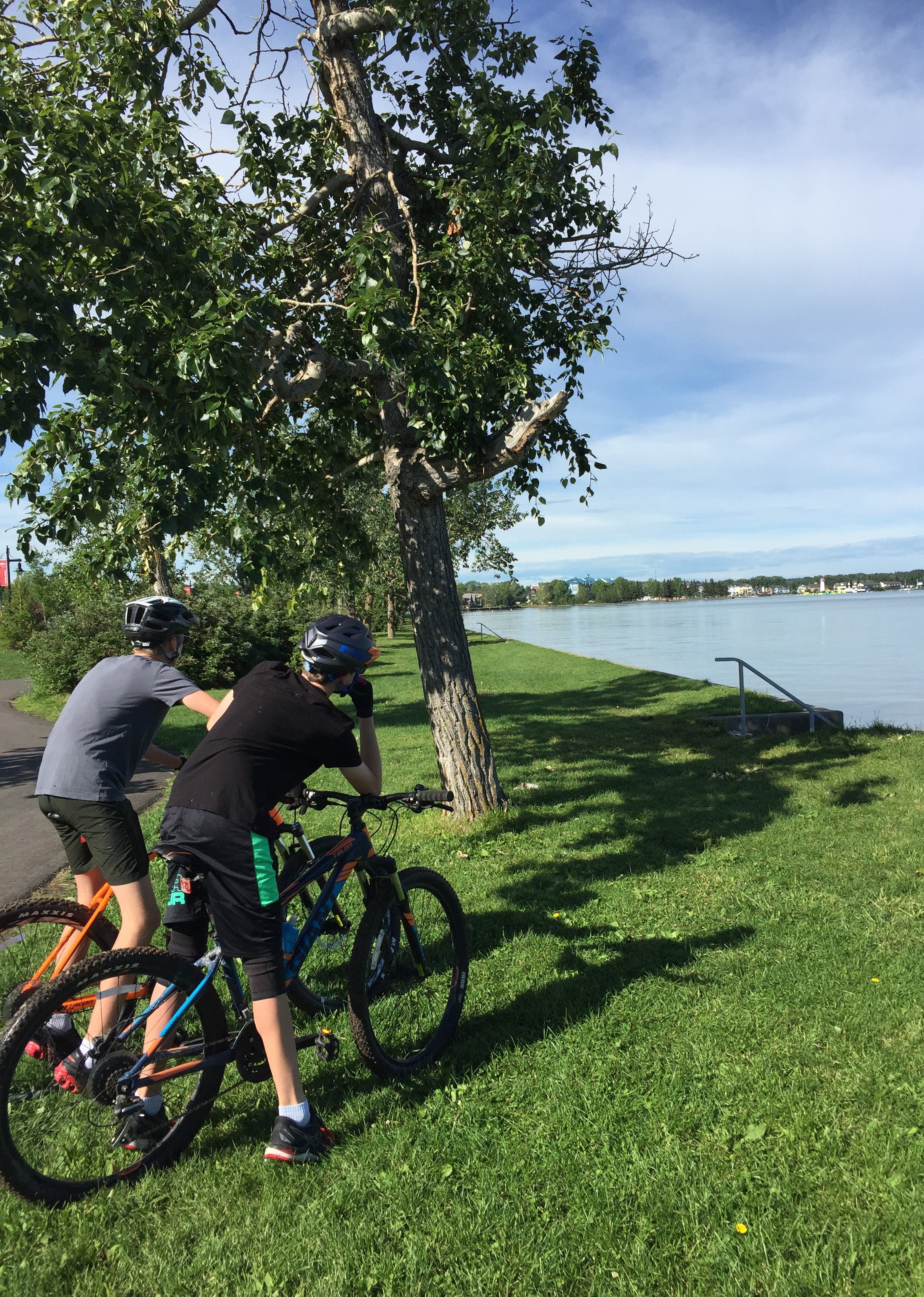 The boys fake-posing for a thoughtful, instagram worthy-photo.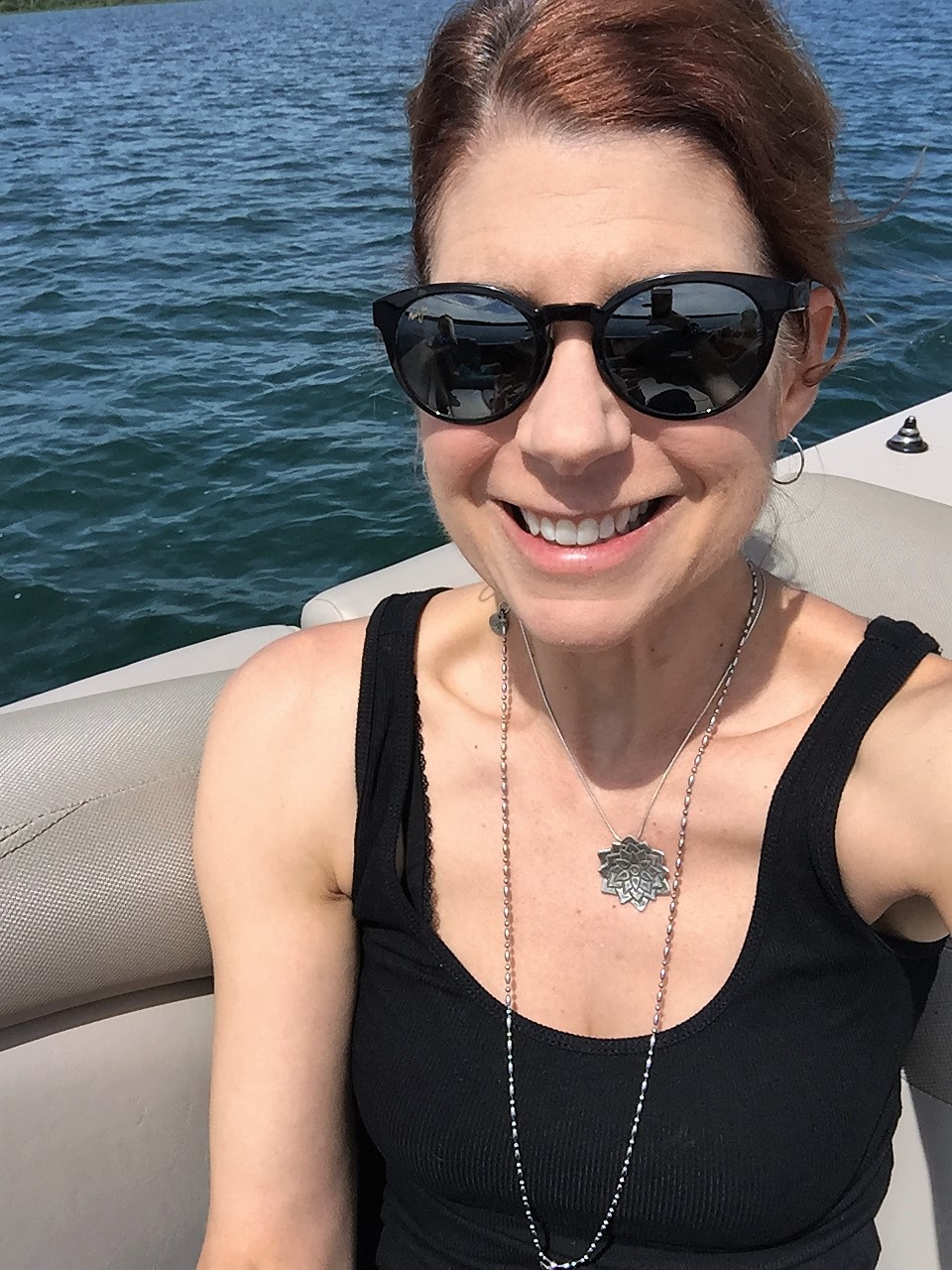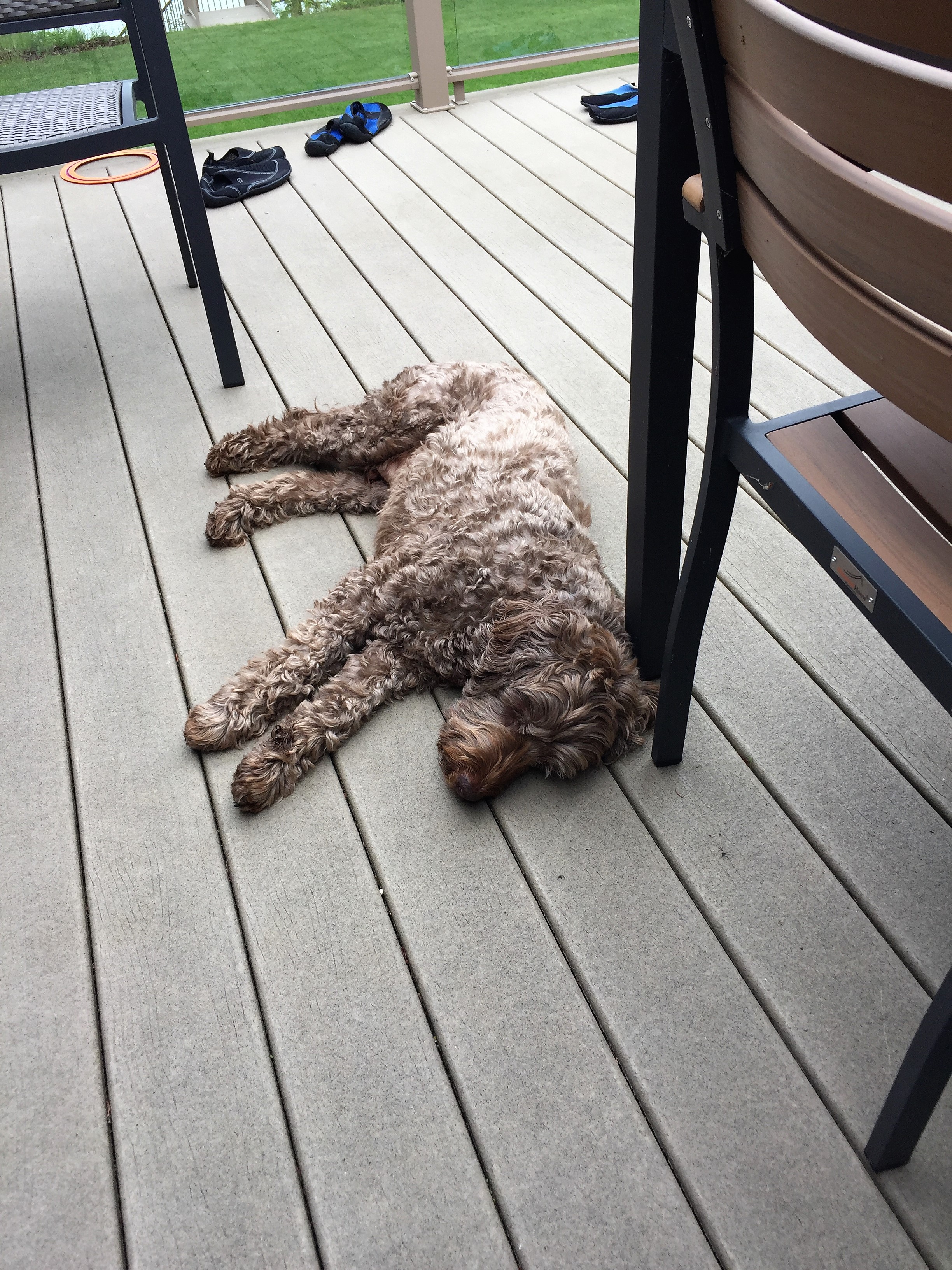 So much fun is exhausting.
Speaking of bikes, I was feeling very I-am-woman-hear-me-roar because prior to heading up to the lake I put the bike rack on the car all by myself. Now that I've written it down it doesn't seem like much of an accomplishment but believe me, it was. I am not at all mechanically-minded so it took me some time to figure out how a ratchet worked – I kept accidentally loosening the bolts – but I did eventually figure it out. I AM WOMAN HEAR ME ROAR AND WATCH ME LIFT THIS GIANT HEAVY BIKE RACK AND ATTACH IT TO MY VEHICLE.
We returned home yesterday and I took my older son with me to get groceries at Superstore. No sooner had we pulled into the garage when an enormous hailstorm started. I'm thankful we didn't get home ten seconds later or the van might have been damaged; as it was my gardens were pretty much flattened: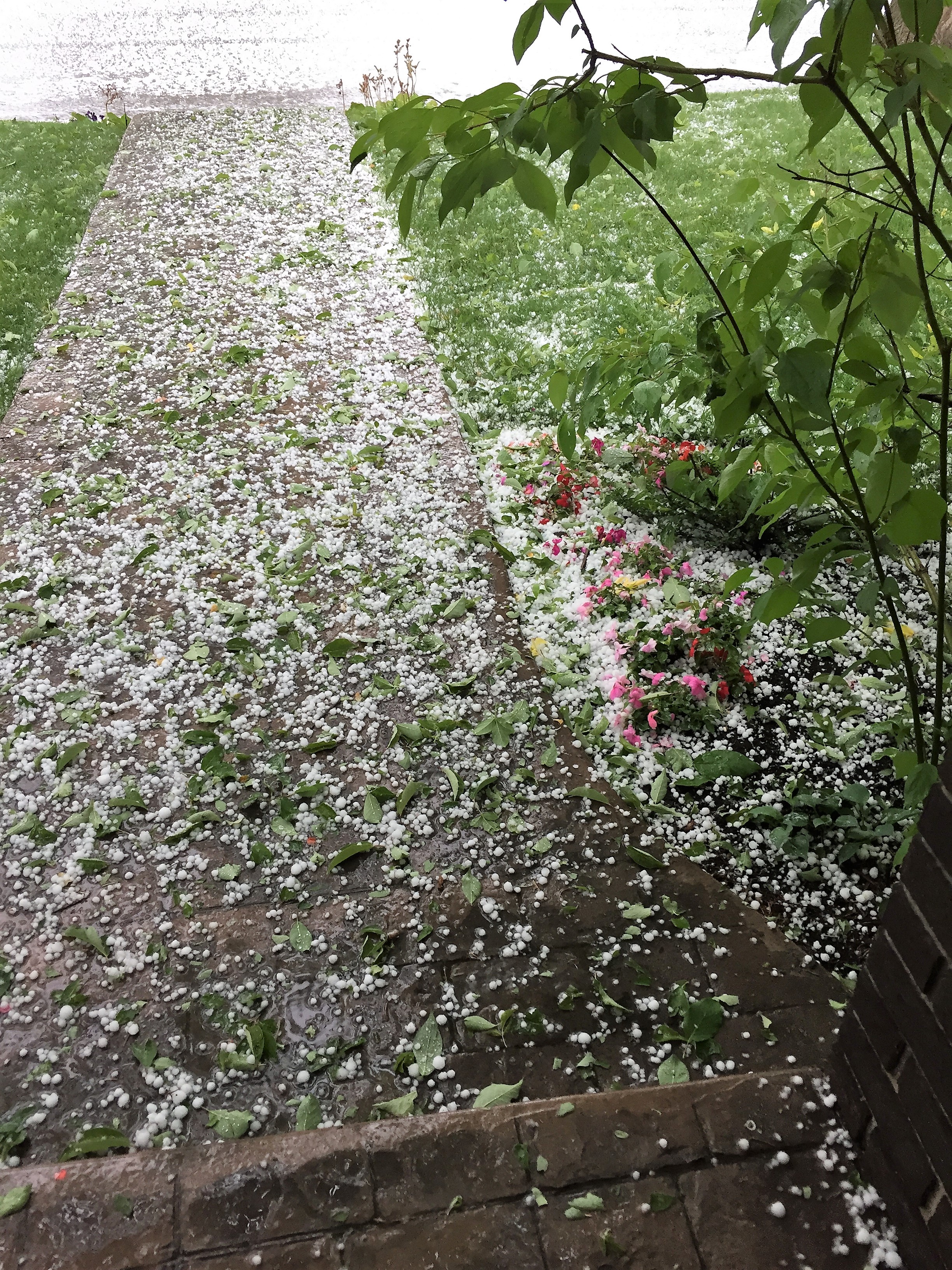 WAH. Even this morning, there is still hail on the trampoline and it is quite chilly outside. The first person to complain about any heat in this city – if, indeed, any heat shows up this summer – is going to get a serious side-eye from me.
So it has been an eventful week in the Boyhouse; last Friday my husband and I went to see Zac Brown perform, which is always a good show. We had gone three years ago and although our seats were amazing this time around, I didn't enjoy the show QUITE as much as I did back in 2016. Still, an absolutely fantastic performance and as an added bonus, I got to dress up in my Stampede wear: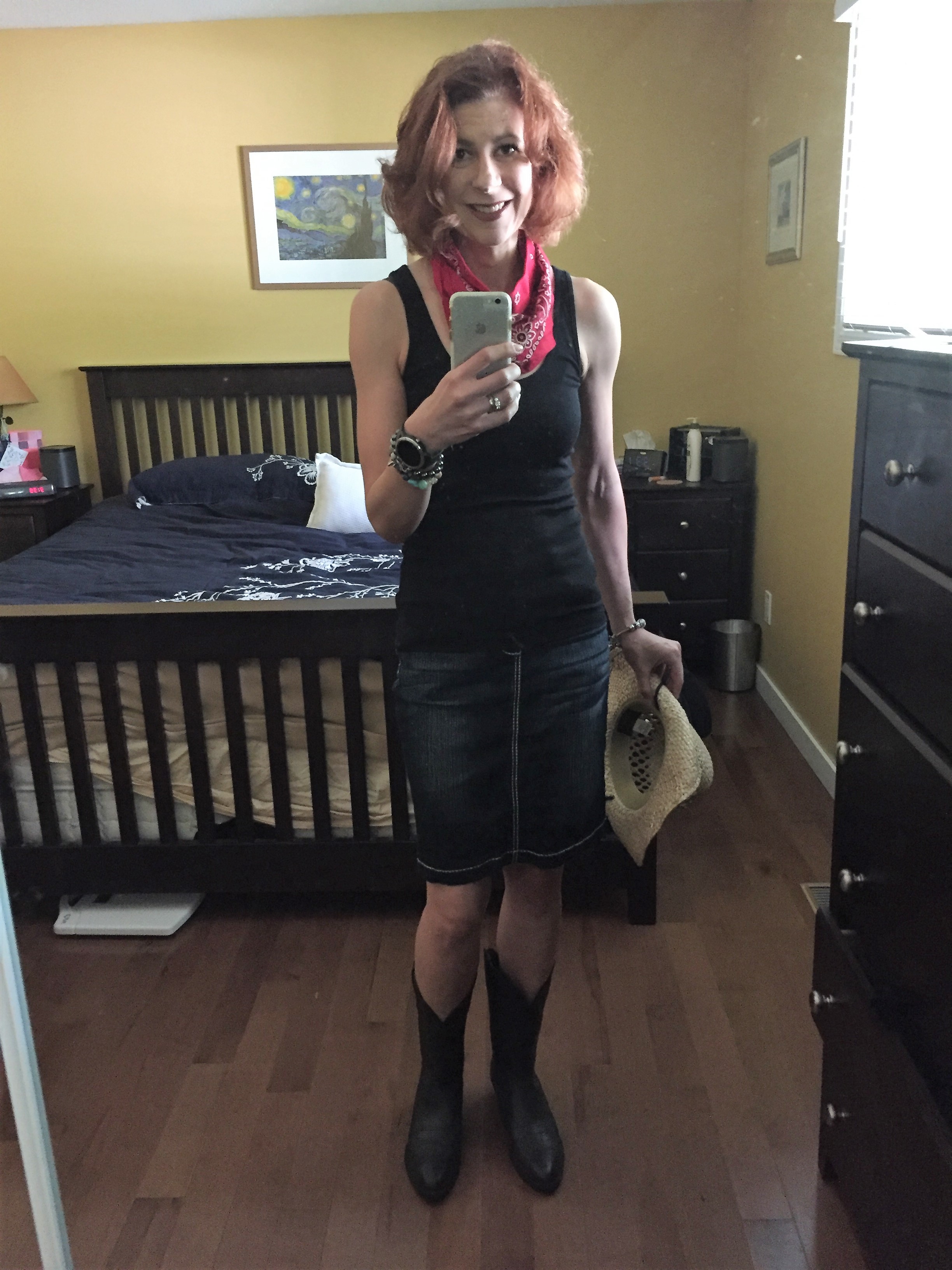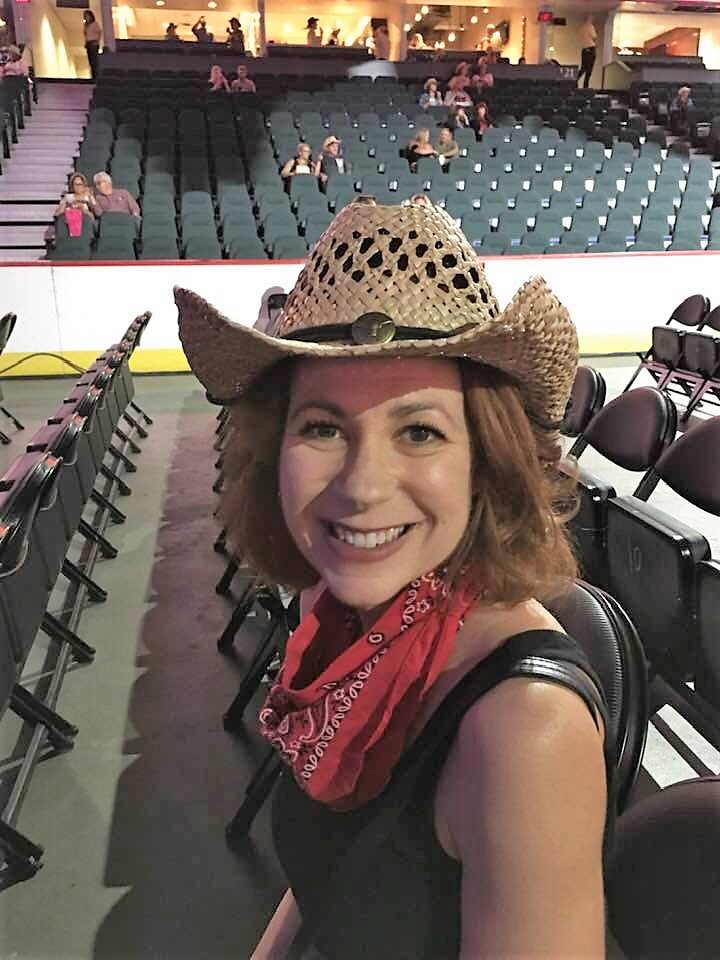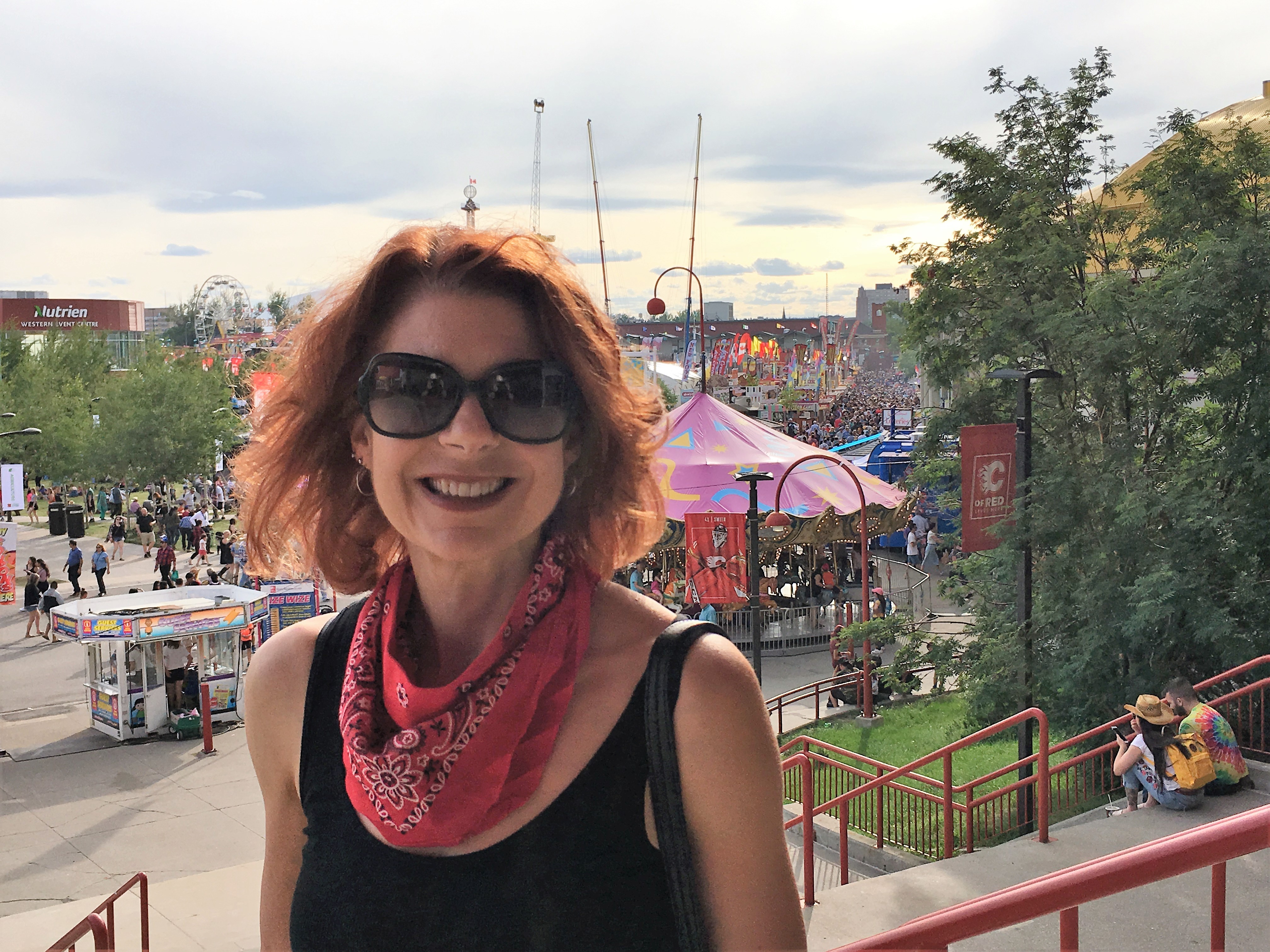 A note about that bandanna: it dates back from my working days, back in 2000 or so. I was in Houston on business and some colleagues had taken me to The Taste of Texas, a restaurant that – among other things – allows you to go to a deli-like counter to choose your own meat to be cooked, and if you broke the record for eating a certain number of ounces of meat, you got your steak for free and had your photo put up on the wall. Obviously, those benefits did not apply to me, but I did get a bandanna tied around my neck for my inaugural visit to the restaurant. I don't remember what I ate but it was probably a salad or some other dish that would have been disappointing to all the people around me.
Zac Brown played for a solid two hours and it was nearly midnight before I got home, exhausted and with swollen, cowboy-booted feet. I didn't make it to my usual Saturday morning spin class and so I had a plethora of energy. My husband took the boys to the gym for their usual workout, and I started to clean the kitchen. I thought I would wash all the cupboard doors, which then had a snowball effect: by the time they got home I had cleaned the fridge and scrubbed down the shelves, polished all the granite and wood furniture in the house, cleaned the oven, wiped down every appliance, scrubbed the baseboards, and washed the floors. Fueled by coffee and without spin to contain me, I headed outside and gardened for a few hours, pruning shrubs and weeding, before taking the dog for a walk. I guess when I need to get things done around the house I should skip spin class.