I know you were all on the edge of your seat, waiting to see what would happen when we went to our doctor's appointment last Friday. Would the scheduled time be incorrect again? Would I be berated by the long-suffering office receptionist for missing my appointment? Would I actually see the doctor?
Well, all was smooth, you will be happy to know. We were in the waiting room by 1:55. Of course, we waited for a while to see the doctor, but I wasn't too concerned about that: we all had books and phones and weren't really doing anything we wouldn't have been doing at home anyway. I got a TEENSY bit of stink-eye from the receptionist, but I guess I would be annoyed if I thought I was a no-show as well. The boys were having standard checkups, but I was there to ask the doctor about a little white dot that had been on my face for – get ready – three and a half years. I had been fairly unconcerned about it, but lately people had – strangely enough – been commenting on it, including one concerned friend who related a long and detailed story of a similar thing she had which turned out to be a form of skin cancer, and my own mother-in-law thinking that I had Caesar salad dressing on my face. Well, I'd rather neither of those things be assumed, but the doctor assured me it was simply a calcium deposit, and within five minutes he had removed it. Five minutes! After three and a half years! I guess in future I might look into these things earlier, before people think I a) have cancer, or b) am an absurdly messy eater.
The Before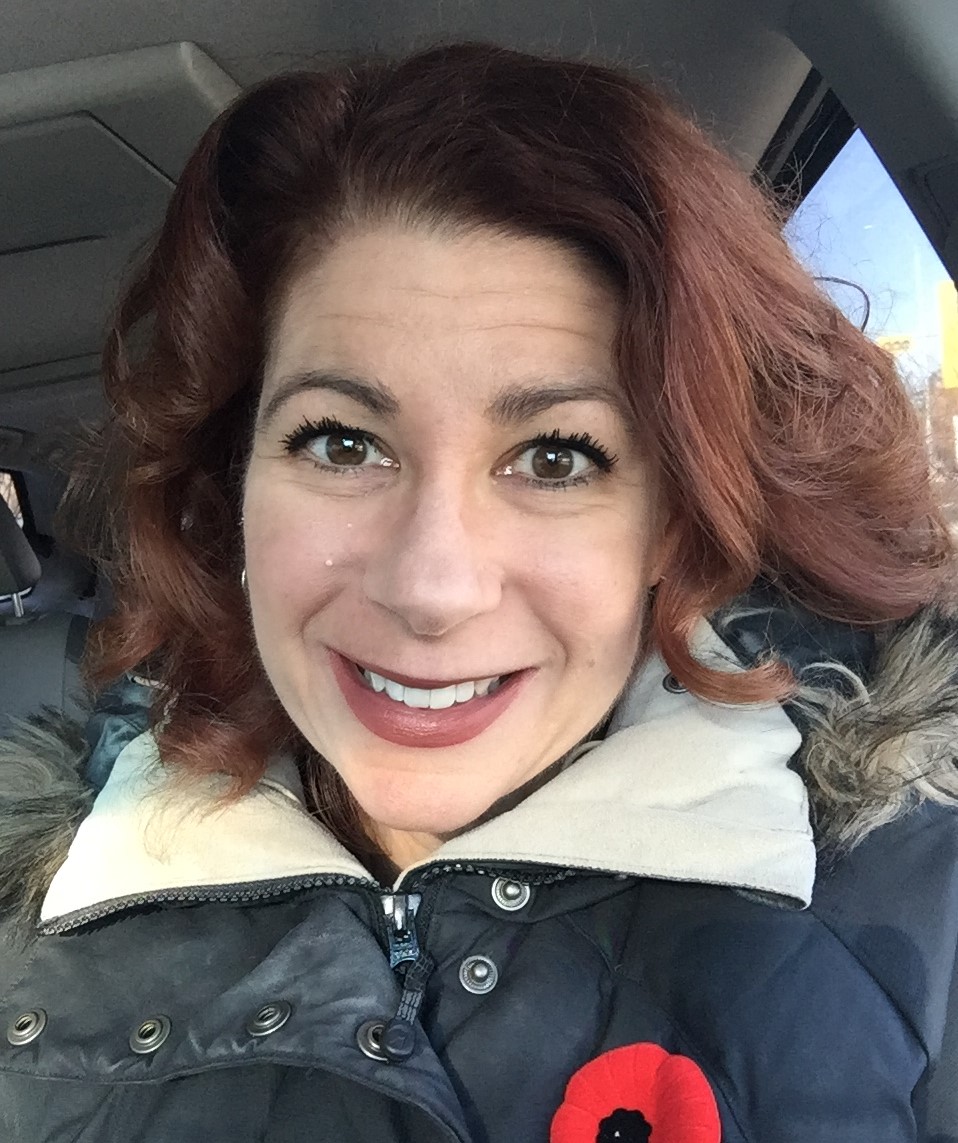 The After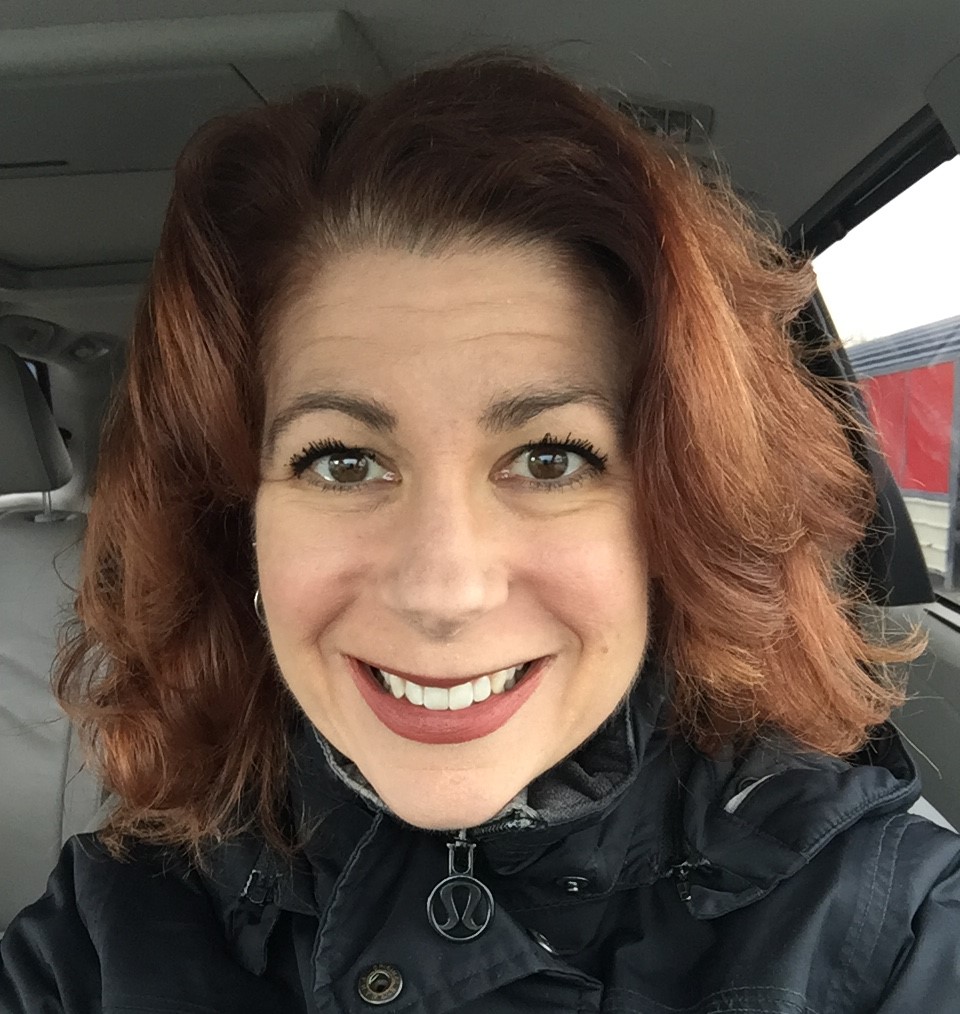 I finished my Christmas shopping this week, which is neither early nor late for me. Some of you (HI JAN) have asked how this is possible, year after year, to complete the shopping in early November. I could write an entire post on that but let me assure you it is not because I am following that article that has been going around, "The Gift of Death;" after all, our family "adopted a senior" this year and I don't think a printout of "The Gift of Death" would be appropriate. What I will say is that I do schedule in a couple of two-or-three hour chunks of time to go to physical stores and then I just power through; the rest I do online.
The reason I always finish my shopping early is because going to the mall in December, as my sons would say, harshes my mellow. This backfired on me slightly, however, since one of my time chunks that I had scheduled was this past Monday afternoon. A Monday afternoon in November is assured to be a quiet time at the mall, correct? Well, not if that Monday is November 12 and half of the city is also crowding into the stores that have – ridiculously – Black Friday specials and the like. Black Friday is not a thing in Canada. Anyway, I managed to get everything done, even if the parking lot crushed my soul, as cars were parked haphazardly for no reason, it wasn't even snowing. The lines are there for a reason! They aren't friendly suggestions.
Back to Monday. I had gifts to shop for but I also had ME to shop for. Which brings me to…
Nicole's Favourite Things – The "Revisiting My Youth" Edition
Everything fashion-related reminds me of my long-lost youth lately, and not always in a particularly good way. These styles are not flattering, people.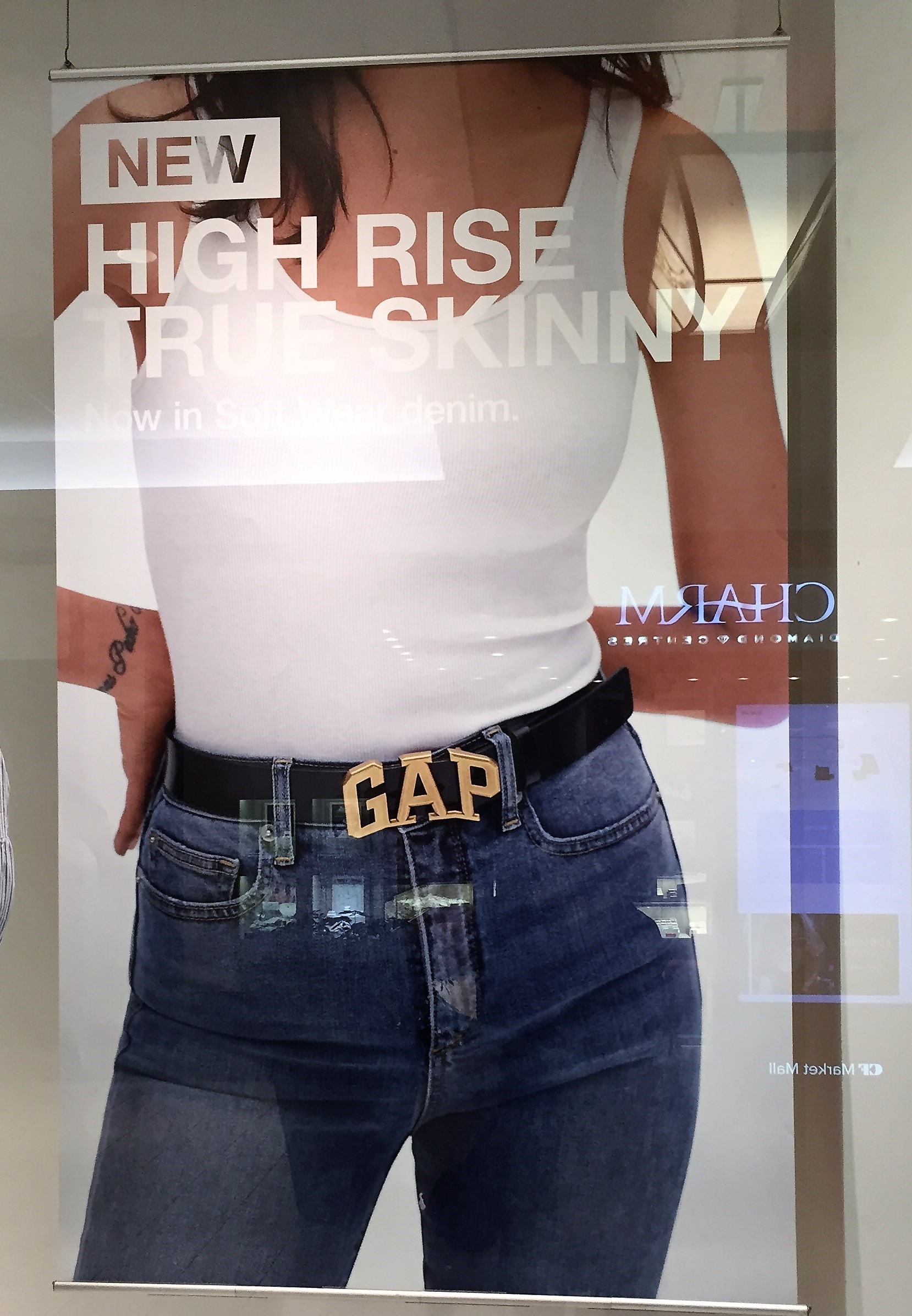 Ah, but we all wore such unflattering pants back in the day, with our tight, tucked-in tops or bodysuits or crop-tops. Well. I shall leave the youth culture to the youth, when it comes to pants like these. To me, all this needs is a tapestry/ denim vest to complete the look, but then I am not the target market here. I revisited my youth this week in any case, in what I hope was a good way.
Your Mama Wears Army Boots
A large issue with not buying any clothes for a year, and buying very minimally in the years prior to that, is that everything seems to be wearing out at the same time. Specifically, winter boots. My favourite pair of winter boots died this week, literally died. I bought them from Sears – Sears! – maybe four or five years ago, and they were worn extensively through our very long winter seasons, so it is no surprise that their death was imminent. I stepped in a puddle and my foot was absolutely soaking wet; on further investigation it appeared that the sole had become detached. Since I was going to the mall anyway, I thought I'd shop for some boots. I found, and fell in love with, these: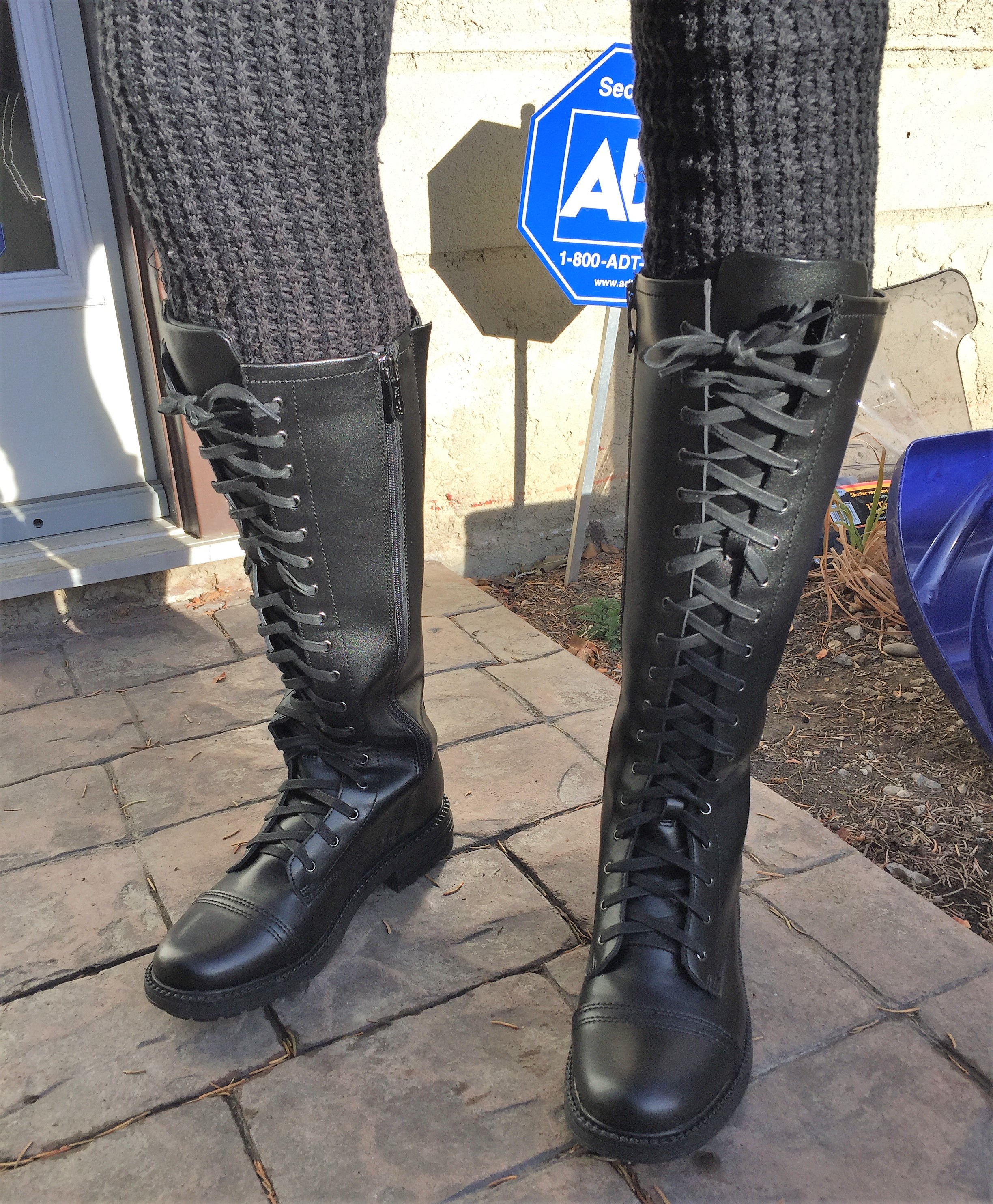 Hello 1990s! There is a photo in my high school yearbook of people who were all wearing this style of boots, but Doc Martens. Back in the day I would have worn them with babydoll dresses; now I wear them with yoga pants and flowy black sweaters. Hey, you have to move with the times!
Speaking of babydoll dresses…
Le Chateau
The other thing I needed to buy for myself was a dress for my husband's work party. Yes, I have many, many black dresses that would be appropriate, but I have worn them all many, many times. I wanted something new and fresh. First I went into the Bay, which was having a (Black Friday?) sale on dresses. It took me some time to even locate dresses in my size, let alone dresses I liked, but I finally ended up with three in the change room. I texted my husband to see which he liked best, to which he responded that he really had no idea since my hand was largely blocking the dress. My mirror selfie game is not strong, I will give him that. However, the expressions on my face are my favourite part of these gems: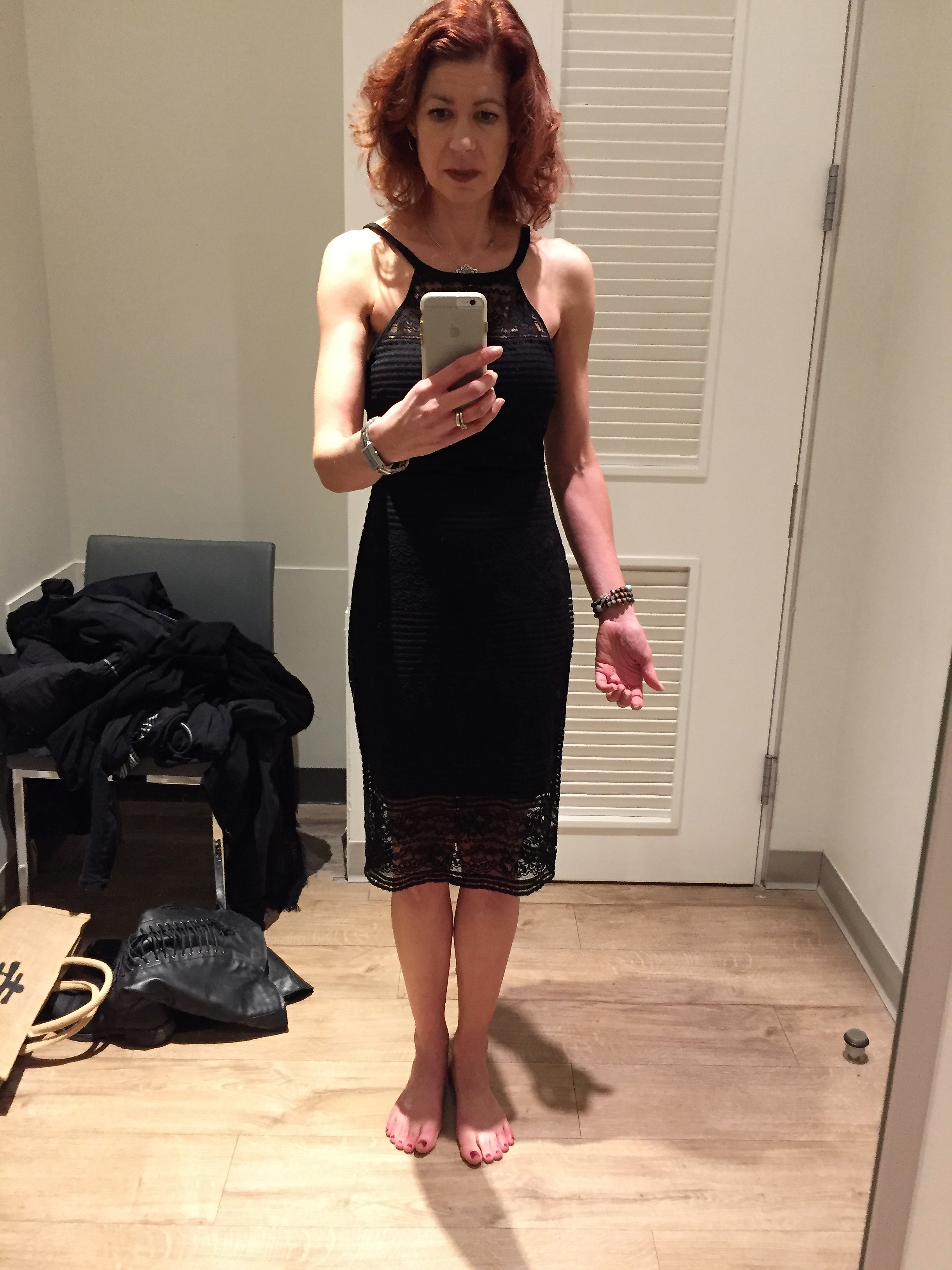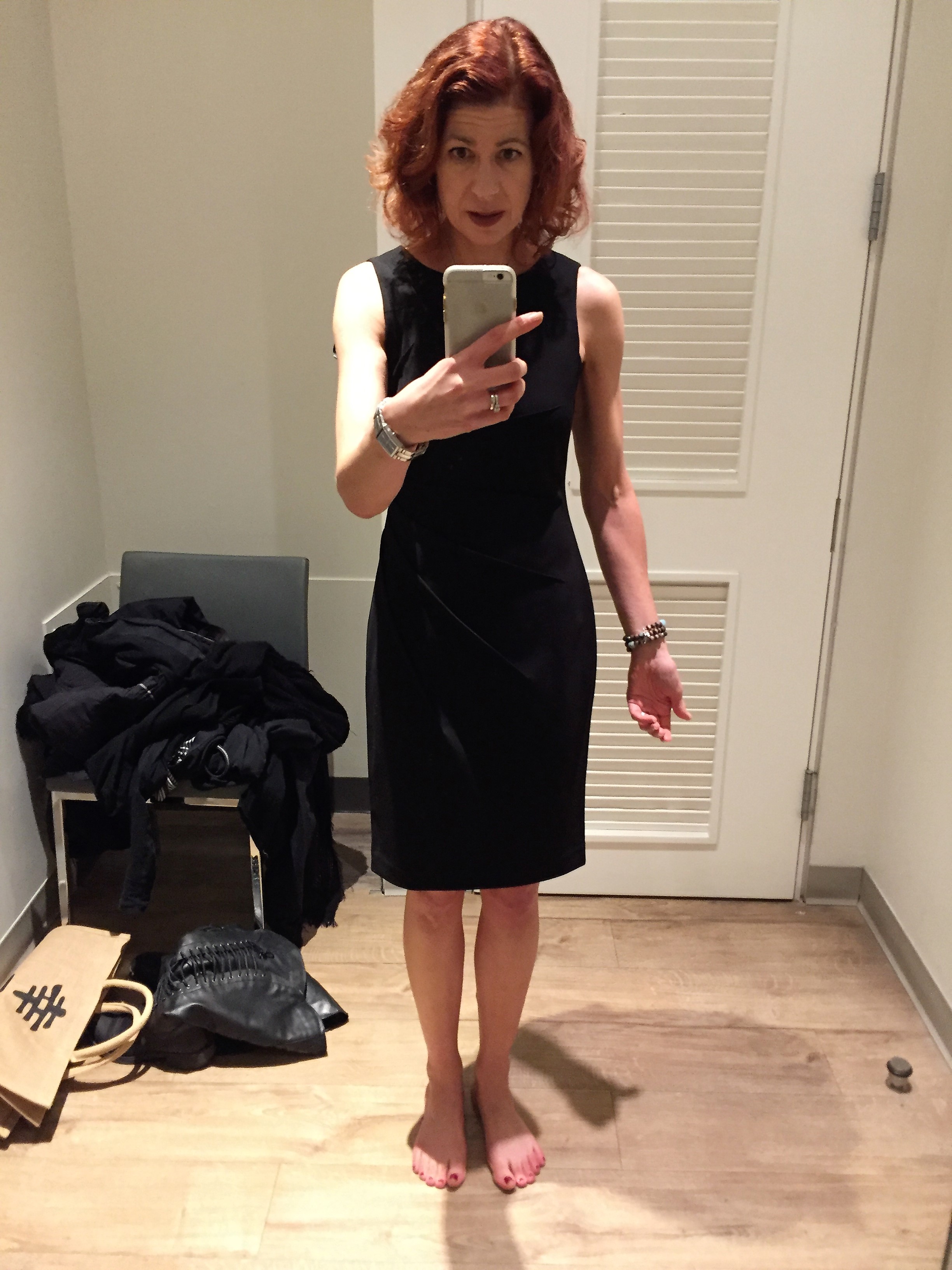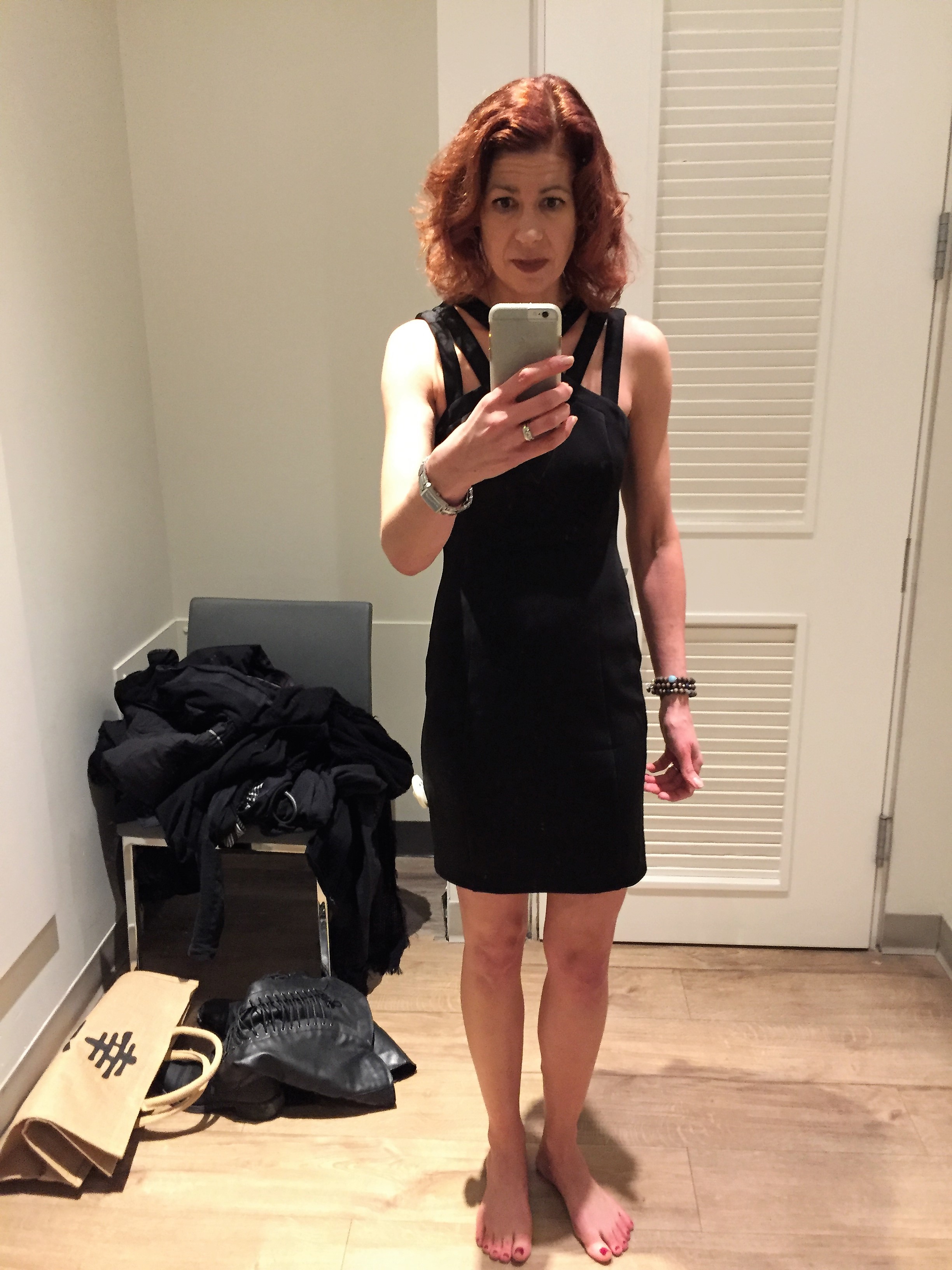 If we were going by my facial expressions, it would be The Horror! But really, I was just trying to figure out how to capture the moment on camera.
I wasn't in love with any of them, but I was going to settle for the third. Then I thought, did the one-year shopping challenge teach me nothing? NEVER SETTLE. To be honest, I wasn't super comfortable in it; for lack of a better word, I felt a bit exposed and just a teeny bit slutty, and not in the way I want to be. I put it back on the rack, thinking if I didn't find anything else, I would come back to it.
I started to wander through the mall and I came across Le Chateau, which I hadn't set foot in since I was a teenager. God, how I loved that store. My all-time favourite teenage outfit came from that store: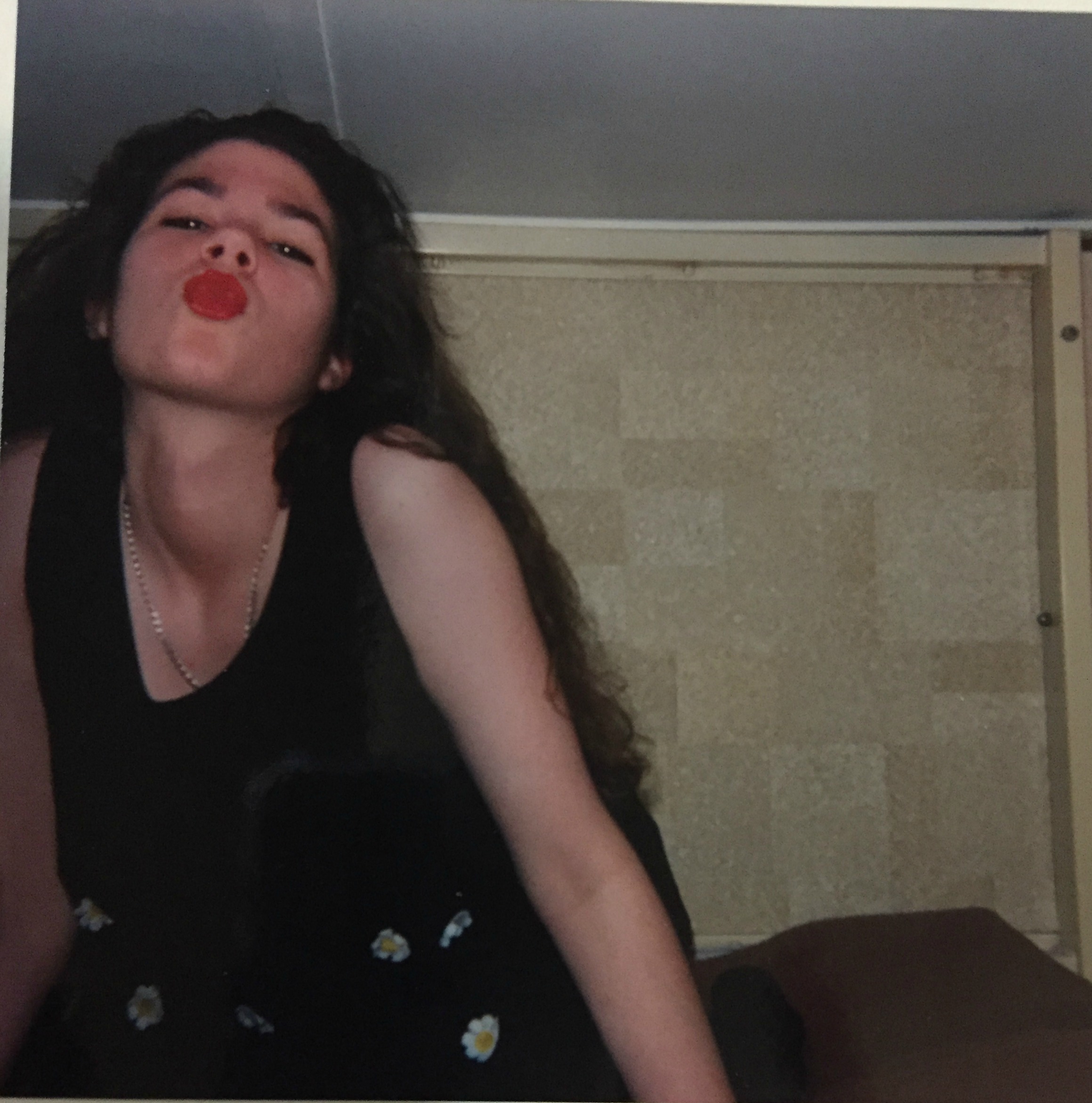 It was a tiny black tube skirt with a swingy, A-line top, with little daisies attached to it. I would wear the hell out of that outfit now, if the skirt was longer. Or if the skirt were yoga pants. Anyway, I hadn't been in Le Chateau forever since I have always associated it with my long-lost youth, but I will change that now because people, they have some great clothes in there. If I didn't wear yoga pants five days a week I would stock up. As it was I found the perfect dress, but I will post a photo later, when I'm all dressed up with somewhere to go. Suffice it to say that my husband thought it was the best dress he's ever seen me in, and given he's seen me in a lot of dresses over the past twenty-two years, I think that says something.
The Body Shop
I remember when The Body Shop came to Calgary – I was around 13 and it was like a revelation to me. Against Animal Testing before Against Animal Testing was cool! All the interesting products! For years after that, all my babysitting money – and later, my Pizza Hut money – was spent on things like grapefruit skin toner, strawberry lip balm, and peppermint foot cream. Every Christmas I would be thrilled to receive one of their baskets containing Satsuma or Vanilla bubble bath, a little scrubby, and the useless glycerin soap that came with everything.
Oh, how I loved The Body Shop! And then…I just stopped shopping there. I don't know why. Maybe I was too busy futilely trying to find an eye cream that made me look decades younger, and I haven't taken a bath for years (I SHOWER, PEOPLE, DON'T LOOK AT ME LIKE THAT). But I stopped in and I'm so glad I did. They still have awesome gift baskets that are perfect for the ladies on your list, and they also have interesting new products like this: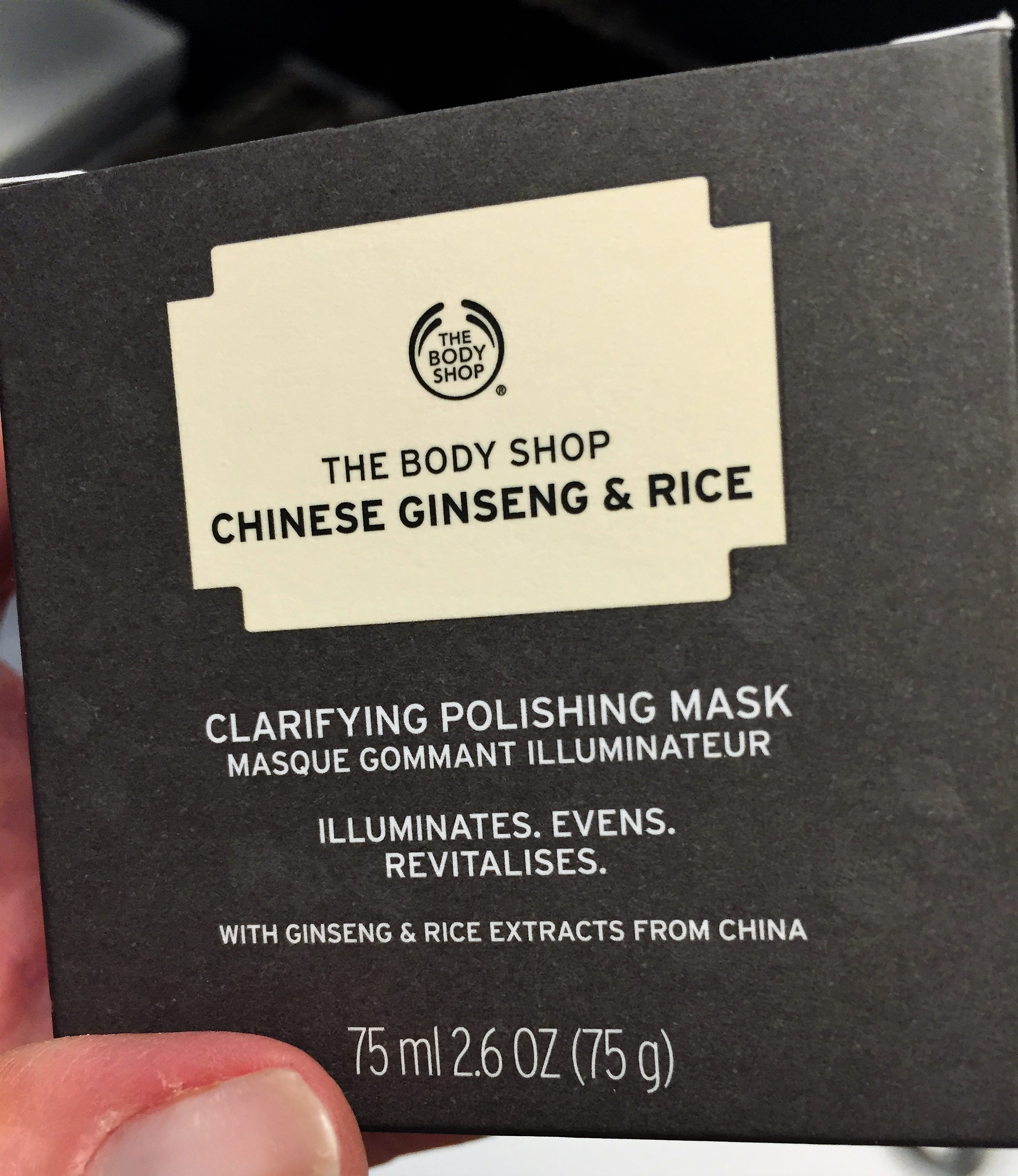 I am an absolute sucker for things that claim to illuminate, even, and revitalize. I bought it for myself, along with a couple of gifts. But the results from this face mask will be the subject of another post. Stay tuned! xo