Today the 13 day cold snap has finally, finally, FINALLY lifted, and the temperature soared 20 degrees – still below freezing and with very high, cold winds, but 20 degrees nonetheless. I should not at all have been surprised, then, to see two people in shorts in the Co-Op parking lot. Shorts. In below-freezing weather. Oh, Calgary. So full of crazy people. Lovely people, too, since I took Barkley to the off-leash today and at least a dozen trees had been decorated for the holidays. So festive and pretty! Unfortunately some of the ornaments were flying off the trees due to gale-force winds but hopefully that can be put right on a calmer day.
It's a good thing for Barkley that the snap has ended. Yesterday I went to take him for a walk around the block and he was so excited to get out of the house, he pulled on his leash as we were crossing the street. It was very icy and his unexpected pulling took me right off of my feet. I landed full-force on my left buttock/ hip and if I was elderly, I'd probably have broken something. As it was I probably looked like the star of a viral YouTube video, sliding around while trying to stand up, with the dog circling around me in a concerned panic. This is your fault, Barkley, now stop winding your leash around my body. Luckily no cars zoomed around the corner to run me over like a flattened cartoon of myself.
The kids are off school now; Friday was their last day. THE SIXTEENTH. I would greatly prefer them to be at school for a few days yet, but when I voiced this online I was chided for not thinking of the teachers and educational assistants, who might like a few days off pre-Christmas, or of families who travel for the holidays, or of ANYONE BUT MYSELF. It's true. But this is the thing about public policy; it is, sadly, a zero-sum game. There is always someone who is more happy and someone who is less happy. And in any case, I have mental plans for the kids and I – for one thing, now that it's not minus 30 the kids can go sledding. We also have some serious Christmas Vacation viewing to do, time to spend with friends, and Bailey's to pour into my coffee.
Speaking of zero-sum games, my husband got an invitation for a special private screening of Rogue One on Saturday morning, and although I sighed at the thought of leaving our cozy warm house at 8:30 am in -25 degrees, it was well worth while. To be honest, I didn't love the movie – although I know many people did, zero-sum game, different strokes, the world is a rich tapestry, etc. – but I did love seeing people I hadn't seen since I left the natural gas industry nearly 13 years ago. Yes, I'm saying chatting in the lobby was my favourite part. I mean, the movie was fine and everything, I just didn't love it. I enjoyed it more post-movie when I was chatting – in the lobby! – with my husband's colleague, who explained a great deal of the missing links for me. "Oh!" I said, over and over. "Oh! I get it now! I just…what about the Death Star – oh! Oh, okay! Wait, now…what about oh! Okay!"
Me, watching Rogue One, apparently:
On Friday I baked gingerbread men for the boys to decorate when they got home from school, to kick off the vacation.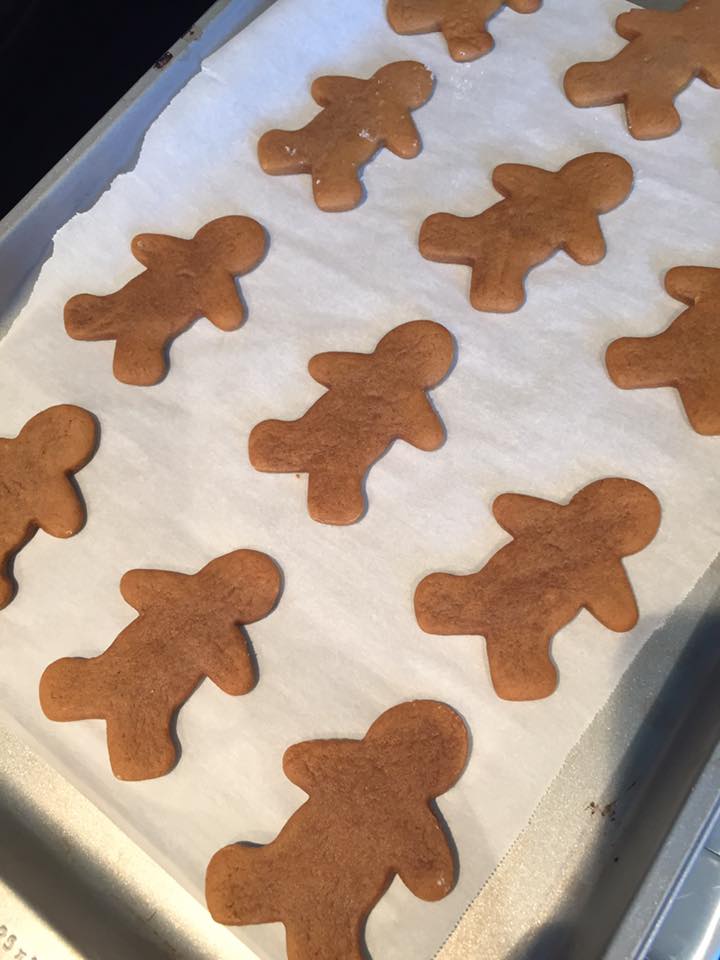 As usual I gave them free rein with the frosting, and as usual we now have the weirdest assortment of cookies. Here are mine: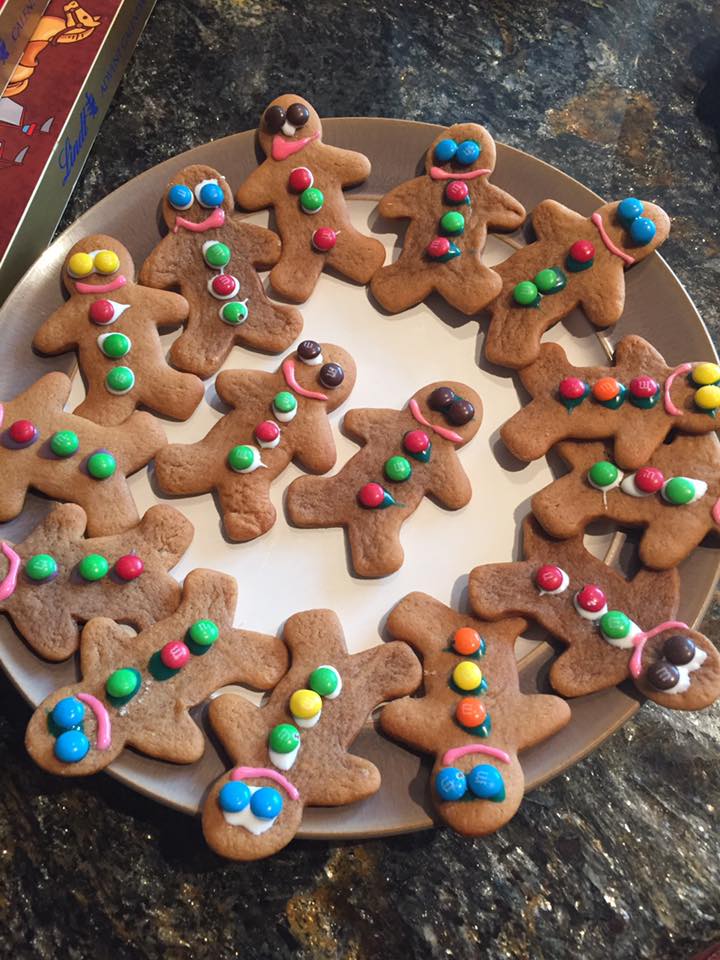 And here are the boys' creations: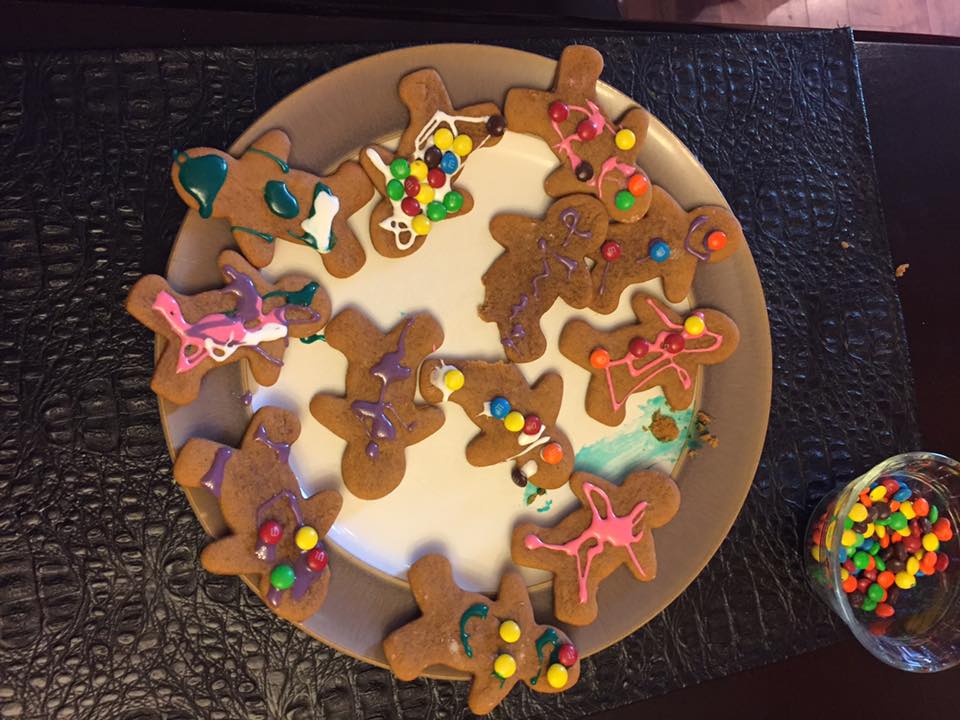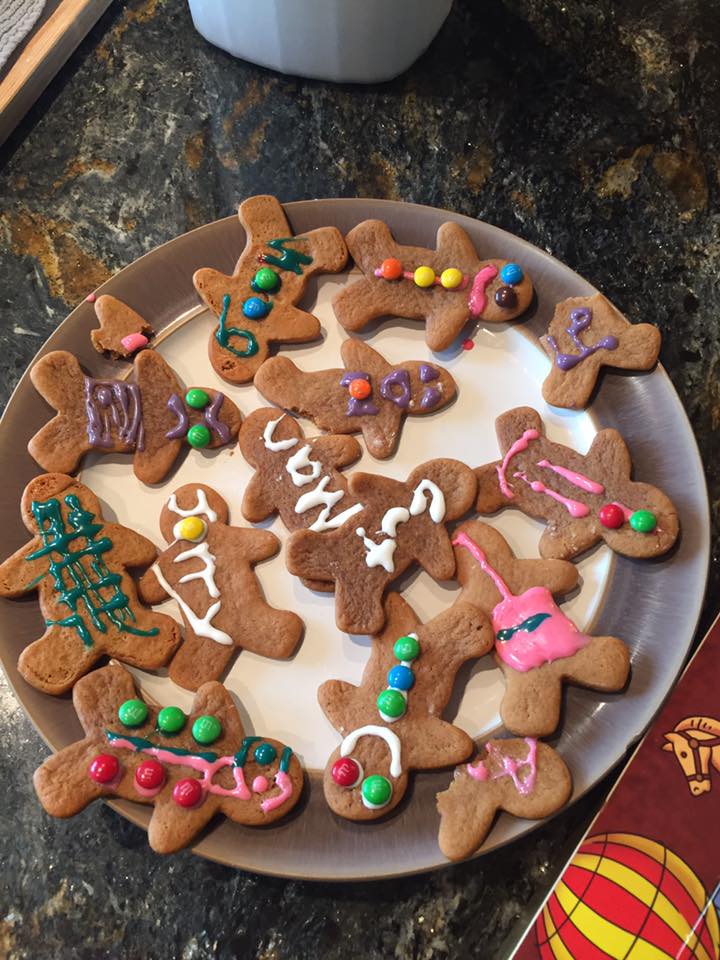 We are doing our gingerbread house tonight, so I'm looking forward to similar creativity.
I was teaching an evening yoga class last week, and my husband took that opportunity to sneak out and buy ten more light-up candy canes, to make me my very own double sided Candy Cane Lane. It was my lifelong dream to have a Candy Cane Lane and now I have one!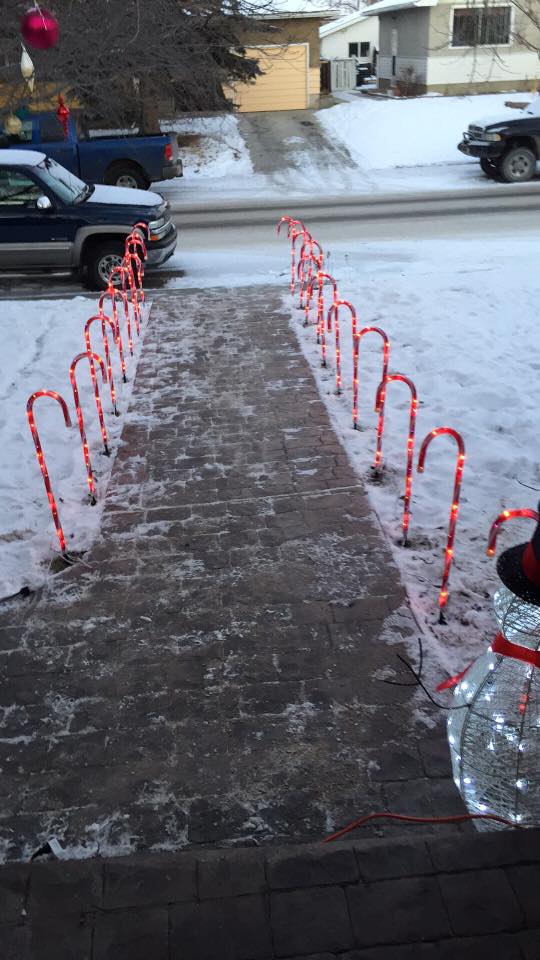 It cheered me immensely, since I was having a low-spirits day.
That's probably enough said on that subject. As I said, it's warmed up, I have Bailey's, I have a Candy Cane Lane, I have delicious, weird-looking gingerbread cookies – what more could a girl want? May we all have such little joys, and the ability to sidestep the emotional landmines rampant at this time of year. xo