Normally I'm in full-on festive mode on November 1st, MAYBE November 2 if I'm exhausted from Halloween. But this year November didn't feel very festive to me; too crazy, too busy, too sad. I was putting myself through the motions a little bit, but now after this weekend, I feel like myself again. It's full on Nicole the Elf.
Friday was the first Friday night I have been at home since late August. So naturally, my husband had romantic plans for me: a trip to Canadian Tire. We bought a couple of strings of red Christmas lights to go with our icicles, light-up trees and animals, and other outdoor ornaments, plus two new extension cords. Woot. Then when we got home, he realized that we needed more clips for the lights, and recruited Mark to go with him. They came back with green spotlights, a light-up snowman and giant gift box, and eight glowing candy canes to make my lifelong dream of a candy cane lane come true. And they did get the clips as well.
My husband spent five hours arranging everything on Saturday, in the minus 25 degree weather, never once asking for my help, so there's several stars on his heavenly crown. I made gingersnaps and we watched Love, Actually for the first time. Actually, I loved it!
Isn't it funny how things like a movie or Christmas song can become combative and divisive? If you want proof that such things can be dramatically polarizing, just try mentioning Baby, It's Cold Outside or Love, Actually. There are many arguments that Love, Actually is a terrible movie, and those arguments seem to be mainly based on the fact that it doesn't show "real love" and isn't "realistic," has poor messages, etcetera. Have you SEEN the news lately? If anything is over-rated, it's reality, and so when I watch a movie I want it to be as escapist as possible. I just want some good smooching scenes and a story line that doesn't have anything to do with The End Of The World As We Know It, and therefore, I give Love, Actually two thumbs up.
Speaking of escapism, let's talk Universal Studios!
We visited Universal Studios twice during our vacation, for a grand total of 18 hours and 29.6 kilometres of walking. Universal is, in the words of my husband, a lot more rock and roll than Disney. The rides are wilder, faster, scarier, and wetter. The big roller coasters: Hulk, RipIt Rocket, and Dragon Challenge all make Expedition Everest look like a children's carousel. I am an intrepid roller coaster rider, and I actually thought I was going to black out on Hulk.
But the water rides, hoo boy. Last time we were at Universal, Mark went on a water ride called Dudley Do-Right's Ripsaw Falls. He went by himself because the temperature was about 20 degrees and overcast and no one else wanted to get wet. He talked about it a lot, and since it was 30 degrees and humid when we were at Universal, Jake and I decided to accompany him. In my mind I envisioned something like Disney's Splash Mountain – a few big hills with some splashing. I was not prepared for what happened. Fortunately – foreshadowing! – my husband decided to sit it out and hold my bag. The boys and I were getting on the ride when I asked the employee where I could sit to minimize getting wet. He looked at me with great amusement and said "It doesn't matter. You're going to be soaked."
This turned out to be only too true. After a few splashy downhills, I started to curse Mark for coercing me into this. Then, as we were heading up a tall hill in our little log, I saw it: a waterfall that we were going to go through. An actual sheet of water. By the time the ride was over, my hair – which was in a bun – was plastered to my head, I had mascara streaks down my cheeks and on my chin, leaving only a few spikes on my actual eyelashes, and I was participating in my own personal wet t-shirt contest, the ONE DAY I wore a white tank top instead of a black tank top. Believe me when I say it was the saddest wet t-shirt contest ever.
If you love being clammy and wet for an entire day, I recommend this ride. Otherwise – maybe take a pass. I did see some young girls going on all the water rides, smartly dressed in bikini tops and little shorts, like the Florida veterans they were. I am not normally a "Daisy Dukes, bikinis on top" kind of girl, also being 41, but I tell you that I envied them, as my tank top clung to me clammily as the sun went down.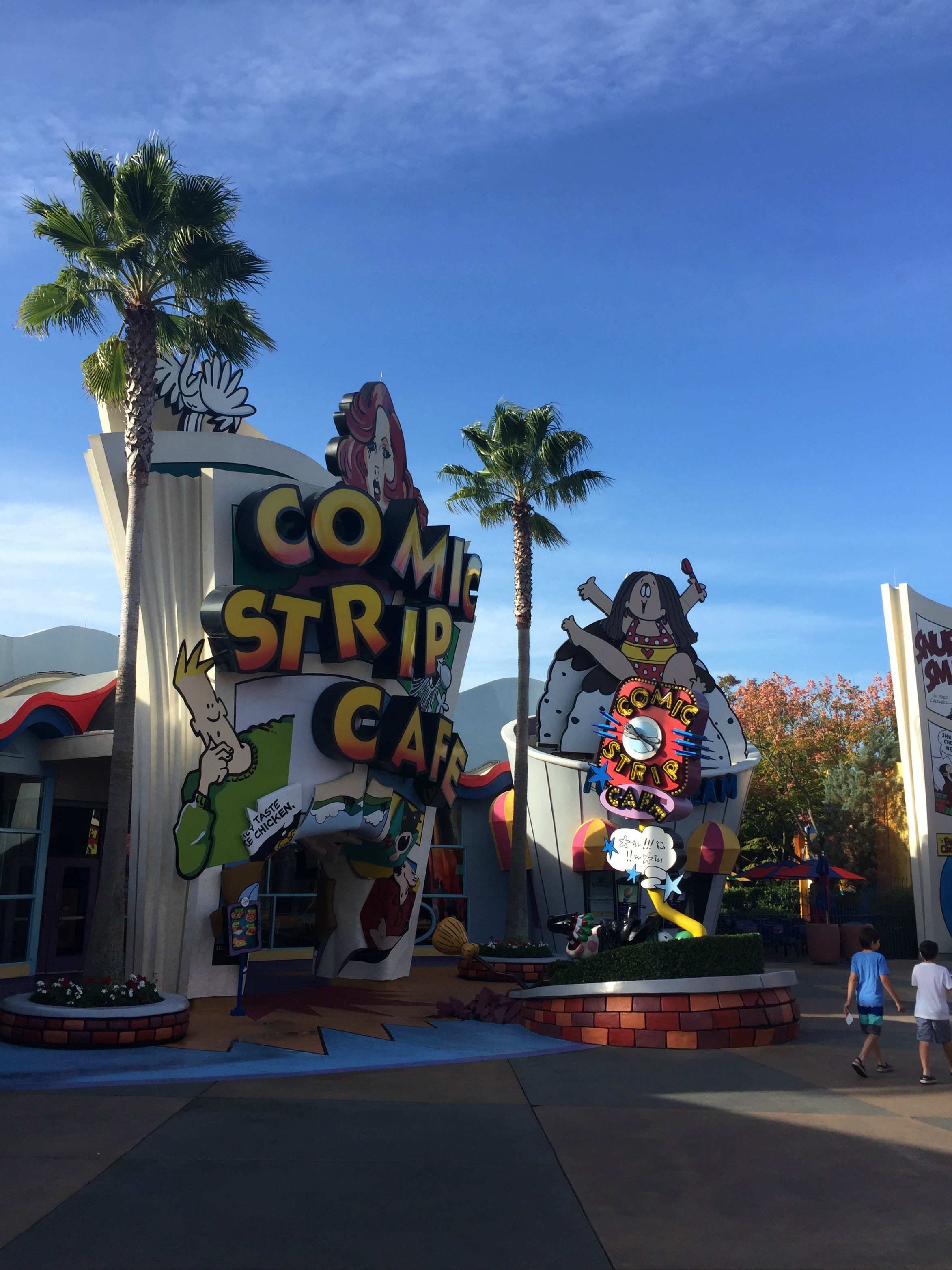 Universal has all sorts of Marvel Comic rides – like the aforementioned Hulk, and Spider Man. It did make me wonder what would happen to those rides, now that Disney has bought Marvel. At any rate, the Universal employee costumes are much, much better looking than the Disney ones, as you can see here.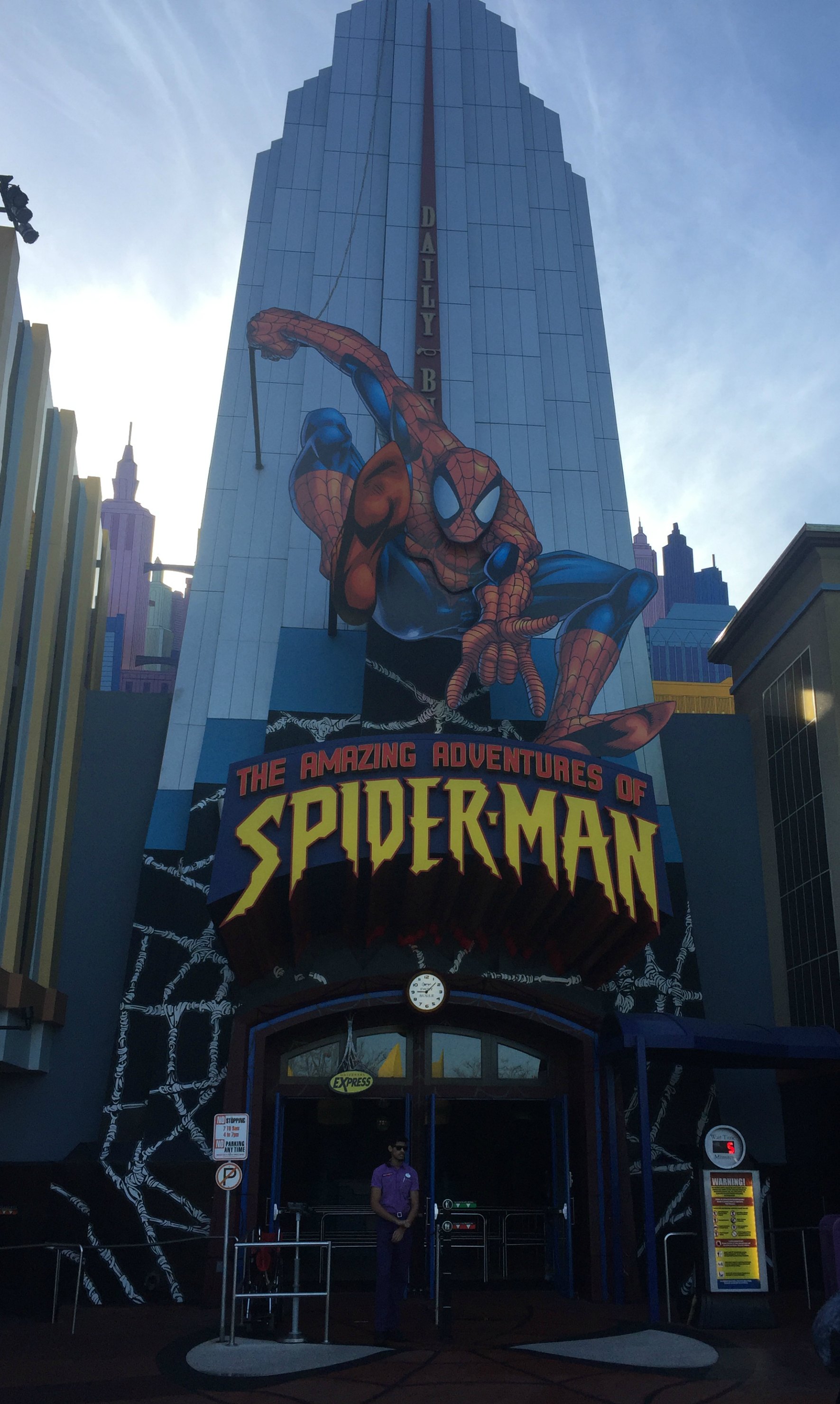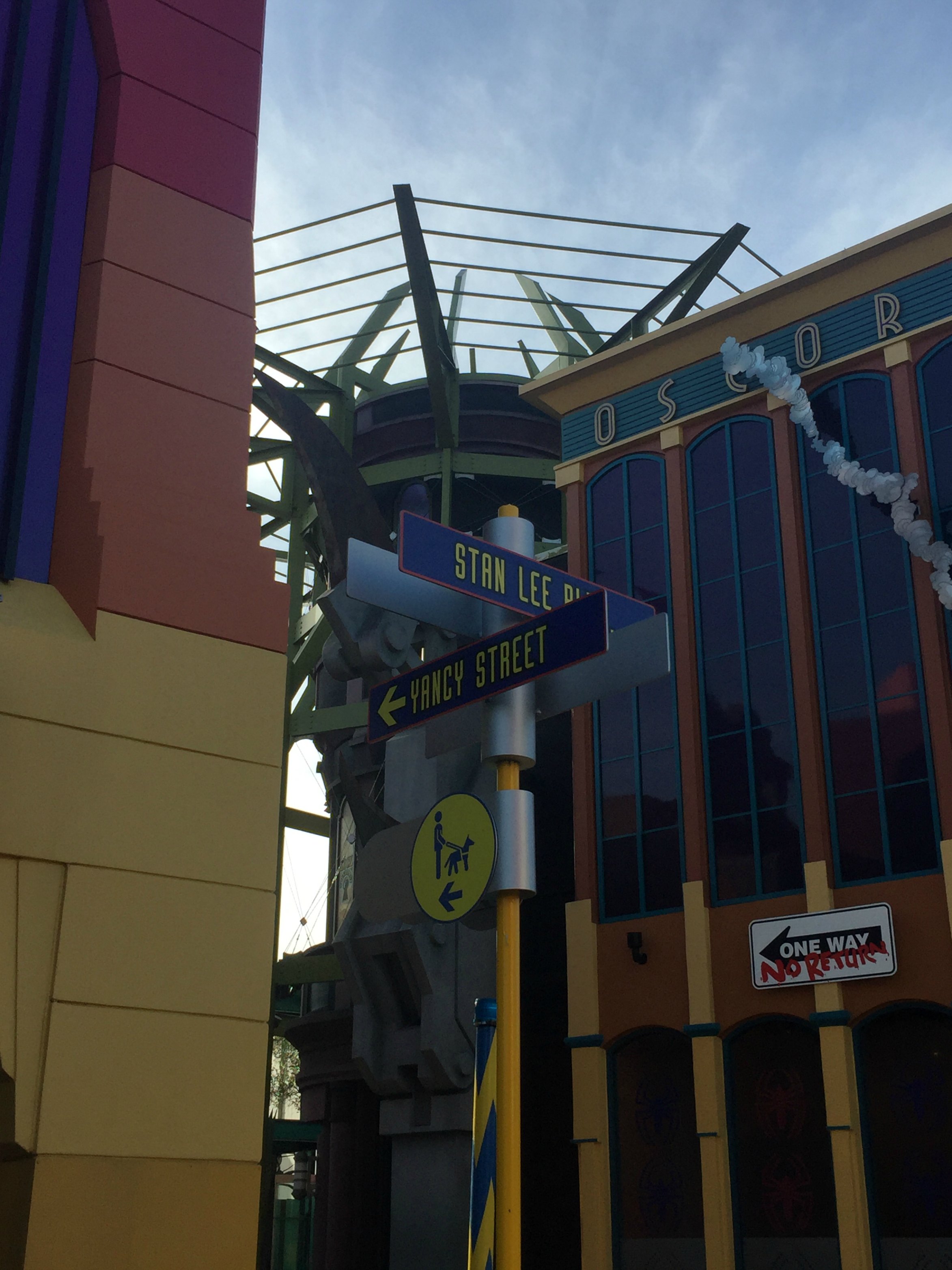 One of my favourite parts of Universal was Krustyland. If you're a Simpsons fan, this is very fun, and all the employees are dressed in Krustyland red-striped sideshow shirts.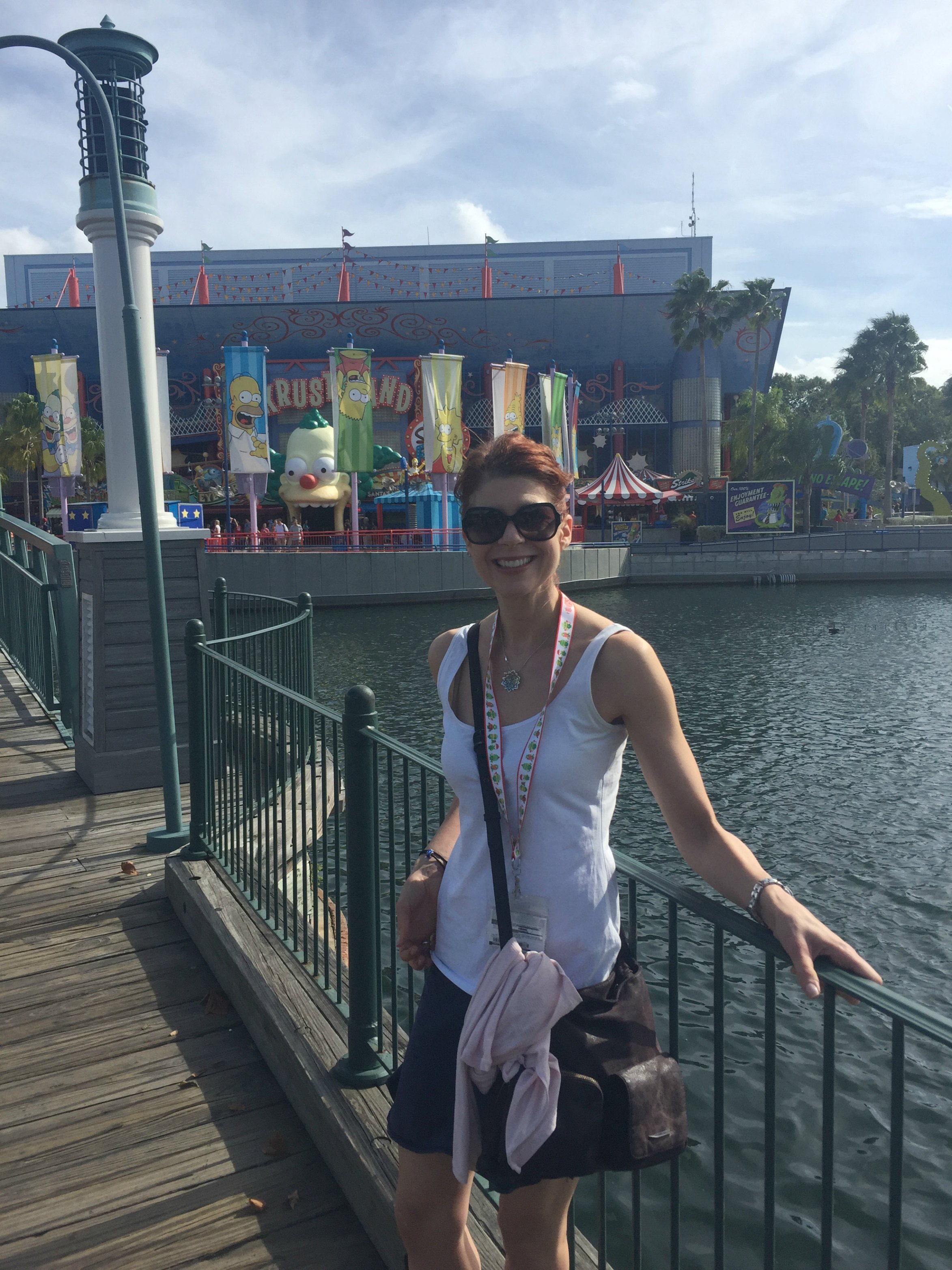 That's me BEFORE the water ride.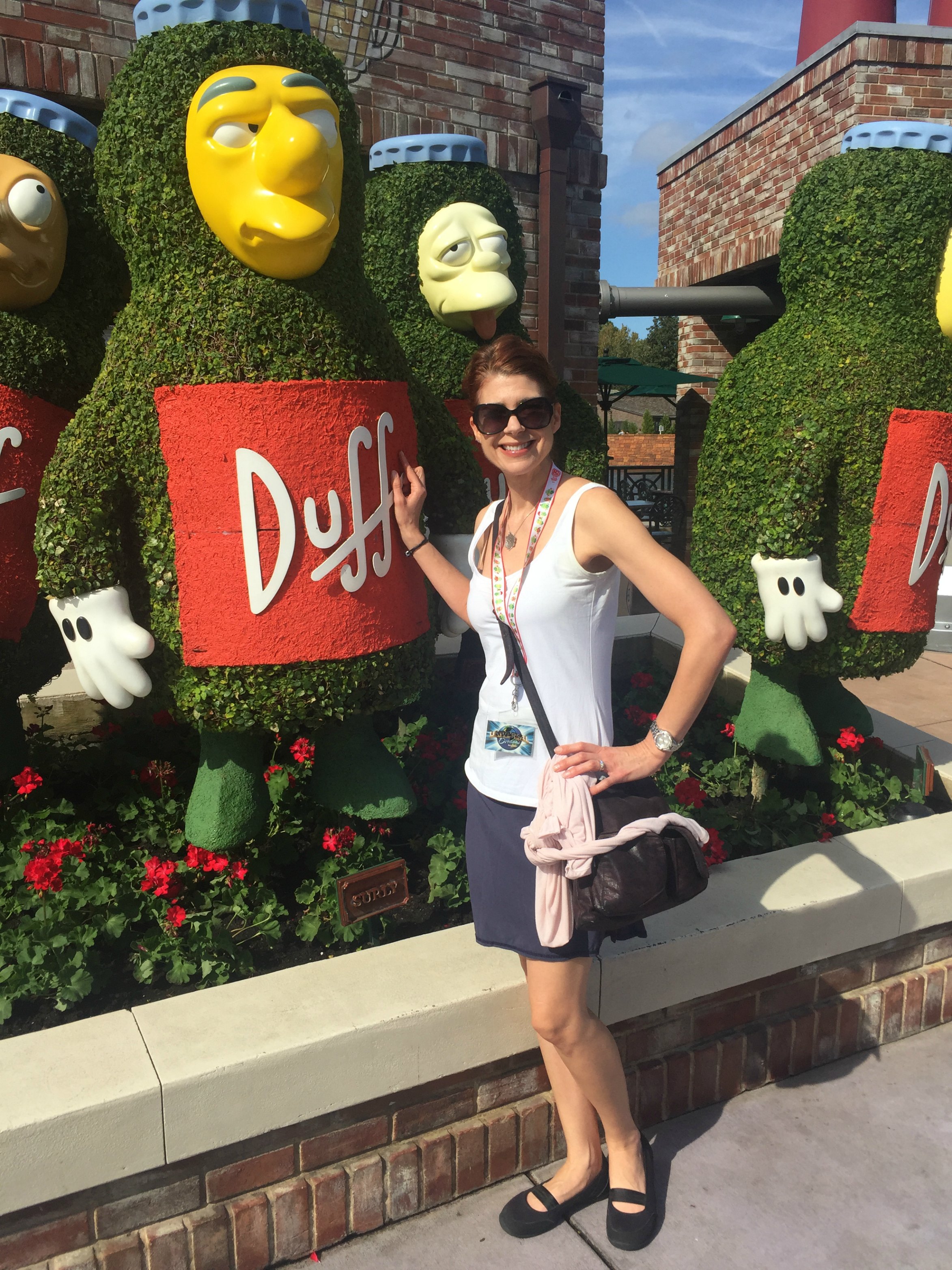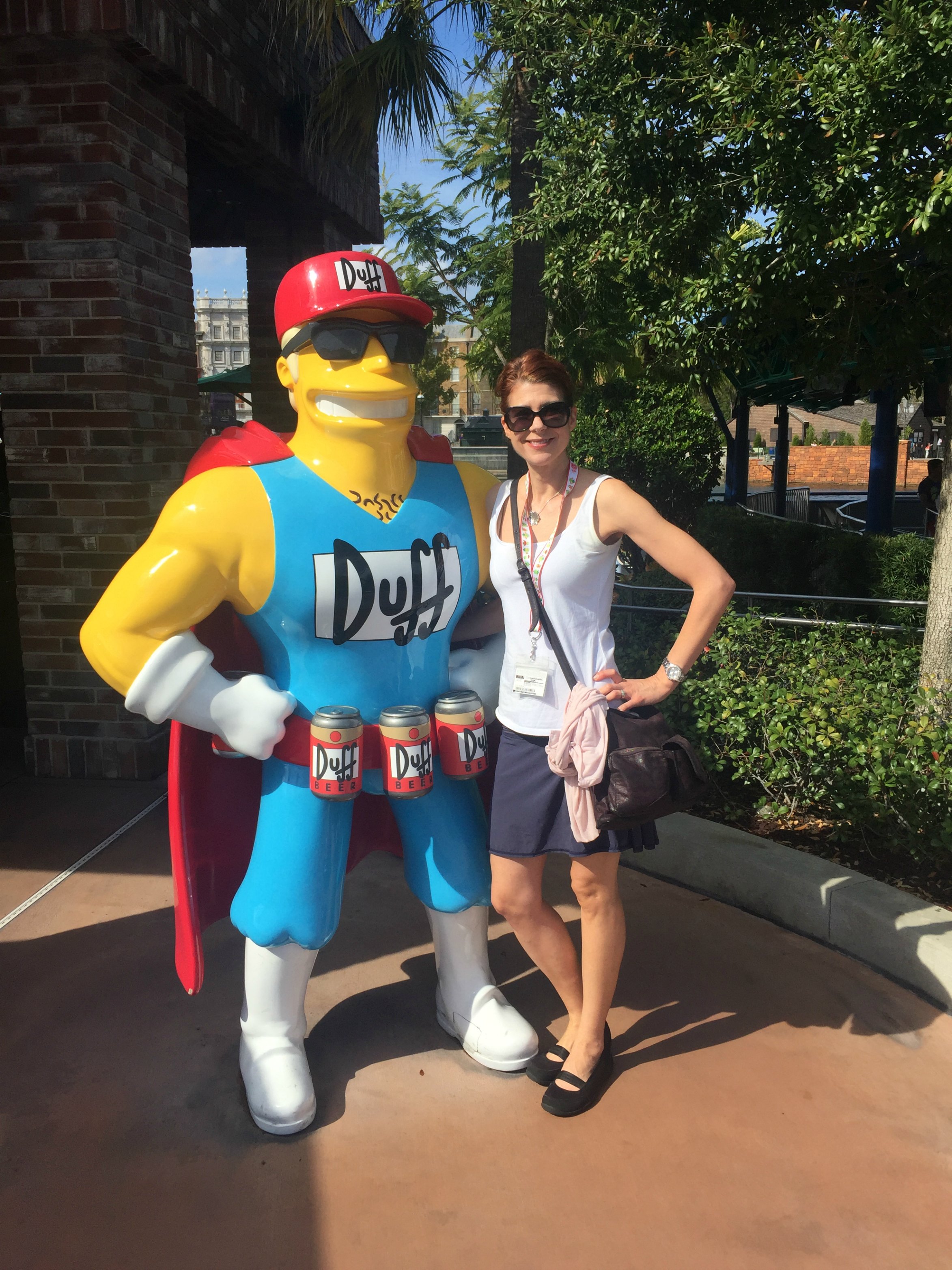 If you're lucky, and you time it right, you can even fulfill your lifelong dream of getting your photo taken with Krusty the Clown and Sideshow Bob. I had to wait until the second day to do this, but it was strangely exhilarating.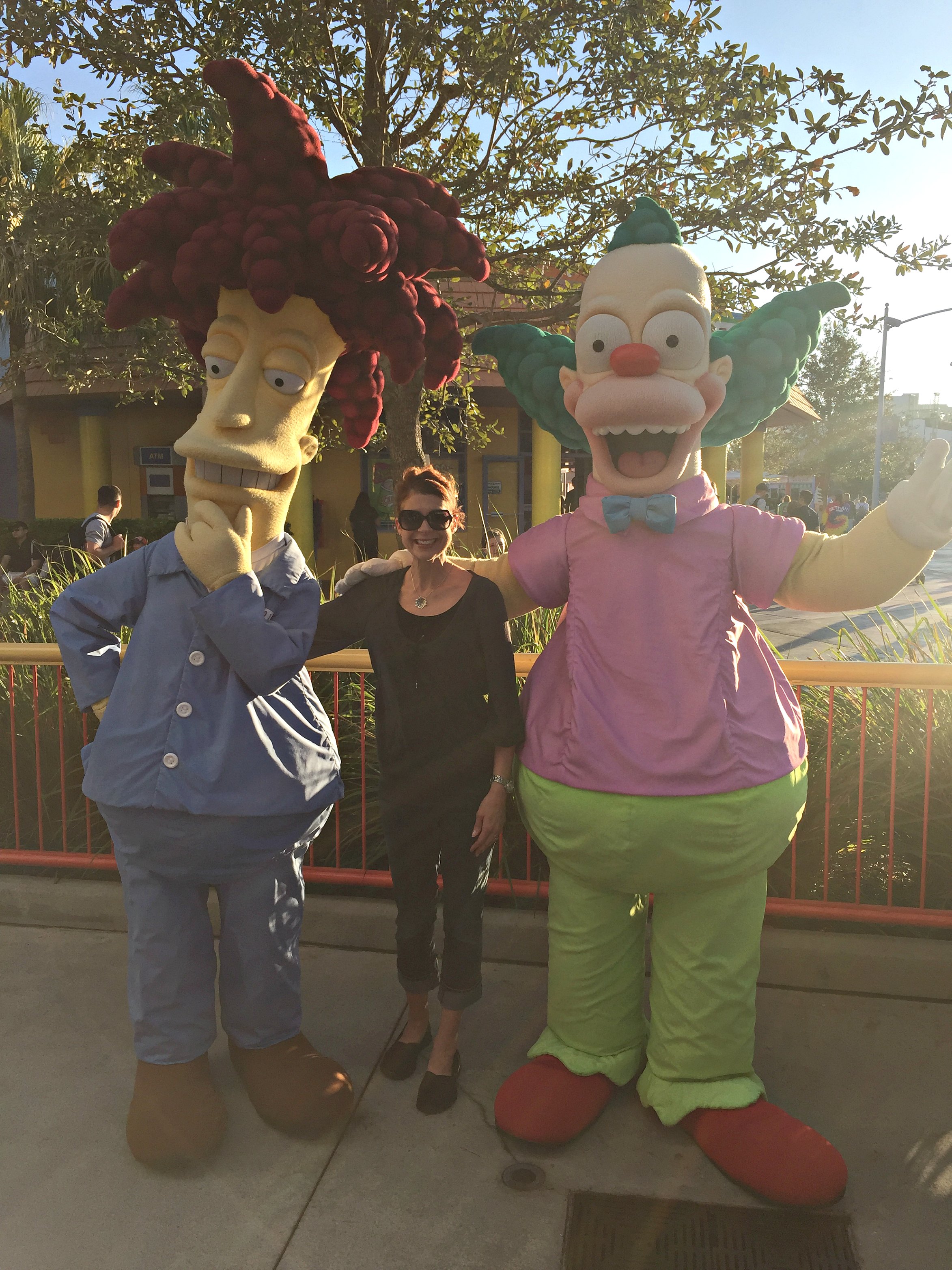 Don't I look excited?
Of course, Universal is home to Harry Potter land, and I will admit something right now: I'm not a Harry Potter fan. I mean, I'm not NOT a fan, but I have never been interested in seeing any of the movies or reading the books. I live with three fans, however, and they were enthralled. Hell, I was enthralled too. The detailing is amazing and if you have passes to both sides of Universal – both Universal Studios and Islands of Adventure – you can take the Hogwarts Express between the two. We did that many times and it was really special.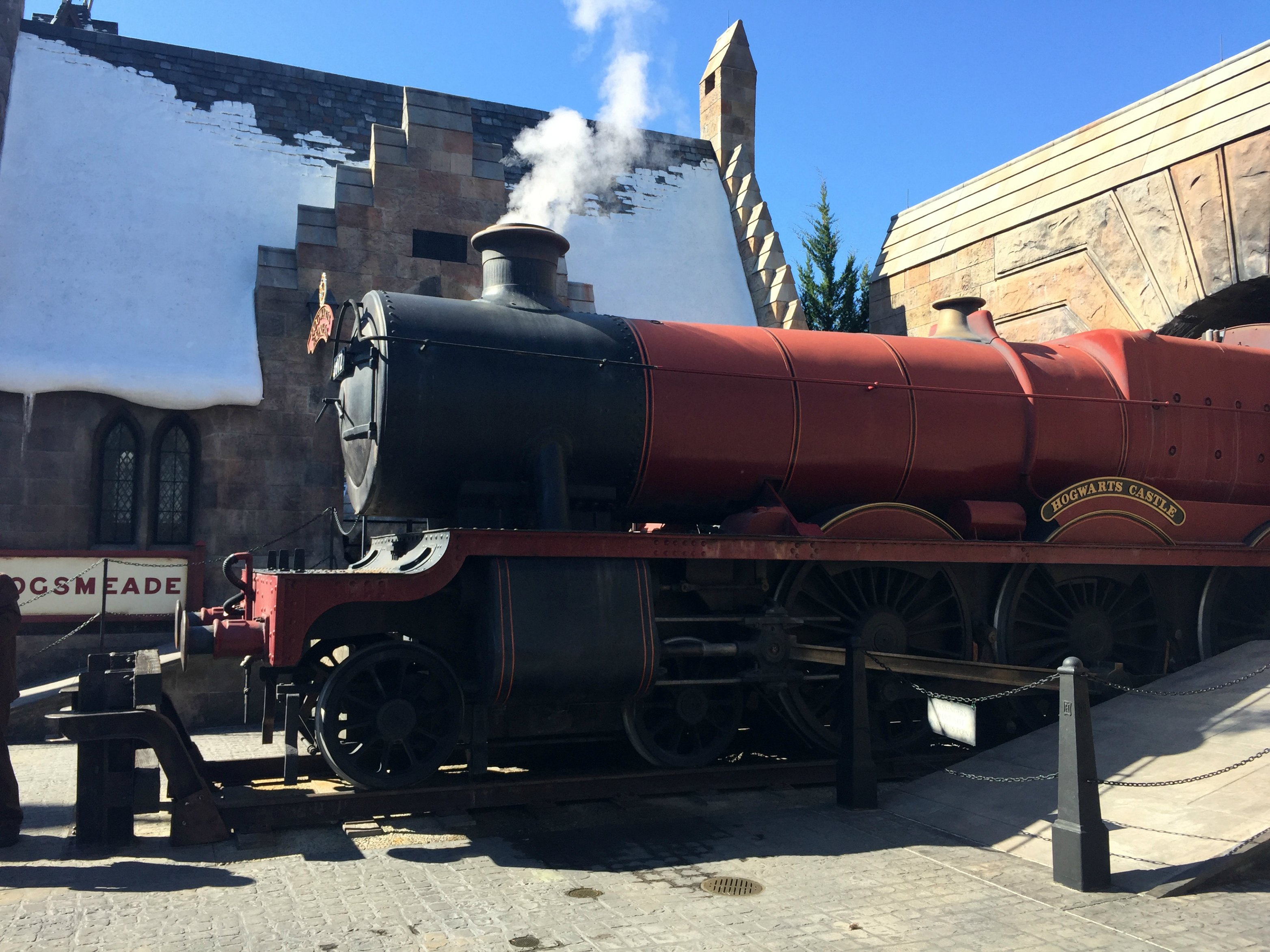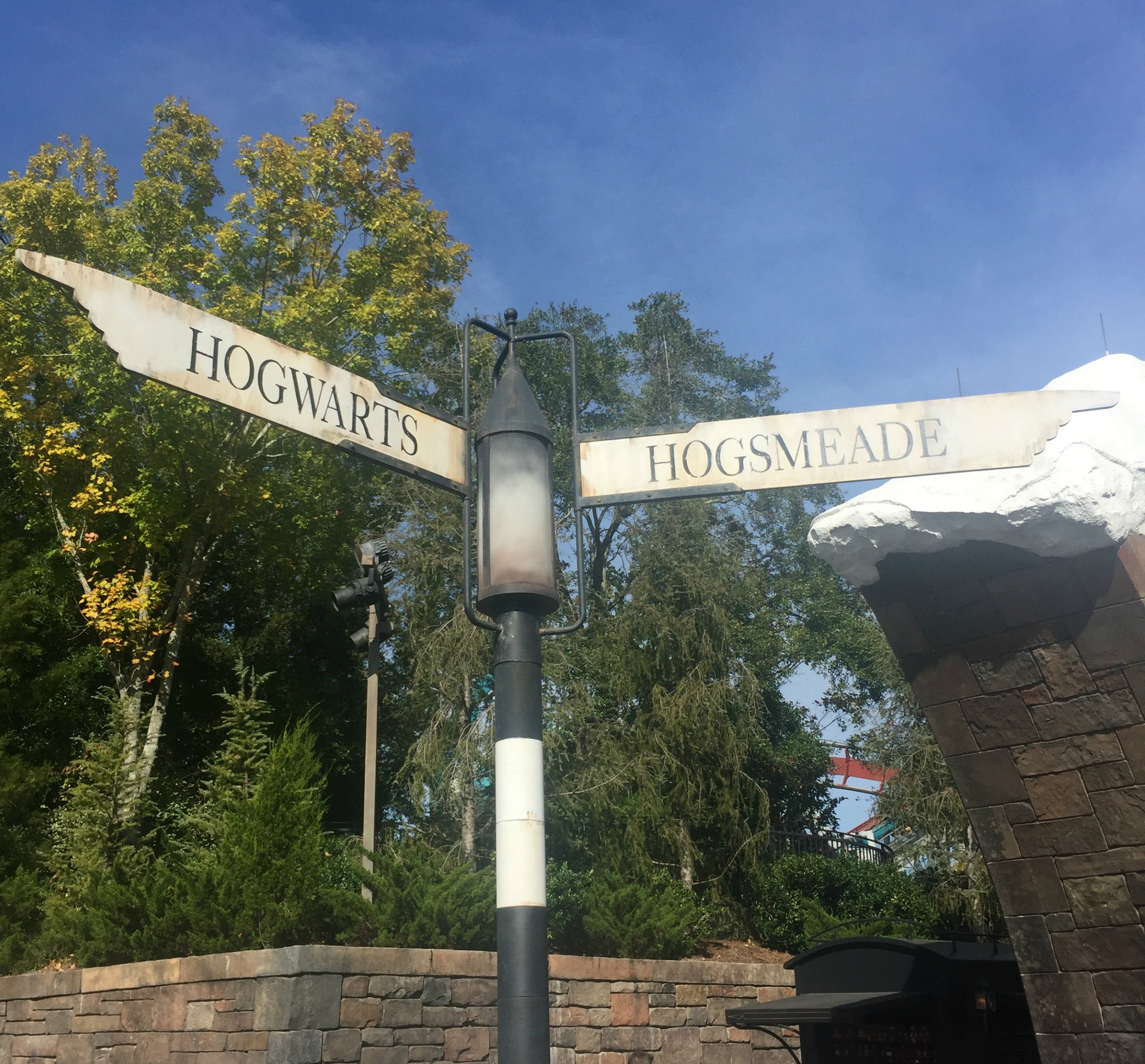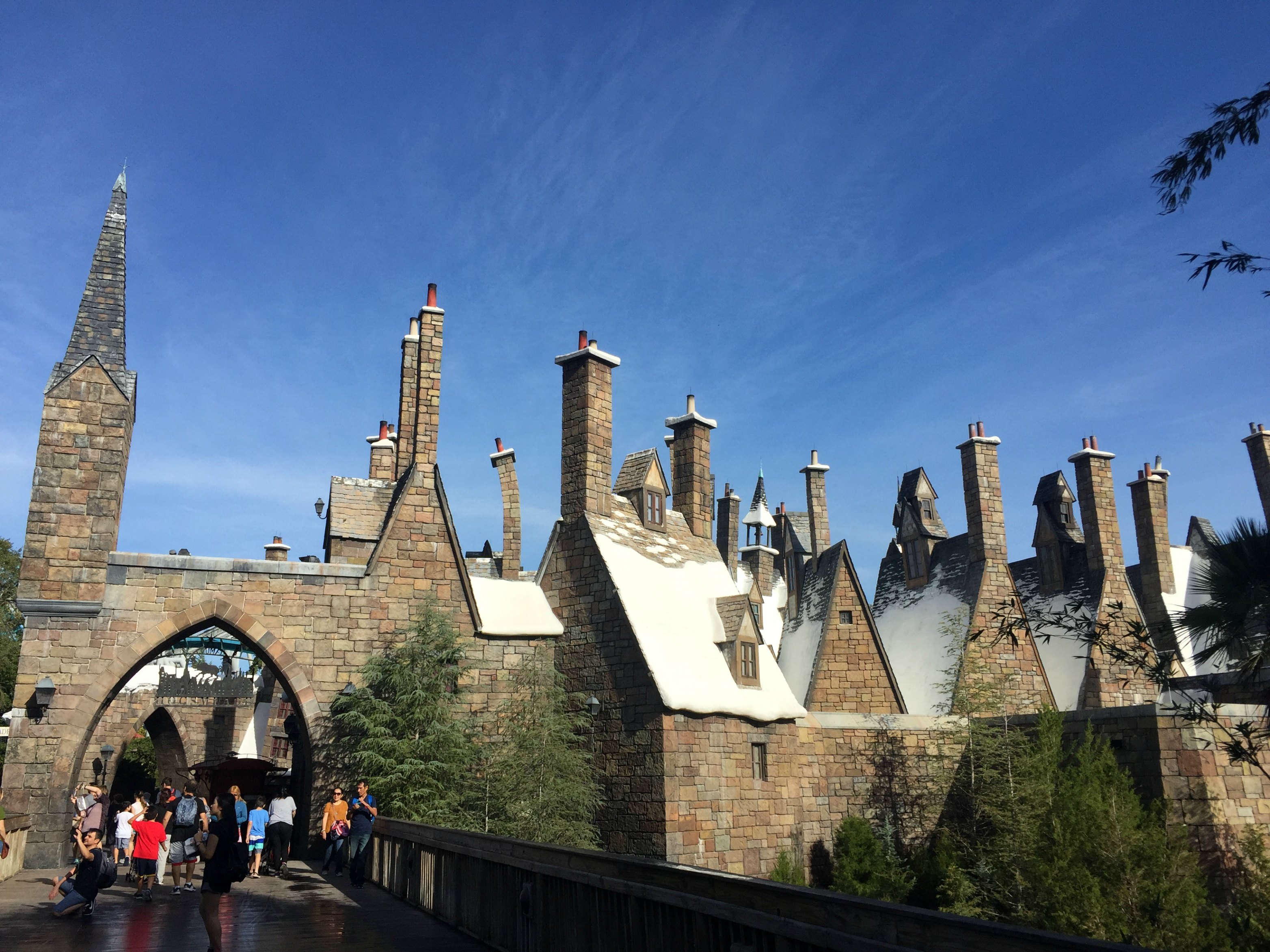 The train takes you between Hogwarts and Diagon Alley.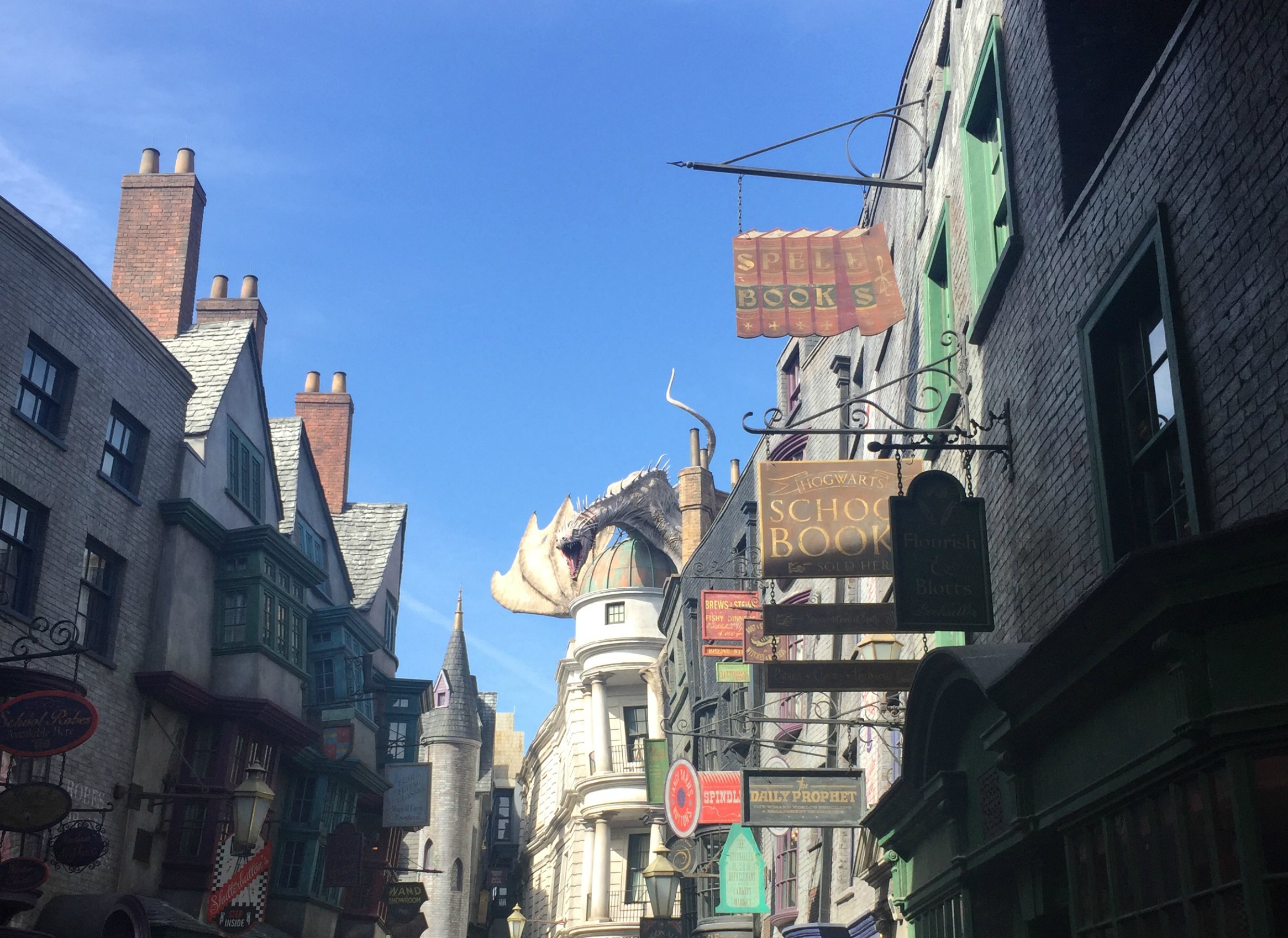 My mother-in-law had given the kids money to buy wands at Diagon Alley, and it was a really special experience. You do not just walk in, grab a wand, and pay for it. There's a whole wand ceremony, and throughout Diagon Alley are spots to use the interactive wands. If the wand-holder does the "spell" correctly, it activates a display – a water fountain spurts, a bird starts flapping its wings, a hat floats into the air. It is well worthwhile for fans and non-fans alike.
The 3D adventure rides – there is one at Gringott's Bank and one at Hogwarts Castle – are a lot of fun but beware! I felt a little queasy and nauseous at the Hogwarts one, which has you flying through the air playing Quiddich. As I mentioned, I have a stomach of steel for roller coasters but this one did make me feel a bit off.
On the other end of the spectrum is the Who-ville Land, all gentle rides meant for the Dr. Seuss set. I forced the kids to go on a couple of those rides and we actually got stuck for a few minutes on the Cat and the Hat ride. We were stuck in the living room, on a ride shaped like a couch, for probably less than five minutes, but with the continuous loop of children's music it felt like a lot longer. It reminded me of a colleague of my husband's, who was once stuck on It's A Small World for 45 minutes. This was what she looked like afterwards:
Anyway, if you have little ones it is a nice, quiet part of the park. Plus, at Christmas it's all decorated up.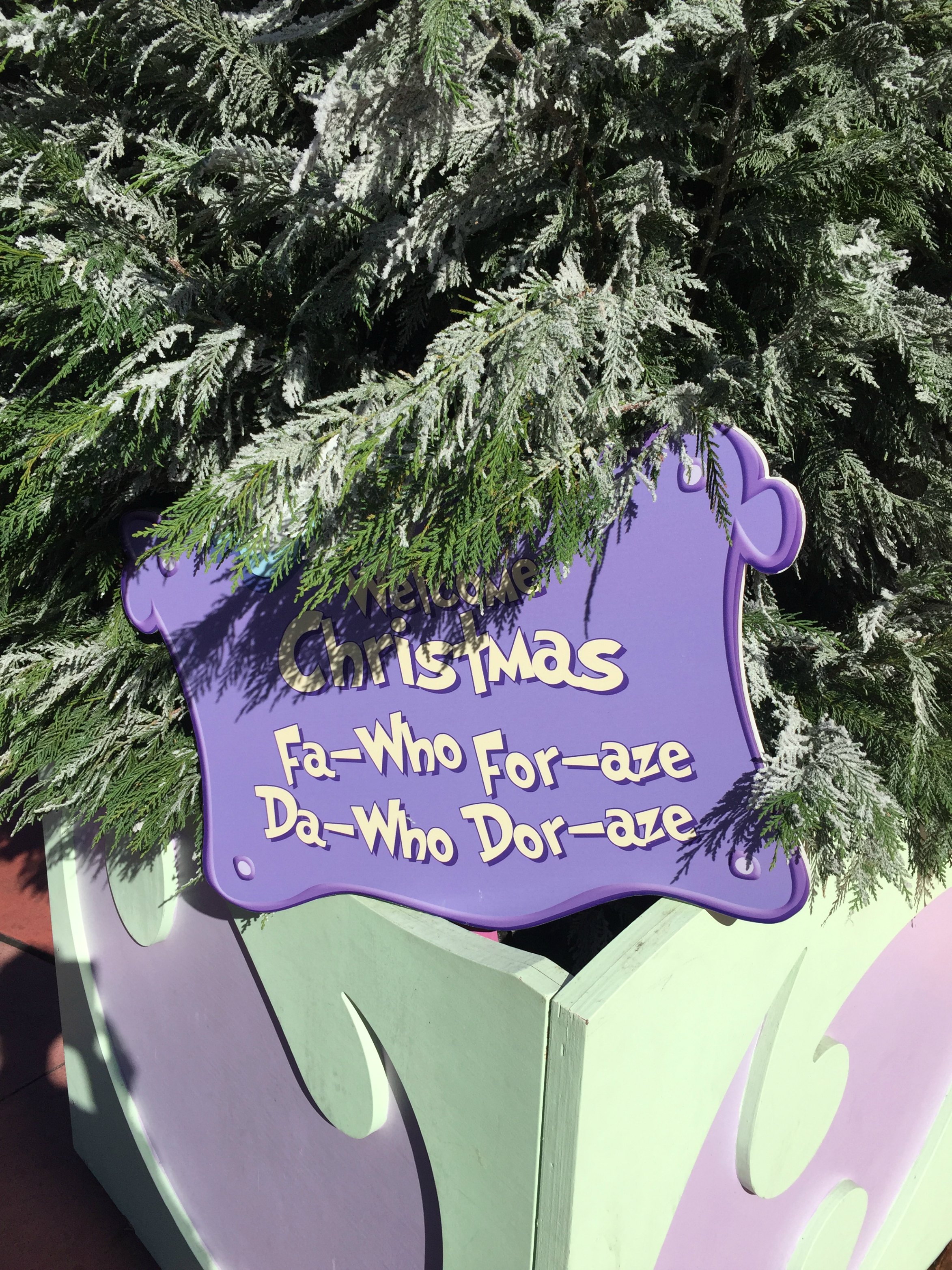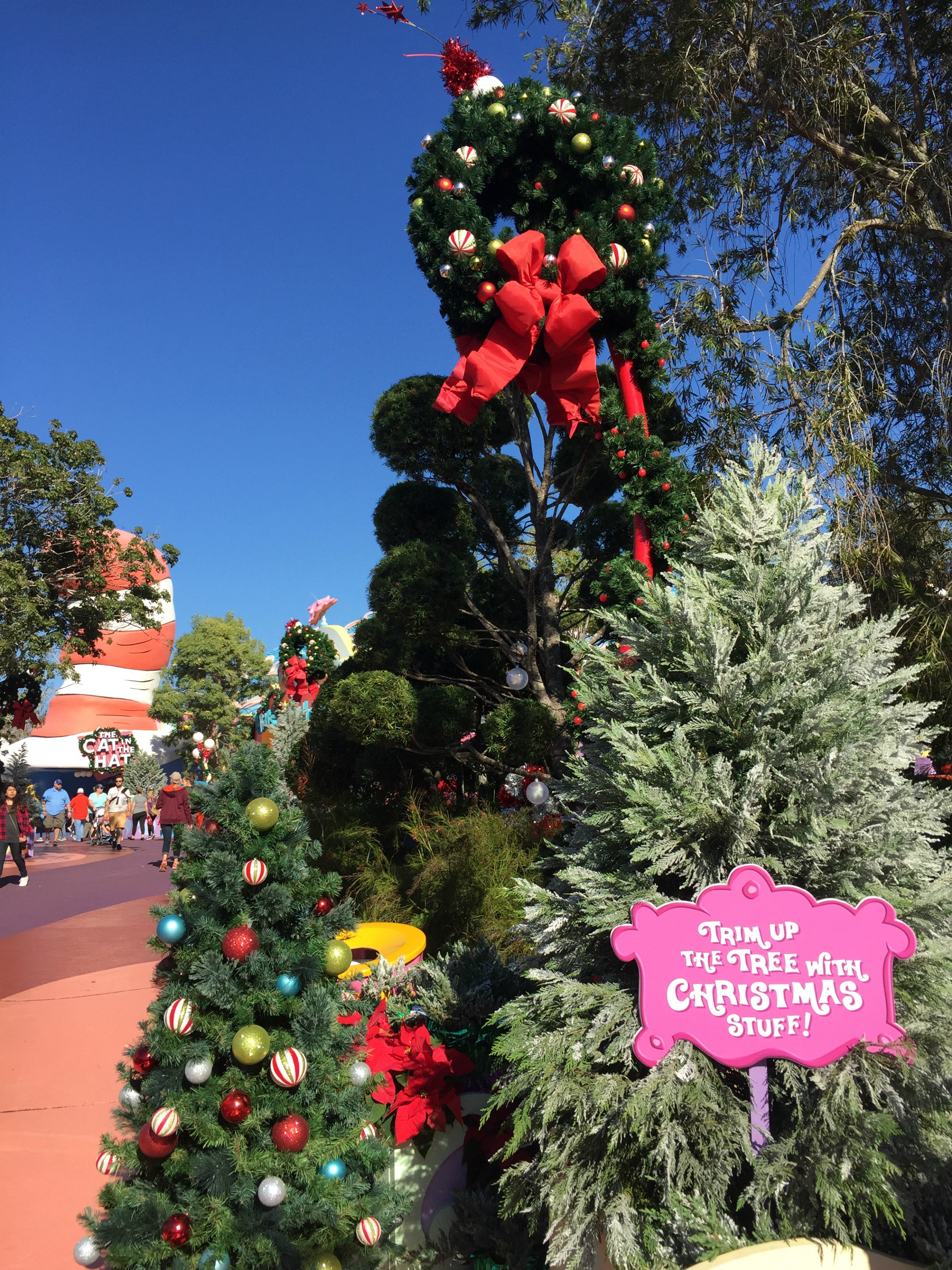 At five o'clock on most days Universal hosts a parade, and if you're there at Christmas, it is a copy of the Macy's Thanksgiving Parade. We missed it by one day when we were there, but we had seen it on our previous trip, and it is a lot of fun.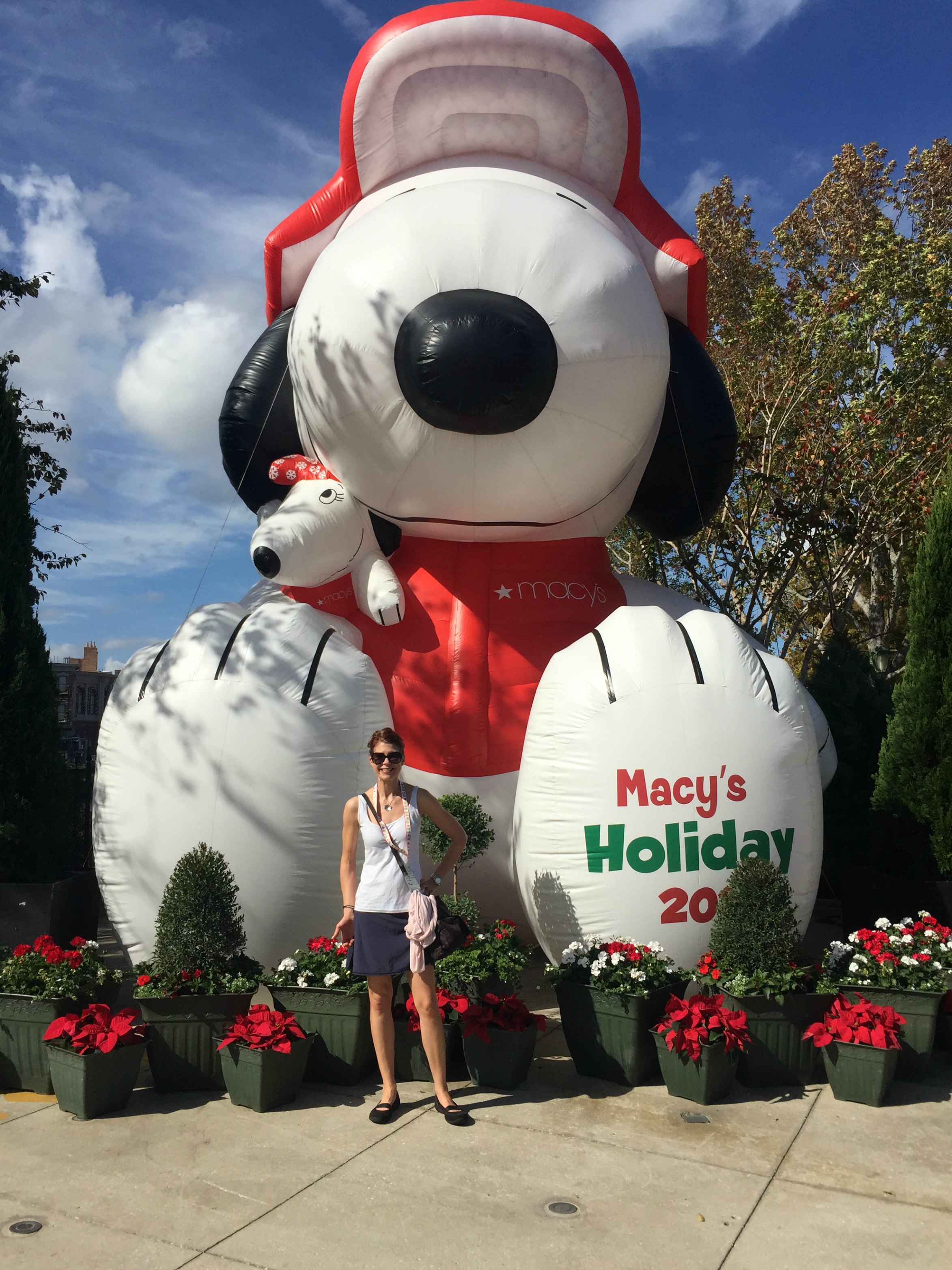 Ah, look at that outfit. I am currently wearing two sweaters, knee-length wool socks, jeans, and fuzzy slippers and I am FREEZING. It looks like it has warmed up to minus 13 (minus 22 with wind chill!) and I really should put on eight more layers to take poor beleaguered Barkley out for a walk. I also have teacher gifts to make (these, if you're interested, and maybe some of this or this) because the last day of school is FRIDAY THE SIXTEENTH WHAT THE HELL SCHOOL BOARD. All of which is to say, my frozen fingers are signing off. xo