My word, it has been a long week, hasn't it? It feels like it should have been Friday for days now. It's not over yet by any means; not only do I have a three hour class tonight, but in just over an hour I will be on a school bus, chaperoning a field trip to the Olympic Oval. I actually have no idea why we are going to the Oval, except that there is something to do with speed skating. Thank you, Captain Obvious.
So it's been a long week but not a bad one by any means. In fact, many good things have happened this week. For example, I saw this: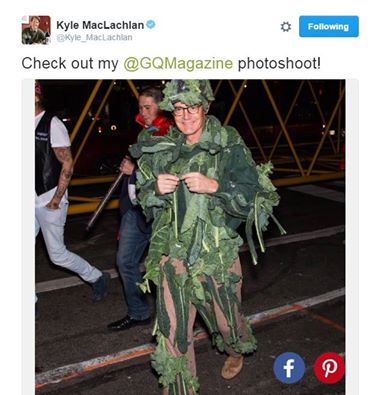 Kyle MacLaughlin, dressed as a kale salad. I cannot even begin to describe how much I love Kyle/ Kale MacLaughlin. I've had a soft spot for him for years, even when he played Charlotte's douchey, breast-obsessed, mommy's-boy husband on Sex in the City. For one thing, he looks an awful lot like my own non-douchey, non-breast-obsessed, non-mommy's-boy husband. It's not just me saying that, either. His budget-backpack-travel youth coincided with the height of Twin Peaks, and while in Indonesia he posed for a lot of photos. I like to imagine the family photos which include my husband, in those houses.
Thursdays are my very busiest day of the week; they are pretty much a whirlwind of ceaseless activity. Yesterday, due in large part to my recent hair appointment, God bless my hair therapist, I had an AMAZING hair day. Usually my good hair days coincide with the days I don't have anywhere to go or anything outside the house to do, and it feels like a waste. But I had a great hair day ON A THURSDAY. Miracles do happen, people. They happen every day. We just have to look for them.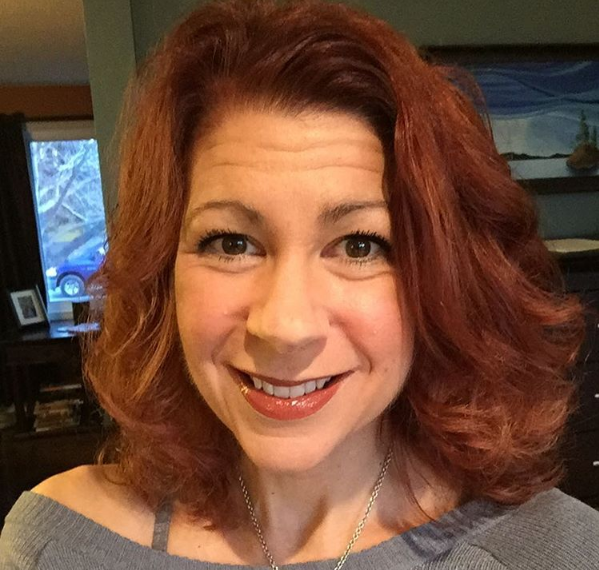 This is not to say everything has been glorious this week. Today I broke a nail putting on my compression stockings, which says a lot about everything. Also, last night I witnessed a couple having a legit angry argument around the semantics of the word "shortage."
Man: Hmm. There seems to be a shortage of eggs.
Woman: A SHORTAGE? Oh my god. What do you MEAN, a shortage of EGGS?
Man, gesturing towards the egg cooler at Superstore: There's not that many eggs to choose from.
Woman: That's not really a shortage. GOD. That just means they are almost OUT of eggs because it's the end of the DAY. Don't say it's a shortage. It's not a SHORTAGE, for God's sake.
Man: Whatever! There's not a lot of eggs!
Woman: It isn't a SHORTAGE.
At that point I grabbed my orange juice and backed away. I mean, I don't know what's going on your life, but maybe some deep breaths would be beneficial?
But who am I to talk? I have been in low-level panic about the Madagascar drought and resulting worldwide vanilla shortage for a few months now. Everyone knows that the key to an amazing baked-good experience is doubling the vanilla, and here we are with a shortage.
I was at Costco and they were OUT of vanilla extract, and my own panic was similar to that of the Egg Lady. I have one bottle in my possession and I'm not sure at what point I start extreme rationing. Is it time to panic yet? Should I start hoarding? WHAT NOW.
Deep breaths. Deep breaths. I need to keep calm because, after all, I'm going to be on a school bus shortly and that is cause for panic enough. Have a great weekend, everyone. xo