Remember that old Seinfeld episode wherein Jerry and Elaine are trying to set George up with Elaine's friend Cynthia? Elaine is talking about all of Cynthia's good points, and adds that she has great eyebrows.
Jerry: Who cares about eyebrows?
Elaine: Women KILL for eyebrows like that. Do you know that? I mean, women pluck their real eyebrows out of their head, one by ONE, until they're BALD, Jerry, bald above the eyes, and then they paint in these eyebrows to look like that.
Later, Jerry broaches the subject of a setup to George, who is reticent because, as he puts it, being set up on a date is one step away from an escort service, or possibly a prostitute. Oh, George. To sweeten the deal, Jerry begins to list all of Cynthia's physical attributes, adding that she has great eyebrows. Women, he says, kill for eyebrows like that.
George: Who cares about eyebrows?
Who indeed? Well, I do, but more on that in a moment.
Are you on Instagram? I am, but inconsistently. Days can go by and I will forget all about it. My posts aren't terribly compelling, either, they are mainly photos of a) food, b) my dog, c) something blooming in my garden, and d) the occasional selfie thrown in on a good hair day. I particularly post selfies when I am fresh from the salon, since my beloved hair therapist always blows my hair straight, which I never do in my regular life. I suppose I like to have photographic proof of the one day every five weeks when I have shiny, perfectly straight hair.
While I was at my in-laws' house on the May long weekend, I received notification that someone had commented on one of my Instagram posts. Hooray, comment! Since my posts are so sporadic I always get excited when someone comments. I was a little confused, though, because the comment was from someone I didn't know and the post in question was from mid-April.
But wait! Before I get to that, I want to note something. I am a person who can take constructive criticism. I try to stay reasonable and non-defensive – it's a work in progress, yes, but I really try to look at criticism in an objective way. This is especially true if the constructive criticism/ helpful hint comes from a person I know well and love. If a friend has a comment about makeup, or a suggestion about a wrinkle cream, or anything at all, I will look at it objectively, see if it has any merit and, if so, incorporate it into my life.
As an example, someone mentioned a miracle wrinkle reducer to me, upon looking at my forehead wrinkle. I sadly did not write it down and cannot remember for the life of me a) who mentioned it to me or b) what was the product. If it was you, please tell me, because the forehead situation is dire.
Another example: I mentioned to my hair therapist that I was thinking of going to my natural dark brown, to which she said Not on my watch, Nicole. Her reasoning was sound: every five weeks I go insane, loathing the roots that I have, and if my hair was darker my loathing would be that much greater. Well, I like being a feisty redhead anyway, so I took her advice and here I am, in mid-April, with fresh colour and straightened hair.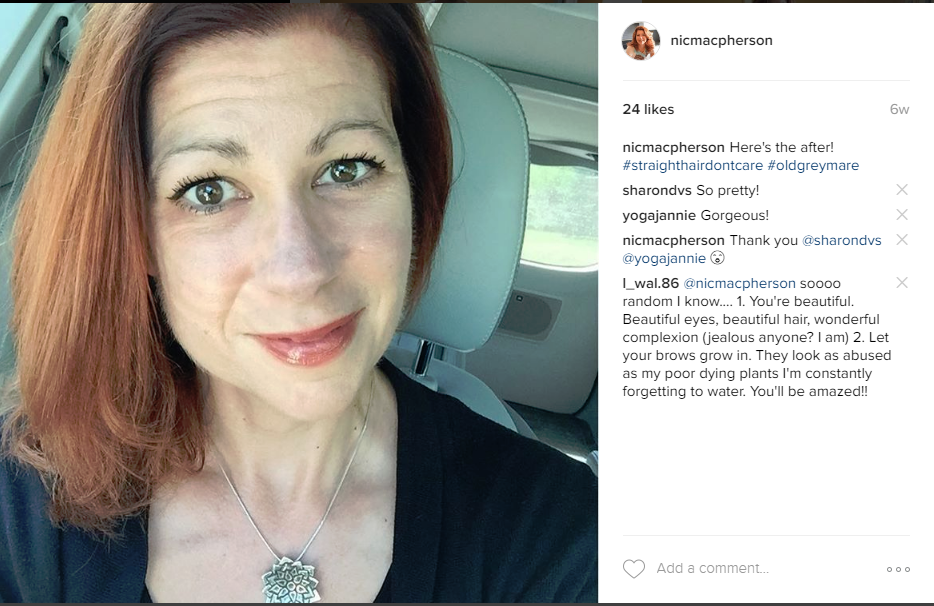 And so when I opened my Instagram to read the comment left to me by someone I do not know, I was a bit surprised. I enjoyed the part about having beautiful hair and a wonderful complexion, particularly since I did not use a filter on that photo, as you can probably tell by the forehead wrinkles and undereye circles. And yet.
Let your brows grow in. They look as abused as my poor dying plants I'm constantly forgetting to water. You'll be amazed.
I immediately went into the bathroom and peered at my eyebrows. It's true, I have a few eyebrow hairs that are going grey to match my startling roots, but I didn't think that they were particularly ABUSED looking. I didn't think they were analogous to dead, unwatered plants. In fact, I thought in that photo they were looking particularly healthy, but I found myself second-guessing everything. Are my eyebrows all wrong?
Here's the thing, if I let my eyebrows grow in, I feel it would be disastrous. My natural eyebrows are a cross between Martin Scorcese and Bert from Sesame Street, which is not a look I want to cultivate. If someone is comparing me to Bert from Sesame Street, I would like it to be because I'm boring and I like grey, not because of my unibrow.
Don't worry; I didn't let that comment destroy my self-esteem or anything. I'm not fishing for eyebrow-related compliments, but I did think it was a pretty strange thing to comment on. I never comment on stranger's photos, and I would certainly never post a negative comment about something as strange as eyebrows. I was more puzzled than anything.
Then it hit me: maybe eyebrows are the new eyelashes. A while back there were a bunch of eyelash parties – analogous to Tupperware parties, but with eyelashes, I guess, I've never been to one myself – and now I'm wondering if the same is true for eyebrows. Are eyebrow regrowth products the newest Multi Level Marketing thing?
If my hypothesis is correct, then I have a gentle suggestion for eyebrow representatives everywhere: don't go on Instagram and randomly tell people their eyebrows are terrible. Because really, who cares about eyebrows?
(I do. But still.)