Here's a little tidbit about me that some people (read: my husband) find quite un-endearing: I have a really, really hard time spending money on non-essential items. What often happens in my house is that my husband will suggest a purchase, and no matter how minor, I rail against it. Spotify, for example. Why would we need Spotify, I argued passionately, We already have Sirius! Or the Roomba. We don't need a Roomba, we have a vacuum!
Well, over the course of our marriage, my husband has learned to just make the purchase, which I subsequently fall in love with. Like, I cannot imagine how I actually did workouts before without Spotify. And Roomba? Roomba, as I've mentioned before, is now my favourite child. Everyone in the house talks about Roomba as if he is a living, breathing person who exists only to clean our floors. Great job, Roomba! we all say as Roomba whirrs around. Oh, Roomba, you got into the cords again! we will gently chide him as we see an extension cord pulled out from under the bed. Even Barkley has learned to live with Roomba, even though his tail was once almost vacuumed, causing him to now watch warily when the whirring starts.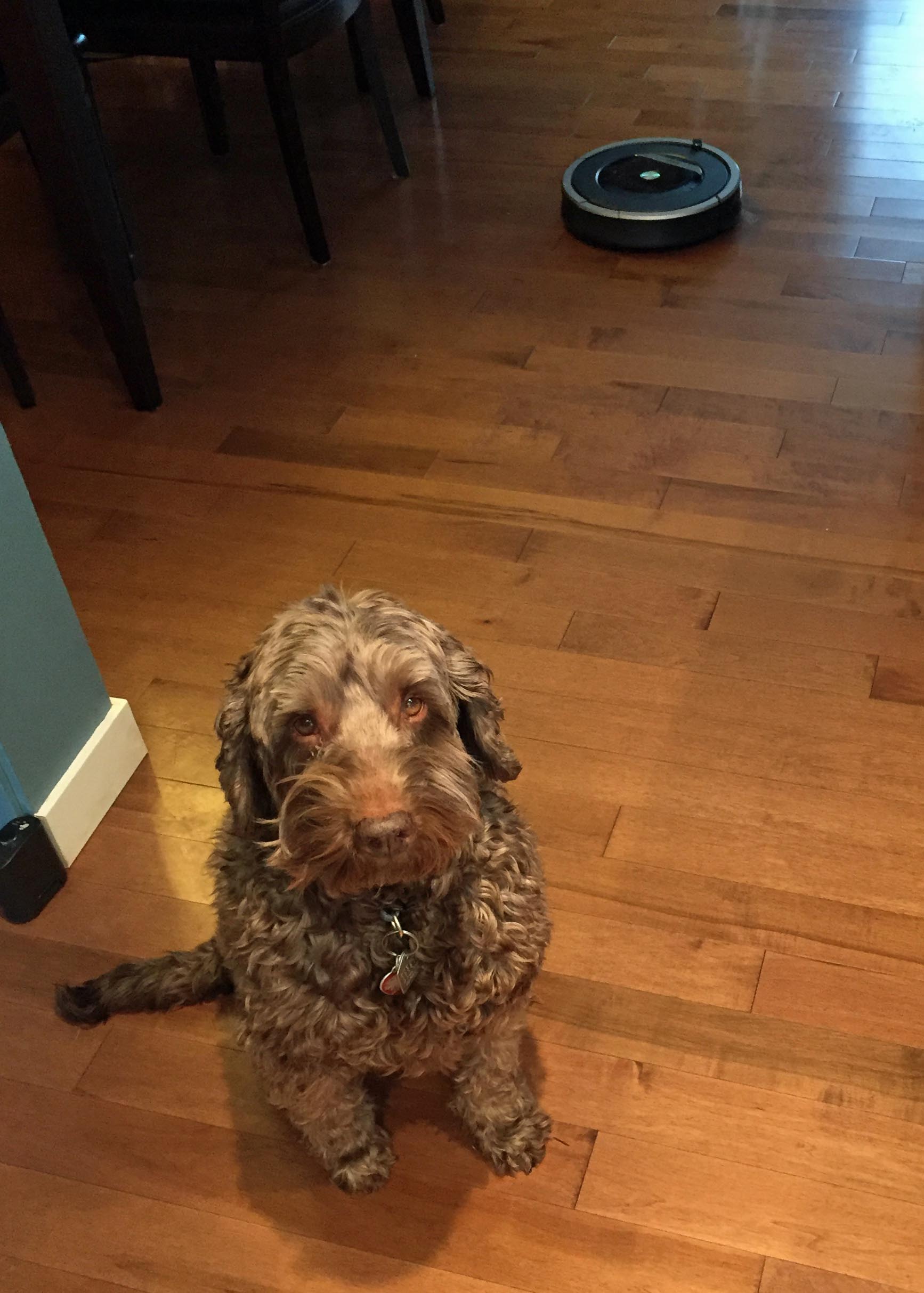 It naturally follows that if a person has a hard time spending money on non-essential items, then that person should have – in theory – a fairly empty closet. Right? Well, it appears that clothing is essential and that I have far, far too much of it, if my exploding closet and drawers are any indication.
The problem is that I like clothes, and I buy quality, long-lasting clothes, which means I have a lot of clothes. I mean, I have yoga pants from 2008 that still look fantastic, I have classic black dresses purchased between 2011-2014 that are always in style, and I have very well-cared for sweaters from the now-defunct but much loved Jacob.
Everyone has been talking about the KonMari method of tidying up; yesterday was a PD day and I was looking for a project, so I thought I would re-organize my closet. Although I am a very organized (read: anal) person in general, my closet was getting a little small and cluttered. Now, I knew the rules: if an item was used and brought joy, then it could stay. Otherwise, it would get purged.
Do you know, all of my clothing brings me joy?
Reader, I couldn't bear to part with a thing yesterday. I regularly comb through my dressers whenever I get a phone call asking for clothing donations for this charity or that one, and I usually can gather a good solid garbage bag full. But perhaps I've gone to that well too often, or perhaps yesterday was the wrong day to go through my things, I don't know. All I know is that after putting everything in a giant pile, I ended up neatly rolling everything up and putting it back in the closet. I found a couple of unused containers and I rolled each bikini piece together, Kondo-like. (Who needs fourteen bikinis, mostly black? I DO. I need ALL the black bikinis.)
So that was a bit of a fail. Not only did I go through my closet, but I also cleaned out my dressers and the same thing occurred; I couldn't bear to part with any items at all. Well, on the upside, everything is now neatly put away. On the downside, I still need to deal with my shoes and boots, and that, my friends, is going to be a test.