I know it's the big "first day of school" for a lot of you, but we are already into our second week. The boys were pretty happy to start school last week; we are all enjoying that "back to routine" feeling. The children have been relentlessly quoting Billy Madison: back to school, back to school, to prove to my dad that I'm no fool. Over and over.
I, for one, have been incredibly productive and busy since they've been back at school, which is a good feeling. I mean, I miss them – and today I miss them more since they are staying for lunch for the first school patrol meeting of the year – but it's kind of nice to get things done, too, and to hear later all about the exciting news of the day. "We're going to be learning about Ancient Greece and the origins of democracy!" said Mark happily, along with "We'll be looking for moss in our forestry unit!" Jake excitedly talked about the Math Question of the Week, which had to do with being trapped and tied up in a room with a ticking time bomb, and a rat chewing the knots on the rope, and would you be freed in time, or blow up? Jake loves math anyway but the semi-violent and gross Question of the Week took it over the top for him. Math AND explosions? How can one go wrong? Needless to say, the first week was pretty great.
Barkley's not as happy with the change in season, though: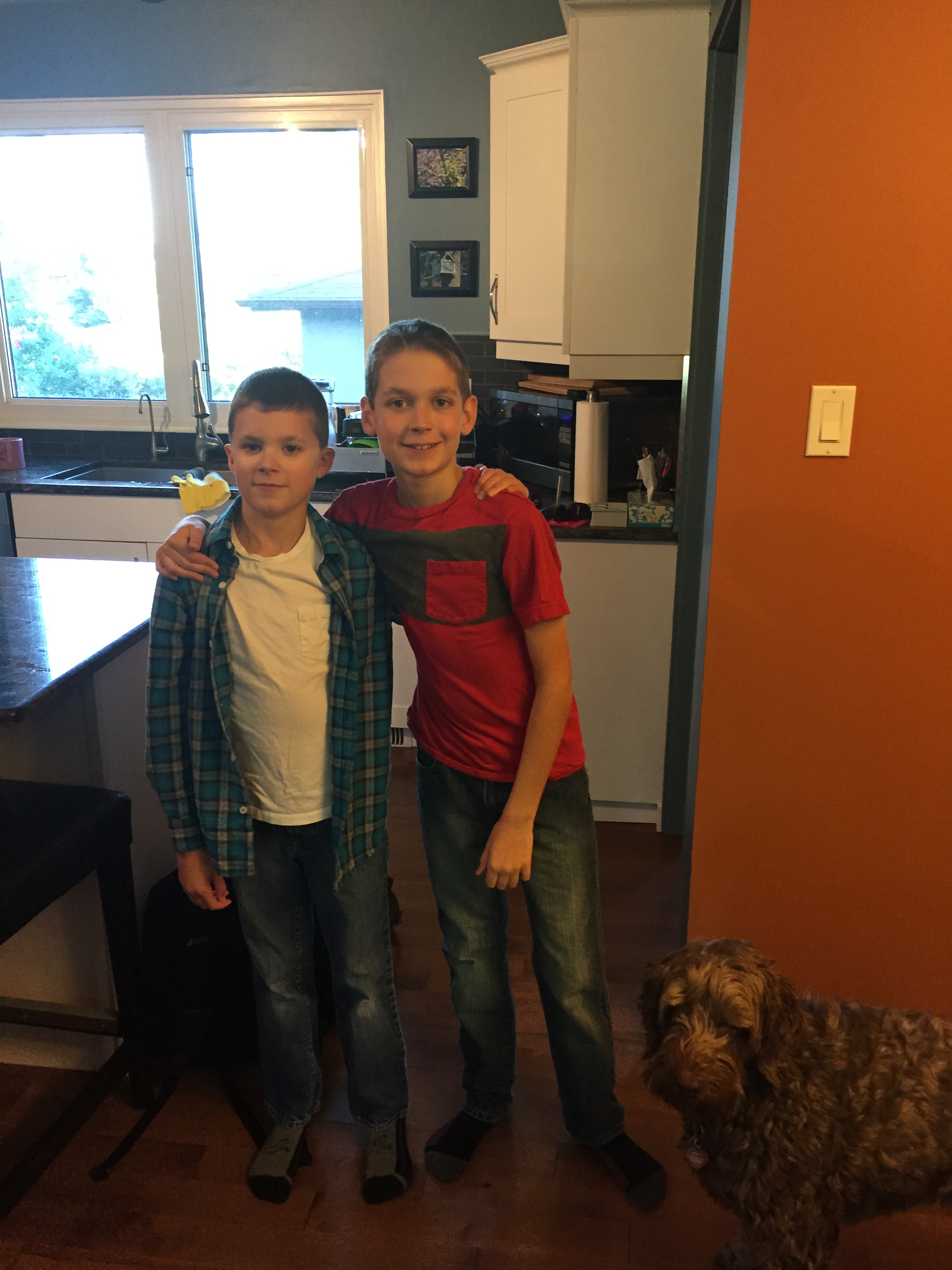 Look at that sad, fuzzy face.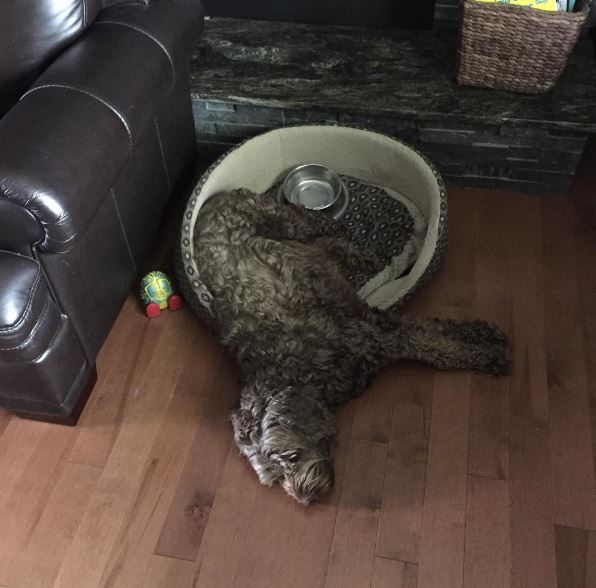 Poor Barkley.
Other than Barkley's depression, things have been fine so far; I'm thrilled with the boys' teachers and classroom sizes, and they are too. I'm less thrilled that Mark has already had a cold and so spent the long weekend coughing and lethargic, although the weekend was cold and rainy – and even a bit snowy – so it could always be worse. He could have been coughing and lethargic on a nice weekend. As it was, we spent most of the weekend at my parents' place for an early Jake-birthday celebration.
This week I'm apparently going to be chaperoning a walking field trip to a nearby natural park, dubbed "Whispering Woods." The boys' teachers are really on the ball and are very technologically-oriented, and so I received a message detailing all scheduled field trips for the upcoming year. The upside of this is that the boys will both be exposed to some excellent learning opportunities, such as a week long trip to something called the "Open Minds" arts centre. The downside is that each of them will require parent volunteers for a week for the trip to the aforementioned "Open Minds" arts centre. I have a feeling my mind is going to be opened. Opened, like a gift, or a flower, or something.
In any case, I received the request for volunteers for this week's field trip, and in a moment of weakness I capitulated. After all, as I told my husband perkily, now that I'm not chairing the School Council or Parent Association, I have extra time for these in-class requests. "Or," he said ominously, "You could just say that you've done enough volunteering to last a lifetime and have someone else do it." True.
In any event, I'm happy to say that the forecast is not for snow, nor rain, during the scheduled field trip, although I am wondering what I was thinking. Three hours in the Whispering Woods with 53 fifth-and-sixth graders? Looking at various plants and – if Mark is to be believed – moss? This doesn't sound like the best idea I've ever had.