Perhaps in a foreshadowing to Black Monday, it snowed on Friday! Snow in August isn't unheard of, but it isn't exactly typical either. Well, snow melts and markets move and the world keeps on spinning.
Fortunately we didn't have any snow actually stick at our house and my flowers are still alive and well, despite it being 3 degrees for much of the day. The weather has definitely changed and it feels like fall. Even though the afternoons are warm and sunny, there's still a crispness to the air. School starts next week and despite my excitement about wearing boots and scarves, I'm feeling a bit melancholy about it. We've had such a wonderful summer that I'm loathe to have it end. We are trying to fit in as many fun things as possible during this week – the zoo, the pool, the amusement park – so hopefully the weather will cooperate.
Last week I took the kids to see Inside Out. In retrospect, this might not have been the best idea since I has hormonal and emotional, and I had a giant lump in my throat for the whole movie, and actual mascara-wrecking tears at the end of Bing Bong. What a good movie that was. I highly recommend it to everyone as it was probably the most clever and entertaining children's movie since the first Shrek.
Remember when Shrek first came out, and what a delight it was? I remember seeing it in the theatre with my then-boyfriend-now-husband and just wanting to watch it over and over to catch all the little jokes again. I feel this way about Inside Out – that it's a many-times-re-watchable movie.
Speaking of re-watching things, the boys have developed an interest in Downton Abbey. I know! I can't believe my luck either. It all started last year when we were visiting my in-laws; the television at our disposal doesn't actually have any channels available, and so I had brought my Downton DVD's with me. The boys started watching with me, and now we are working our way back into Season Four. I'm starting to feel a little uneasy, though, because although the boys have dealt with the storylines involving war, pregnancy struggles, death, and murder, I'm not sure if I'm ready to explain rape to them. Although, a few weeks ago I did have to explain child sexual abuse to Mark, who was completely stunned that such a thing could happen. Aren't we all, though.
Let's see: market crashes, snow in August, the death of childhood imaginary friends, and now rape and sexual abuse. I think I've covered pretty much every depressing subject available to me today. Quick! Let's think of something cheerful! How about puppy Barkley sleeping in a Thomas the Tank Engine chair?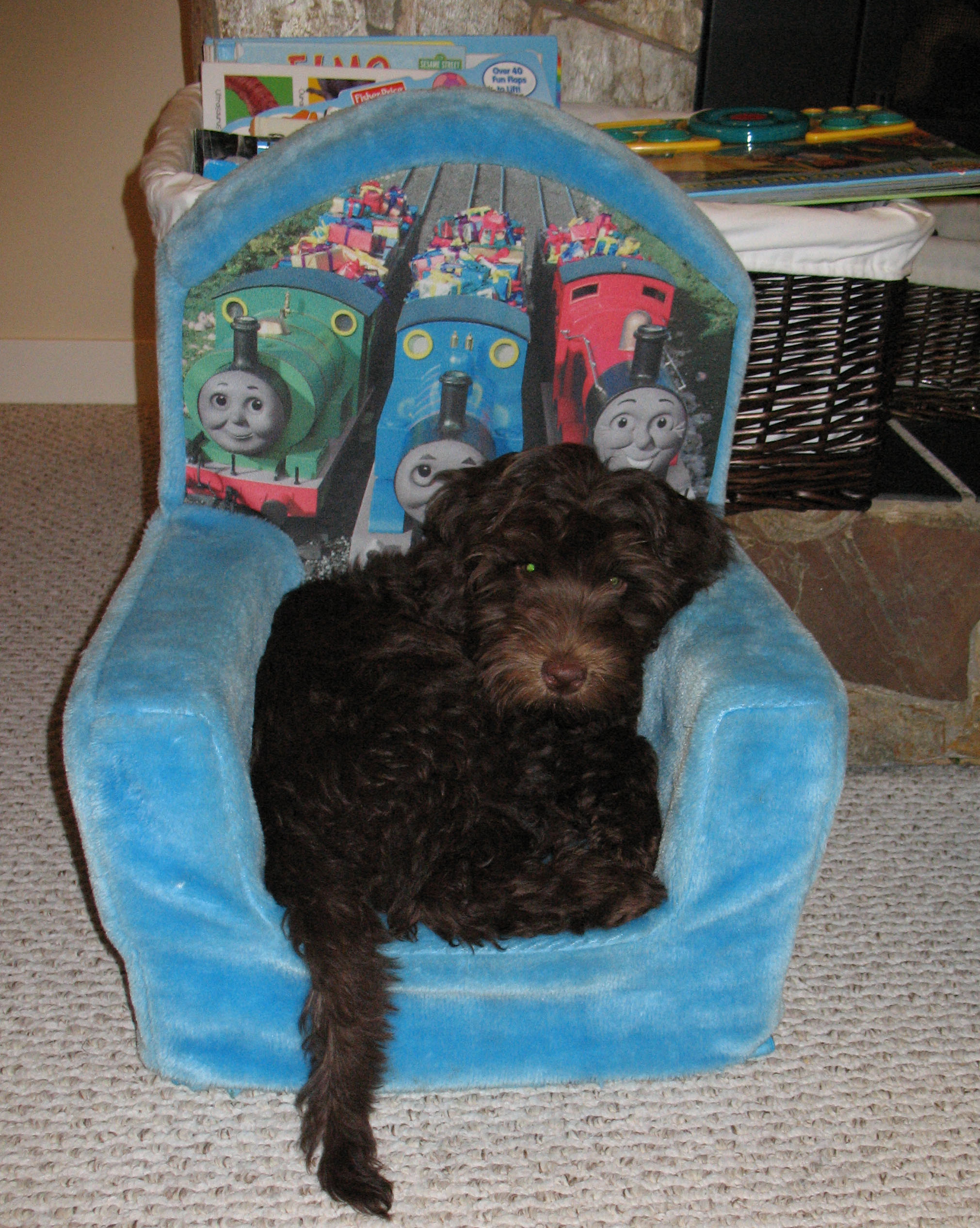 Ah. That's better!