After today, there is only one and a half days left of school, and excitement is mounting! Is it me, or did June fly by? Maybe it's my life that is flying by and I should just lie down and sing "Cat's in the Cradle," "Landslide," and "Sunrise Sunset" over and over for a while.
The last few weeks of school are pretty hilarious, aren't they? Everybody's just mailing it in at this point. Mark's at a field trip to the zoo today, which is remarkable because it's sunny and warm. I think this is the first field trip ever that it hasn't been pouring rain or unseasonably cold or something. Jake's class has an "in-class" field trip involving Light and Shadows, and I asked if he wanted me to volunteer in the class. He politely suggested that there were more than enough volunteers, and when I said no, the teacher was still looking for some, he said that he'd really rather I not. Well, I'd rather not as well, so I GUESS that worked out.
Jake's class hasn't exactly been easy street for the past few weeks though; Jake's teacher is notorious for keeping the learning going until the bitter end. Mark had her for a teacher a few years ago and it was the same. For example, Mark's class has watched four movies over the past four days, and has another movie scheduled for tomorrow. Jake had four spelling tests in the past two days. Monday night he came home with six pieces of paper on which he was supposed to write down THIRTY interesting sentences about the research topic they've been working on for the past month, and then glue the pieces of paper into a cube, all due the following morning. At first I wondered if he had slacked off in class, but no. It turns out everyone was given this assignment at the end of the day, so the last Monday night of the school year was spent doing this without notes because no one was allowed to bring their notebooks home. I felt a bit indignant; the busy work could have been kept for school time, in my opinion, but Jake was determined to finish strong.
I'm not complaining, mind you. I like the teacher; she's a no-nonsense kind of lady. But I felt like that project could have been used to fill class time, especially since Jake came home with the cube the very next day. WHAT IS THE POINT.
Hilariously, Jake's research project was on beavers. My children and their obsession with beavers. Be careful what you google.
Speaking of which, the last couple of weeks have been a learning time in one area: Sex Ed, or, as they call it now, H.S., and there has been some discussion about the horrifying nature of reproduction and the human body. I've learned too much.
So we're all gearing up for summer, and I'm pretty excited about it. I need to remember that the lack of schedule takes a few days for the kids to get used to – Mom, should we do some worksheets? Can we make our own Freezie business? – and that there's always a lot of emotions on the last day of school. This week has coincided with Ladies' Holidays, which has made for an interesting couple of days. For example, yesterday I decided to make jam for the first time in my life. Long story short, I way overcooked the raspberries and ended up with raspberry-flavoured cement. I had to remind myself about what I remind the kids, in the yoga way – practice, practice, all is coming – and started over. The second batch turned out perfectly, and Jake had non-cement-like raspberry jam on his peanut-butter toast for breakfast.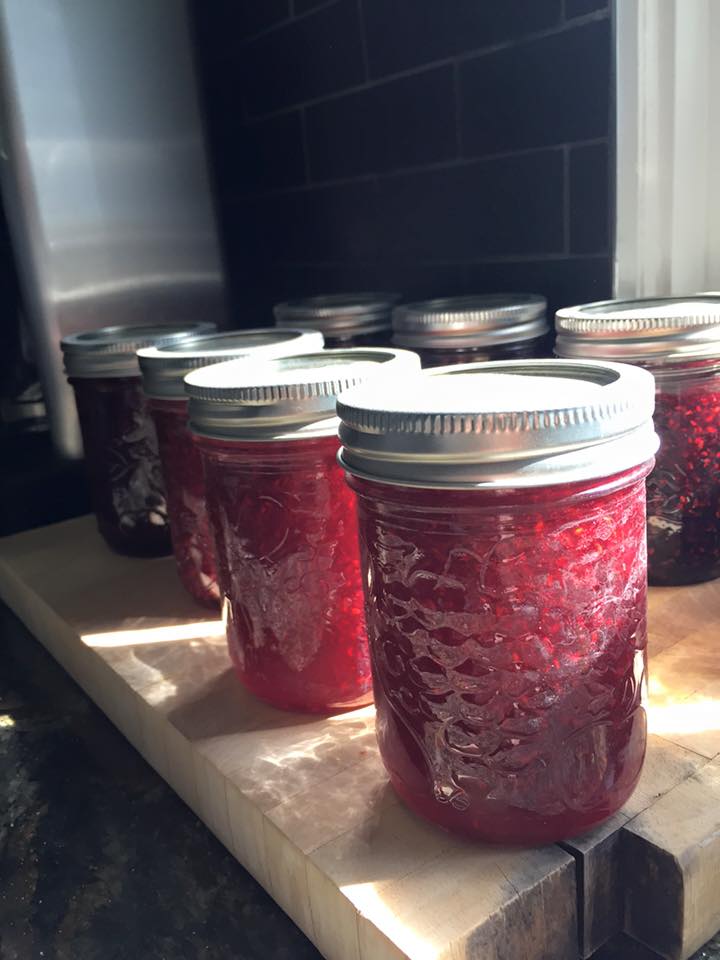 Perfection! Happy start-of-summer, everyone! xo