It's only 12:45 and I feel like I've already accomplished SO MUCH today; one of those accomplishments was "going to Costco." I have discovered the key to non-frustrating Costco trips – other than Shopping Cart Karma – and that is to go more frequently for fewer things. Of course, this would not be feasible if I lived in a rural area, but I'm 15 minutes away from my nearest Costco and so that half-hour round trip made more frequently is well worth it to not almost die from the physical exertion of pushing several hundred pounds of things through the parking lot, and then unloading all those things from the car and putting them away, necessitating several dozen trips up and down the stairs. Smaller frequent trips = Costco happiness.
Longtime readers will remember how I used to loathe Costco with all my might; I'd spend all the time shopping steeped in resentment, and also I would be deep breathing for fear all those gigantic boxes would suddenly let loose and fall on me, killing me instantly. This was a silly fear for in all these times, I've only been almost killed once by a falling pile of tampon boxes. Well, "almost killed" is probably an over-statement. In any case, I actually ENJOY my Costco trips now; possibly because the children are growing so rapidly that they eat every single thing in sight. They MIGHT even have eaten these, if I had deigned to buy them: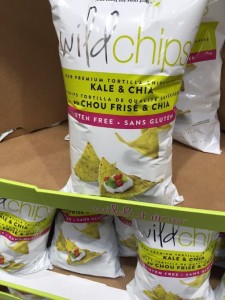 Ha! Just kidding. They'd never eat those. Hell, I don't think I would eat those, and I am exactly the target market for such things. Kale and chia tortilla chips. Please. That's too sad even for me.
It was insanely busy in there, but I amused myself the way I usually do when I'm in a giant lineup: by surreptitiously peeking at other people's cart contents. It's so interesting. I often wonder what people are going to make/ cook/ do with the variety of items. It's a fun little game. For example, the man in front of me had nothing whatever except a giant pork tenderloin and a 1000-count box of Splenda packets. I wonder if people are looking at my cart, wondering about me, although my cart was a little boring today: mostly fruit – fresh, frozen AND dried – nuts, and chocolate, with a flat of Perrier thrown in for balance.
I also bought a few candy-type things for loot bags because…we're planning a birthday party for Mark! This is big news; we haven't had a kid birthday party for a few years – neither boy has wanted one, but this year, Mark does. Mostly, it's going to be eight kids "hanging out" in my basement. I'm not going to lie: I'm slightly nervous at the thought of having EIGHT KIDS IN MY BASEMENT FOR FOUR UNSTRUCTURED HOURS but maybe it will be fine. Mark isn't interested in party games or the like, so the vague plan is for the kids to play Just Dance and watch a movie on DVD, but we shall see. Hopefully it will be fine; as long as I remember to put away my husband's free weights and reiterate that no one is allowed on the elliptical machine, there should be few injuries, at least. I'm sure the kids will have fun – there's going to be pizza and a DQ Treatzza Pizza so ALL WILL BE FINE, RIGHT?
One thing that we are doing, and have done in the past, is eliminate the gifts and instead ask guests to bring food bank donations. This works well for us; Mark is a pretty charitably-oriented guy, and really doesn't need a whole bunch of gifts – he has two sets of doting grandparents, aunts, and uncles, plus gifts from us. But the other day I saw an article in Today's Parent about "No Gifts, Please" and the Facebook comments were as full of anger and vitriol as a piece on measles outbreaks. I know, I know, don't read the comments. But really, you would have thought that, instead of focusing more on "good times with friends" and less on "unwrapping a ton of things to add to the million things in the kids' room" meant "depriving child of all joy and wonder in life." Well, if that's true, so be it. My children will look back on their childhoods and say well, it was pretty good, except for the total absence of joy and wonder.
Speaking of joy and wonder, yesterday I had my hair coloured and cut – a week late, due to my pressing commitments as Book Fair Lady – and today I am having the best hair day ever. Soft, bouncy, shiny…and the only witnesses were the people shopping at Costco and the girls at the dog park. Due to the miracles of the modern age we live in, you are now witness to Nicole's Best Hair Day of March 2015. Yes, I'm calling it now, I don't care if it is only the fourth.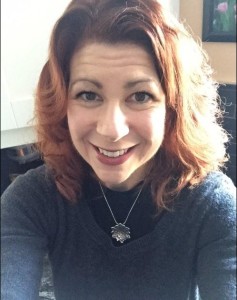 SO much better than the before photo, am I right?