I know this isn't exactly a shocking revelation, but I spend the vast majority of my time in the kitchen. But not barefoot (usually). And not pregnant (definitely). Ever since the Great Kitchen Renovation of 2012, I really love being in my kitchen. It's so pretty and bright! Someone recently told me that stainless steel appliances and granite countertops are the Harvest Gold appliances and sparkly-laminate countertops of our generation, and while I don't totally disagree, I am also of the opinion that all home décor dates eventually, so you might as well enjoy what makes you happy now. Unless you live in Downton Abbey, the décor you choose will at some point be used as an archaeological dating method. I mean, think of those country kitchens of the 80s, with duck-themed wallpaper and ruffly curtains. Think of the French Provincial looks of the late 90s. No matter what you think will be a timeless classic, odds are it won't. This is a public service announcement for "living in the now".
Here's me making coconut whipped cream in my kitchen. See? It's pretty!
So, I love my kitchen but there are elements I don't love, some of which are changeable, and some of which are not. I wish it was bigger, for example, but that would entail moving house and that's not something I want to do at this time. I hate how my miscellaneous drawer gets jammed because of all the stuff I mindlessly throw in there; this is something I CAN change. I hate how my spice cupboard is a jumble of jars and random containers; also changeable.
So I signed up for The Kitchn Cure to refresh and reorganize my kitchen a little.
Week One: Clean out the freezer and fridge.
Not to be boasty, but I recently obtained a full size, upright freezer and extra fridge and it has changed my life. For the longest time, I hemmed and hawed over getting a fridge and freezer for downstairs, until finally my husband got tired of me sobbing while jamming frozen foods into the freezer compartment of my regular fridge, and went out and bought them. Life altering. I can now batch cook! And buy giant bags of frozen berries at Costco! And put extra vegetables in the fridge instead of having to run out for groceries three times in a five day span! The only reason I bring this up is that I do not need to clean out my freezer, since it's relatively new and unsullied. Look!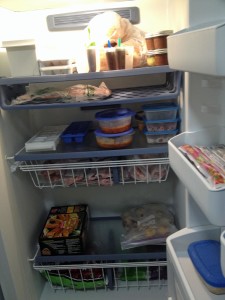 See, it hasn't had a chance to become messy and disorganized and YES those are frozen chicken fingers. What? Like I'm the only person who feeds my kids frozen chicken fingers on a Friday night. The week is long, people.
But cleaning the fridge was another story altogether. I've halfheartedly wiped down shelves and drawers in the two years since the Great Kitchen Renovation, but I've never done a really deep cleaning.
Exhibit A: Fridge Before Cleaning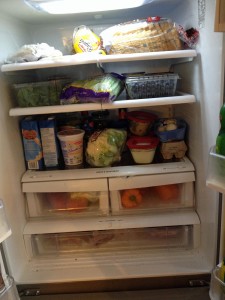 It's not terrible. It's a little jumbled. There are crumbs and grubbiness, but not too bad. Also – it is not on an angle, that's my photography.
My assignment was to take everything out, clean all shelves and drawers, throw out anything that was bad, and put everything back in neatly. Now, my fridge was mid-cycle, grocery wise, so it wasn't as full or as empty as it could be. I did the same for the freezer compartment. I washed everything and scrubbed everything and put it all back in…
I did the same for the freezer compartment, but the pictures do not really look any different. Trust me, it's way more organized and clean.
Lessons Learned From Week One: Kitchn Cure
1) I am completely obsessive. I can't stop looking at the clean fridge. I keep opening the fridge just to gaze at the contents. My husband put a bottle of barbeque sauce into the fridge and I quietly went in and moved it. This has got to stop, but for now, I'm pretty excited about it.
2) I do a pretty good job of using up the food that I buy. In other words, all that obsessive menu planning and list-making has paid off. There was very little waste and very little to throw out. Here is what I threw out of my fridge during The Great Cleaning: a jar of strawberry jam from 2011 that had 1/2 inch of jam in it, a two-inch long dried out piece of ginger, a carton of vanilla almond milk that had about 1/4 cup in it, 1/3 of a very soft cucumber, and two empty Ziploc bags.
3) I have a bad habit of putting things in the freezer and then forgetting about them. Case in point: in the freezer I found a package of bagels, 6 bags that each contained one single pita, and a bag containing five freezer burned hot dog buns. I composted the buns, and vowed not to buy any more pita or bagel until the frozen ones have been consumed. I also found two packages of hot dogs that had each contained three freezer burned hot dogs, which ended up in the garbage.
I snuck a peek at this week's assignments, and one of them is all about small appliances. Squee, this will be fun!