You probably know this already, but I pride myself on my organizational skills. Meal planning? Yes. To-do lists, long and short term? Yes. School and activity schedules? Yes. At the beginning of the year I take the Important Dates To Note handout from the school and I write each and every Important Date in my calendar, in a different colour, so that I can See At A Glance all the Important Dates for the year. Last September I wrote Last Day – Early Dismissal! on Thursday, June 26. At the time I thought it seemed late; generally the last day of classes is on a Wednesday, not a Thursday.
This morning I was chatting with a friend at the playground after drop-off and I casually mentioned the slog that is the last week of school. "Oh well," I said cheerily, "Only three and a half days left to go!". She looked at me strangely. "You mean two and a half," she said, "Last day is Wednesday." LO AND BEHOLD. The date had been changed on the website and it's true, it's TRUE. Wednesday is the last day and now I suddenly feel like Christmas came early this year.
Which is not to say I wasn't a little unsettled by the reception of this new information. I scrambled to rearrange an appointment I had made for Wednesday afternoon and I rushed home to make the chocolates for teacher's gifts. It was on my to-do list today anyway, but I felt like I was doing something totally last minute instead of being smugly early. I do better when I'm smugly early, I guess.
What are you doing/ did you do for teacher's gifts this year, if anything? I normally give gift cards for the mall, along with some nice chocolates, and the kids make cards. Normally I buy the chocolates but this year the boys thought I should send some of my dark chocolate truffles, so that was my morning: rolling, dusting, and packing up three dozen little chocolates. I tied an ingredients list to the mason jar in an attempt to be Pinterest-y, but unfortunately I am unable to tie a decent bow to save my life. Hopefully the chocolates make up for my lack of artistic ability.
Our home phone is on the fritz, which isn't generally a big issue – who uses land lines anymore anyway? – but this morning the telephone repairman was scheduled to come and fix it. It's one of those rare Calgary days where it's actually warm, and so today I am wearing a skirt and tank top. Making truffles is a bit of a messy business, and so I grabbed an apron and set to work. After I finished I made a pasta salad for dinner, then wandered off to do some work. I forgot to take off the apron and so I was a little startled when I looked at myself in the mirror: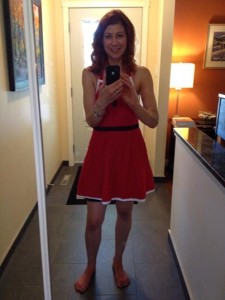 I'm just going to say that I'm actually pretty glad the telephone repairman never showed up, even though no one can call me still and I'm worried I'm missing some important reminder that only comes via land line. Because seriously, nothing says "Adult Filmstar Awaiting Arrival of Telephone Repairman" like wandering around your house wearing an apron that covers your entire outfit. Plus that's the apron my mother gave me for Christmas, that she bought in a lingerie store. Oh, nothing, just wearing my lingerie apron while anxiously awaiting you, Telephone Repairman.
It was a pretty lovely weekend all-round; my husband and I separately decided that the constantly-aphid-infested golden ninebark in the back yard had to go. I looked at it and looked at it and phoned my husband to say that we needed to get rid of it – the golden-green leaves always looked sickly instead of interesting, and it was always full of aphids – and he was simultaneously preparing to tell ME that we should dig it out. It was a very O Henry moment. Or maybe the opposite of O Henry, since we were both happy at the end, I don't know. In any case, it's gone and in its place are some beautiful purple and pink annuals. An unexpected trip to the garden centre for more flowers is always a happy thing, I think. Other than gardening, we also had some friends over for dinner AND went to a friend's 40th birthday party, which is more plans than we usually have in a month of weekends.
This also happened: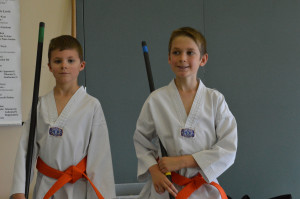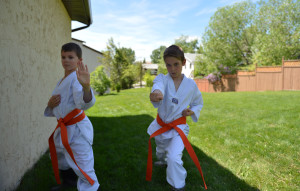 Orange belts! I'm so proud of them!