You aren't going to believe this, but it has been sunny and warm this week – mid-twenties for temperature, with lots of sun and no wind. I know. I know. I don't even know where I am anymore.
Wait, yes I do. I've already heard two complaints about the "heat" which makes me despair for humanity. People, low-to-mid-twenties is not "hot", it is pleasant and beautiful and is eight months of winter not enough for you? Perhaps you should move to Inuvik or Tuktoyaktuk.
Anyway, I love this weather, and so I bring to you…
Nicole's Favourite Things: Here Comes The Sun
Gardening
Is there anything more wonderful than that spring rush of planting and gardening? I think not. My Mother's Day gift finally arrived:
A friend said, with regards to my giant bag of dirt, that I would "make it bloom" and indeed, I will, and that is one of the nicest comments I've heard in my life. It could be a metaphor! Look what else is happening in my garden right now:
Sandals
One of my favourite things about this time of year is breaking free of the socks and boots and putting on sandals. Yesterday was the Volunteer Tea at the school and this was my outfit:
The other day I was working in the garden, wearing a green shirt. I went to pick the boys up from school and they couldn't find me in the crowd, even though I was standing exactly where I stand every day to pick them up, and have for the past five years. "But you are wearing GREEN, Mom!" You can see I rectified this. Poor children. They literally do not recognize their own mother when she deviates from black.
Side note: the tea was great, and my kids sang a song called "Try And Change The World" and I cried, because I'm not made of stone.
Southern Magnolia
This is a departure from normal Nicole's Favourite Things, but the people at Southern Magnolia sent me some product to try out. I was charmed by their name – I've always thought I would make a great Southern belle. My own maple leaf patriotism notwithstanding, I think I should have been born in the South. I love the heat, flowers, and people calling me ma'am. I may never be Miss Nicole to the local children, but I did really enjoy the product that they sent.
They sent me Dry Patch Healing Balm, which was very welcome indeed. All this gardening is hard on the hands, plus a couple of weeks ago I had a head cold. When one is the main food provider in the house and one has a head cold, one washes one's hands a lot. My hands actually started cracking and bleeding, and the dry skin started catching and snagging my clothes.
It worked really well and that's saying something, given that Calgary is practically a desert. A cold desert.
They also sent their "One Perfect Lip Gloss" which purports to have "One Colour Fits All". I was insanely excited to try it and also skeptical; you know how I am with claims of "one size fits all". I was pleasantly surprised; it's a great colour that looks very natural. Sometimes I embrace the natural look!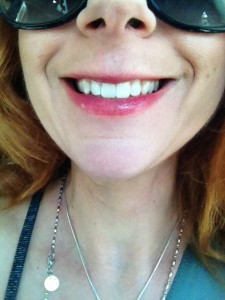 Southern Magnolia – check them out, it's a nice company with cruelty-free, organic, natural products, which is very cool.
On that note, I must get outside and play in my garden while the sun shines. And since it's Friday, I'm going to celebrate with some Skinnygirl Cosmopolitans because, yet again, I forgot to buy cranberry juice and Cointreau – but a day like today calls for a fruity girly drink! Have a beautiful weekend, lovelies!