I know I'm a couple of days late, but Happy Robbie Burns Day! I had a friend tell me excitedly that there are vegetarian versions of haggis available, to which I blinked a few times in response. Blink. Blink. The meat in the haggis isn't what's stopping me, people.
One of my friends posted a photo of her baby wearing a 30 year old onesie that had a Care Bear on it; I think it was Bedtime Bear. Remember Care Bears? I had – and this probably won't surprise you – Cheer Bear, the pink one with a rainbow on its tummy. Just thinking about that makes me smile; in fact, a lot of things are making me smile today. Negativity brings us all down; I find that even if I don't react to negative information or negative comments, they still grate on me and put me into a bit of a slump. I think the opposite holds true for happy things, so here are a few things that are making me happy today.
Becoming a Bonnethead. My friend Hannah is starting a series of posts recapping all the Laura Ingalls Wilder books and giving some historical background, and I am just going to say this makes me extraordinarily happy. Like, insanely excited. I think all us rabid Laura fans should unite and become Bonnetheads. Not literally – it might be strange to see us walking the streets in sunbonnets, and much less charming than the Red Hatters – but in our minds. Every morning, let's put on the sunbonnets of our souls. Her first post is here. Pig slaughter and meat smoking? Good times in the Big Woods.
Giant Socks. I am embracing the trend – and I use that word very, very loosely – of wearing giant socks on the outside of my pants. Why on the outside, you may ask, joining the club started and chaired by my husband. My pants are too tight to wear them underneath, that's why. Once you get used to wearing giant socks outside your pants, you become addicted to the cozy feeling. See also: my penchant for legwarmers. It's like that secretary in Splash, but with socks instead of a bra. And also, better.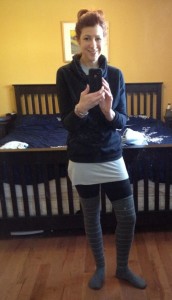 1 Cup Pyrex. Several weeks ago, my favourite little one-cup measuring cup met the granite countertop with more enthusiasm than was necessary, resulting in shards of Pyrex in the most surprising places. It proved oddly difficult to find a replacement. There were tons of cheap plastic cups and tons of giant four-cup cups, but my humble little one-cupper was proving to be a rare commodity. Today I FOUND ONE! The fact that this is one of the most exciting things that has happened to me in a while probably says something about me.
Archie Comics. During winter break, my husband found a box of his old belongings, among which were Atari games, a Rubik's cube and Xeroxed cheat manual, and a pile of Archie comics from the 70s. What fun! I had a great time reading through them and asking myself the age-old question, am I a Betty or a Veronica? I'd like to be a Sabrina, the Teenage Witch, but most likely these days I am Miss Grundy.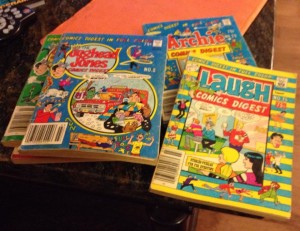 Cleaning Out My Drawers. It's funny what you find when you go through a drawer that is generally untouched. I have a few drawers downstairs that I shove various items into that I don't feel can be thrown out. Today I looked through one, trying to find a camera battery charger, and found the following items: a bag of Halls in a flavour that they don't make anymore, and haven't for some time, a deck of playing cards with a Kokanee beer motif, a couple of blank party invitations with Bakugan characters and the slogan "Have A Ball" on them, some free NFL stickers from Sports Illustrated, extra bolts for baby gate installation, and a manual on installing and caring for a Peg Perego infant car seat. This was an even better haul than the time I found maternity pantyhose in my lingerie drawer.
Let's make it a Meme Monday! What's making you happy today? Let's rub our rainbow tummies, give the Care Bear Stare, and spread some cheer.