Somebody's Got a Case of the Mondays
In general, ever since I quit my Monday/ Tuesday morning teaching job at a studio across the city, I very much enjoy Monday mornings. I like having the time, before my Monday afternoon class, to organize things from the weekend, time to write and time to bake things and run errands and, sometimes, even sit down to play the piano. However, today feels like the most Monday-ish of Mondays, and not in a happy way. I feel like I could possibly blame this on a combination of the greyness of the day and my menstrual cycle, but let's face it: at this age who knows what a menstrual cycle actually is. It's like the cycle piece of my Garmin app is about to self-destruct from frustration about the lack of any predictability. How can I blame my period when it could be anywhere from three weeks to three months? Maybe I'm just a crabby bitch.
It's The Last Week of February
I said to one of my students last week that it feels like it was just New Year's, and now next week is March. MARCH. I logically know that there are 24 hours in every day and 7 days in every week, but it still feels startling, how fast time goes. I also acknowledge that, for most people, January and February go by with snail-like speed, but I honestly cannot believe how fast the time has gone. NEXT WEEK IS MARCH. Which brings me to…
What Is Going On With The Principal?
My younger son is going on a West Coast sailing trip at the end of March, directly after Spring Break. He's flying out to the coast, and sailing on a tall ship for five days. It will be a great experience I'm sure, and yet I cannot help but worry that we have had no parent meetings for this trip since the one in October, in which the principal showed us a video of the trip he took in 1999, told us to pressure other kids into going on the trip, and brought up my much-despised poinsettia fundraiser. I have no other information, other than a pack list obtained from my son. The kids have had weekly meetings to go over important learn-to-sail-what-to-do-if-there-is-a-man-overboard but there has been no other information emailed out. I mean, I don't even know what flight he is going to be on or any of the times. This, from a principal who is kind of famous for sending out many, many emails.
Last week the kids made sandwiches for a shelter, which they do every year, and for which they rely on parent donations of sandwich items and plastic bags. We received the email about this the evening before the five-day weekend, for items to be received on the morning the kids got back to school. A little notice would have been nice, particularly since I had already done my shopping for the week and had to make a special trip just to obtain my required sandwich bags. In addition, there was no reminder email about booking parent-teacher conferences. It's so out of character, I'm wondering if there is a serious issue with the principal, or if he's preparing for retirement or something. Have you seen him? I asked my son. Is he still…around?
Speaking of parent-teacher conferences, the booking process is all online, which I love. Bookings opened at 7:00 am last Tuesday, and at 6:58 I was at the computer, obsessively refreshing my screen. I like to book all the teachers one after another, and I wanted a specific time, so I was happy that my obsessive-refreshing paid off. I realized with a start that this was my last parent-teacher conference booking ever, which did not at all make me feel mournful and Landslide-y, but instead incredibly joyful. As god is my witness, I will never be obsessively refreshing the conference-booking-site again.
Seriously, though. Why no parent meetings? March is a short month, school-wise, with March break and the annual musical theatre performance…there are not that many days available for a parent meeting. What is going on.
Am I Actually Karl Lagerfeld?
I have been successfully doing the February Clothing Challenge, where I wear a different outfit every day. I started to take photos of each outfit to keep track, but became extremely bored of it, mostly because even when I'm wearing a different outfit daily, my outfits are all very similar. I mean, how many photos do I need of me wearing yoga pants and tank underneath a long-sleeved tee with one of nine drapey black cardigans? Sure, sometimes I wear one of ten black non-cardigan-sweaters, and sometimes I – crazily enough – wear a sweater/ cardigan that is grey or cream, and on non-teaching days I wear jeans, but honestly, I feel like I am one of those people who wear basically the same thing every day.
I used to see those articles about people wearing the same clothes every day, and I would think that was gross – because I had the mistaken idea that they were literally wearing the same exact clothes daily – and also boring. But I guess I am one of those people, along with Karl Lagerfeld, Mark Zuckerberg, Simon Cowell, and the late Steve Jobs. Well, no one has accused me of being particularly exciting or of living on the edge, so I guess I'll just keep on keeping on.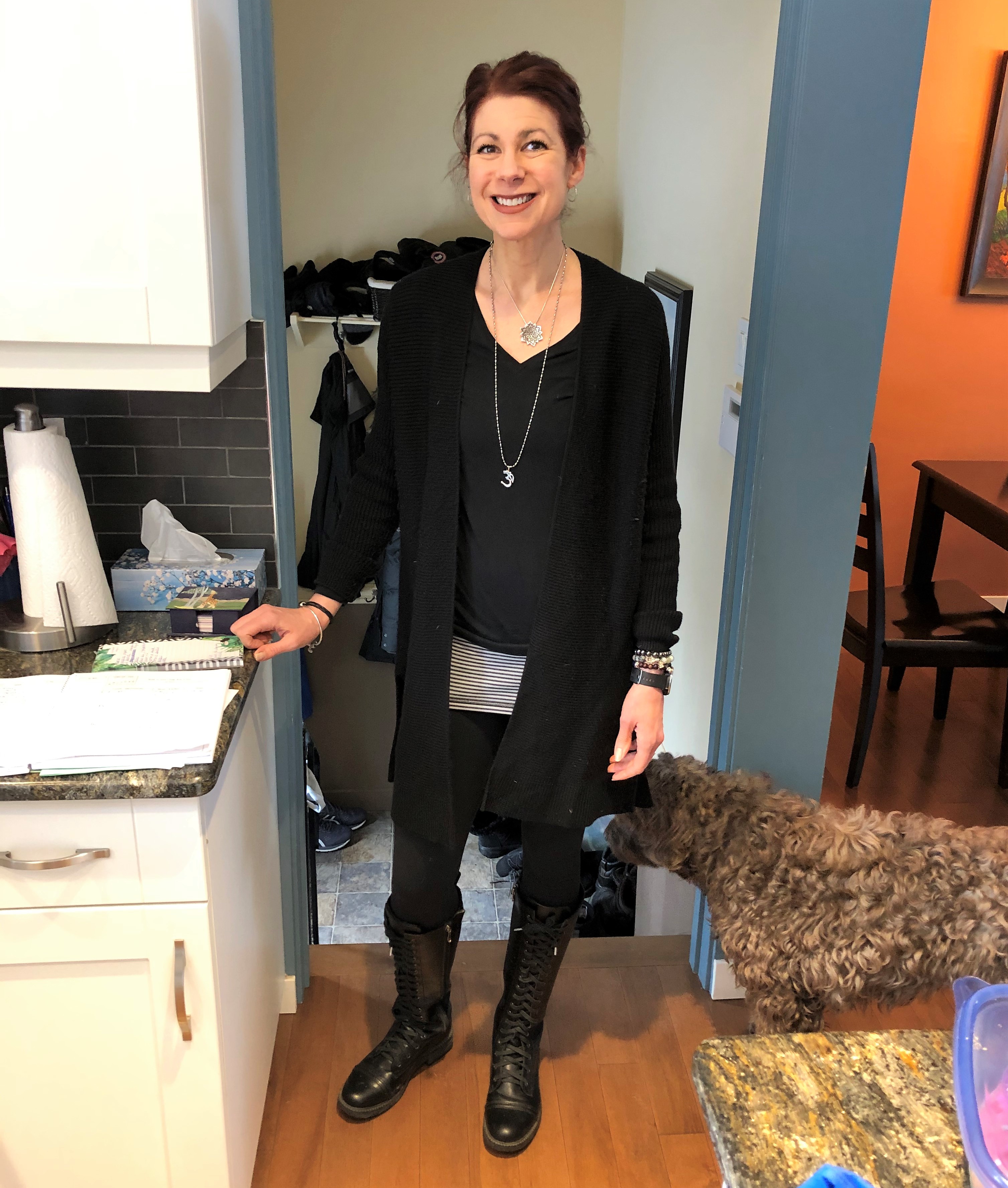 Why Does Autocorrect Want Me To Yell At You?
Ever since I got my new phone, it does the strangest thing: when I start typing a name, any name at all, it autocorrects the name to all capitals. Let me be clear: I'm not misspelling the name, or not usually, anyway. This has been irritating as I either have to delete and retype the name, or I send the text or message in a way that looks like I am yelling at the recipient. Why is this happening? I really don't know and I don't know how to fix it. I guess what I am saying is that if I send you a text and you think I'm yelling, I'm not. I swear.
Well. I feel less crabby now that I've written all this down; I guess it's time to go out into the grey, cold day. Happy Last-Week-of-February, everyone! xo