"Well, it's January." This seems to be my answer to everything lately, from the wildly-fluctuating weather to my own general idiocy. Well, idiocy may be a strong term for "writing down the dog's veterinary appointment on the wrong day" but here we are. I had my entire morning planned around Barkley's appointment. I had called a few weeks ago, specified the necessity of a Thursday morning appointment, and yesterday, when I bundled myself up and hauled us both over to the clinic, discovered that the appointment was for the next Thursday. Sadly, that time was not going to work for me so now today at 3:30 is my new time; an inferior time, if I do say so myself. Friday afternoon is no time for an appointment. Friday afternoon is no time for anything except collapsing in exhaustion from the week's travails. However, I could see no real alternative, given my schedule over the next few weeks. No sooner than I had arranged this with the receptionist and arrived back home, I received a phone call from the vet clinic, reminding me of my appointment tomorrow at 3:30. But I just SAW you twenty minutes ago to arrange this is something I did not say to the young receptionist, instead circling "Barkley 3:30!!!" several times in pink ink on my calendar. Mental note: do not miss this appointment.
Well, at least it's Friday, and as soon as I return from the vet I am cracking open a bottle of wine and grabbing myself a funnel. No, a glass. A glass.
When I went scissors-shopping this week, it took everything in my power not to immediately spend thousands of dollars on beautiful kitchenware at The Bay. Did you know Kate Spade has a whole kitchenware collection? I spent a lot of time looking at the beautiful dinnerware and oversized wine glasses, mentally picturing myself sipping from a 500 mL wine glass and eating dinner off a "in good taste" plate. Then I saw Le Creuset bakeware and, my goodness, how did I get out of there alive? Well, I remembered that I DO have lovely glassware (not 500 mL ones though) and I DO have lovely Denby dinnerware, and almost every single piece is chipped, because of children. Children, nay, TEENAGERS and fancy dinnerware are not really compatible and so I felt powerful and strong, if regretful, as I left with only scissors and two tiny cut-price Christmas ornaments.
Relatedly, I mused aloud to my husband at the end of December, wondering if I should cut back on my wine consumption for the New Year. He looked at me with what can only be described as a mix of horror and bewilderment, as he asked me why, why in the world I would think about doing that. Um, okay! Go grab the corkscrew, honey! After all, Santa did bring me some nice bottles for my stocking.
Santa also brought me this sweater, and I think it's so cute and cozy that I just have to share: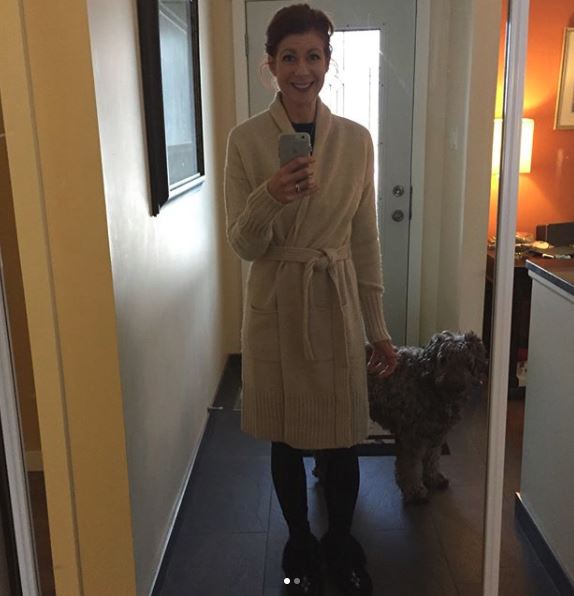 It's like wearing a bathrobe over all my clothes and it is just the best thing ever. Especially since this was the temperature when I dropped off the kids yesterday morning.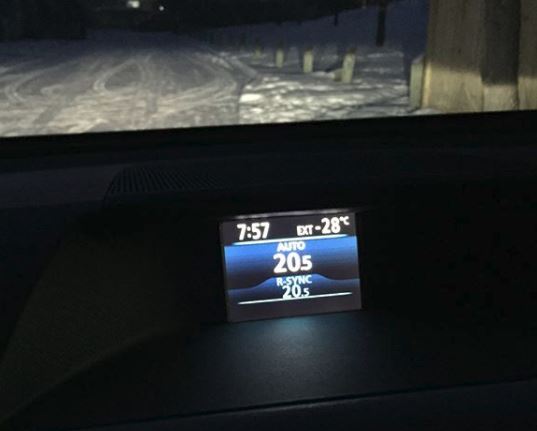 Brrrr!
Filing this also under "January Idiocy" is what I shall always refer to as the Music Incident. Monday afternoon I was subbing a yoga class for a lovely group of ladies. It wasn't the first time I'd subbed for them, so I knew what they liked: a mix of gentle and more vigorous postures, a strong standing sequence followed by some slower, relaxed seated asana. They also seemed to enjoy the instrumental playlists that I had used for them in the past. I chose one of my favourites, "Peaceful Piano" for the class. Now, Peaceful Piano is a very long playlist and I have always played it from the beginning, so I confess that I had not heard every song on it. I put the playlist on shuffle and enjoyed some of the gorgeous music.
As the students went into savasana, the song changed. My mental process went something like this:
This song sounds familiar. Why do I know this song?
I'm feeling kind of agitated. Why am I so agitated?
Where is this song from?
Oh my god, it's from Game of Thrones. This is Game of Thrones! This is the song that played right before Cersei blew everything up.
Oh my god, I'm playing a death song for savasana. A DEATH SONG FOR THE CORPSE POSE.
I wonder if anyone here watches Game of Thrones. 
I seemed to be the only person reliving (SPOILER ALERT) the death and destruction of King's Landing and the suicide of Tommen, so I guess all is well. But whew, what a week. How many hours until I'm home from that vet appointment?