We said goodbye to my father-in-law this week. He passed away after a long illness and will be very much missed. To many people he was a larger-than-life character, the life of the party, a legend, but to me he was the man who welcomed me into the family with open arms. He and I spent a lot of time sitting together on the deck, sipping Palm Bay and chatting. Sometimes we would just sit in companionable silence.
So it's been a sad and stressful few weeks. Have you ever noticed that when you're having a sad and stressful time, it's the little things that do you in? Silly things like discovering that the boys' non-jean-pants were all three inches too short, and that I accidentally put a hole in my brand-new black medical grade support stockings were enough to make me want to curl up in a ball on the floor. It's funny how the little things can get you down when there is a world of much bigger things going on.
But just like little things can get you down, little things can also lift you up, and so I'm concentrating on all the happy, joyful, and ridiculous things that are going on in my world, right now.
How Much Are The Posters
It feels like a lifetime ago, but the Book Fair was just last week and we raised $3600 for the school library, as well as the ELL and home reading programs. Even more notably, the New Book Fair Lady did it all herself – I only had to work a couple of shifts and count money – and she did a fabulous job (HI HAYDEE). This is my second last book fair, and, happily for me, the shifts I worked were extremely poster heavy. It seemed everyone wanted a poster, but more importantly, they wanted to know how much were the posters. Haydee had put up signs all around and yet I was asked the question an incredible amount of times. Perhaps Scholastic has been reading this blog, because they sent three times as many posters as they normally do, and so not only was I asked was the kitten poster five dollars too, what about the one with doughnuts on it, and the one with Rey from Star Wars, was that five dollars too, I also had to search through three giant boxes to find the appropriate one. Not that I'm complaining. I'm going to miss those questions one day. Maybe.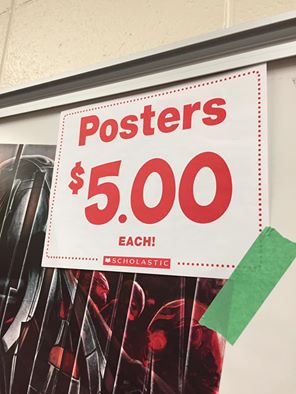 Notice the slightly passive-aggressive wording – "EACH!" – at the bottom. Yes, each. Each poster is, in fact, five dollars.
A Celebration of Superior Workmanship
My friend Lynn (HI LYNN) wrote a post wondering if shopping at Costco does indeed save you money, and oh, Lynn. How much time do we have? Not enough. In short, I shall direct you to my post from nearly three years ago, The Stages of Costco, which is something all of us membership holders need to go through. I STILL have the plastic wrap I refer to in that post from January 2014.
But what I really wanted to talk about was the fellow who packed my cart, the last time I was there. In the spirit of there are no small parts, only small actors, I appreciate very much when someone puts their all into their job, no matter what that job might be. And so I say bravo to the Costco employee who packed my cart in such an amazingly efficient way that I not only complimented him on a job well done, but also pointed it out to the elderly fellow who checked my bill upon leaving. Longtime readers might be amused to know that the bill-checker at the door was the same one who flirts with me by saying that redheads are his favourite, and he loves my smile. Aw. Flirting with elderly men while shopping for groceries is my favourite too!
Look at this cart! It's a thing of beauty. Well done, sir. Well done.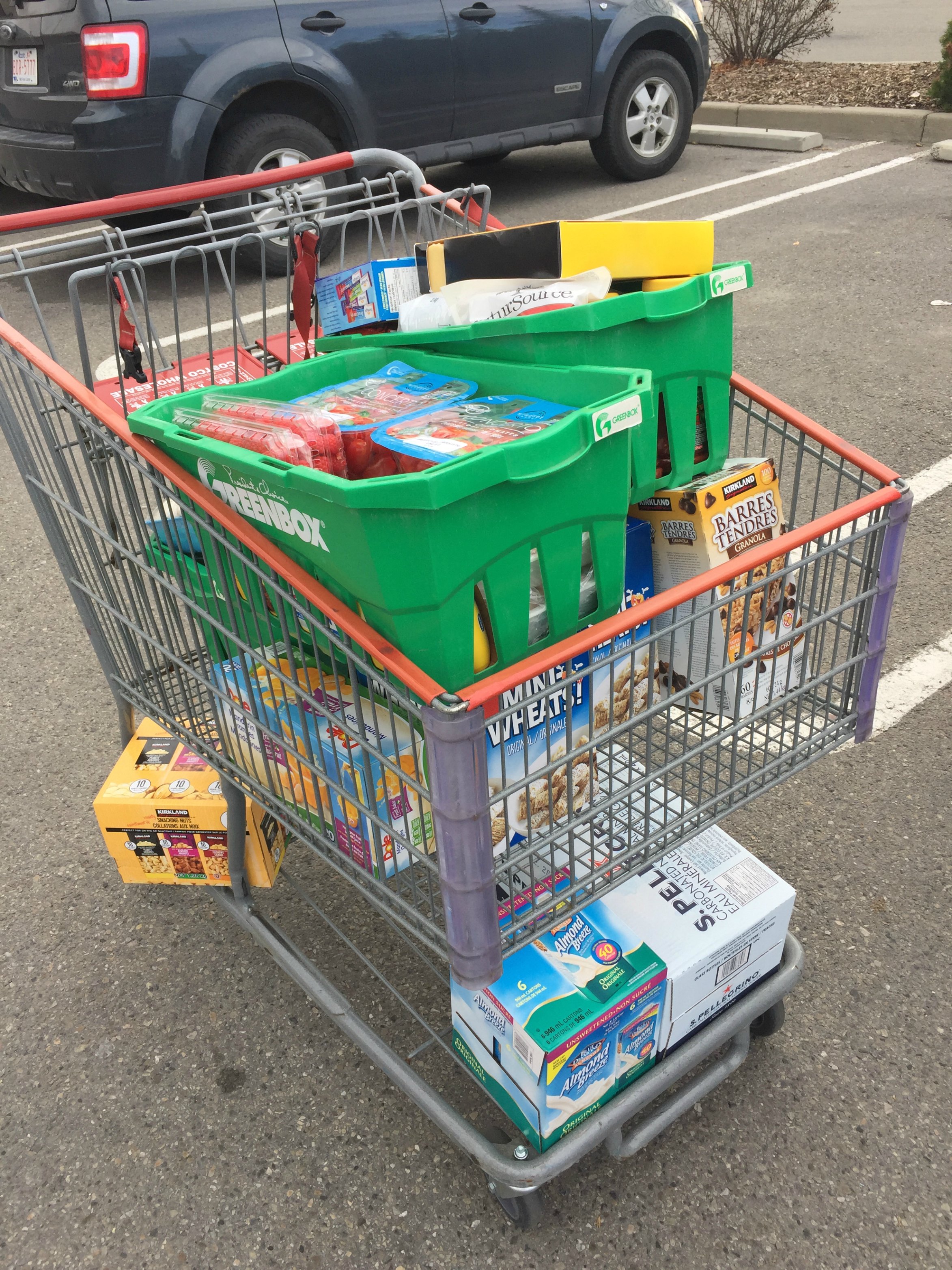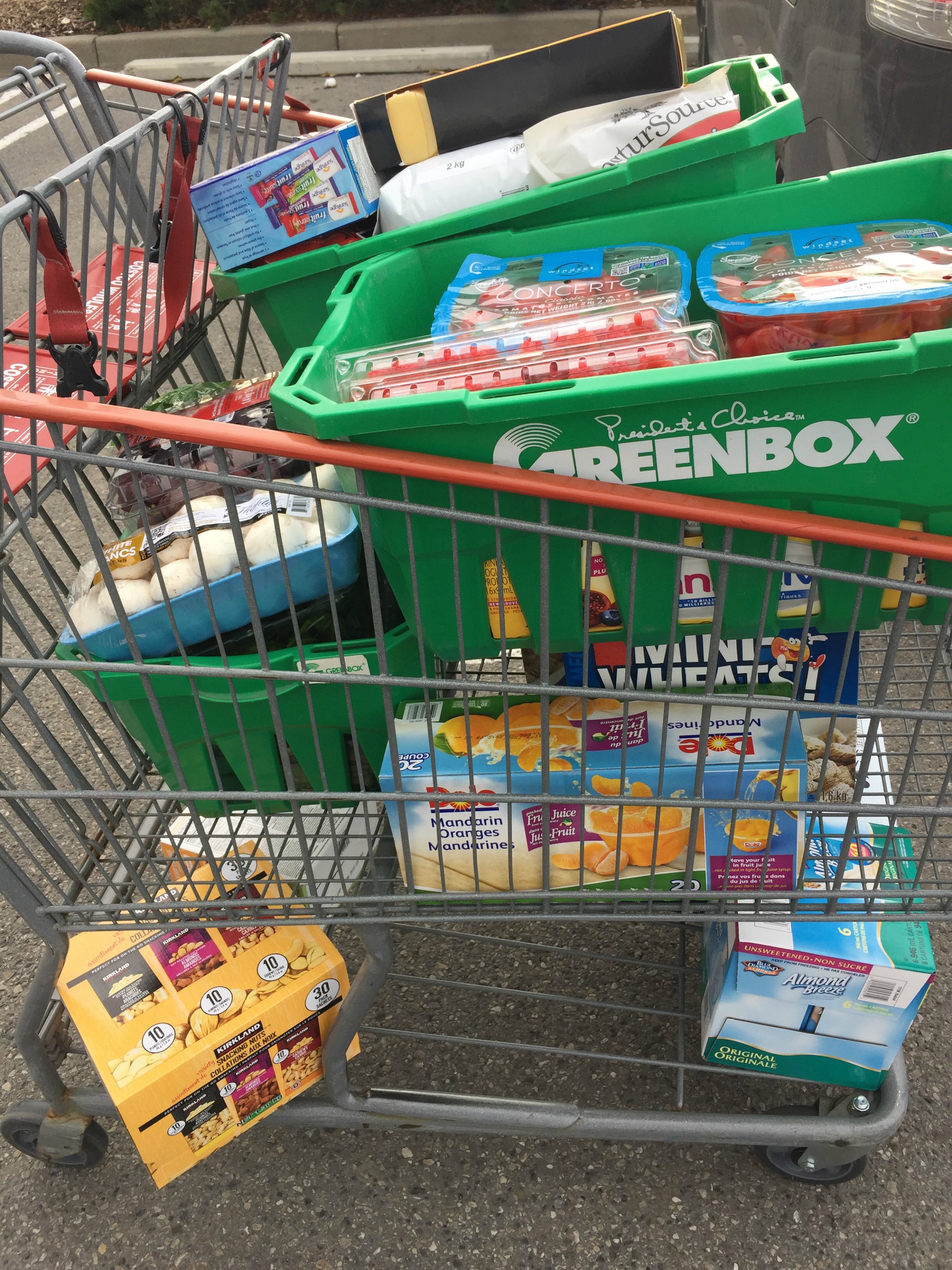 Sailors Take Warning
This time of year can be a wee bit depressing, what with the sun setting at 4:30 in the afternoon and not rising until after eight in the morning. But occasionally the sunrise will make up for it all. Now, even in the midst of summer I am up before the sunrise, but there's something about the cold winter morning sunrise. The other day the entire world was bathed in pink – sidewalks, frosty lawn, it was all pink.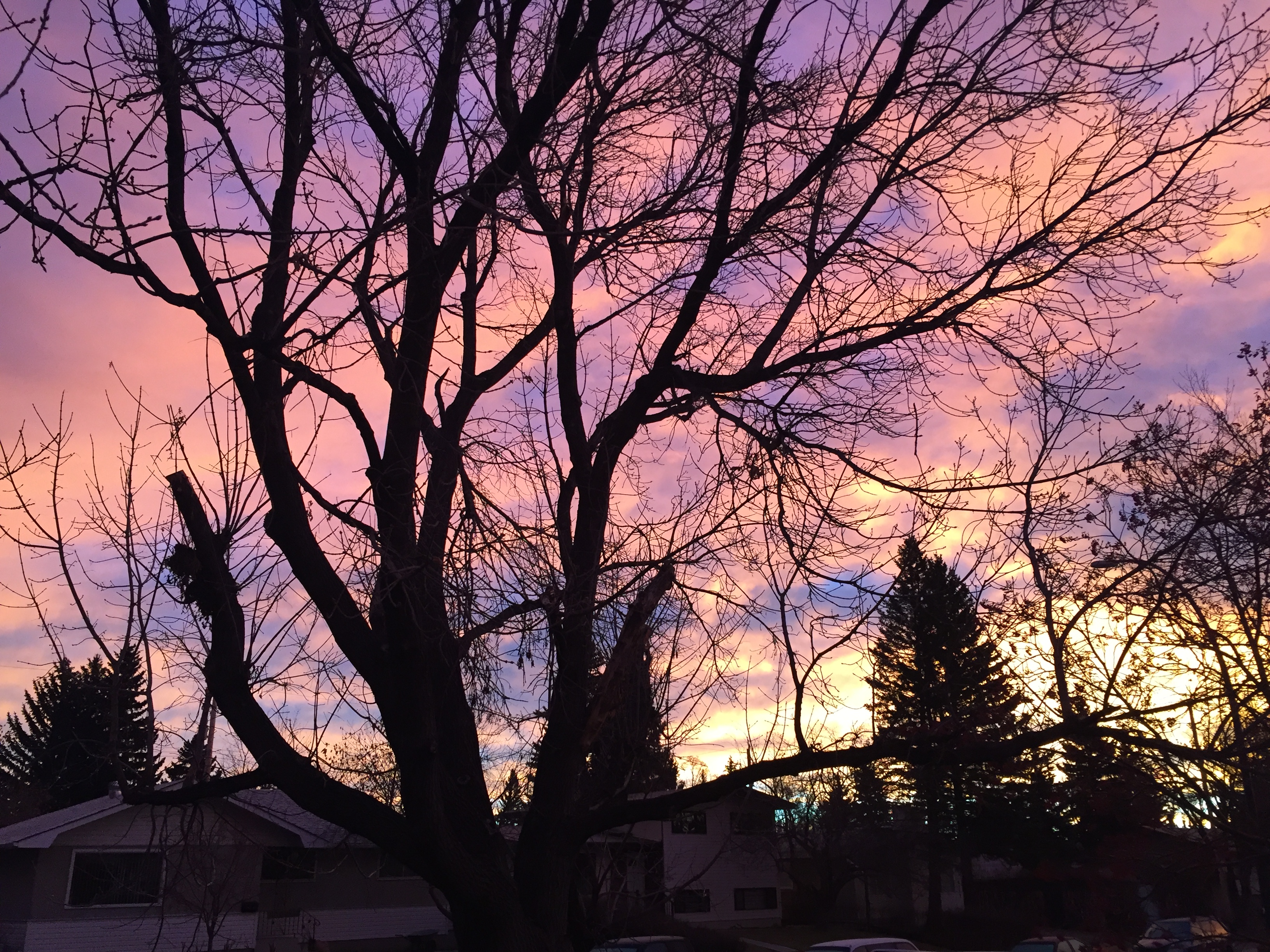 Do I Need A Title?
I have been very very good about not buying myself anything since Kondo-ing my house, but I am still of the old-school people who use paper agendas, daytimers, and calendars. While I was Christmas shopping a few weeks ago, I saw this and decided I needed it to hang by my desk for 2017.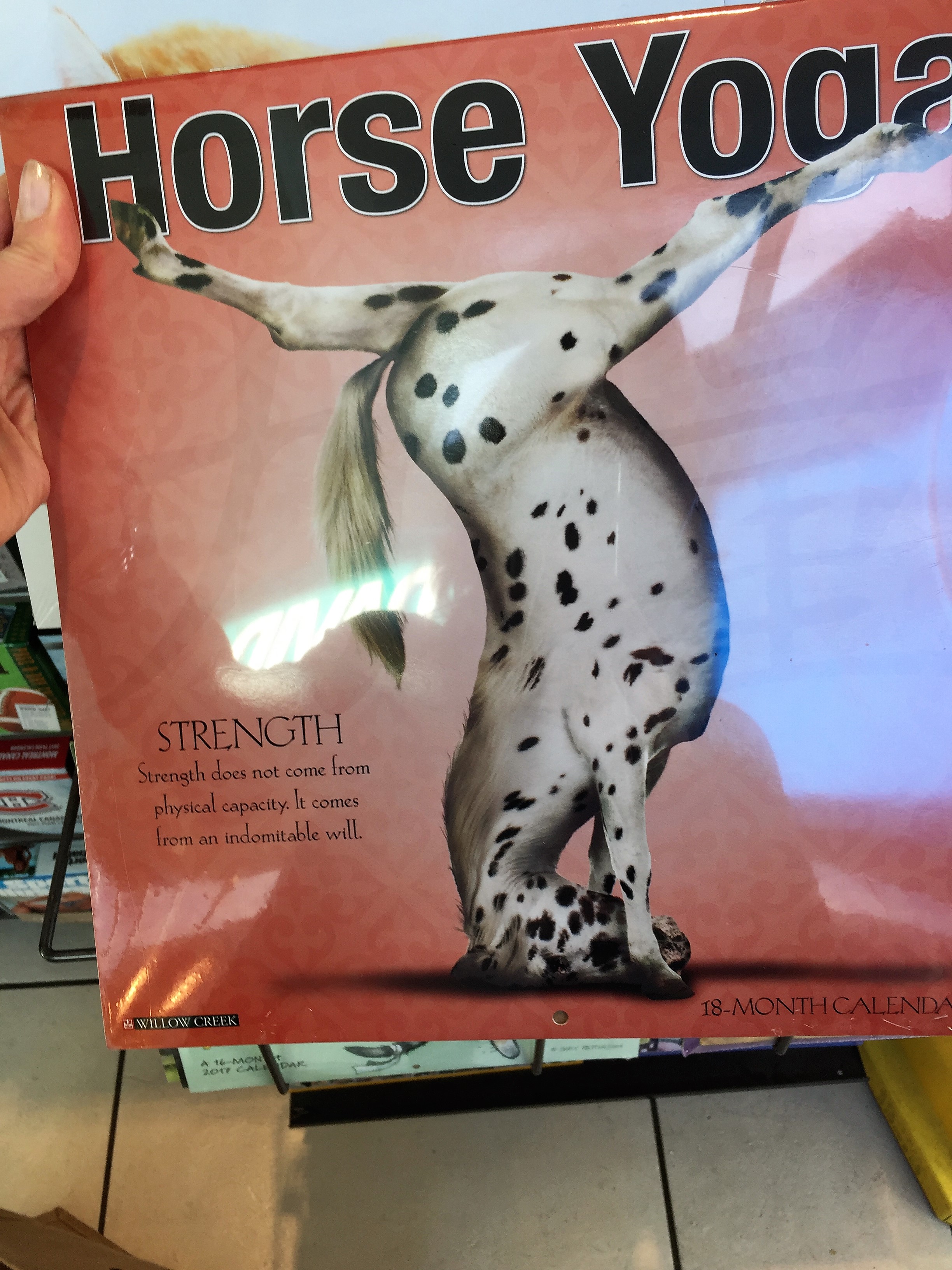 We learn from the horses, people. Strength does NOT come from physical capacity. It comes from an indomitable will. Let us all learn from the yogi horses.
Usually I have a Canadian landscape calendar by my desk, but that was before I knew about Horse Yoga.
Get Your Asana In Gear
I am a mere 36 hours away from becoming a Registered Yoga Teacher, and to celebrate, my husband bought me two t-shirts. I wore this one to Yoga for Stroke Survivors yesterday, a class my friend Sharyl (HI SHARYL) has been teaching, and that she has graciously allowed me to assist with.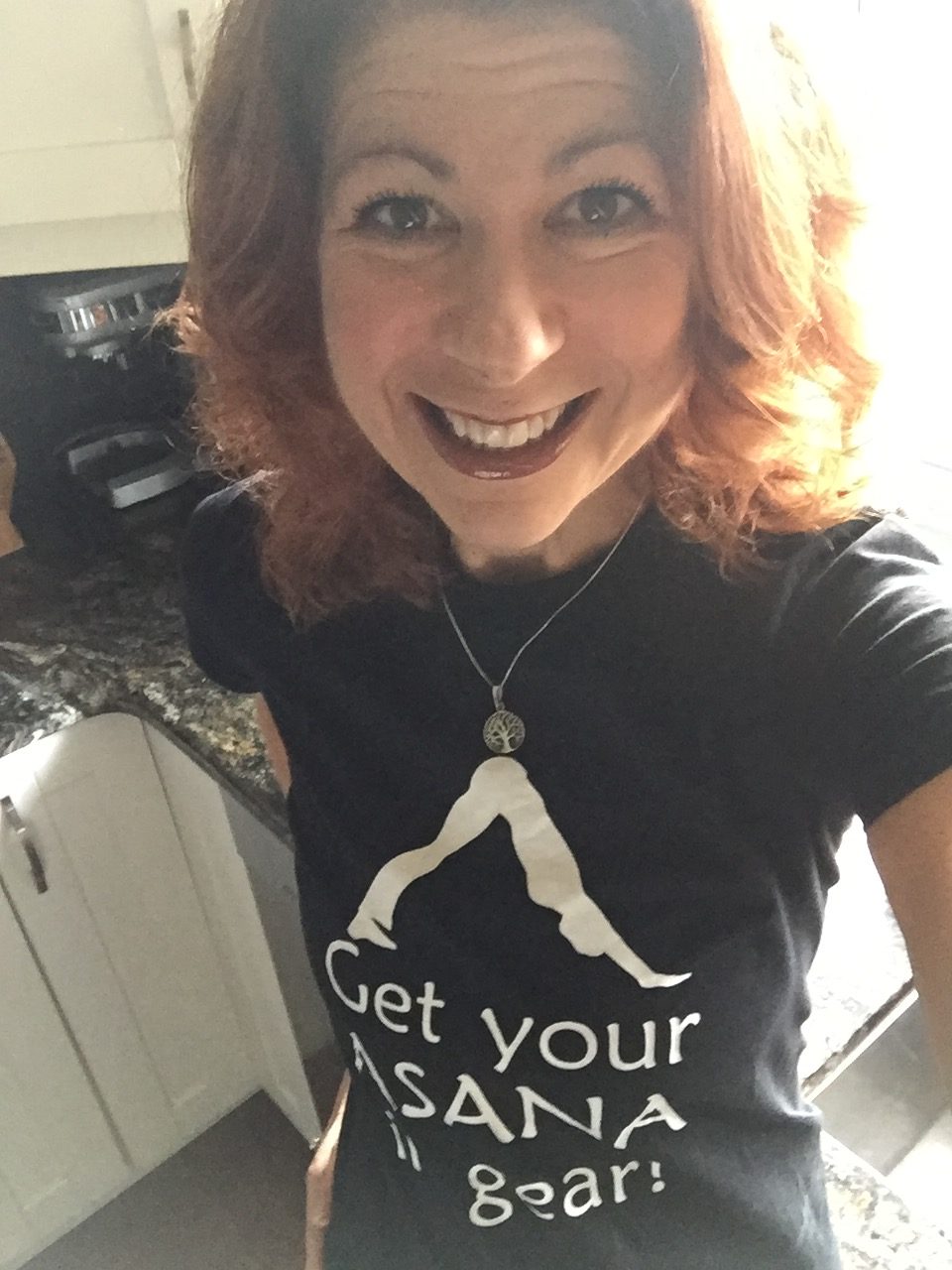 Honestly, it is my New Favourite Shirt Of All Time.
New Toothpaste (Not An Ad Nor Sponsored)
You know what's ballsy? Buying toothpaste at Costco. Well, let me rephrase that: buying NEW, UNTRIED toothpaste at Costco. It's a real commitment; you could find yourself brushing your teeth for the next four months with sub-par toothpaste. I have done that before, suffered through a toothpaste flavour I abhorred just because I had four tubes to work my way through. Thinking of it now, I should have just donated to the drop-in centre or food bank, but hindsight is 20/20 people. Anyway, I usually buy a four pack of Crest 3D Whitening, because coffee, but I rolled the dice and purchased this: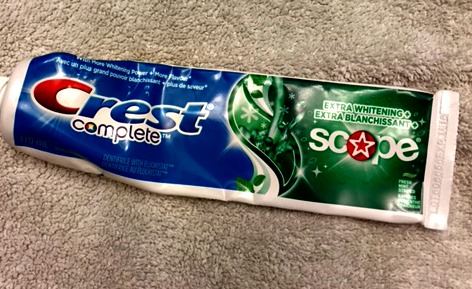 It is like having my teeth massaged by minty fairies. It's like having a haven of freshness and white teeth and unicorns and happiness, all in one little tube. I mean, do these look like the teeth of someone who regularly drinks 8 cups of coffee each morning, plus red wine on the weekends?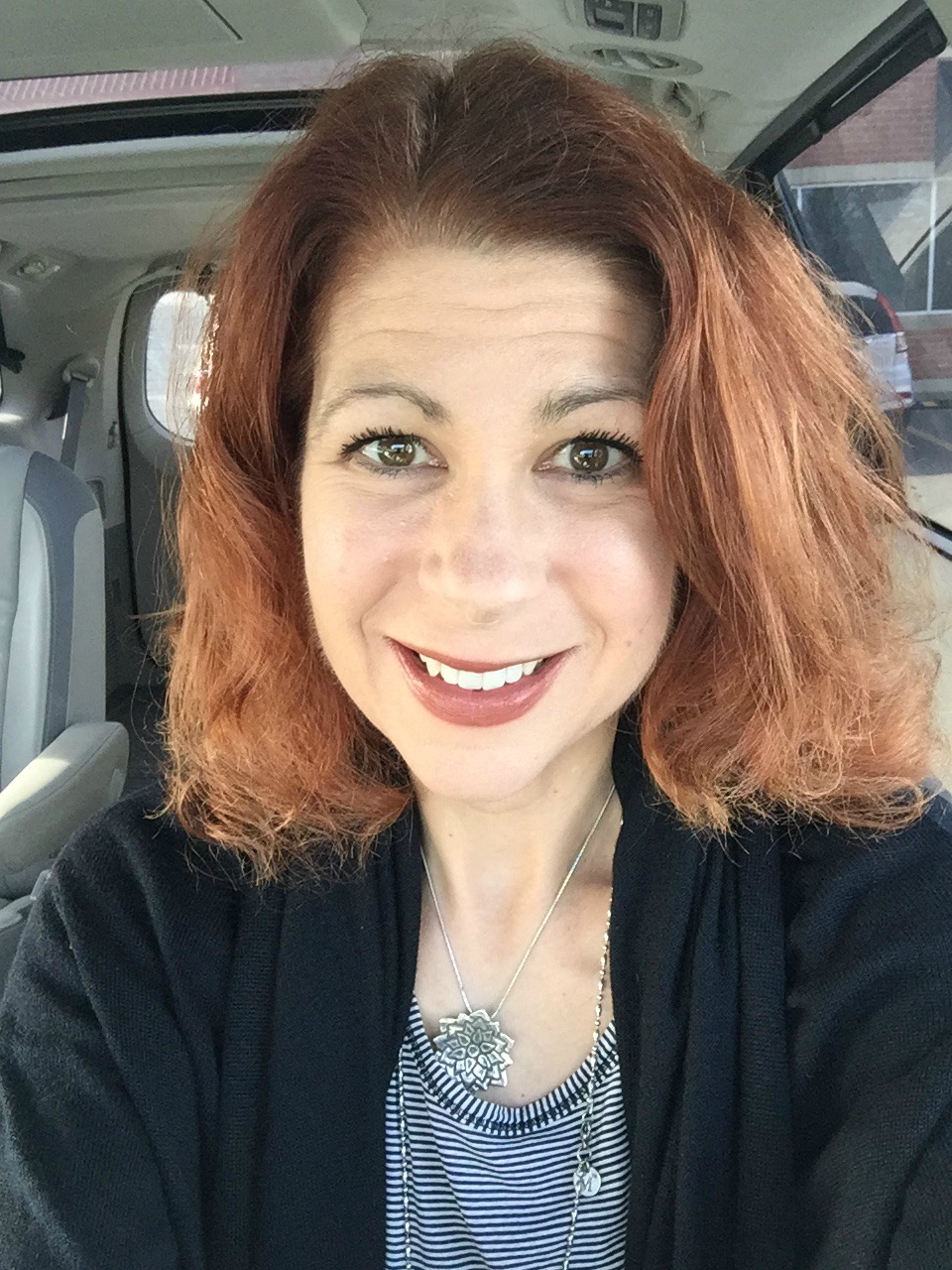 Ah, it's the little things. I have also been trying out a new eye cream, but that is a whole other post. For now, I'd like to know what little things make YOU happy? Tell me everything. xoxo