On Friday, my husband was home from work early – there was an office move going on, and so the work day was cut short. He mentioned that he was thinking of going out to his favourite hamburger place with a work buddy, but decided to come home instead. I was charmed by this and referenced Paul Newman's famous quote regarding marital fidelity – why go out for a hamburger when you can have steak at home – but my husband was puzzled by this. "So, why would I go out for a hamburger when I can have beans and some weird quinoa thing at home? Maybe some kale? The hamburger sounds better."
Sigh.
But things did get a little romantic around here on Valentine's Day, although we don't exchange gifts or go out for dinner or even buy each other cards.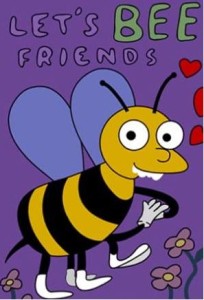 We spent Saturday morning running errands with the kids, and somehow we ended up at the garden centre, where my husband bought grow lights for my brand new indoor herb garden! And before you get too excited, it's an actual herb garden, not an "herb" garden; cilantro and basil and even some arugula! I may even start some bedding plants inside! It's all I've ever dreamed of, in a seed-starting sort of way. My husband built a shelf and set up My Little Grow-Op and as someone who is not at all handy, I appreciate all over again how nice it is to be married to someone who is, someone who knows all the different kinds of screwdrivers and wrenches and tool-shed what-have-you.
Speaking of which, a friend posted a "50 Shades of Home Depot" photo on Facebook, and I can't stop laughing at it. Aisle 15: Lubricants, Rope and Chain, Screws, Tie Downs. Hooray for Aisle 15! I wonder if someone has a crazy sense of humour over at Home Depot, or if that particular arrangement of items is company standard.
There has been much buzz about the 50 Shades of Grey movie, and I have to say, I really don't care. I have not read the books nor will I, and I am not going to watch it either. I'm not interested in reading poorly written books; if I was, I'd have finished Who Moved My Cheese twelve years ago. I think 50 Shades of Grey sounds a lot like the BDSM equivalent of Who Moved My Cheese, actually; there seems to be a lot of common themes – change, denial, mice thriving in maze environments.
My cousin tagged me months – MONTHS – ago, regarding a meme of "10 Memorable Books You Read As A Child" – the definition of "child" being under age 12 and the definition of "memorable" as being books that stuck with you through the years. Without further ado, here are my 10 Memorable Childhood Books:
1) A Little Princess. I've written about this before, but A Little Princess was the book I read when I was seven and my younger brother was born. He was a sick baby, and I spent much time at my aunt's house. I read this book to get out of playing with my younger cousin, deemed "annoying" by me. Of course, being seven, I didn't really grasp the nuances of British Colonialism, nor did I understand why someone's parents would be in India while the children were in school in England, and in fact I remember being confused by the words sahib and ayah. It's such a wonderful book, though, full of hope in the saddest of circumstances. Riches to rags to riches.
2) Little Women. Oh, how I loved – and still love – this book. I read a biography of L. M. Alcott, and it turns out her life was very hard and sad; her own father was a terrible flake who was constantly leaving the family in dire economic circumstances, and it was her writing that pulled the family out of ruin. This is why, in Little Women, Mr. March is mostly absent – off at war – or portrayed in a very glossed-over light; she wanted to honour the good parts of her father, while also leaving him mainly out of the story. It's a little bit like how Laura Ingalls Wilder wrote the wildly-descriptive food scenes in Farmer Boy – apparently it was her dream to recreate a childhood without hunger.
3) The Long Winter. Speaking of childhood hunger, this most dire of the Little House books was given to me as a birthday gift when I was about eight. If you ever want to feel appreciative of your life, read this book.
4) The Bobbsey Twins. There are two books in this series that I clearly remember – one was about a visit to the farm, and the other was about a visit to Africa. I cannot find any evidence of these books on the internet, or what they may be called. Anyone?
5) Deenie. I read this book when I was in fifth grade or so. I'm in the midst of recapping it over at Throwing It Back, if you too were obsessed with what exactly a Milwaukee brace looked like.
6) Every other Judy Blume book, but especially Are You There God? It's Me, Margaret. Didn't we all learn about our periods that way? Didn't we all wonder what exactly was a belt for a sanitary napkin? There were a few other books that dealt more with male issues, and to this day I remember being absolutely horrified to learn that boys got erections, and sometimes it was during math class. Looking back, my horror level was such that it is evident I was too young to be reading those books.
7) Sweet Valley High. Remember Sweet Valley High? Oh, those Wakefield twins! Always up to something, in their flashy red Fiat Spider, with their perfect blonde hair. I remember reading those in fifth grade and thinking that high school was going to be just like that. HA HA HA.
8) Emily's Quest. I loved the Emily books but I especially loved Emily's Quest – it's quite dark and adult in theme, in some ways. Unrequited love, preparing to settle with the boring old guy, falling down the stairs and facing leg amputation. Good stuff for a dramatic young girl to read, to be sure.
9) Elsie's Holidays At Roseland. Good lord, have you read any Elsie books? The copy I have was my grandmother's childhood book, and WOW is that some messed up shit. Literally, you couldn't make up something weirder for a children's book. Premise: two teenagers elope, have a baby, the girl dies, the father leaves the baby – Elsie – with his father's family. Elsie is around 10 when we meet her. The family itself is so complicated you pretty much need a family tree or a graph to figure out who's who. There's a grandfather and a step-grandmother, they have teenage children and children Elsie's age and younger, and they all live together. Elsie's father comes back from a sojourn in Europe, and makes up for his absence by being completely domineering and pretty much awful, but Elsie loves him, so there you go. Then the father decides she isn't submissive enough because she is too set in her Christian ways so he essentially estranges himself from her, and forces the family to treat her like a leper, until she can renounce her strict Christian principles and say that her father is the all-knowing being in her universe. He forces her to separate from her nursemaid, who has raised her, essentially, and Elsie has a nervous breakdown. Like, an almost-dying nervous breakdown. They have to cut off all her hair because of fever, and Elsie worries her father will be "vexed" at her new 'do. It all ends happily, Elsie's father decides God has saved her, becomes a good Christian, and all is well. He has a friend who has designs on Elsie, and in later books – it's a series, my god – this friend of her father's MARRIES ELSIE WTF IS THIS ACTUALLY A CHILDREN'S BOOK.
10) Heidi. On a much less disturbing, but still kind of disturbing note, Heidi is an orphan who is made to go live with her grandpa somewhere in the Swiss Alps because her aunt – who has been her guardian up to this point – has a job and doesn't want to be hindered by a child anymore. Well then. Later, of course, she forces Heidi to go live in a city in Germany – Frankfurt,  maybe – to be a companion to a crippled little girl. I'm guessing the aunt was making money on this, I'm not sure. Anyway, ignoring those themes which are pretty gross by today's standard, Heidi is a charming book. Who didn't want to eat toasted goat cheese and bread, and sleep in a little hay-loft alcove? I sure did!
Play along, if you like! What childhood books stayed with you? Amazon accidentally sent me two copies of Margaret Atwood's Stone Mattress, and so I have one to give away. To enter, leave a comment about your favourite childhood books. I think I'll keep the contest to Canadian residents – shipping, you know – but I'd love to hear from all of you. xoxo