This morning I finally could breathe through my nose, and so I went to yoga for the first time since Sunday. When I was driving home, Eye of the Tiger was playing on the radio. It felt appropriate. I feel like I should play it on a continuous loop over the next few days as I prepare for Book Fair and all that entails. Rising up to the challenge of our rival and all that.
Not only am I running the Book Fair next week, but my children's classes are hosting an assembly, in which they are going to play recorders. I cannot imagine just how badly this is going to go. The kazoo performance was one thing, but both boys have mentioned that they – and their classmates – are not very good at the recorder, which seems like an understatement of the largest order. I'm starting to be concerned for the music teacher's mental health. The very few times that the boys have actually practiced the recorder at home have ended with the dog whimpering in his crate and me reaching for the wine bottle. Of course, the other day I was singing a spirited rendition of The Greatest Love of All and the dog ran and hid in his crate, which I am going to assume was just a coincidence. I went the distance, and I'm not going to stop.
The recorder, though. I know of only one person who has actually enjoyed her child playing the recorder, and I'm fairly certain that child has much, much more musical talent than the vast majority of children. In general it is truly a wretched instrument, which is not to say that I do not understand why the recorder is so widely used by elementary music teachers everywhere. It's light, inexpensive, and appropriate for small hands and YET. One year I was running the Book Fair in the room beside the music room, and I heard recorder music for the entire day, to the detriment of my sanity. I hope that doesn't happen next week. I'm just a girl with a will to survive.
The other day I came across an article that declared high waisted jeans are the biggest trend for this spring and I died a little on the inside. There has to be a happy medium between showing the world that you really do need a bikini wax and waistbands that end just below your ribcage. Why, world, why? We ladies of a certain age remember donning our high waisted jeans with our bodysuits underneath to head out to the bar to go what is now called "clubbing", shaking our amply-denim-covered booties to I Saw The Sign and I Like To Move It Move It. We don't need to relive those days, at least not with such unflattering clothes. Don't lose your grip on your dreams from the past, but there's no need to fight just to keep them alive.
Speaking of unflattering fashions, the other day I was in the mall and I saw this: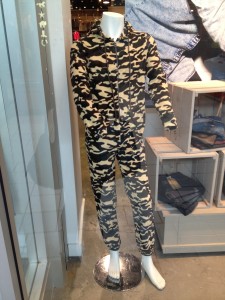 I wonder if it's a hot seller. It might be nice for wearing while jogging and singing Eye of the Tiger, which is something I should keep in mind in the unlikely event that I take up jogging. Although maybe it's meant for evening loungewear? I don't really know. Stalking prey in the night.