This is the truest statement I have ever seen. It's this week! This week is summer! Celebrate!
Calgary gets approximately 5-10 days of warm weather per year – and by "warm," I mean above 25 degrees Celsius – and those 5-10 days are not always consecutive. Once the temperature hits 25 – and let's recall, people, that Calgary is essentially an urban desert and we don't really get humidity – within hours people will be complaining about the heat. The one-to-two days that we get 30 degrees or over? You may as well have thrown the city into an actual inferno. Everyone is dying of the heat.
Not me, though, I love it. I'm sure our friends to the south – actually, our friends everywhere except maybe Iqaluit – are hysterically laughing at our definition of HEAT.
Anyway, summer is here! This week feels festive and holiday-ish, and so I'm doing things like switching up the weekly meal plan – enchiladas on a Tuesday! Pasta salad on a Wednesday! What's next? Who knows! – and spending as many hours as I can outside.
Which brings me to…
Nicole's Favourite Things: The "Sweat, Baby, Sweat" Edition
Deodorant
This cracks me up. I know a surprising number of people who either wear Tom of Maine-style deodorant or eschew it altogether, which, in my humble opinion, is the same thing.
I know, I know, aluminum, chemicals, etc., but I have a solution for you if you are not a fan of the antiperspirant/ traditional drugstore deodorant. Longtime readers will remember me talking about Routine Deodorant; it's been in my Favourite Things several times over, it is made locally – in fact by a friendly acquaintance of mine whose kids went to my kids' elementary school – and it honestly works. I remember when she used to sell her deodorant in the school playground; now it's renowned internationally. I mean. How can you not be excited about something like that? I love when women I know really make a name for themselves; let's celebrate and lift each other up and shine on, you crazy diamonds.
Anyway. Routine! For the most part, when I hear "natural deodorant," I think "feral hippie," but this is something that honestly works. My favourite scents are Whoa! Blackberry Betty and Cat Lady.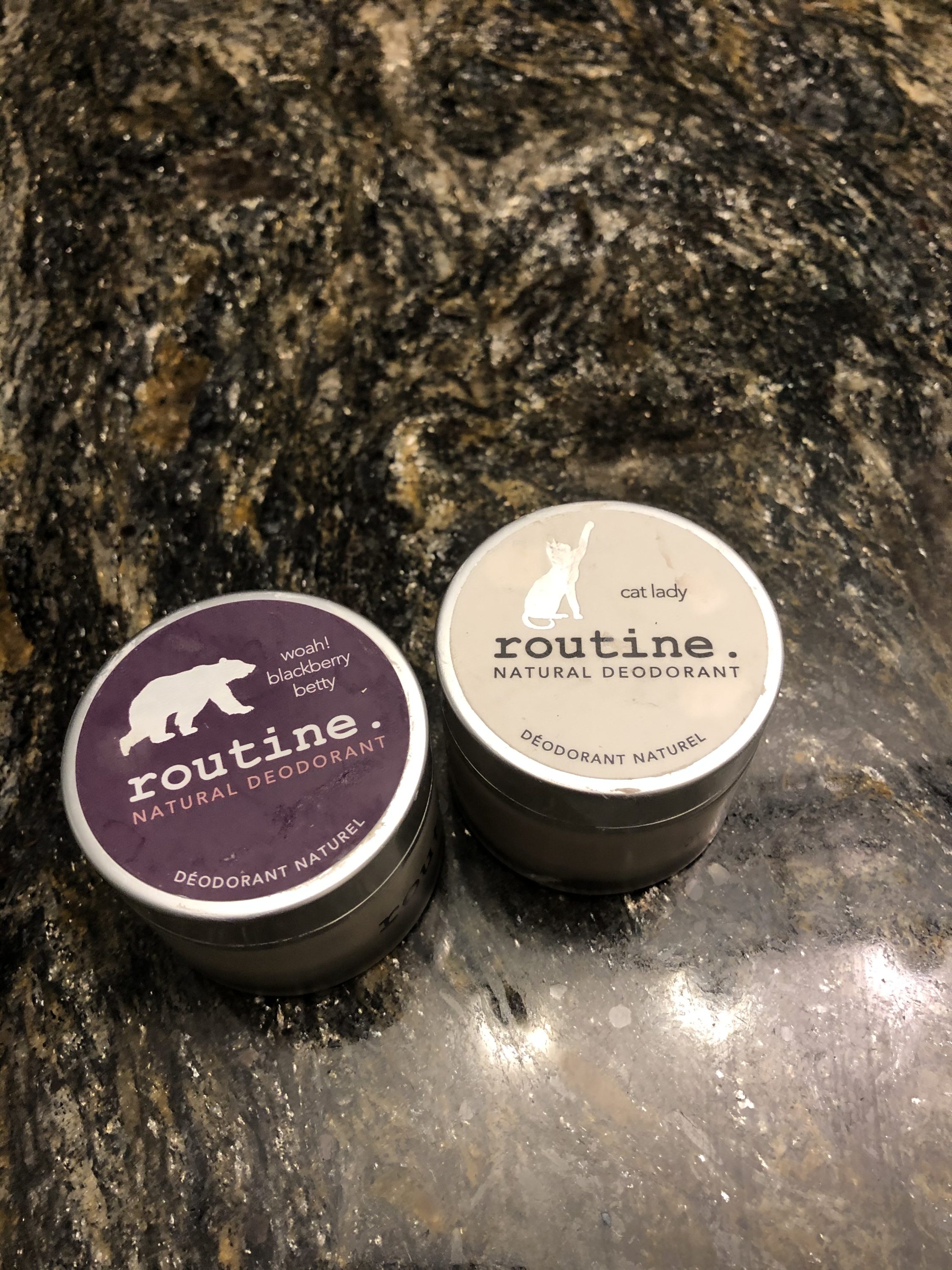 If you want to know if they REALLY work, this is what I look like after my workout: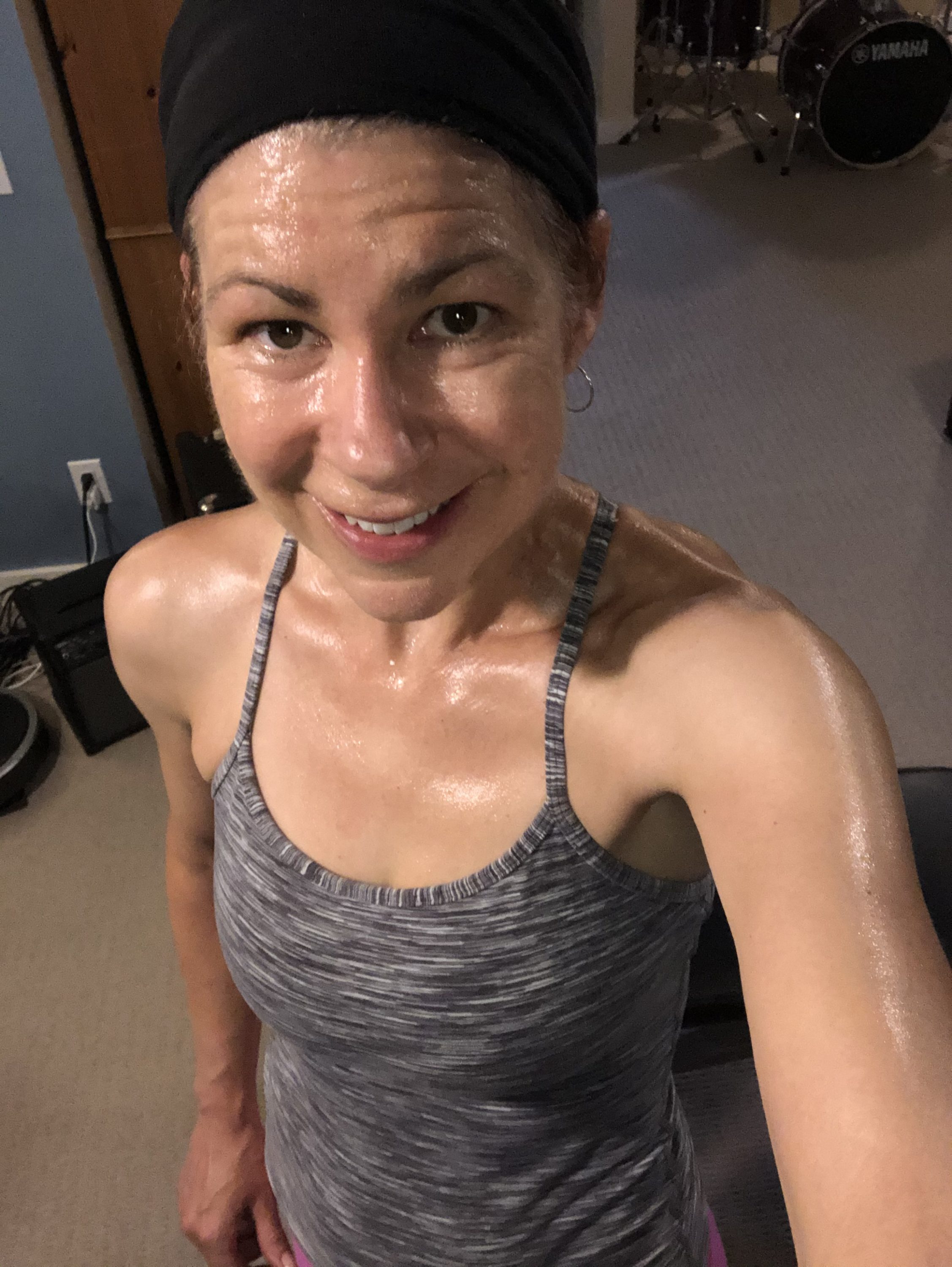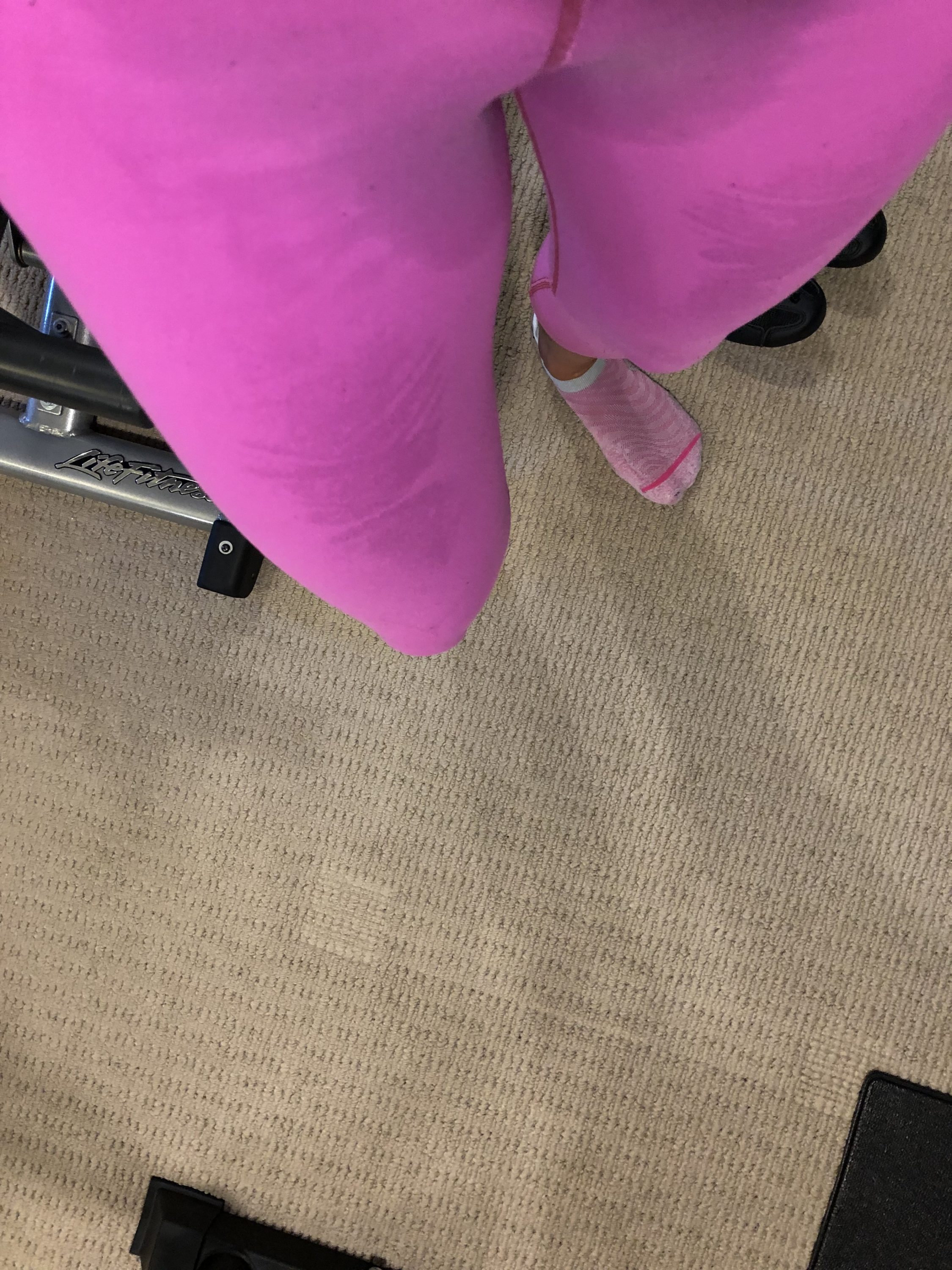 Note the drips of sweat on the floor: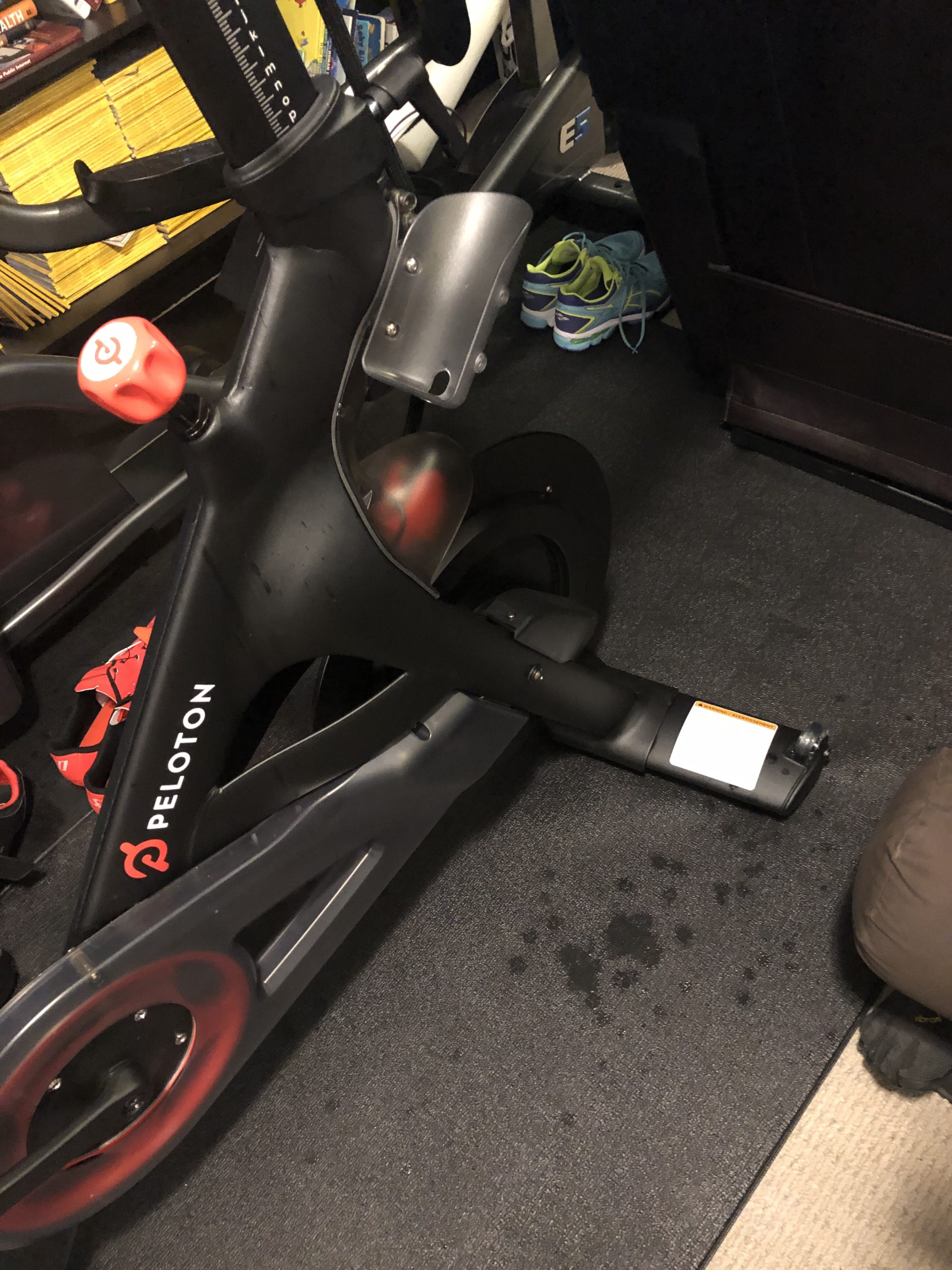 Can I just briefly tell you how much I love my new Peloton? I LOVE MY NEW PELOTON. I feel like I've joined a cult, I'm so excited about it. I just did a "70s Ride" and it was awesome.
After I took these photos I sniffed my own armpits, and they still smell lovely. ACTUALLY LOVELY. Plus, since it's a deodorant it does not inhibit the actual sweat itself, which I like, and which feels healthier.
HOWEVER. Not always do I want to have soaking wet armpits. For example, when I'm teaching or otherwise around people (I mean, I might be around people sometime in the future?). In this case I have to shout out for Nivea Black and White. This is an actual antiperspirant, and it is the only one I have ever found in the last three and a half decades that does NOT leave white residue on my black clothing. Since I wear black clothing most days, this is important. I can also go for a walk in the "heat" of the day, in full sun, and still smell like actual flowers.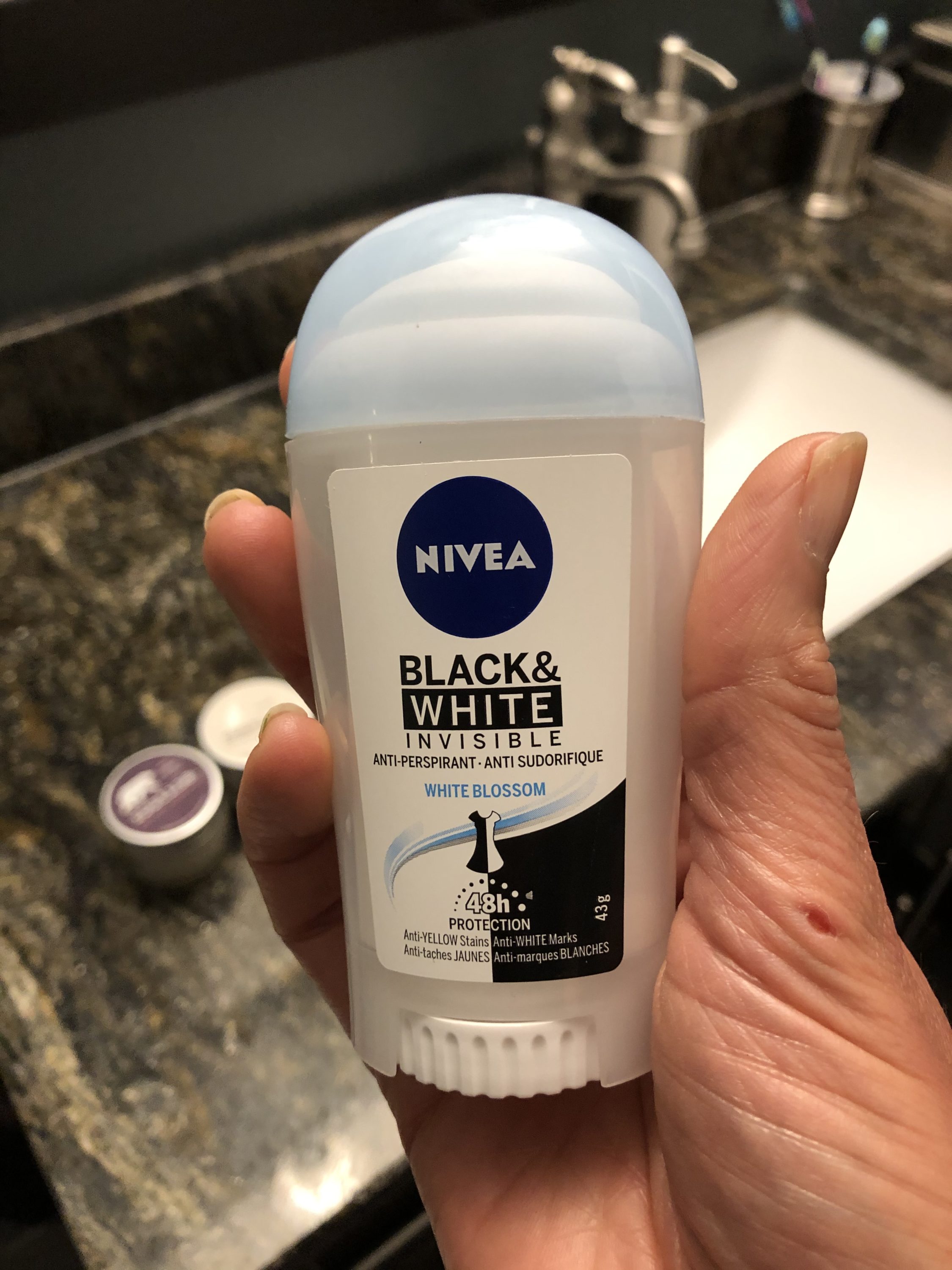 Skirts
All right, that's probably enough about how I combat body odor. Onto clothing!
The last time I wore actual shorts for anything other than exercise – and even that is rare – was probably 1997 when I was super into crop tops and Daisy Duke-style denim shorts. That's right, I rocked those.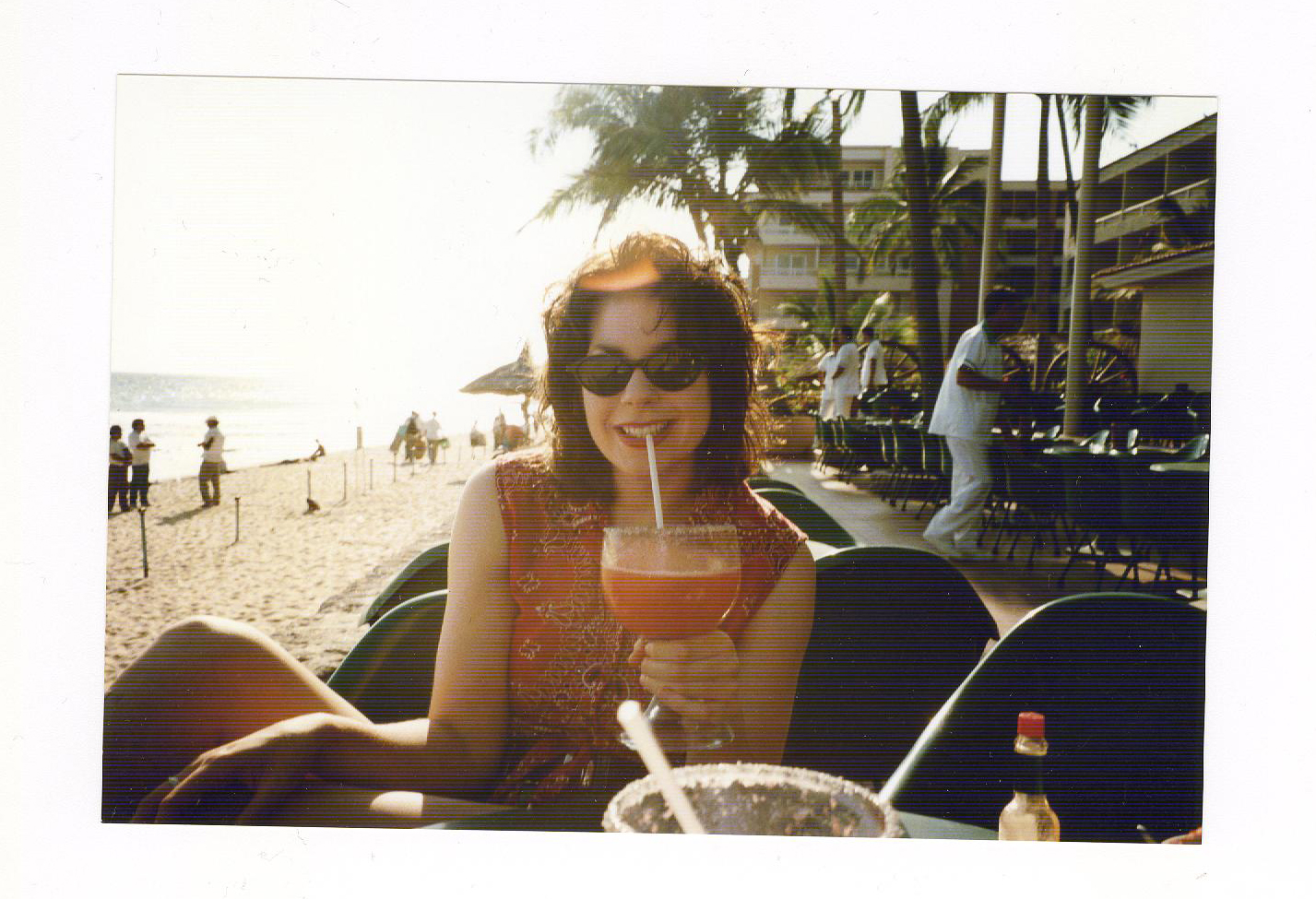 Since then I've never found a pair of shorts that fits correctly, or looks good, or is comfortable. Sure, I could probably dig out those Daisy Dukes – and if you're a short-short kind of gal, go you! – but honestly I feel like that ship has sailed. However, one cannot always wear pants. My go-to, then, is the kind of skirt that has little shorts built in underneath; I can do all my normal day-to-day activities without traumatizing my children/ people on the street who would rather not see a 45-year-old woman's thong underwear.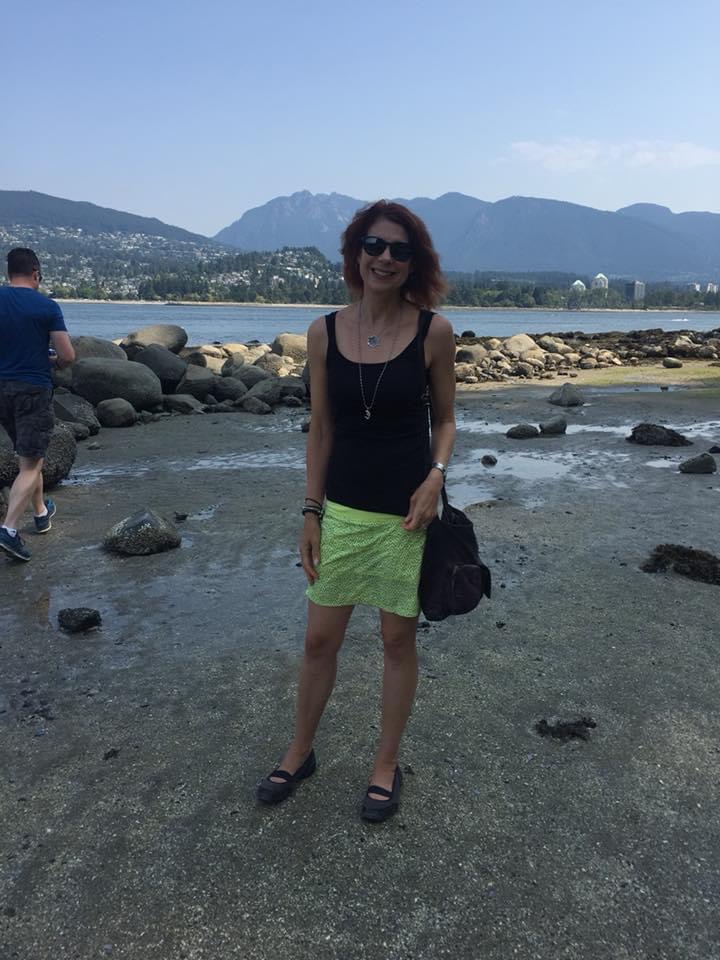 This photo was taken two years ago in Vancouver. That skirt is one of my favourites. I buy them from Lululemon – I know, I know, haters going to hate but their stuff lasts forever, I have things still from 2007 that are still going strong – and for day-to-day purposes I buy them a size bigger and in the "tall" length. I am 5'7″ and I like to have a little extra length.
I do have one skirt that's in my actual size and regular length, which I use for running on warm days. It makes me feel like I'm running in an actual tutu, which is quite motivational. Look at me, I'm a ballerina.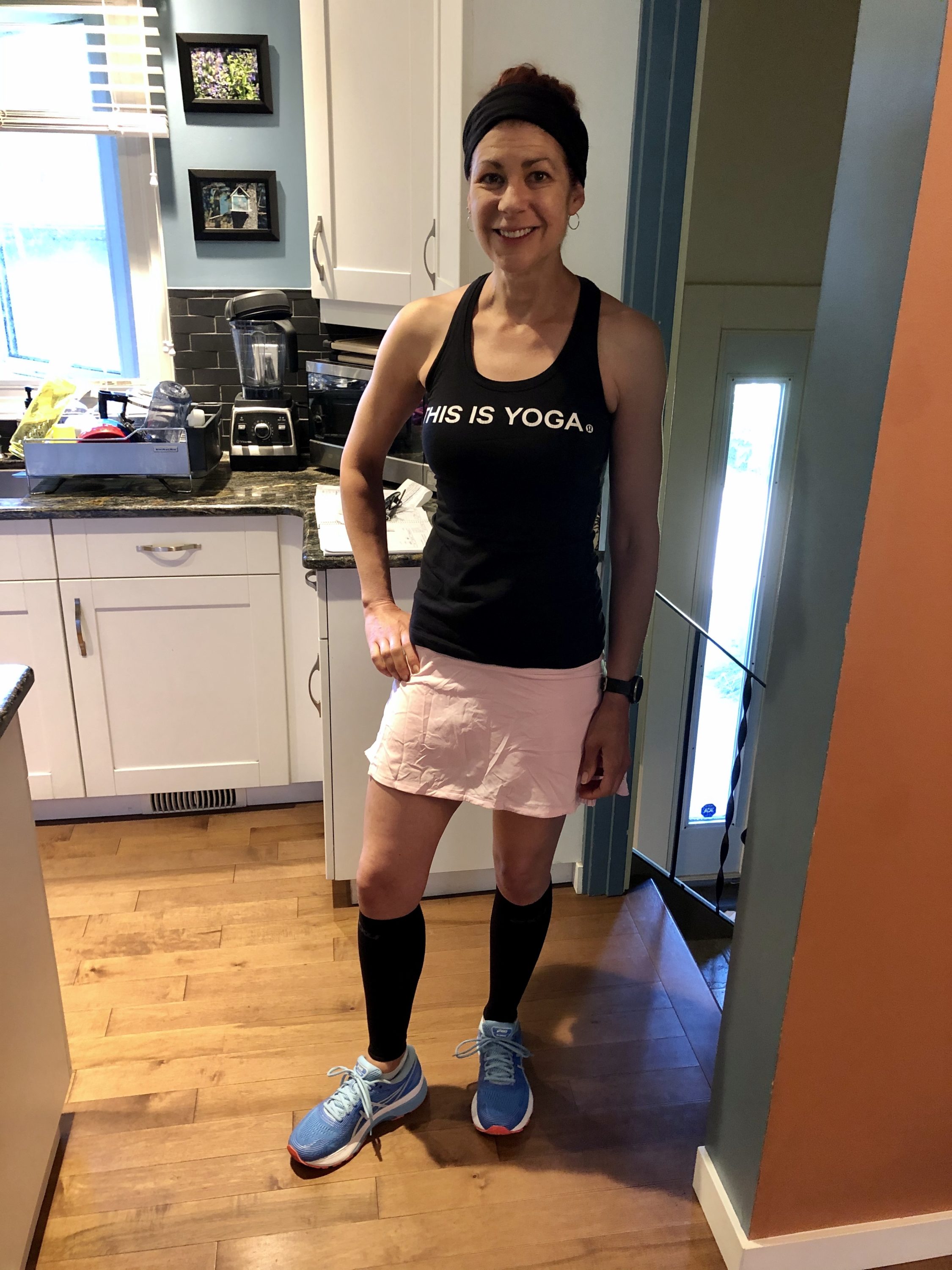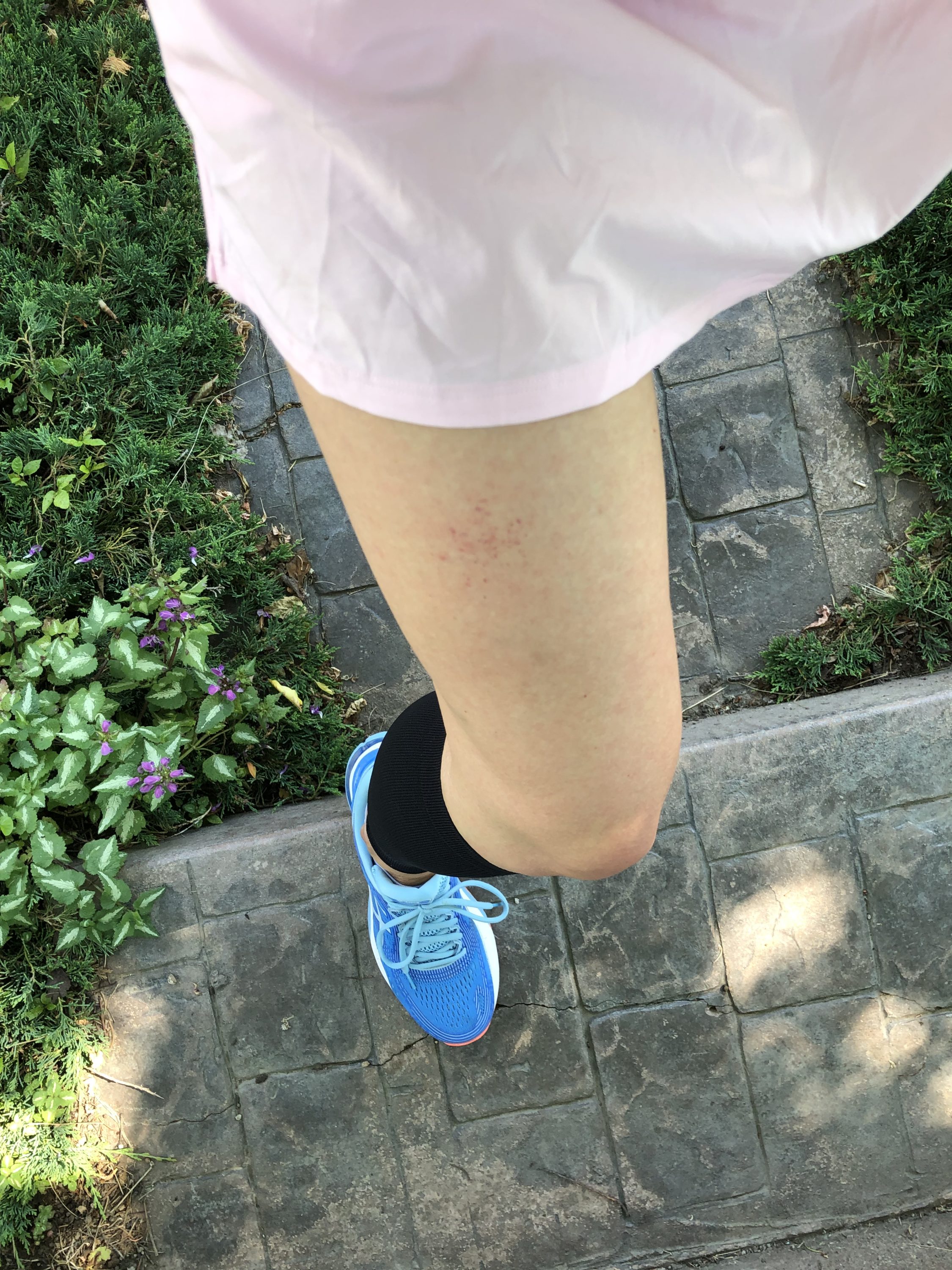 Yoga Mat Cover
If you practice yoga, and find your hands slip during downward dog, may I suggest a mat cover? I always practice with one, due to hand slippage, but also because it's much easier to clean. Just throw the cover in the wash when it starts to get sweaty! I like the ones from Manduka or Lululemon that advertise that they get sticky when wet; they work the best, I think.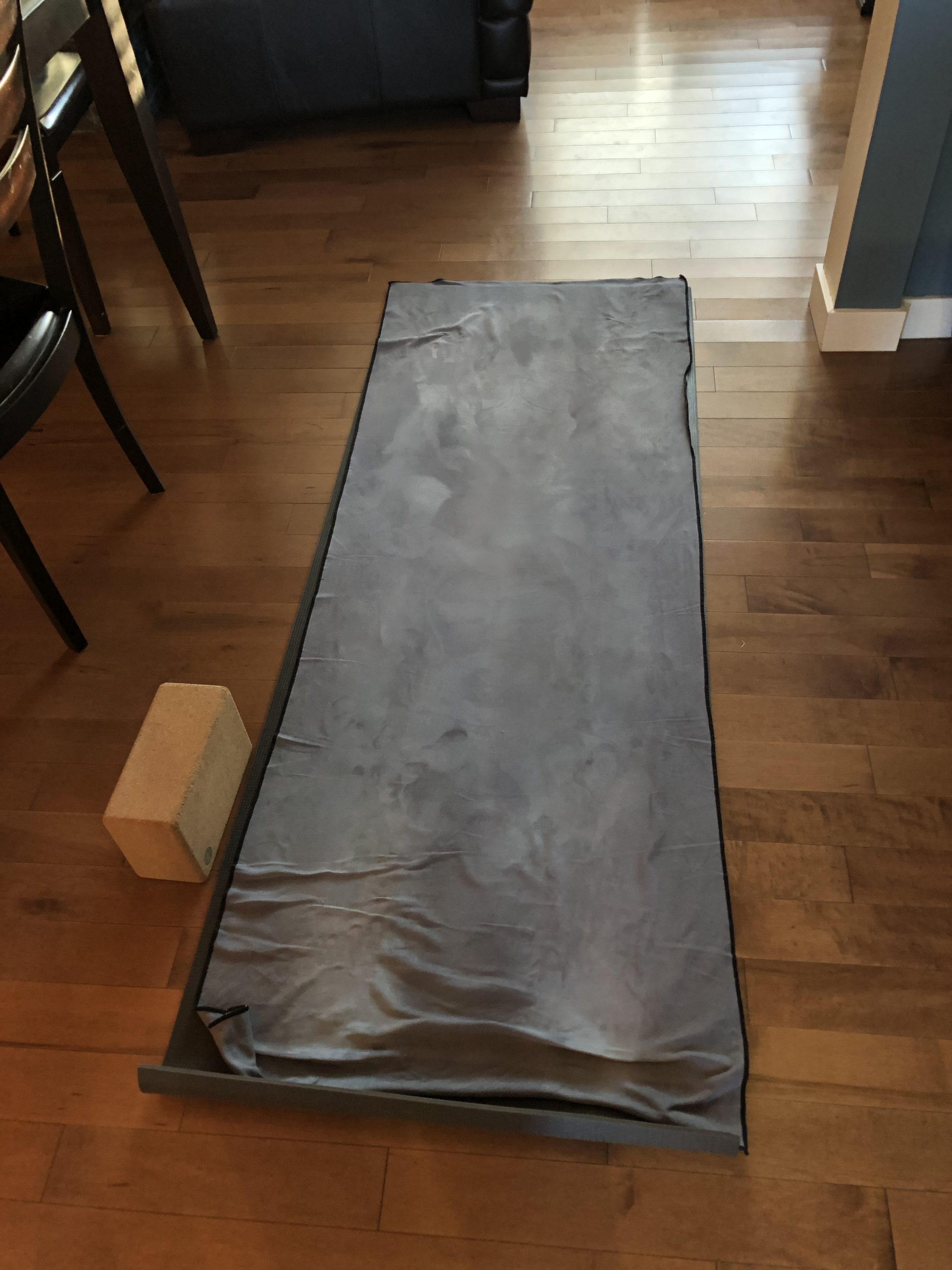 My early morning practice studio! A little squishy but it works.
Water
I drink an average of 3-4 litres of water a day, depending on my activity levels. That, along with my morning pot of coffee, makes for a lot of bathroom breaks, it's true. However, I like to be hydrated and I find if I don't drink that much water, I get headachy and bloated and tired.
An easy way to drink that much water is to have a pretty water bottle to drink from. This one is from S'Well, which maintains the water temperature for something insane like 24 hours. I prefer my water at room temperature, so I fill it with our not-cold water filter tap.
Anyway, isn't it pretty?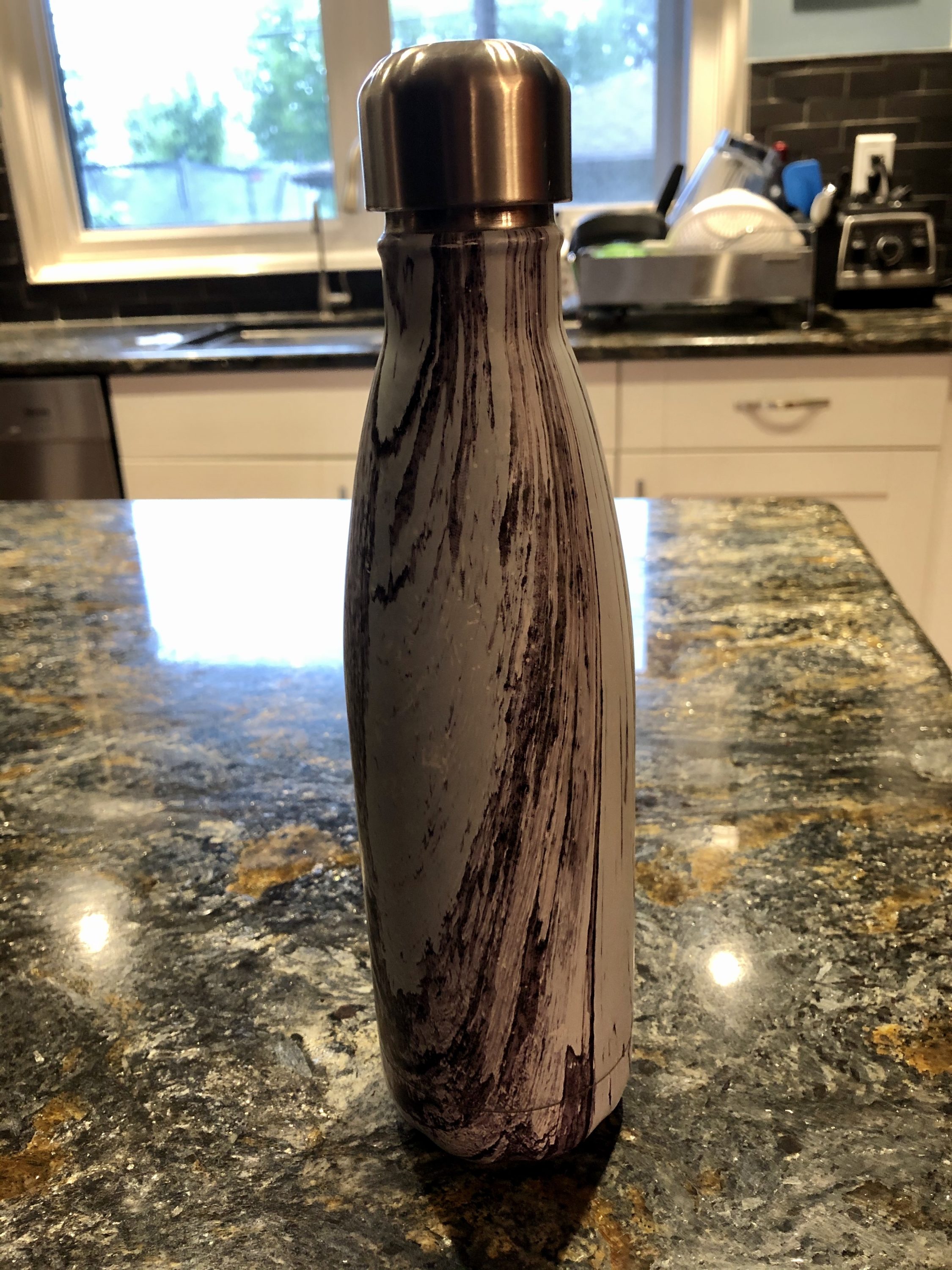 White Wine
You all know I'm a big red wine drinker, but when the temperature goes above 25 degrees, and that happens on a Friday or Saturday, I break out the white wine. Well, sometimes I do. This is a shout-out to Tantalus, which I've talked about before, and if you are interested in my husband's family history, go read this post.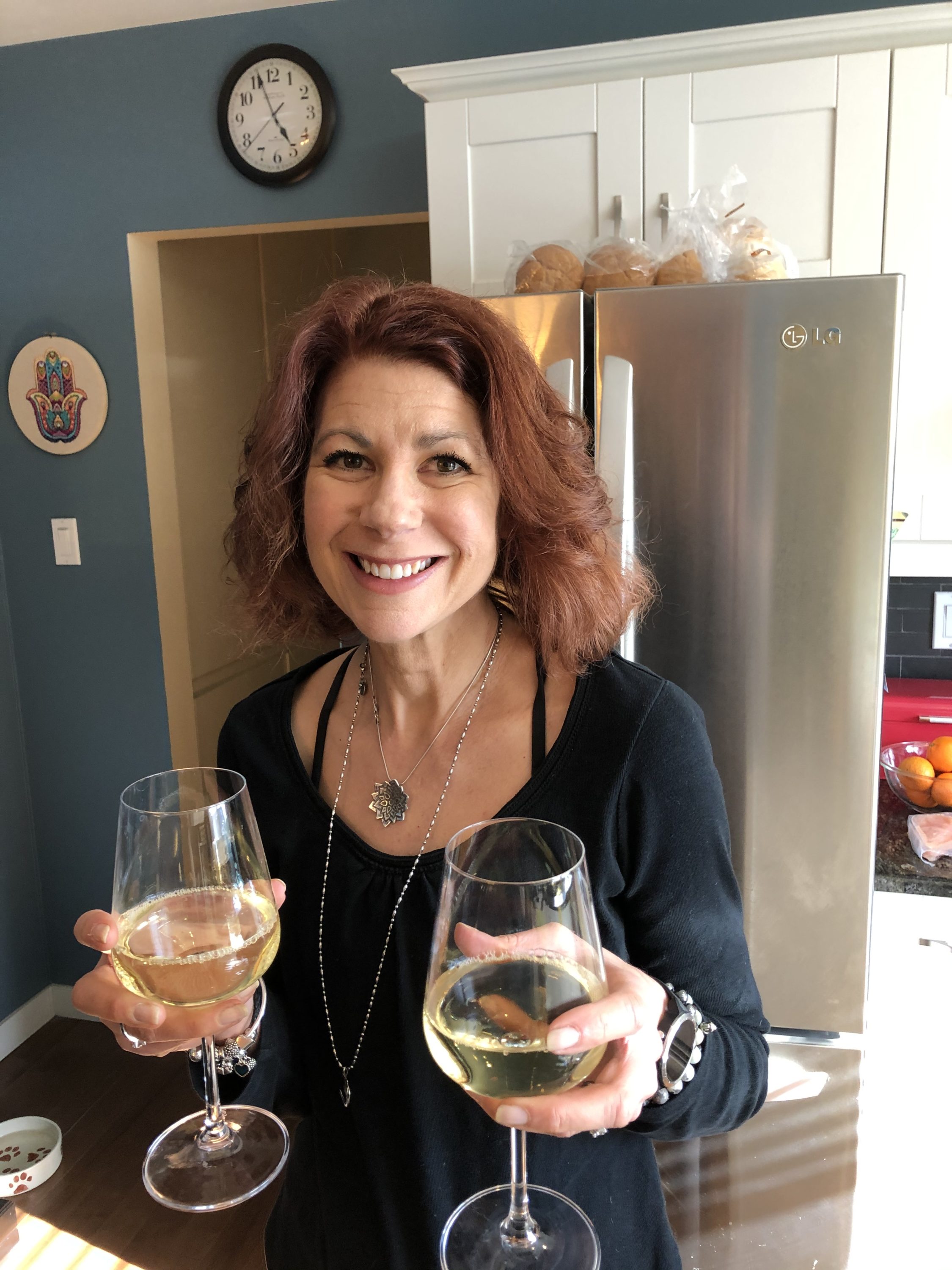 Photo is from March, at the start of this pandemic. Ah, what a crazy four months it has been.
Well, that's it for me. I am going out to enjoy the summer for the next three or four days that it lasts! Catch you on the flip, lovelies. xo