Last week, for no discernible reason, I remembered that MC Hammer had a cartoon television show called Hammerman; the actual show I do not remember at all, probably because I didn't actually watch it, except that it featured magical shoes. Due to the magic that is the internet, I could watch an episode, or at least the theme song, which I recall was incredibly long and detailed, but I'd rather leave it as a strange memory bouncing around in my brain.
It's funny sometimes, how popular culture from one's childhood can just resurface for no particular reason. I'm not talking about Hammerman, as I was a teenager at the time of its popularity, such as it was, and again, I never watched it. But occasionally some Saturday morning cartoon memory will pop into my head, most notably from School House Rock or an obscure commercial for cheese (I hanker for a hunk of cheese!). I can still sing the entire theme song for ParticipAction – do it with your friends, you both can bend, do it with some hustle, you can make some muscle – and I can also still feel the shame of getting the Participant sticker, rather than the badges, handed out at gym class. I still cannot do a pull-up.
It's incredible to think that forty years ago we were all exclusively watching Saturday morning cartoons and arranging our bathroom and cereal breaks around commercials; we had to wait a whole week to see who would be on the next episode of The Muppet Show, and an entire summer wondering who shot JR, and now anyone can watch anything at any time. I mean, I remember getting our first PVR approximately 13 years ago and the amazement that came from being able to pause and rewind live television, and now here we are, able to access Hammerman or Conjunction Junction on a whim. If I wanted to I could watch every single episode of The Facts of Life; my childhood self would be amazed and envious.
I remember learning, back in the Eighties, that some of the songs that were huge hits were also cover songs: I Think We're Alone Now, Lean On Me, I Can't Help Falling In Love, You Keep Me Hanging On. In recent years I discovered the OG versions of Hard to Handle and There's Always Something There To Remind Me, and for all of the above, I prefer the originals. However, there are a few songs that I think are better as covers: Lovers In A Dangerous Time (Barenaked Ladies), Knocking on Heaven's Door (Guns and Roses), and Light My Fire (Jose Feliciano). If you, dear reader, have any thing to add, I would love to hear it.
Speaking of hit songs, last week I learned something incredible: Jimmy Buffett has just released a new album. JIMMY BUFFETT. HAS JUST RELEASED A NEW ALBUM. Does anyone else find that amazing? I mean, for one thing, he's 73 years old. For another thing, the man has an enormous number of albums to his name and I would challenge you to name any of them. You can't, can you? And yet he is an incredibly successful recording artist with a devoted following, not to mention a Sirius channel of his own. Talk about finding your niche in the world. It's quite inspiring, really. Where would we be without Margaritaville? Searching for our lost shakers of salt, I guess. We all enjoy Margaritaville, of course, but my personal favourite Jimmy Buffett song, one that I do not think gets enough accolades, is Why Don't We Get Drunk and Screw. That is one catchy tune, and I am not being facetious. I just got a waterbed, it's filled up for me and you.
Well, I'll be singing that one all day, which is better than a few minutes ago, when it was ParticipAction, get with the action, do it, do it, do it.
Pandemic Reading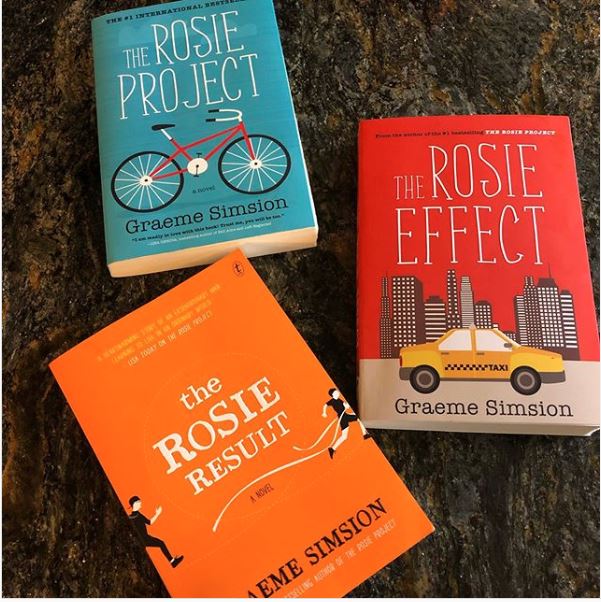 This was a fun week of re-reading the Rosie series. Initially I had thought that the trilogy got better and better with each book, but after reading them all this week, I have decided that they are all equally excellent in their own way, which is a huge and rare accomplishment for any trilogy. I really love how the books portray a person who processes the world differently, with so much affection and humour.
Yummy Things
I have been having the occasional Friday afternoon wine date with my dear friend and neighbour Taryn (HI TARYN); last week I made the three house trek to her backyard, carrying my brand new (thank you, Superstore, for your free gift with purchase) camping chair, and this tote bag packed with wine, my keys, and a glass. Isn't it cute?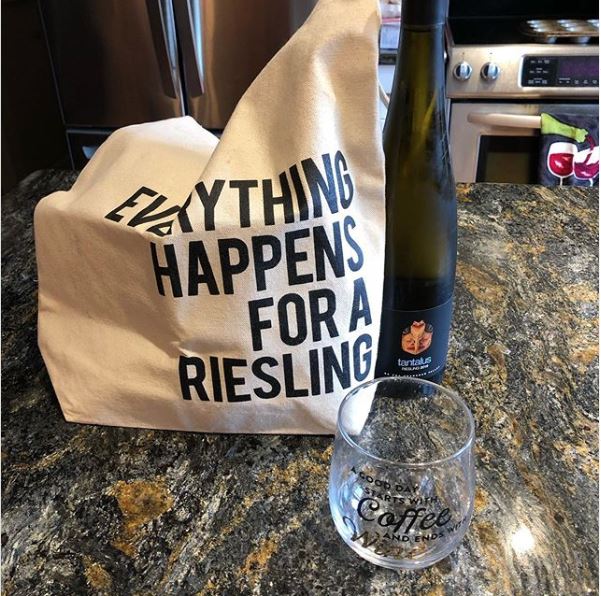 For Sunday night dessert last night, my older son made a pan of Reese Peanut Butter Bars; if you like peanut butter and chocolate and you see a package in the grocery store, buy it! The bars were very yummy and simple to put together.
What's Blooming
This has been a strangely late year for almost all my shrubs and plants; the roses are coming along but still pretty stick-like, the dogwoods are not completely leafed out yet, and although my newly-planted clematis is blooming, my established one is not. However, the lilacs are fully out and almost finished, and the Siberian irises are glorious.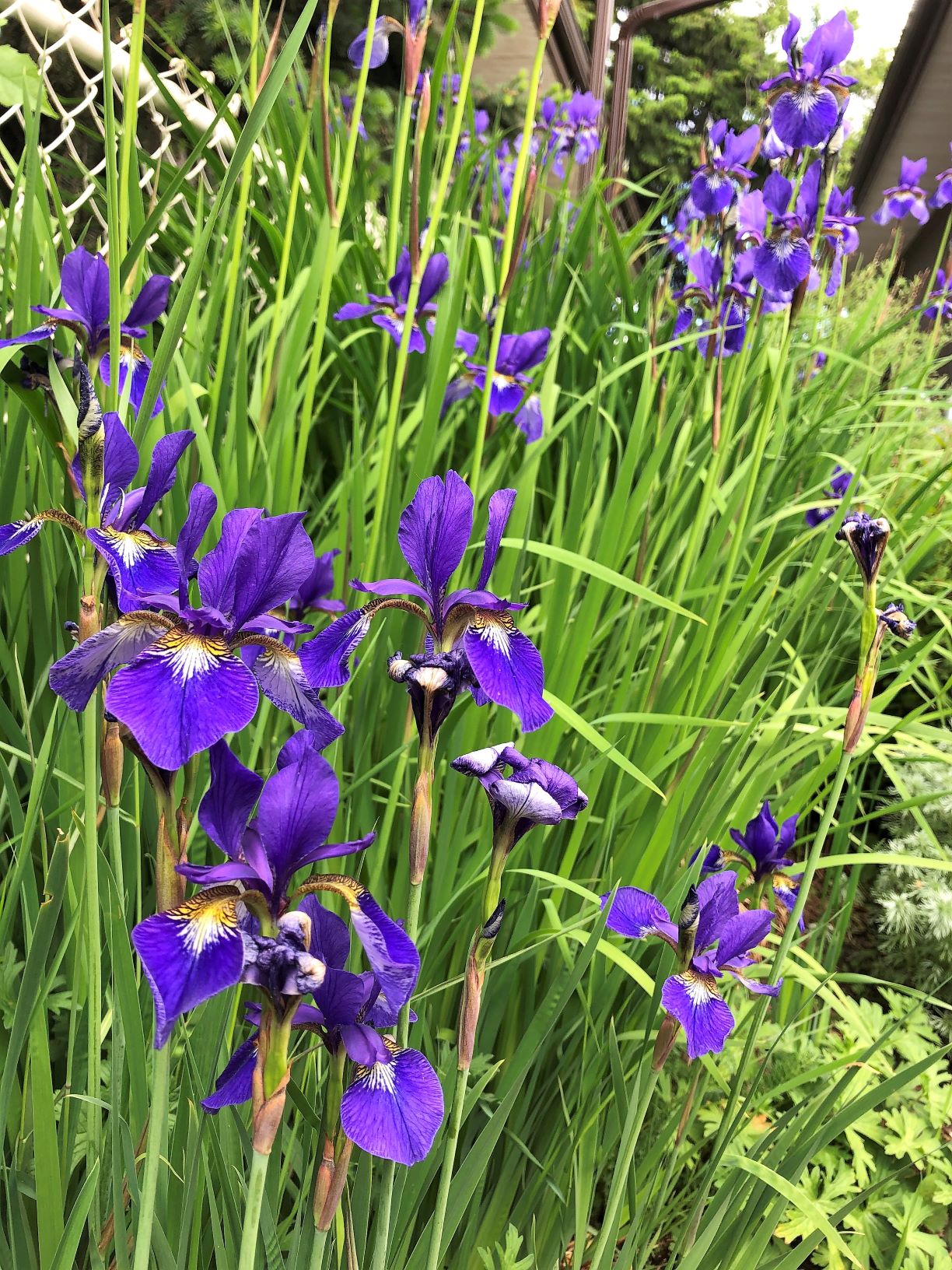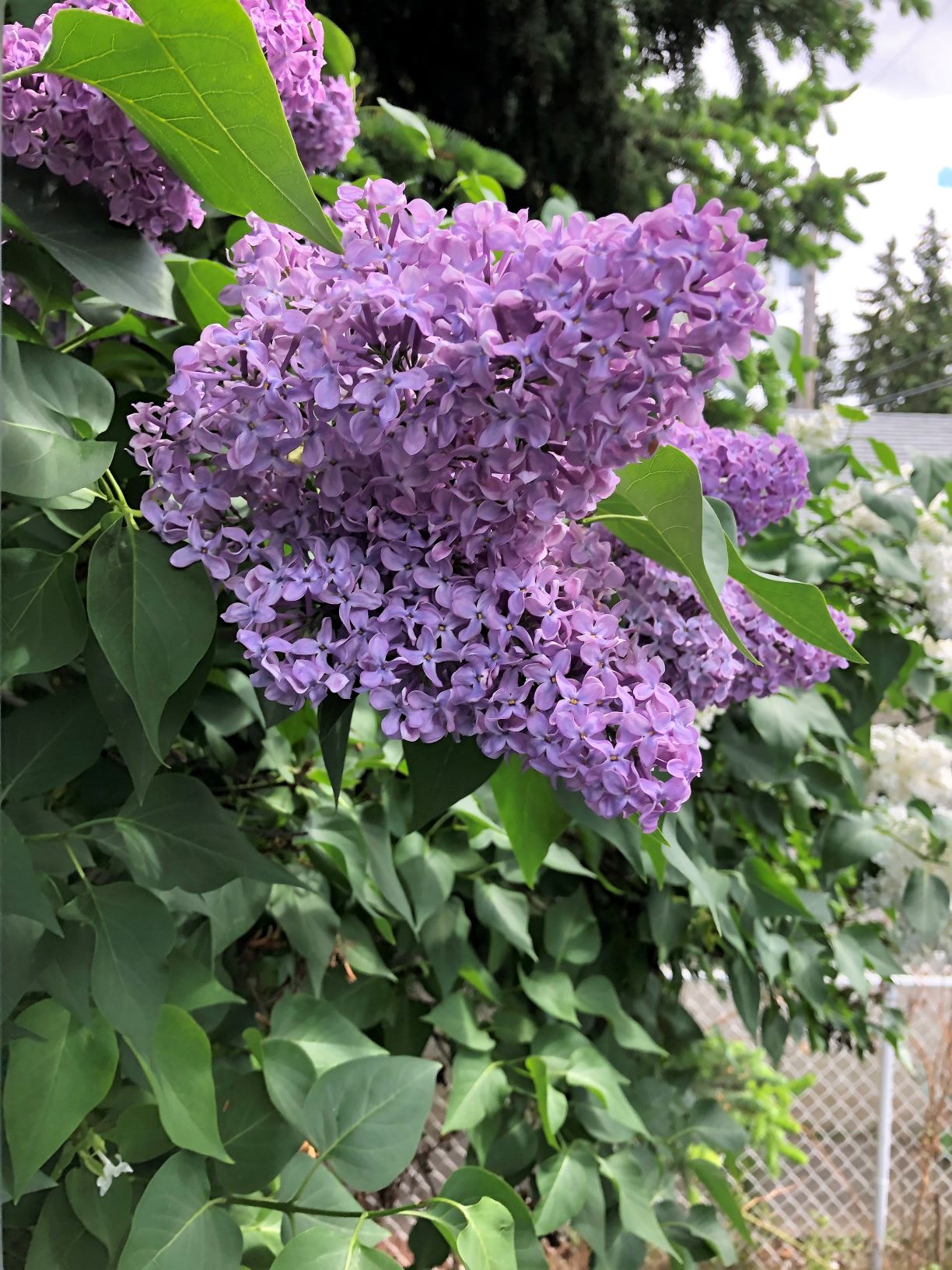 Pandemic Fitness
When running and walking this week, the lilac scents have been absolutely wonderful. Our fitness club has reopened with lots of restrictions, and I haven't yet gone, but I'm considering doing a reconnaissance this week, as the weather has changed from Pleasant to Cold and Rainy. We will see.
Have a wonderful week, everybody! Keep safe! xo