Happy New Year! As I write this, I'm still in my pajamas with a big cup of coffee; I've been spending the last (almost) two weeks sleeping late, reading, and watching movies. It's been a very chill kind of holiday break and while I'm not EXACTLY feeling ready to get back to work and routine, well. There's no stopping time.
Speaking of which, I came across this article, which I suggest you go and read in its entirety if you really want your mind blown, but here is a screenshot of the part that made me set down my coffee cup and stare off into the distance: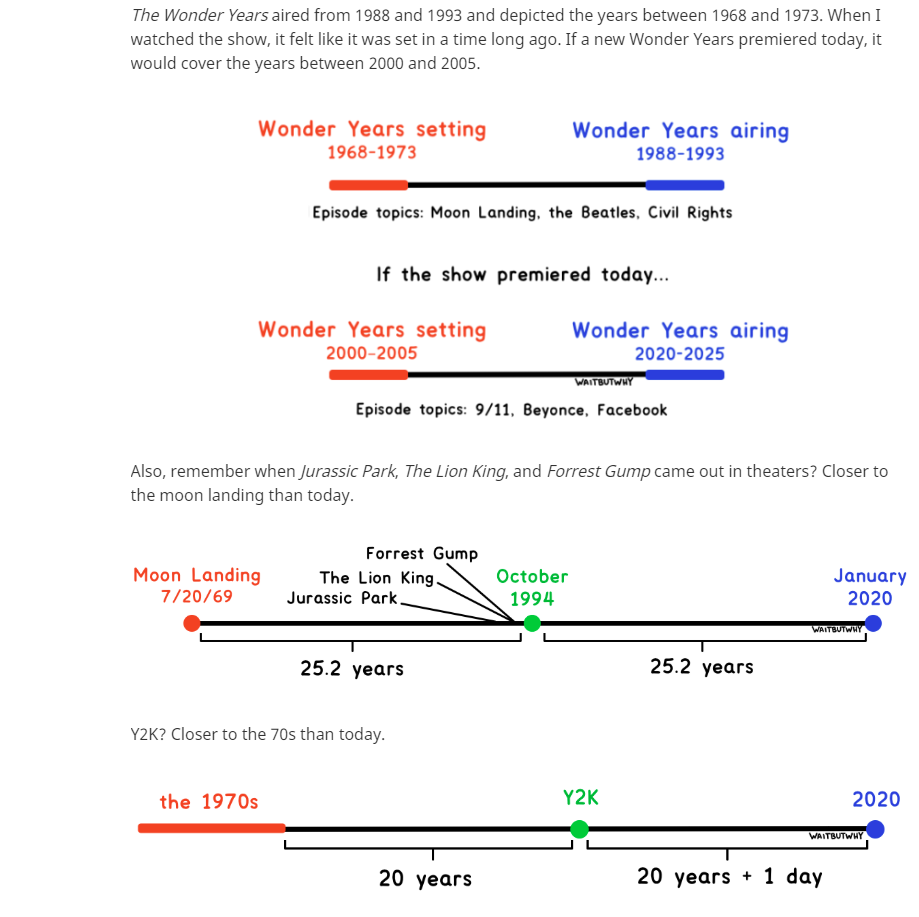 THE WONDER YEARS, YOU GUYS. I remember watching that with my friend Elise (HI ELISE) and we would talk about those long-ago hippie days. Long ago like, for example, when Bey burst on the scene or when we all got a Facebook account and poked each other.
Well! Let's look forward to the new year. I did finally take down the decorations on the 31st, and most of all the outdoor ones are down as well (it's a long process). The house is clean but seems awfully bare. A bit depressing but it cannot be Christmas all year, can it? January is the time for reflections, renewal, and resolutions. I know many of you balk at the ideas, but don't get me wrong: I think we are all wonderful just the way we are. However, given the chance for self-improvement, I am going to take it.
I was talking to my younger son about resolutions, and he said "But my resolutions are never done! Because I just always want to keep on improving." Which, yes. Exactly.
Being Mindful, Being Present
This has been an ongoing resolution for years, and I think it probably will be forever. I mean, none of us suddenly achieve samadhi. Life is a journey and mindfulness is also a journey. I want to really work on being present for everyone in my life, and taking the time to just mindfully enjoy the moment. Here I am, walking the dog, enjoying the blue sky and my fuzzy baby. Here I am, in the Costco lineup, looking at what other people have in their carts. Here I am, folding laundry…okay, it will be easier in some circumstances than others. But I will channel my inner Mary Oliver: "Instructions for living a life. Pay attention. Be astonished. Tell about it."
I read somewhere – where was it? – that in conversation, people don't really LISTEN, they are too busy thinking about what they themselves are going to say next. I want to really focus on listening.
Mindful Shopping
Ever since Kondo-ing my house long ago, and my one-year shopping challenge, I have been pretty good about really thinking about things I bring into the house, whether they be clothes, food, or toiletries. This is an ongoing thing, because it can be easy to overbuy things that are really not needed. In thirty days leading up to Boxing Day, I recorded my outfits and I only re-wore one sweater. ONE. And then I received a few sweaters for Christmas…what I'm saying is I maybe don't need to buy any new sweaters for a while. I keep several lists of things needed to run a household – food, mostly, but also important things like soap, toothpaste, cleaning supplies, etc. – because otherwise I tend to stock up way too much. I think that mindfully buying things that are needed/ badly wanted, rather than randomly shopping, is a good way to live, both from an ecological point of view, and an economic one. However…
Buy A Damn Bra Already
When did I do my shopping challenge? Hold please. Yes, 2017-18, that was when I made the decision to not buy clothes for a year, and I had said the exception was a new bra. Spoiler alert: I did not buy a bra. So back in 2017, my bras were already ill-fitting due to my much-deflated decolletage, so who knows how old my bras actually are? I have been wearing the wrong size bra for many years now. JUST BUY A BRA, NICOLE.
In my semi-defense, most of the time I wear yoga tanks under my clothes, for teaching, and so I don't wear an actual bra that often but MY GOD HOW HARD IS IT TO GO TO VICTORIA'S SECRET AND JUST BUY A BRA. I don't have a hard-to-fit size, I have a Victoria's Secret in the mall that is a five minute drive away, I COULD DO THIS.
THIS. This is my main, non-vague resolution for 2020. Go to the mall. Get fitted for a bra. Buy a bra that fits in a few different colours. GO ME.
Read More, Phone Less
This has been a goal for a few years now, and I'm happy to say that in 2019 I read 133 books. This might be a bit on the high side given that I was alone for ten days while the guys were in Alaska, and mostly I read during that time. However, I'd like to read over 100 in 2020. I instituted a rule for myself that on days that I was very busy with classes – 2 or 3 days a week – I would not look at social media, not once. It turned out to be great for my mental health, particularly with two elections in 2019. I am going to institute that rule again. Let me tell you, the longer I was off twitter the less I wanted to look at it.
Sing Us A Song You're The Piano (Wo)Man
I have been playing the piano for over 34 years, and I love it – but I don't play often enough. I usually force myself to sit down once a week to play for fifteen minutes, and that is just not enough. I'd like to extend that time, and learn how to play Evil Woman.
Favourite Things
I am going to continue to write this blog once a week, and do Favourite Things once a month.
Mindful Exercise
Oof, I learned a big lesson about myself in 2019, and that is that specific fitness goals are NOT healthy for me. I love running but I think my own goals for running my first road race caused my big injury. Therefore, I am going to keep my gentle goals in mind: one long run, one short, treadmill only, cross train with spin and elliptical. Someone told me that treadmill running is not "real" running but you know what? What other people consider to be "real" is not my concern. My concern is health and enjoyment.
Also, my yoga practice has changed immensely to include lots of modifications and variations of gentle seated poses, as well as a focus on strength with sun salutations and standing postures.
Make the Plans
Last year my friend Nicole and I (HI NICOLE) resolved to have coffee once a month for the year – and we did it! Although her son thought it wasn't a real resolution because "we like each other and we like seeing each other" it was a bit of a challenge getting our schedules lined up. A few years ago I changed "I don't have time for X" to "X is not a priority" to see how that would sit with me, and it turns out saying that my friends are not priorities does NOT sit well with me. My friendships are important and as such they deserve my time and effort. So, my plan is to find the time, set the date, and stop saying we should get together and just do it.
I think that's everything! We shall see at this time next year what's what. Have you made goals or resolutions this year?