I was planning a post about my newfound love for BB creams, and then my friend Lynn wrote a post about how she's not wearing makeup anymore. Let me tell you, I'm a makeup junkie: I love makeup, I wear it every day even if I'm home all by myself or just going to the grocery store. The only time that I leave the house without makeup is when I'm going to yoga; I figure that at five in the morning, it would be weirder to show up with makeup than without. The yoga people don't judge me, happily, although they often comment about how nice I look when I see them outside the studio. Yes, that's because I showered and put on makeup. And I'm not sweaty. And my hair is clean and not in a bun with sweaty little strands poking out.
But every day I put on makeup; it's not a pain or even very time-consuming, it's part of my daily routine, the same as putting on deodorant and getting dressed. On the one or two occasions that I have gone to school drop-off without my face on, as the elderly ladies say, I've had people ask me about illness. ARE YOU OKAY? You look terrible!
So I slick on lipgloss before I walk the dog and powder my nose before I go to pick up the two things on my grocery list that I forgot to buy. Here's the thing, though: I hate trying NEW makeup. I don't like buying different brands of makeup or trying out new mascaras or even getting different shades of lipstick. There's just too much unknown. I don't like the uncertainty of buying a brand of makeup and then discovering I hate it, or the colour is wrong, or it makes my skin break out. So I rarely try something new unless I've heard rave reviews from a fellow makeup junkie, and even then, I like to make sure the makeup junkie is similar to me in every way.
But last year I had been listening to the buzz around BB creams for so long that I wanted to try it for myself, and when I did I felt like WHERE HAVE YOU BEEN ALL MY LIFE, BB CREAMS? I bought a few different brands to try out, which is unlike me, and yet. I have two favourites, and I love them so much that I will likely never deviate from them until a) they are discontinued, or b) I am unable to purchase them in the old-age home.
Nicole's Favourite Things: Makeup
Garnier Nutritioniste Skin Renew BB Cream
This stuff is amazing, and there is a special formula for combination skin. I love the colour, which is natural, and the coverage, which is skin-tone-evening without being Geisha-mask-like. The only problem is it doesn't have SPF protection, which is okay at this time of year when there's hardly any sun, but won't be appropriate in a few months. That's when I'm going to switch to…
Smashbox Camera Ready BB Cream SPF 35
Now that's what I'm talking about! This is fantastic makeup with a decent SPF. It's expensive but a) you get what you pay for and b) a little goes a long way.
For your edification, I am going to post a series of photos of my morning makeup routine, starting with post-yoga-no-makeup-but-sweaty look. I know, it's painful but necessary to show the changes. *deep breath*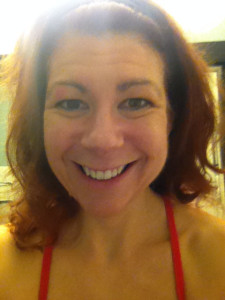 Photo #1: Post-yoga, pre-shower. Sweaty hair, "glowy" face.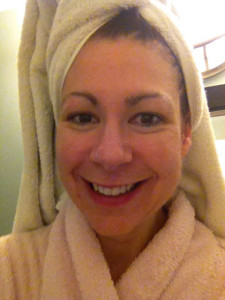 Photo #2: Post-shower, pre-makeup.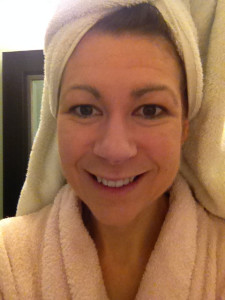 Photo #3: Post-BB cream application. This stuff is the bomb. Do people still say the bomb? YOLO. But seriously, evens out skin tone, and doesn't feel heavy on my skin.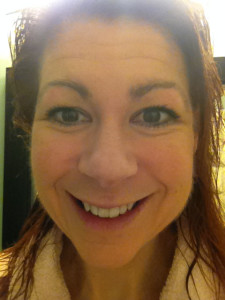 Photo #4: Makeup is now on. Eye liner, my very favourite mascara, The Falsies by Maybelline, and a little bit of blush.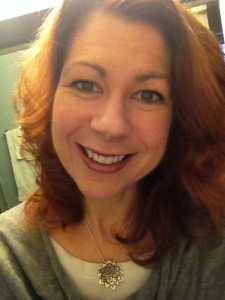 Photo #5: Makeup and hair done, lipstick on – Sienna by L'Oreal. Ready for the day!
So here's the question of the day: do you wear makeup every day, for special occasions, or not at all? Why or why not? And do you have favourite brands? Let me know, I'd love to hear it. xoxo