My older son gets terrible hay fever – May is the worst month for him – and although I'm hopeful that his outdoor-mask-wearing habit will help, I am fully stocked up on the allergy medications that, over the years, we have found to work for him: daily doses of Reactine, plus the Walmart store brand allergy sinus pills when needed.
Until last week, I had set foot in Walmart exactly once during the pandemic, and that was back in August to purchase school supplies. I did manage to get the last bottle of the pills in question: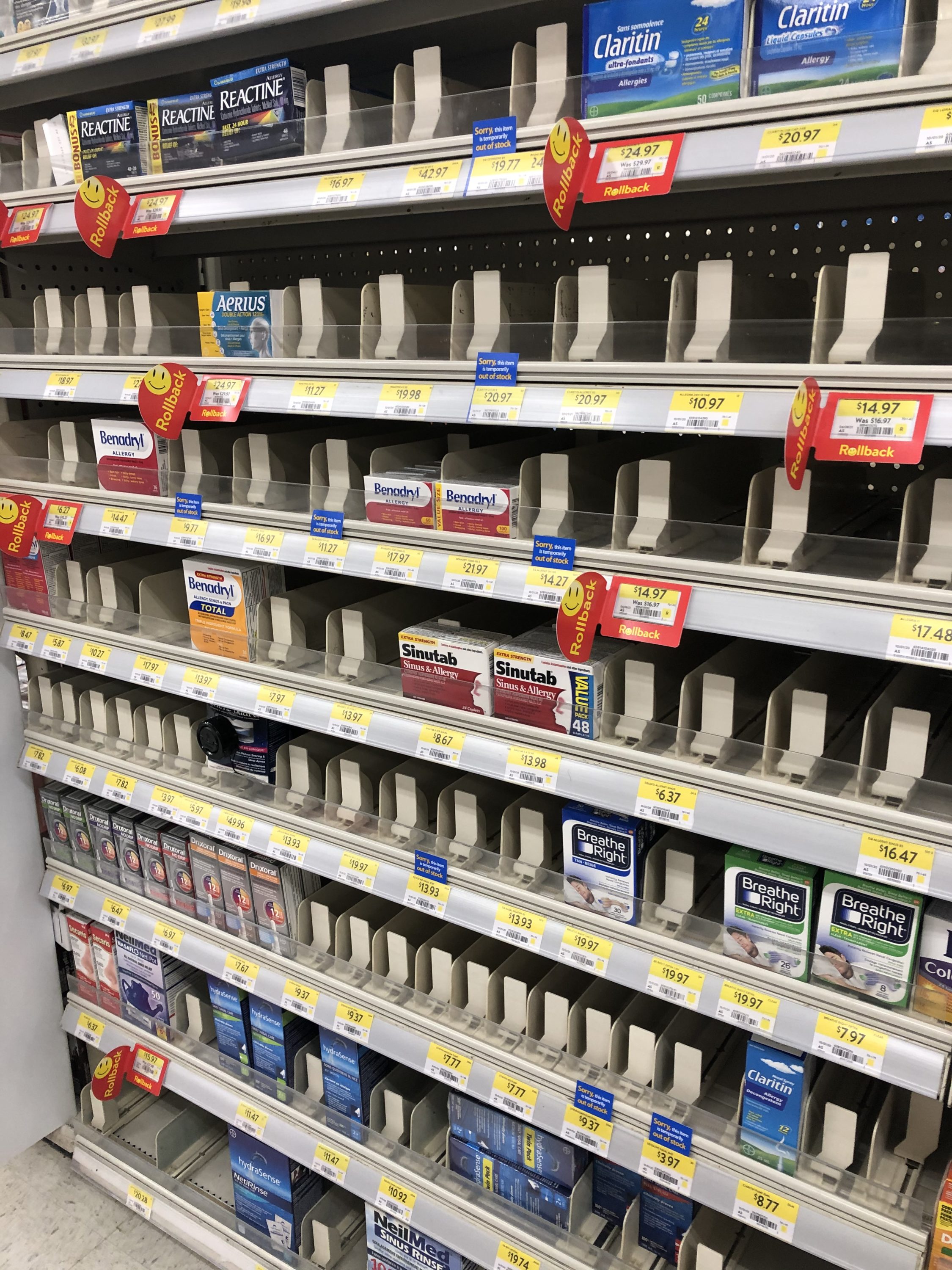 My husband asked me to pick him up a bottle of nighttime Advil while I was there and, well.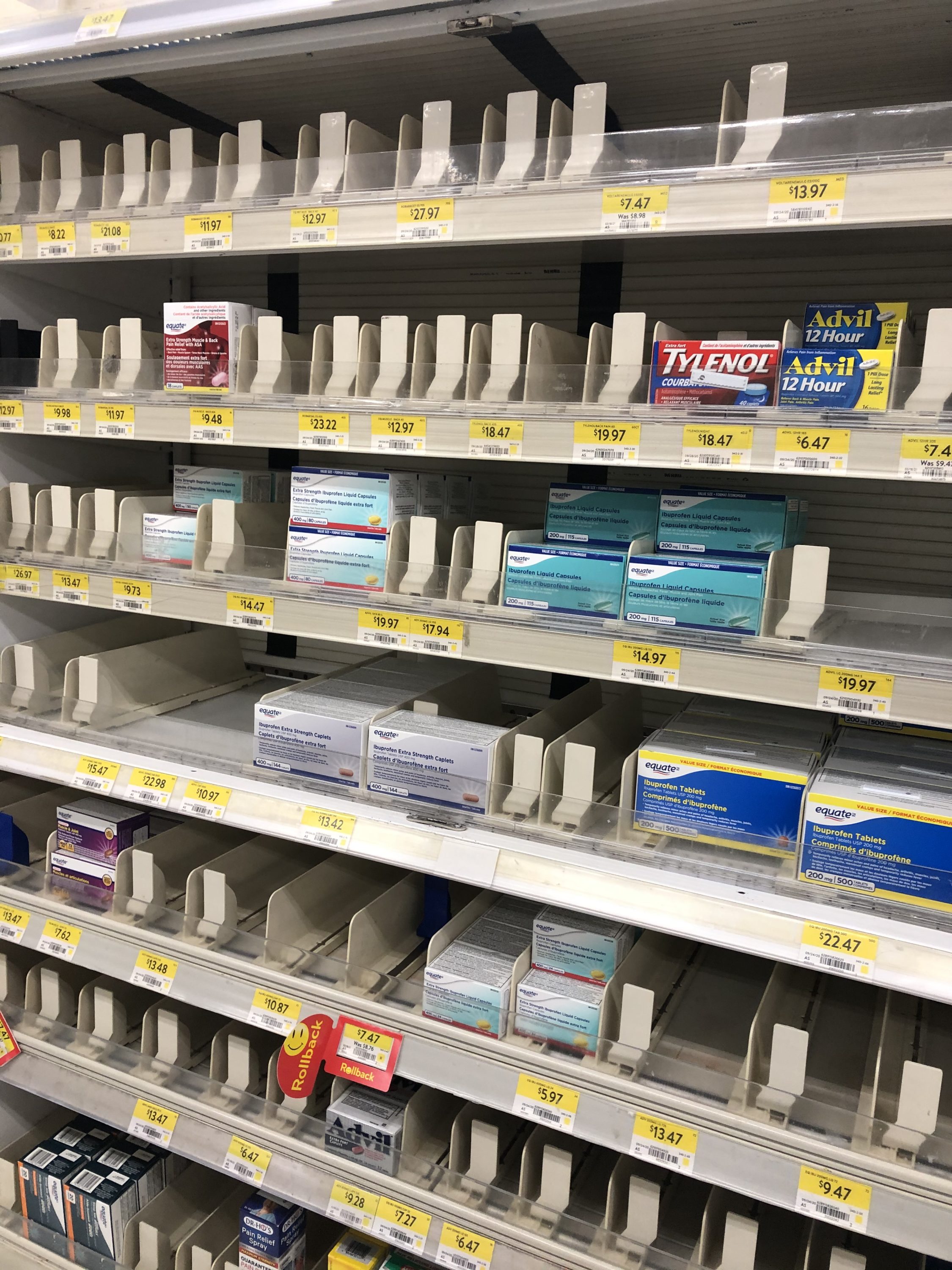 So we are in the "third wave" of the pandemic, and it's hard not to feel despairing about it. We were doing so well! And now we aren't. We are back into mini-lockdown mode, and for those of us who have been stringently Following The Rules throughout, and then some, it is Very Frustrating.
I have created my own Coping Mechanisms, apart from the all-important one of severely limiting my time on my phone, looking at news and social media; I can tell when I've been scrolling too much, I get fidgety and anxious and snappy and have difficulty focusing on anything. Other than putting my phone away, I have found that for my mental health, I have been doing a lot of the following: reading, playing piano, and exercise. I already tell you what I read every week, there's not much to say about playing piano except that I like it, and so today I am going to talk about exercise.
I realize that the subject, at the best of times, can be fraught; if you are a person for whom this is true, or if you just think the subject is unbearably dull, skip ahead to this week's outfit – new bum warmer! – or to the reading list, as there are a couple of good titles this week.
I think the key to maintaining a regular exercise program is threefold: choose things you actually enjoy, a time of day that works, and then make it a habit. I find that once I establish a habit it feels wrong to miss, and also according to my watch I am on a 371-day streak, so I can't break it now. I am, and always have been, a Very Early Morning Person, and so I finish my yoga practice and cardio workouts before 8:00 am every day, later on weekends.
We are all so different, and that is wonderful! I have friends who love to swim, and to do bootcamp or HIIT workouts, and play racquet sports, and practice barre and Pilates, none of which are things I personally want to do. Sure, barre and Pilates intrigue me in a I should really try them kind of way, but let's face it: my Peloton app has those classes, some are as little as ten minutes long, and I have never once tried one, which is an answer in itself. My daily movement involves yoga, cardio, and walking.
Yoga
I have been practicing yoga since 2007, and it is really more of a mental health boost than a physical one. Don't get me wrong; yoga is great for strengthening and stretching those muscles and keeping the joints healthy, but the mental benefits cannot be discounted. My daily practice has changed a lot over the years; it's Ashtanga-based but gentler, it's slow and stretchy and meditative. On weekends my practice is more yin-based, and a few times a week I sit in meditation for as long as I can, time permitting. With the pandemic, I now have coffee and read a poem or two before I start. I also have been reading a fabulous book that I recommend to everyone called Wake Up To The Joy In You. It is a book of weekly meditations, and when my mind wanders during my yoga practice I bring it back to my breathing and the focus of the meditation for the week.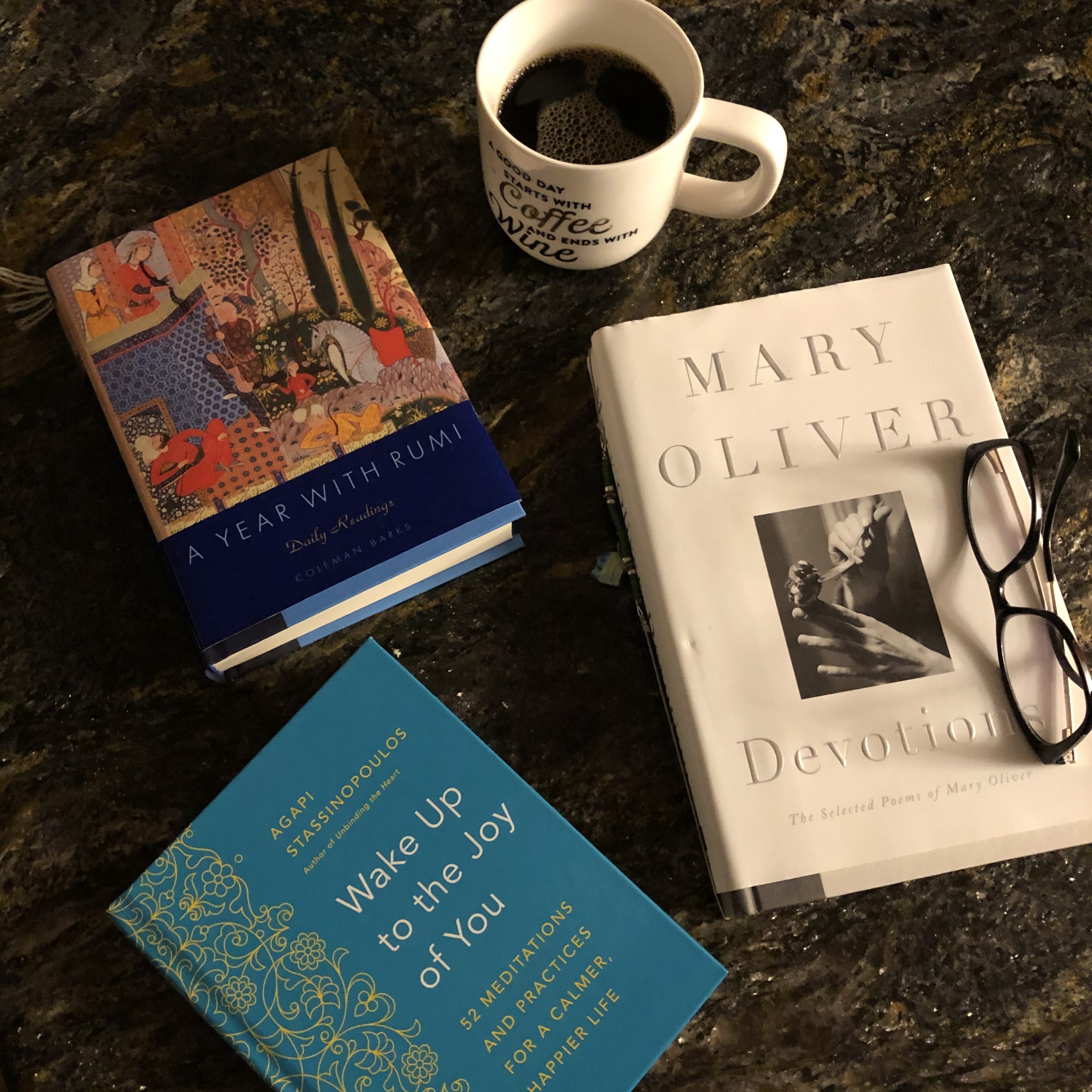 Welcome to my studio!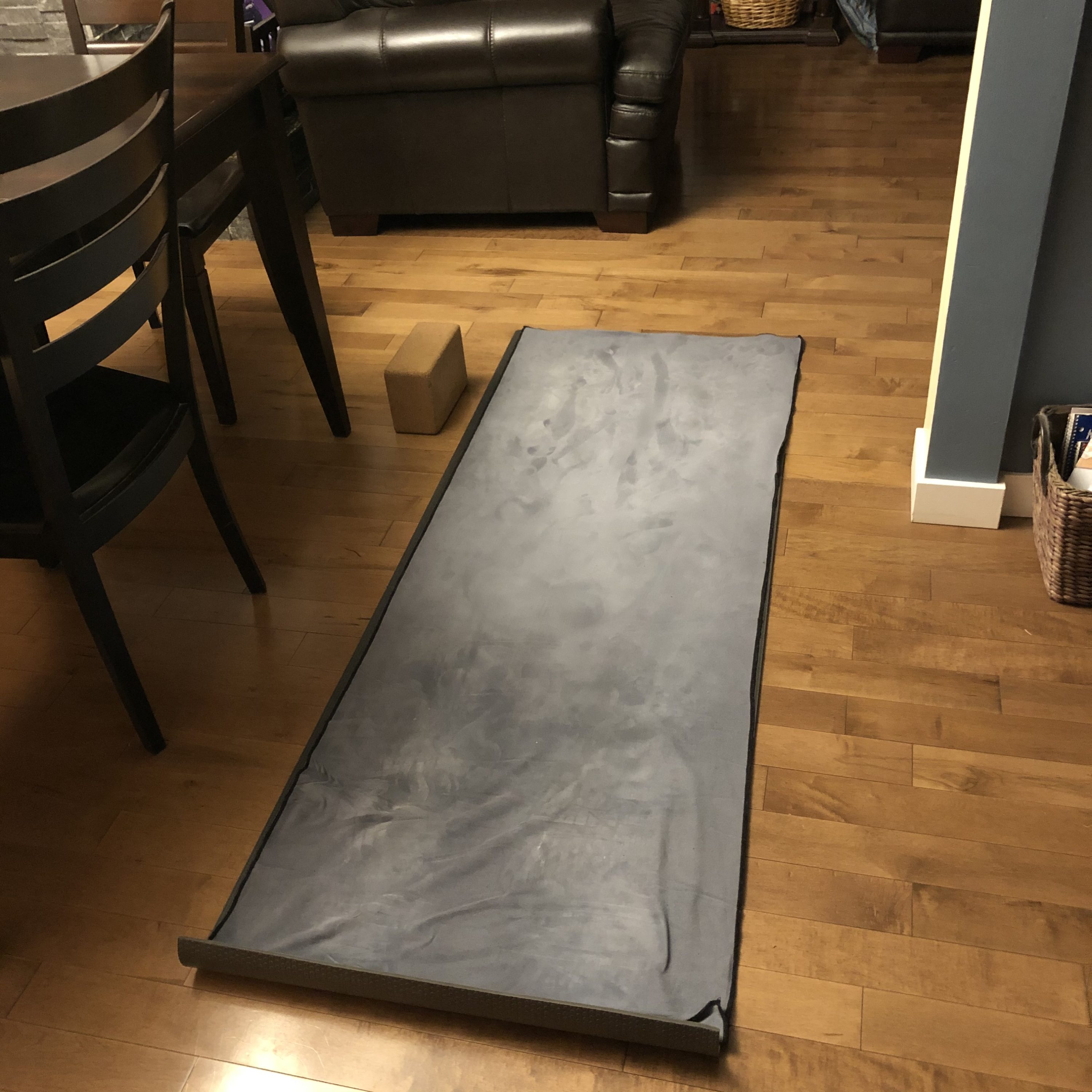 Early morning yoga has been my "me-time" since the kids were very small, and it's still my favourite time, even now. I love practicing in my dark, quiet house before anyone even thinks of waking up. Although, with teens, and me in perimenopause, it seems like it's only a matter of time before they are going to bed when I'm getting up.
Cardio
Where yoga is more for mental health, cardio is definitely more physical; I think it's so important for heart and lung health. Hopefully I won't end up like Jim Fix. I LOVE a good sweaty cardio workout – I love that Dripping With Sweat feeling, and also that My Lungs May Explode feeling – and I am fortunate to have a home gym at my disposal.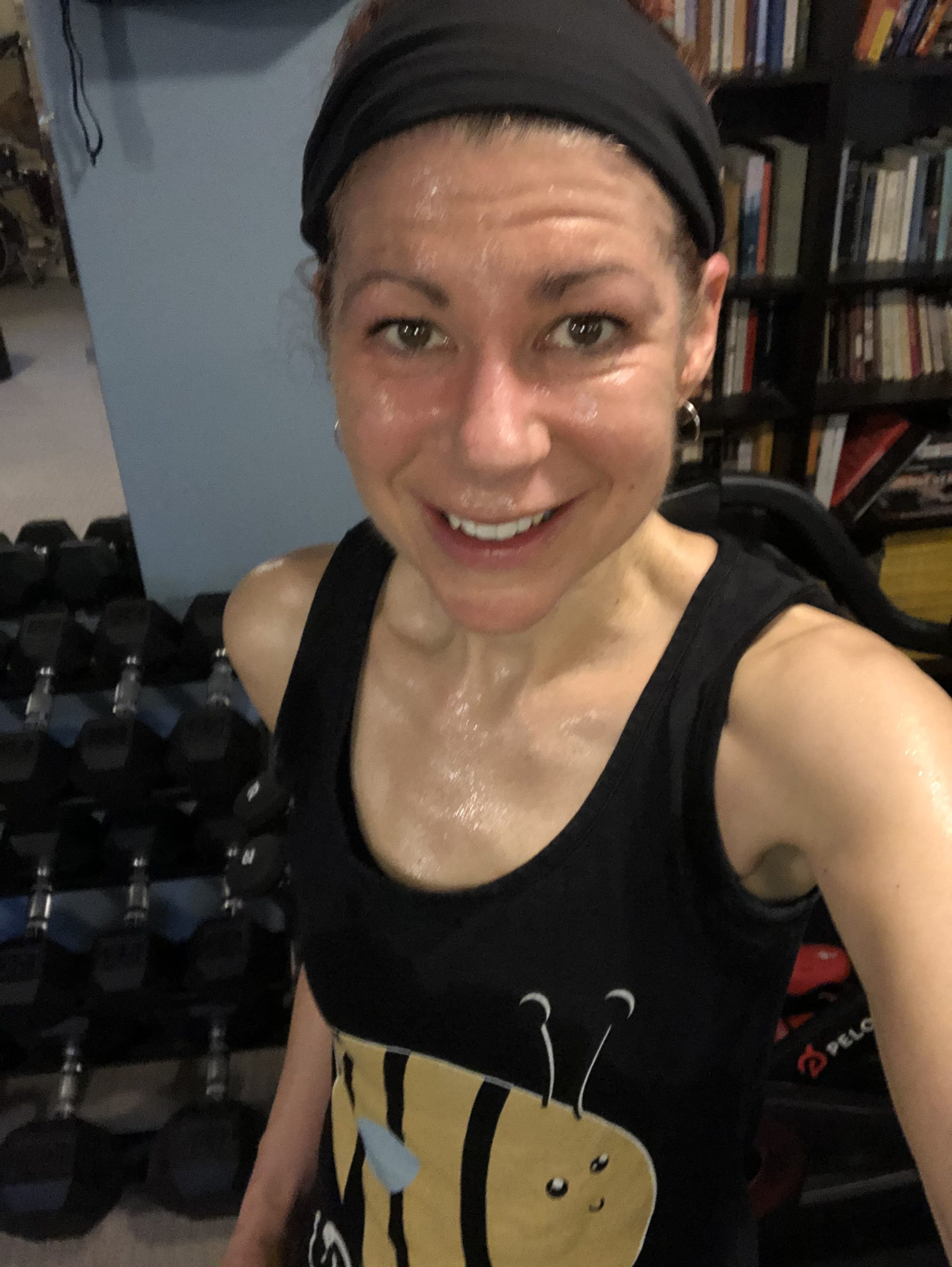 I feel pretty!
I do cardio six days a week, varying in length and activity to keep things interesting. Now that it's not a skating rink outside, I am running as well as spinning on my Peloton or using my elliptical trainer. The variety in activity keeps me engaged, and I have some excellent motivational playlists that I use for running or elliptical training – I am a person who is very motivated by music. I find nothing pushes me up a hill like a good blast of Eye of the Tiger or Crazy Train. I am also a person who gets a "runner's high" after any kind of heart-pumping cardio; you should probably send thoughts and prayers to my family who are subjected to my rapid-fire chatter after cardio at 7:30 in the morning.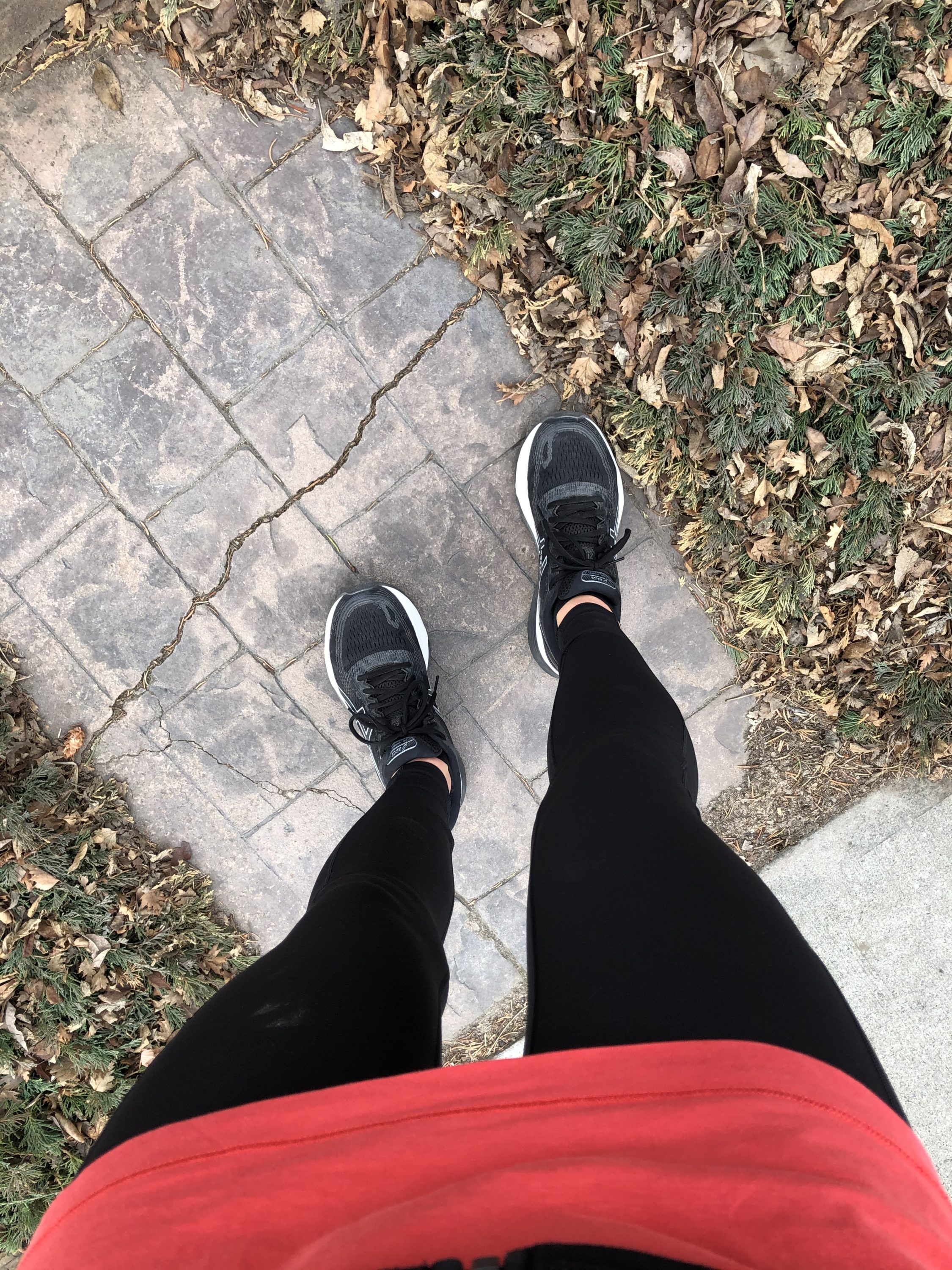 Walking
A few years ago, when I injured my hip, one of my seniors said to me "RUNNING? Why would you RUN? What's wrong with walking quickly? You get to the same place, it just takes a little longer." I love running but he is absolutely correct. Walking is, in my opinion, a very underrated exercise. Where yoga is more for my mental health and cardio for physical, I think walking is the perfect mix of both. I love being outside, even when the weather is terrible, which, let's face it, it's Calgary, the weather is terrible most of the time. Most of my walks are Shmoopy Walks, with my husband, but when he's not available I put on my headphones and groove to the Hamilton soundtrack, or walk with a friend. The occasional physically distanced walk is my only social life these days, so I treasure them. Plus, there are always lovely places to go, regardless of the season.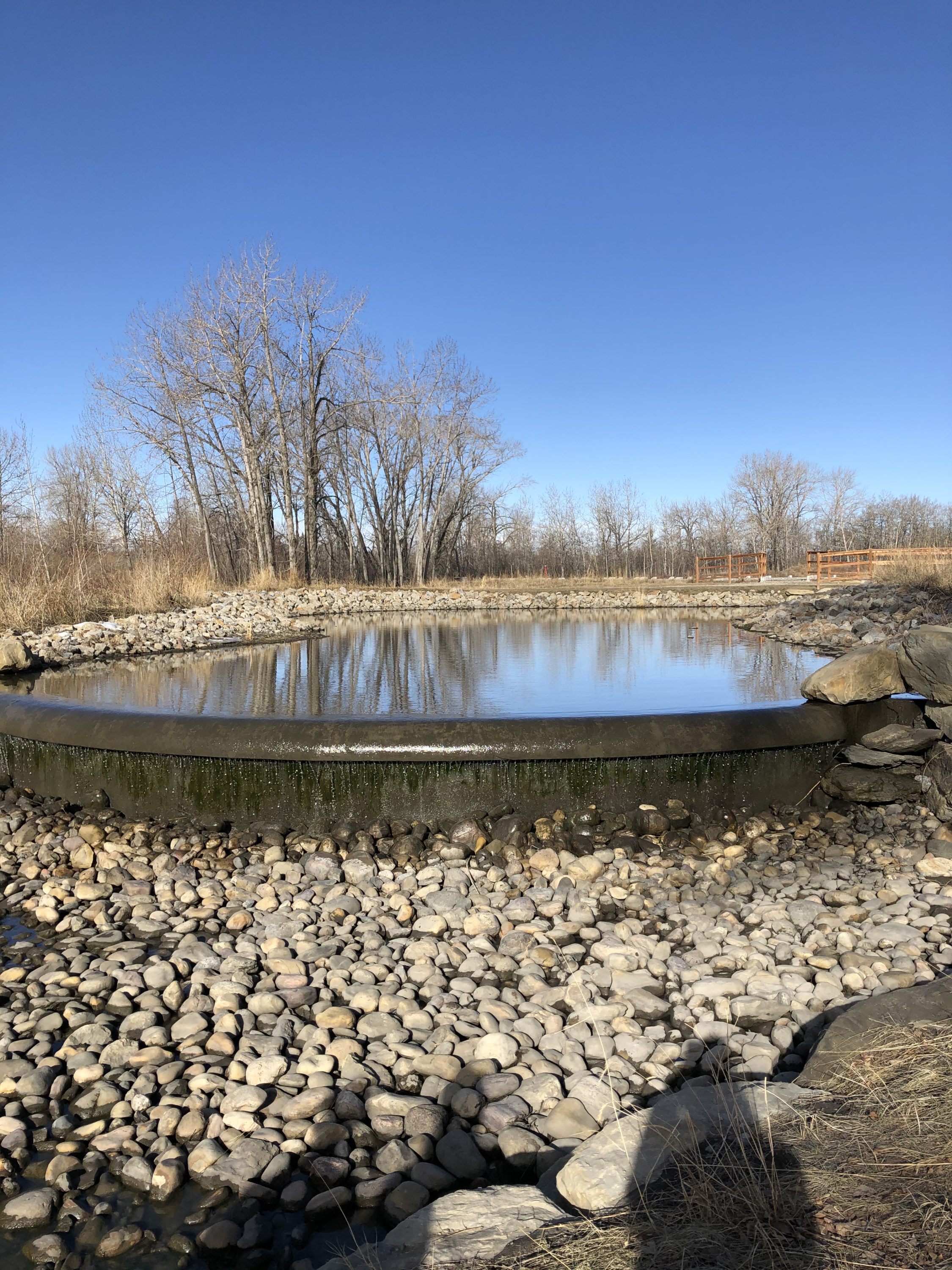 Until the pandemic, my walks consisted of short Barkley walks, and so one thing I am grateful for this past year is rediscovering of my love of walking, and not the kind of walking where I stop every twenty feet for Barkley to sniff a shrub for two minutes, and where I have to be on High Alert so he doesn't eat discarded tissues on the ground.
On that note, what is with all the discarded tissues? My friend Sue in Fredericton (HI SUE) has been picking up discarded disposable masks on her daily walks – more than 600 in a single week – and while I see the occasional mask, it's not to that extent. However, I see DISCARDED TISSUES everywhere, and I have to be fully alert or Barkley will snap them up and eat them. I will do pretty much anything for my dog but I will not remove someone else's used tissue from his mouth, be better, people.
Anyway. All of this is to say is that I have rediscovered my love of walking, sans Barkley. (He gets walked too, don't worry, it's just not something I include as exercise, due to the slow-boat-to-nowhere pace.)
Outfit of the Week
Speaking of terrible weather! Spring in Calgary is so weird and variable; one day might (MIGHT) be quite pleasant, and the next day snow and gusting wind. I have not been buying clothes this year; it's not a rule or anything, just a resolution to appreciate my wardrobe, and also, it's not like I have a bustling life outside of my home. However, I made an exception to buy just one more bum warmer from My Cozy Buns, the local woman who repurposes thrifted sweaters. Look how cute!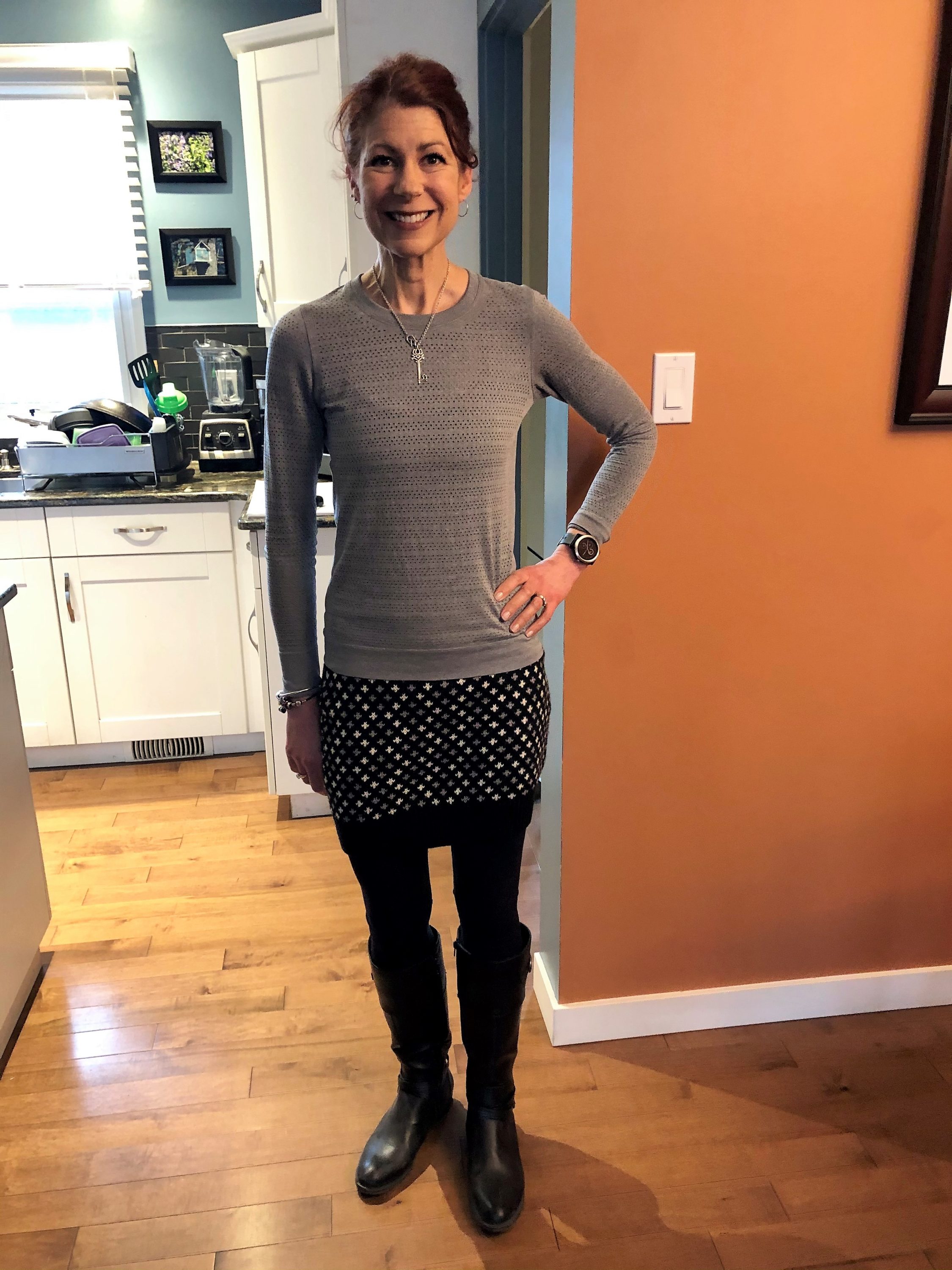 It goes with almost everything in my wardrobe! Black! Grey! White! I've paired it with yoga tank and leggings – naturally – plus a long sleeve tee. I later put on a sweater because, Calgary In Spring, and I need layers.
Pandemic Reading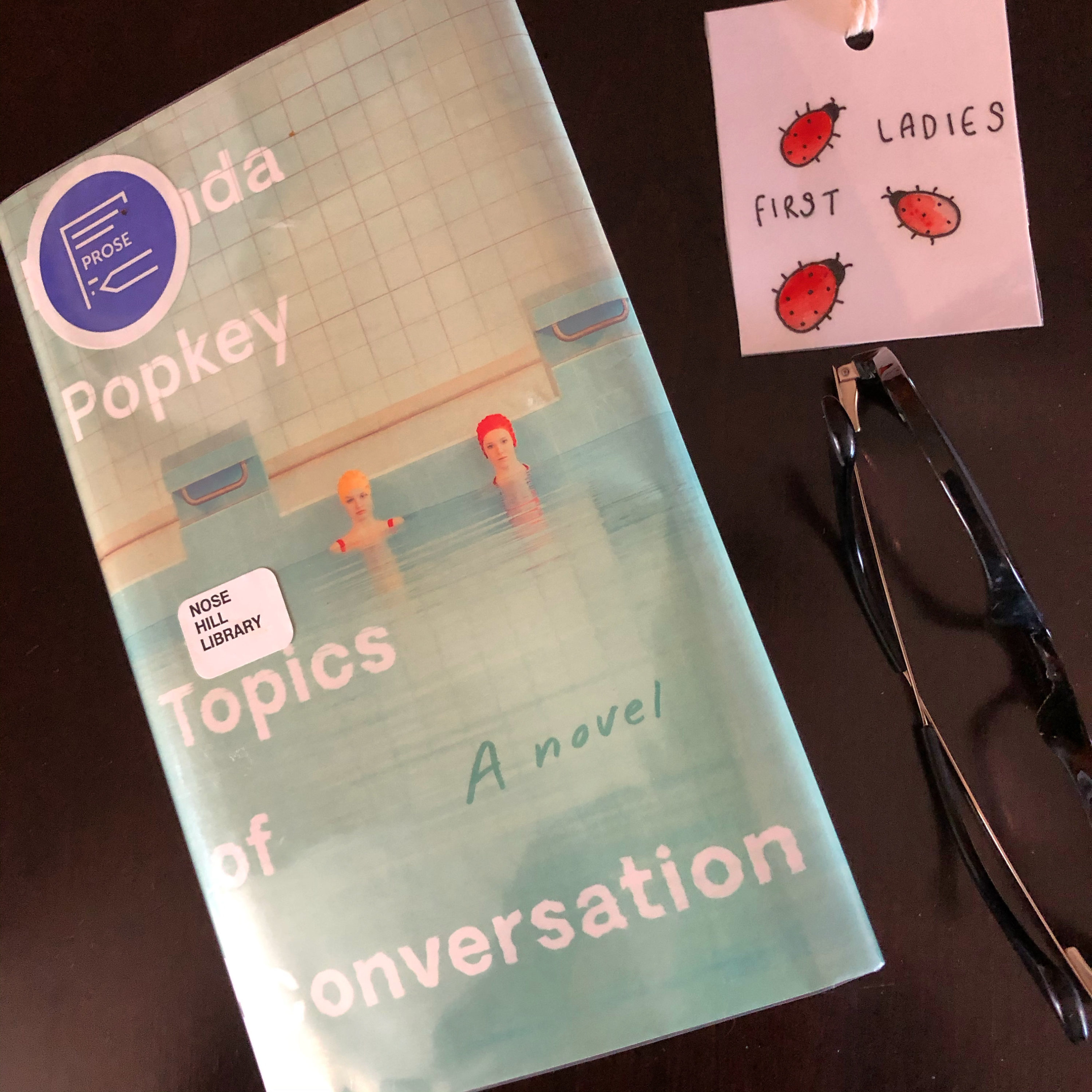 What an incredible writer, what a compelling read. This is one of my favourite types of books: related short stories. All these stories are conversations, between women, in different times and places. It was a thought-provoking, unsettling, at times very disturbing read. I liked it but you might not. Themes of rape, power, being a woman are throughout.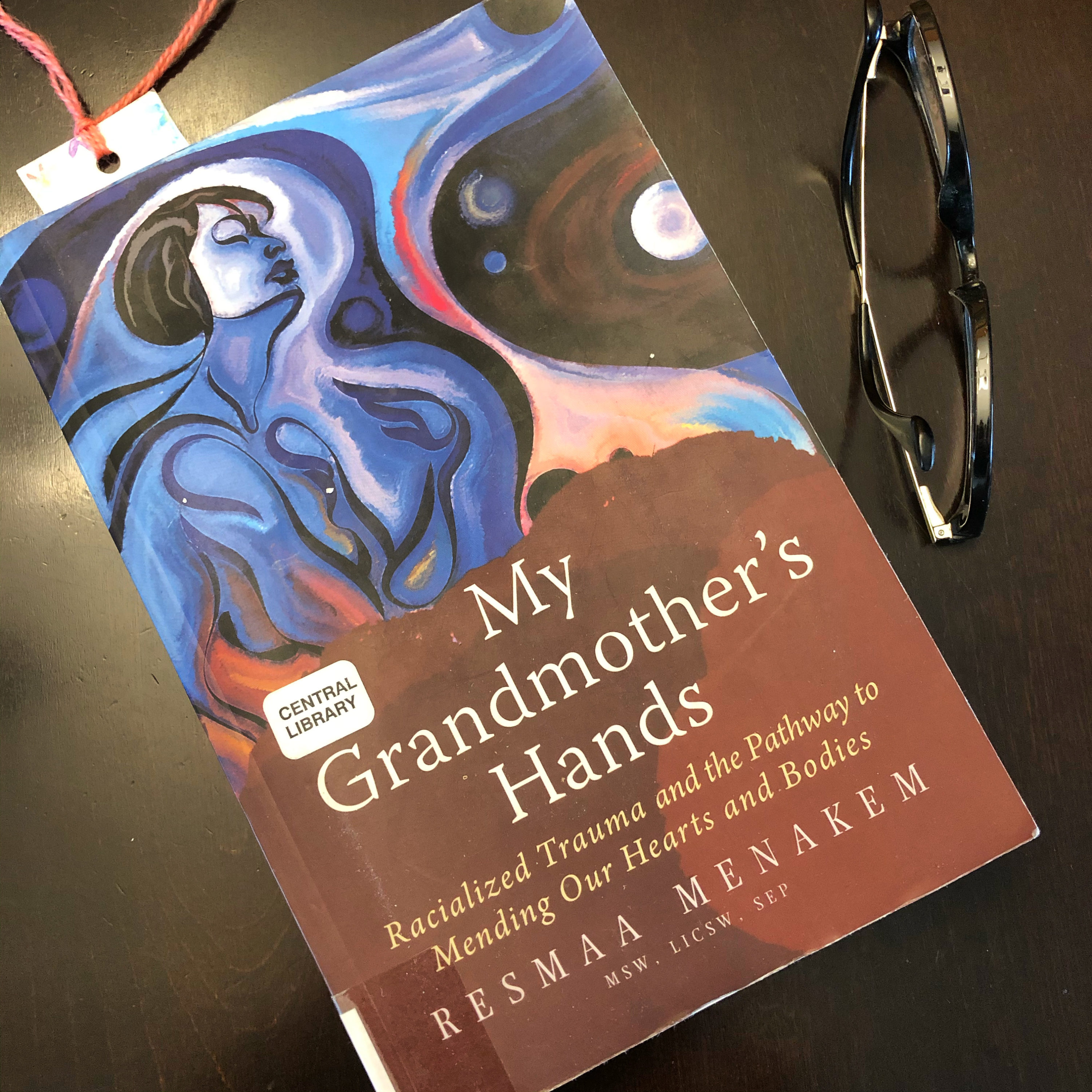 In the past few years I've become interested in the role of trauma and how it affects our physical bodies. My friend Monique (HI MONIQUE) recommended this to me, about racialized trauma. It is a book intended for healing trauma, using somatics and mindfulness, not just in people with black bodies, but those with white ones and people in law enforcement. It is written with great compassion and wisdom. As a white bodied woman, at times this was a very difficult and uncomfortable read, which makes it all the more important. It promotes healing and understanding for the one and only race – the human race. A vitally important book for all of us.
If you don't live with wrestling fans, or you are not one yourself, you may not know that this weekend was The Event of the Year, Wrestle Mania. (Me: I thought the Royal Rumble was the Event of the Year. Boys: No, Mom, that is the SECOND biggest Event of the Year. This is the biggest.) This weekend has been looked forward to with great anticipation for MONTHS.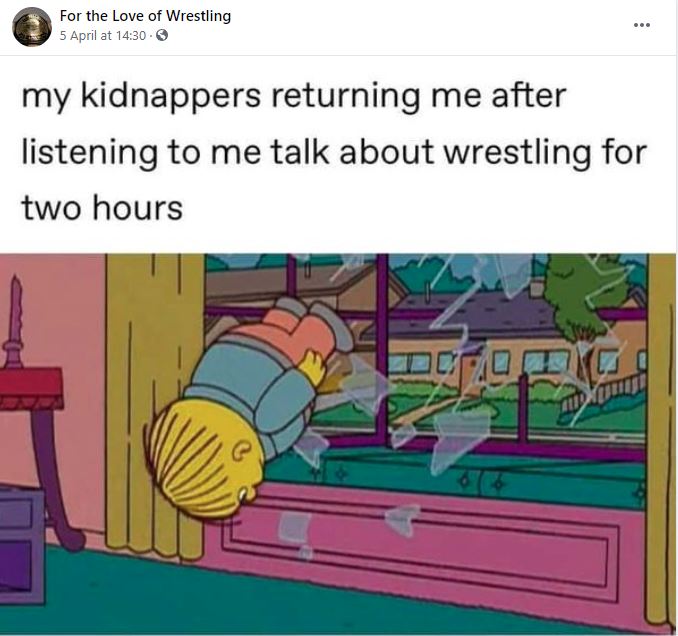 (Thanks to Marion (HI MARION) for sending this, I really feel it.)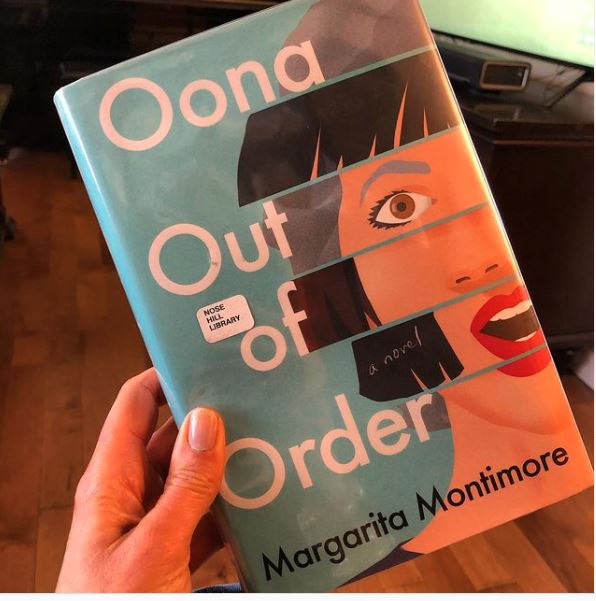 What I'm trying to say is that if you have a house full of very loud chaos – not to MENTION the Masters' and all the golf updates – then this is a good book for you. It's fine. It's a time travel book that has some fun pop culture tidbits from the 80s to today. It's a book you don't want to overthink and it isn't challenging in any way, so good to read while people are yelling "USO! USO! USO!" or "HE'S GOING TO USE THE SWING!" or "Look, Mom, it's Edge!" You don't need to concentrate, it's not a bad book, it's a light weekend read, and also, the one guy I kind of like in the WWE lost.
Life in the Boyhouse, am I right? Also, this is the reason I am rarely sad when celebrities die; I often think they are already dead. Like Hulk Hogan!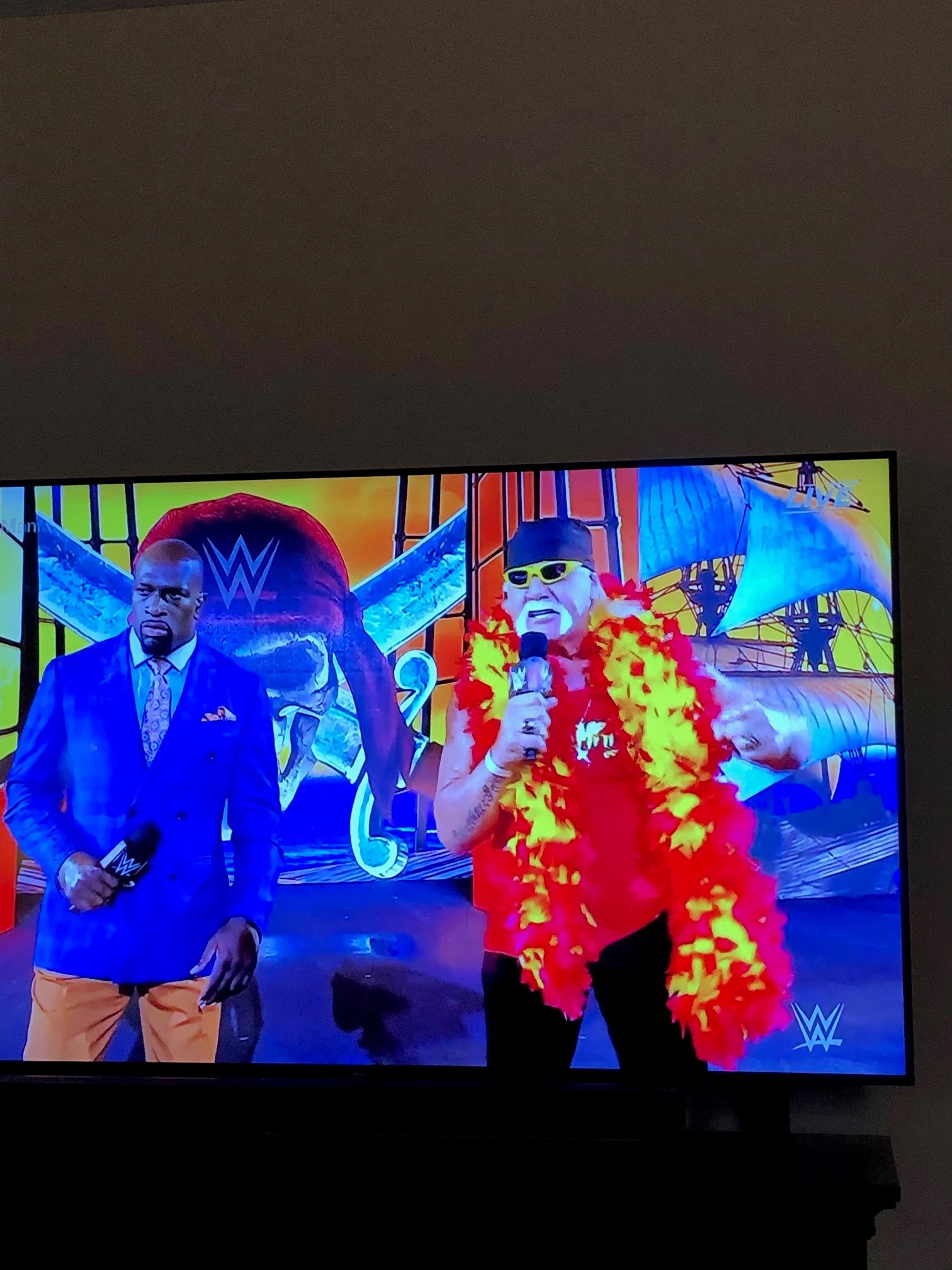 Have a beautiful week, my friends, and it is only 363 days until the NEXT Wrestle Mania, Jesus take the wheel. xo