Up until last Thursday, all three of the male members of the Boyhouse were sporting moustaches. These are Dark Days.
They all just stopped shaving when they stopped leaving the house; I think my husband's last day in the office was March 11 or 12, and the boys were last at school March 13, so it had been a while. My husband's was a beard, which he shaved into a goatee, and then into a moustache, the style of which can only be described as a mix between that of an old-school cop and a serial killer.
Possibly in part because he values intimate relations, the moustache has been shaved. The boys, however, have assured me that they are going for it for the duration. There is nothing quite like the teenage moustache; I will leave it at that.
They both had haircuts before everything shut down, and my older son had complained at the time that his was much too short; by the time all this is over, he is going to look like Groot from Guardians of the Galaxy, and my younger son is going to look like Shaggy from Scooby Doo. My husband was flipping channels the other day and we watched the end of The Karate Kid – the "OG version" – and it occurred to me that Shaggy could go for a Johnny look – all he'd need would be a bandanna. Johnny, you're a cream puff.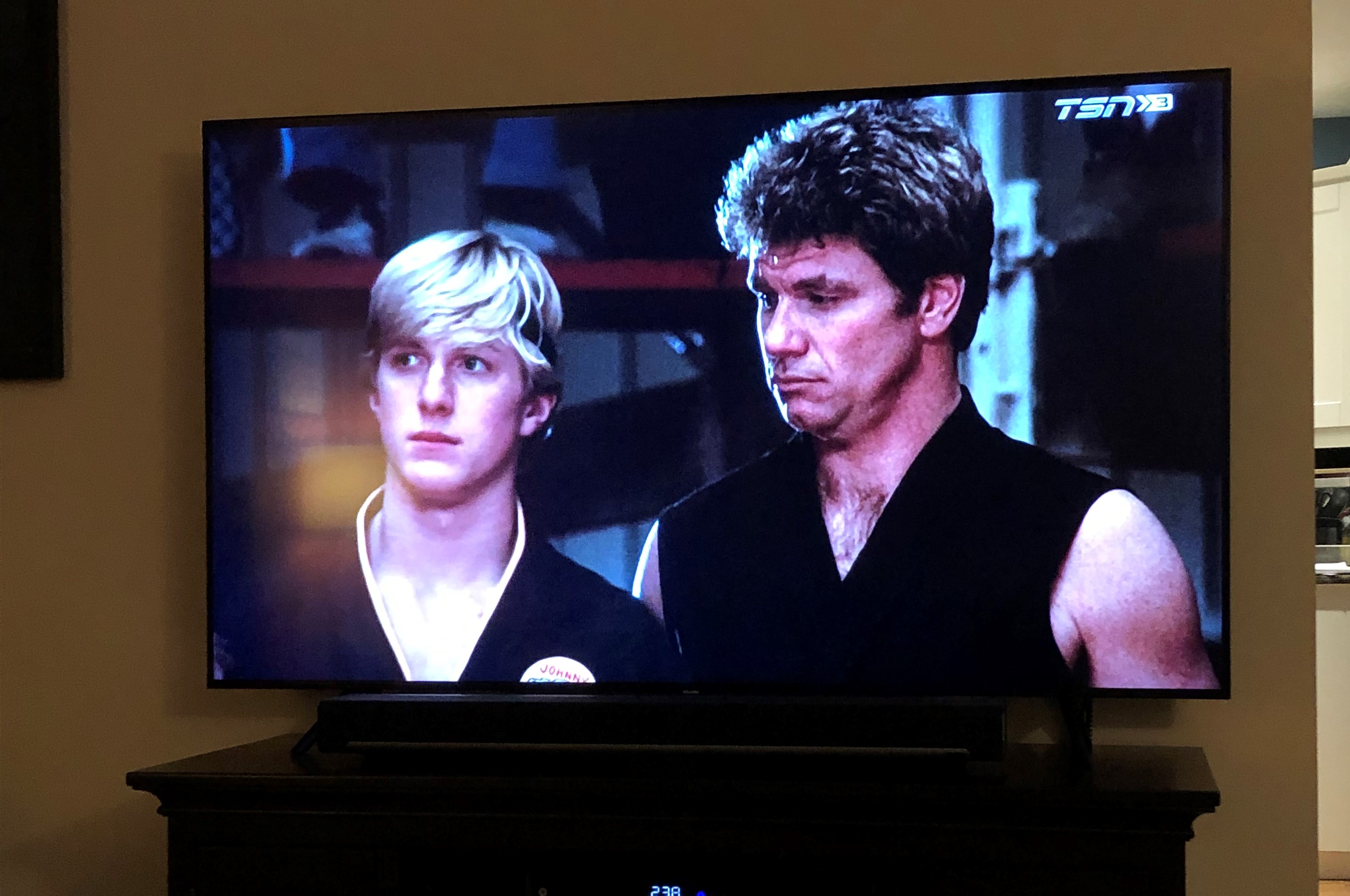 Well, I'm a strong believer in Body Autonomy, even when it comes to moustaches. Let your fuzzy flag fly, boys. I've always thought hair arguments between parents and their kids are silly; hair is the easiest thing to change and is so temporary.
In other, more exciting news, I have a new coffeemaker! It's a new version of my old Cuisinart; thank you to Samantha (HI SAMANTHA) for the suggestion of pouring pre-measured water into the receptacle right before pressing the power button. Even with this new, hopefully non-leaking coffeemaker, I am going to continue with this practice. Actually, because I tend to be in auto-pilot before 5:00, I have been filling the pot with water the night before so even if I just press the power button without filling the receptacle, I'm not going to start a fire or anything.
But back to the Coffeemaker Hunt. My husband suggested Visions Electronics, which struck me as a very odd suggestion. I associate Visions with televisions and sound systems, but they also sell a wide variety of appliances. This magnificent creature was on sale for $100 off, so how could I refuse? They made me an offer I couldn't refuse, and with an extra $5 off for curbside pickup.
Only an hour after placing my order I had a message from customer service saying that they actually did not have it in stock at the store in question, and so they could refund me OR send it to me via courier at no additional cost to myself. It was not a difficult decision. What was difficult was the number of times I anxiously refreshed my email to see when it would be shipped. Too long, didn't read, I have a coffeemaker.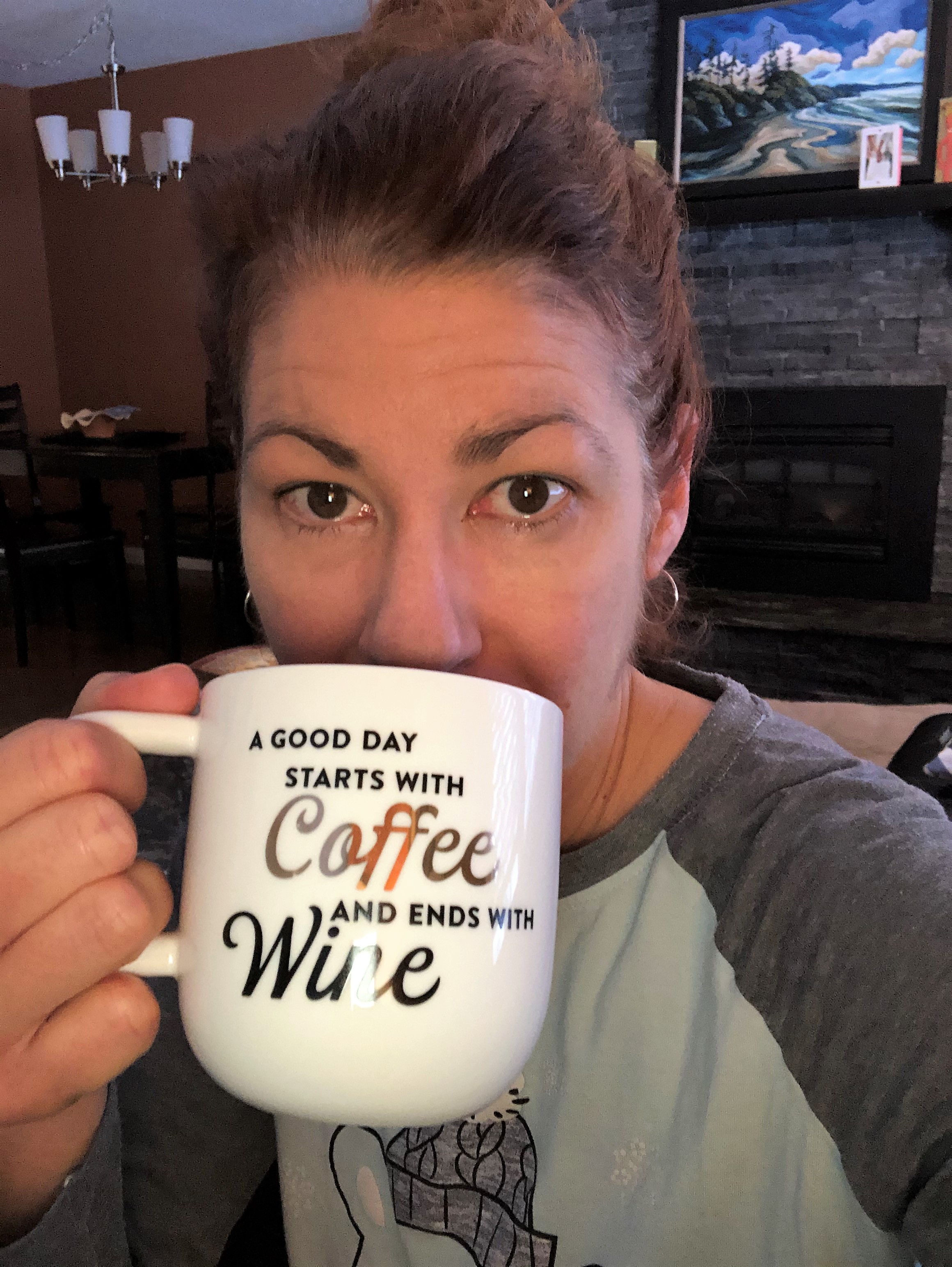 First cup with the new coffeemaker!
How was your Easter weekend? Although it was snowy and cold, which was frankly quite depressing, we had a lovely one. We watched Top Gun on Saturday night, which, as you know, is one of my top three favourite movies.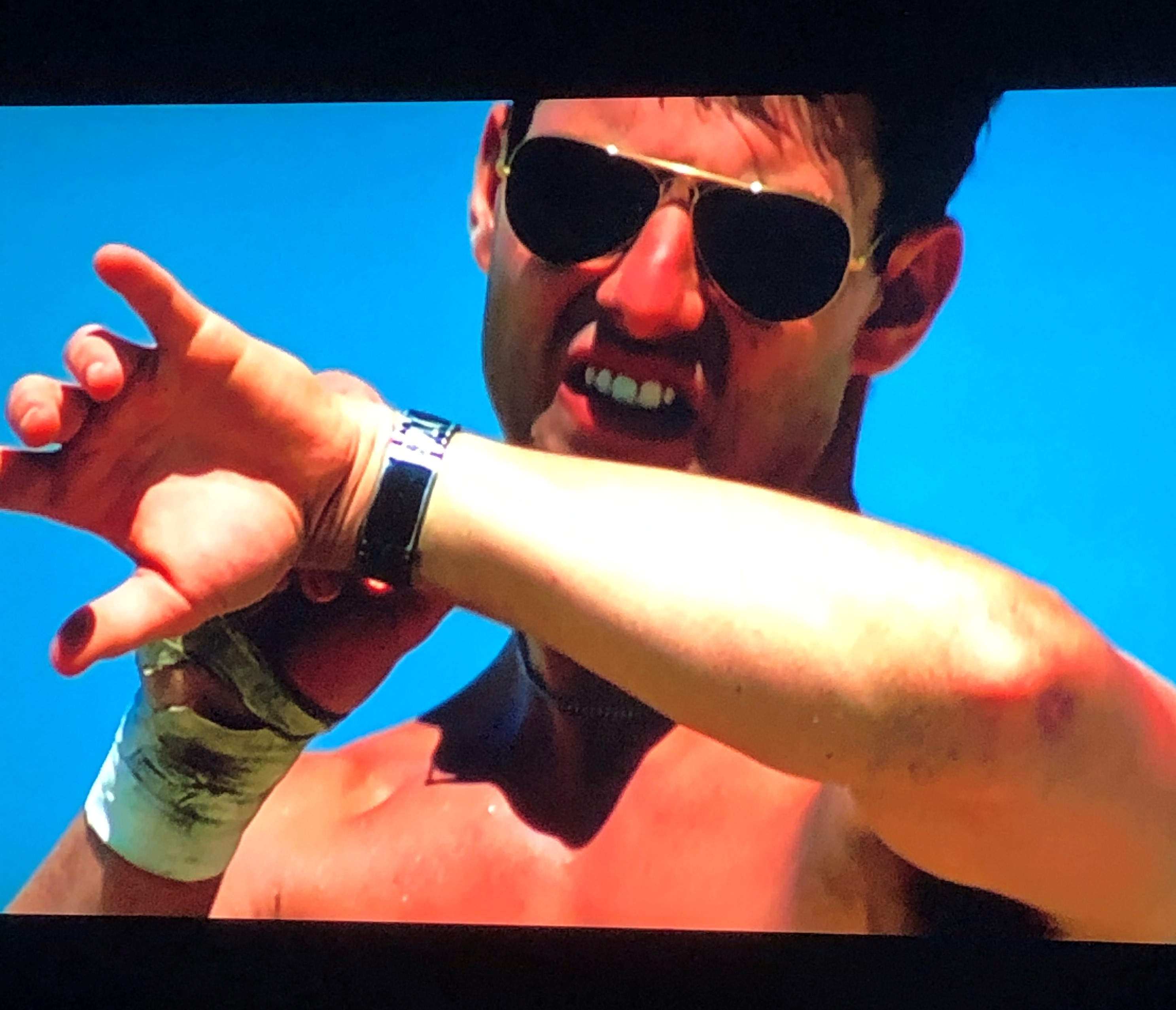 Why WOULDN'T you wear tight jeans to play beach volleyball?
Easter morning, I packaged out the Costco box of Lindors in paper bags and hid them in the house, according to the clues that were written in poetry form. I reused last year's poems but the boys didn't remember and they still don't know where we keep the honey.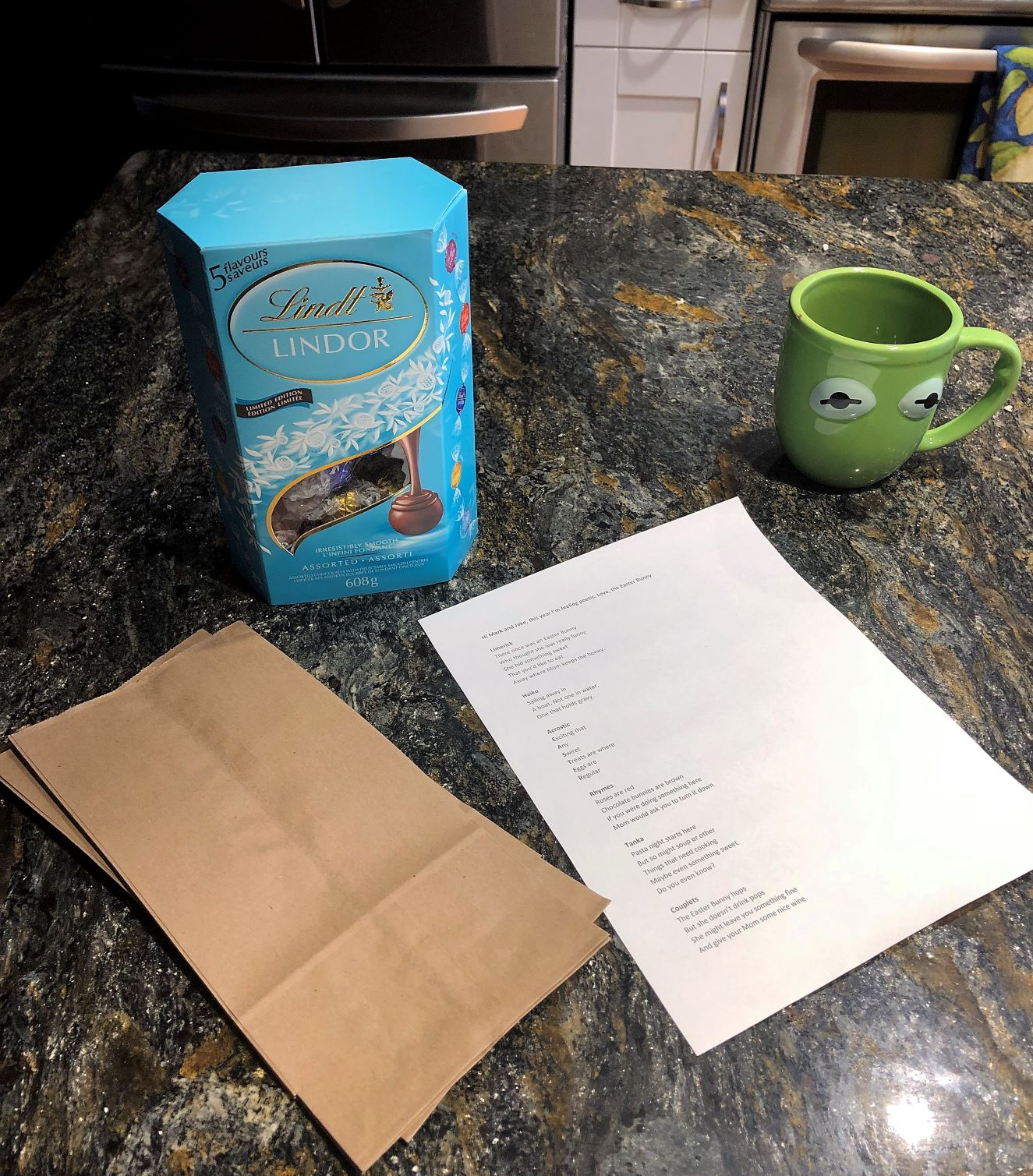 It has been many years since we did a puzzle together. I'm pretty sure the last one we did would have featured very large pieces and Lightning McQueen. Three weeks ago or so, Co-Op had a number of puzzles on sale by the cash register for $2.99; when I brought this Friends one home the boys were a bit confused. What were the OTHER choices? Well, boys, the other choices were Anne Geddes babies and Frozen 2, so let's enjoy Friends. It was actually really fun, even with all of us randomly yelling out "We were on a BREAK!"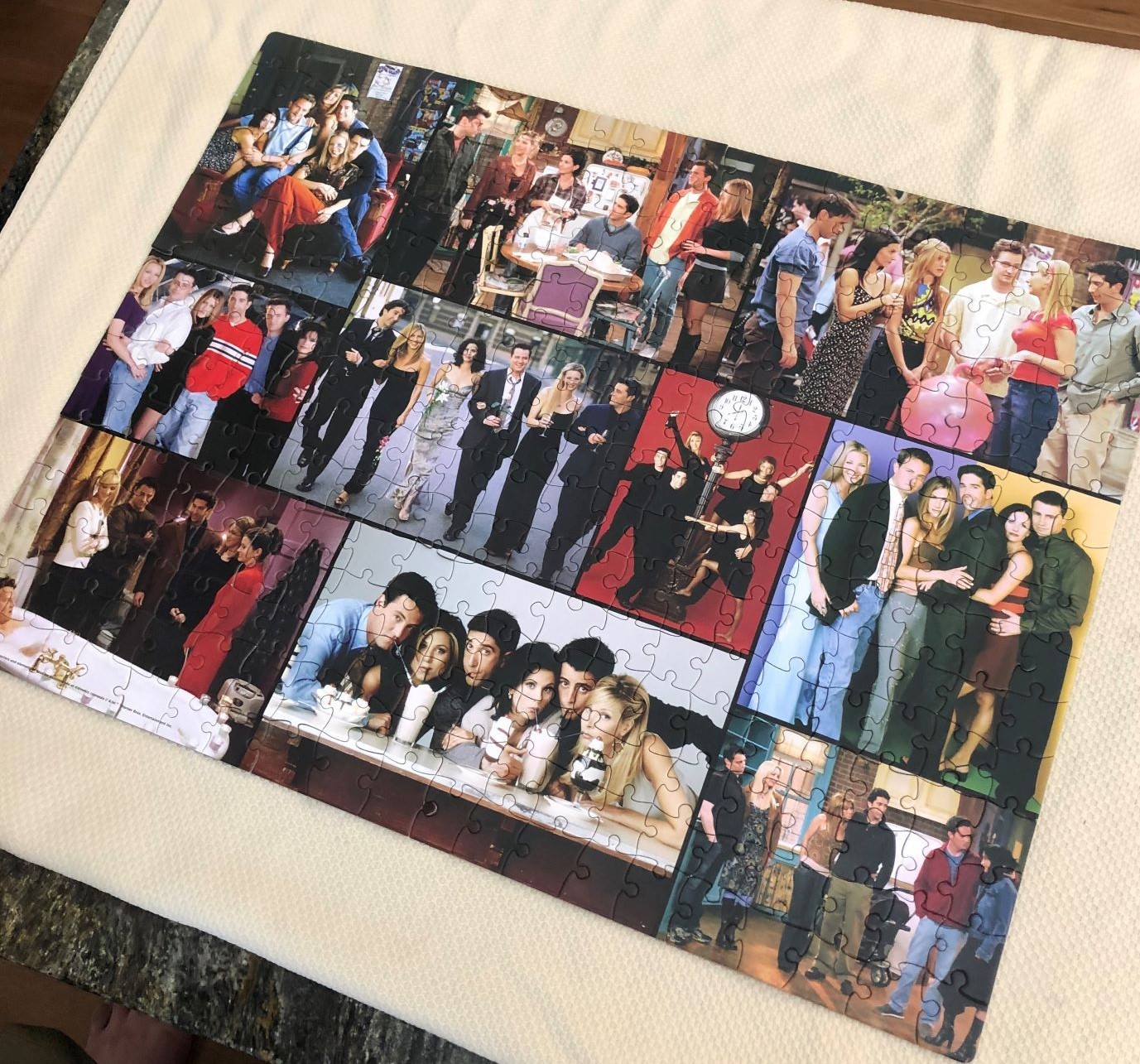 Pandemic Reading
My parents gave me The Testaments for Christmas and I'm so glad I was too busy reading library books to open it until now. It was really nice to have something new to read. I had just reread The Handmaid's Tale around Christmastime in anticipation of receiving The Testaments, but hey. I have time on my hands. I read it again this week so it was very fresh in my mind. The Testaments was great, and I loved how the stories went together, but – and I realize this is an unpopular opinion – I kind of liked the open-endedness of The Handmaid's Tale. But it was definitely an exciting and fascinating way to finish things.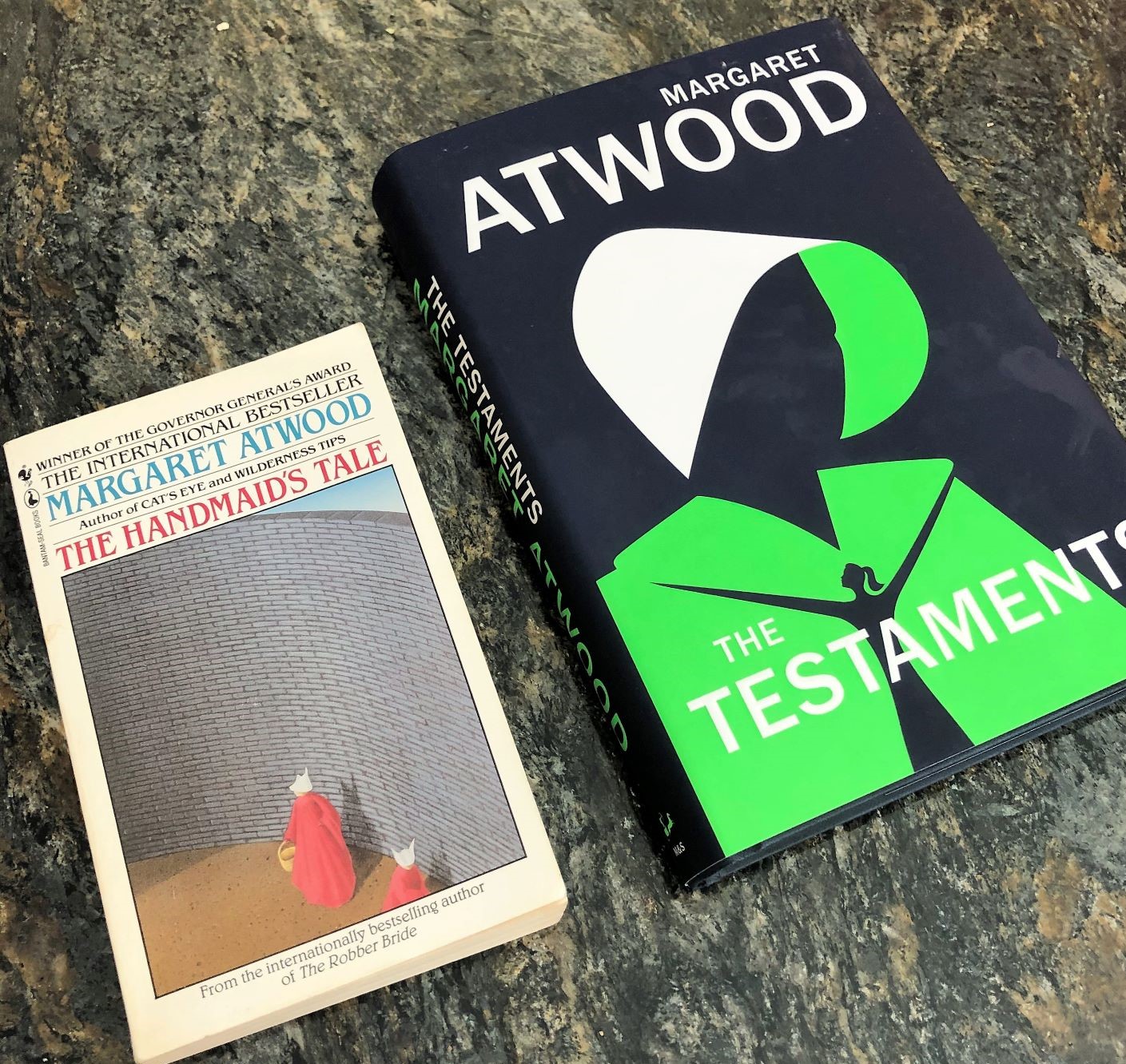 Pandemic Fitness
Despite the snow, it was a good week for walking. The snow just helped with the leg workout, I guess. I'm hoping to start working running in again, once the paths are not terrifyingly icy.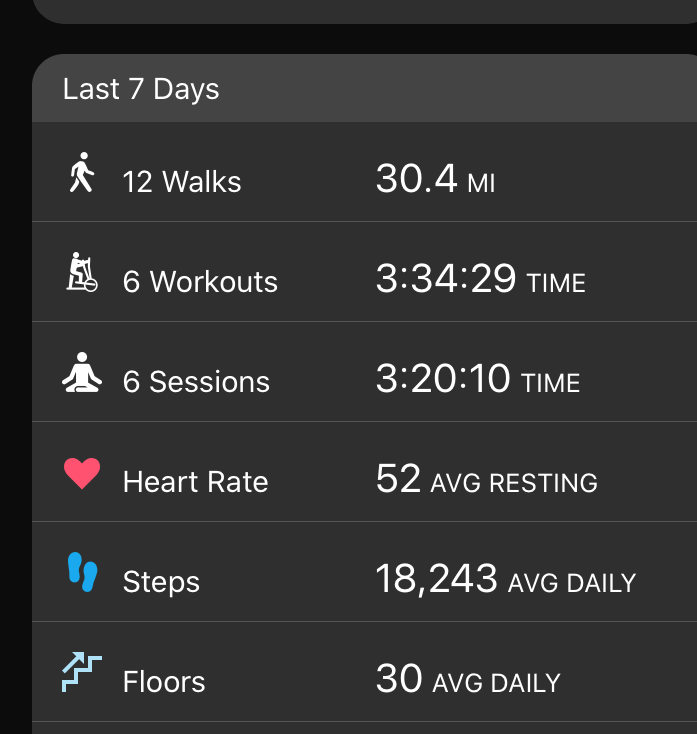 Yummy Things
I count it as a win that I didn't eat all the Mini Eggs, and instead used them for this:
I hope you all had a wonderful weekend. Hang in there, everyone! xo