Anyone else feeling a little tired this week? I've said it before and I'll say it again: Daylight Savings Time is one of the stupidest, most antiquated rituals in our society today. And if ONE PERSON says "it's for the farmers," you will be able to find me over there, warming up my slapping hand. That is all I am going to say about this topic, because I have said it all before. I will say this, though: for years, years my husband has been telling me that my complaints about time change are "overblown" and "silly" and this week he has been EXHAUSTED SO IN YOUR FACE, TIME CHANGE IS THE WORK OF THE DEVIL.
Anyway. I realized it's been a few months since my last "Nicole's Favourite Things" and I have so many favourite things lately (not Daylight Savings Time) that I need to share. Do I need to give my usual caveat? This is not sponsored, I am not being paid to write this, I did not receive anything for free, these are just things I love. Without further ado…
Nicole's Favourite Things: The DST Edition
My Babies
Not the boys – although they ARE my very favourite things, but who wants to read about that? No, I'm talking about my new grow-light system and the plants that are referred to in my house as "my babies." The babies are growing! I need to thin them out a bit more, but every time I do my husband says in a shocked voice, "You're KILLING your babies?" and then he says, as I tentatively pluck a few out of the soil, "Mommy? Mommy? Why?"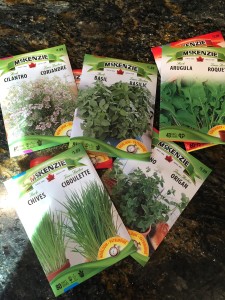 I'm hoping to be able to harvest the lettuce and arugula soon, but it looks like the herbs have a long way to go.
Gloves With Touch-Screen-Friendly Fingertips
Every winter, my hands get more and more painful as the months go on. I have enormous Canada Goose mittens, but they are so big and unwieldy I cannot do things like open doors or hold things while wearing them. The solution is to wear these thin little gloves underneath so I can unlock the house or – on the rare occasion someone phones me – answer my phone without the skin of my hands instantly freezing. Granted, this winter has been exceptionally mild – sorry, friends in the East! – but this thin glove/ thick mitten combination is a winner.
I know, I have ginormous hands. These are men's gloves, in a size large.
Baby Got Back Yoga Wear
It's not really called that, it's Lululemon, but these pants – their Skinny Groove pants – are hands down the most flattering and comfortable yoga pants I have ever had, and I have worn a lot of yoga pants in my time. Every time I put them on, I think Oh my god. Becky, look at her butt!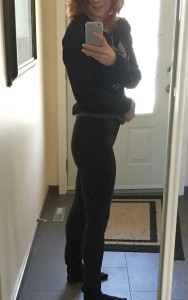 And on the subject of yoga clothes, I bought this sweatshirt, made by Om Girl, and I am in love with it. It's cozy and roomy enough for layers, which is exactly what I want in a sweatshirt. Also, it's kind of blingy, which I like.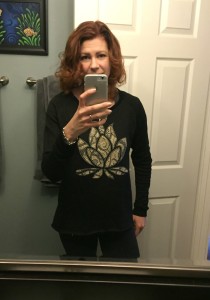 Hey, do you like my hair?
Hair Products
Years ago I tried using Pantene products and they left my hair very limp and kind of greasy, which turned me off them for nearly two decades. Recently though, someone (HI CARA) mentioned Pantene and I thought I might give it another try. Hey, I'm not twenty anymore, my hair is processed and fried and maybe I should give it another try.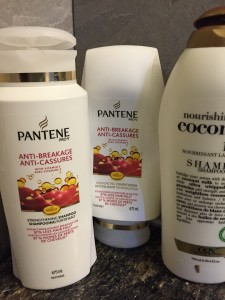 I've been using these alternately with my favourite Organix Coconut products and I tell you, I've been having fabulous hair days. This is notable because I normally do not have even "good" hair days, let alone "fabulous" ones. Maybe it's the combination of the two products; remember way back in the day when Neutrogena launched a whole line of shampoos that were supposed to make your favourite shampoo work better? Talk about great marketing: don't give up your favourite shampoo, just use these Neutrogena ones for ten days out of the month and LOOK HOW MUCH BETTER YOUR HAIR WILL BE. That's pretty clever, but maybe there is something to switching around the same old, same old. In any case, I've been happy with the results. I also am using this sweet little product: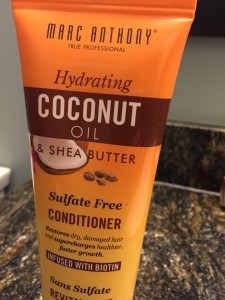 It makes my hair nice and soft, and it smells like coconut, which is my favourite.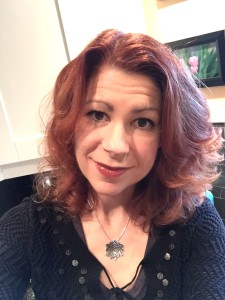 This is my hair today, on just a regular Tuesday in March. I guess the moral of the story is that Pantene didn't work for me back in my twenties, but now that I'm t-6 weeks until 40, I'm really seeing results.
Note: the lipgloss I'm wearing in the photo is Daniel Thompson #1 The Gloss, and it is the best neutral gloss I have ever found. I am honoured to call the talented Daniel Thompson my friend – his high-end makeup is the best quality around.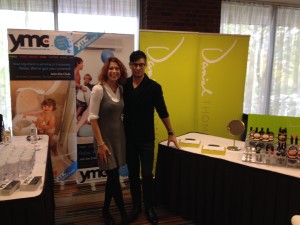 Nicole Nail Polish
While we're talking beauty products, I love the Nicole line by OPI. For one, it has my name on it. For another, the nail polish is long-lasting and they have great colours. The shades I'm wearing on my fingernails and toenails are both from the "Carrie Underwood" collection, which for some reason makes me smile. The Sally Hanson Insta-Dri is a really great top coat and it dries everything quickly, so you don't have to worry about putting your socks back on after you've given yourself a pedicure. I mean, if that's something you worry about.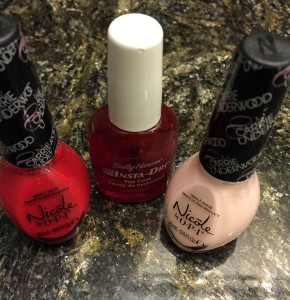 Routine De-Odor-Cream
The moment you've all been waiting for – when I tell you about the virtues of natural deodorant. Longtime readers will remember me waxing poetically about my friend Neige and her deodorant business. It took me a while before I could bring myself to try it, because I didn't want to smell like a feral hippie. People, Routine De-Odor-Cream is the most effective natural deodorant. It lasts me a solid twenty-four hours, and that includes a 90 minute Ashtanga yoga practice. Even AFTER a sweaty yoga practice and twenty-four hours of wear I pass the sniff test – no feral hippies! I like all their scents, as you can see…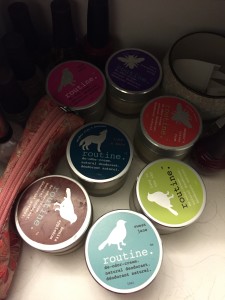 But what I want to talk about is their newest scent: Like A Boss. It smells like a fresh soap, it's a new creamy formulation, and you need it in your life! Check it out at routinecream.com.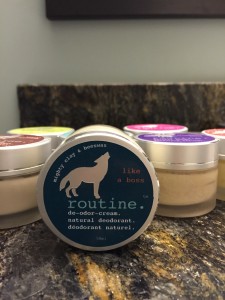 Shamrock Shakes
With St. Patrick's Day fast approaching, I made this healthy version of a Shamrock Shake for Yummy Mummy Club, and I've been having one almost every day since then. It's so nice and minty, which makes me feel refreshed all day long. I highly recommend it!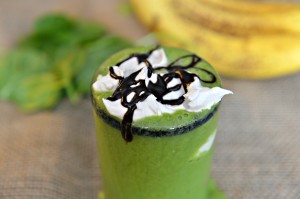 I think that covers it! All my latest favourite things – now, won't you share yours? What are you loving these days? xo