"You know when you get a little bit drunk and then put a whole bunch of books on hold at the library?" I asked my friend Jen while we were enjoying coffee and sunshine Saturday afternoon. "That's what happened last night."
I felt I owed Jen (HI JEN) an explanation as to why I couldn't just put the book she had recommended to me on hold; the night before I had an extra glass or two of wine and ended up wildly putting books on hold on my library app, without any regard to the availability of said books. It was somewhat surprising to me, then, that I had a large volume of books for which I was either number one in the queue, or the books themselves were already in transit, on their way to my local branch. Even more surprising was the number of Erma Bombeck titles that were heading my way, as we sipped our coffees. I guess that says something about my headspace.
Hilariously, my friend Alana (HI ALANA) described the process of picking up a whole pile of books at the library after such a night as the Walk of Shame and yes, I will be keeping my head down as I pick up my copy of If Life Is A Bowl of Cherries, What Am I Doing In The Pits?
I was feeling pretty blue on Friday, what with the ongoing hip issue and the pouring rain and 3 degree weather. I was sure my newly-planted herb garden would be ruined with the cold, but it seems to be just fine. Little note: did you know that Thai basil tastes exactly like black licorice? I had no idea, but last night (Tuesday night is stir-fry night!) I made a Thai red coconut curry, and sprinkled a little of it on top of my dish. Here's another note: I hate black licorice. The kids don't like it either but eagerly tried a leaf each. "It tastes EXACTLY like those black jellybeans at Grandma's!" they said in horror, eating more.
If you're feeling a bit blue and it's raining and very cold, may I suggest NOT going to Service Canada? I went there to renew the kids' passports, and let me tell you: it was something else. First, huge shout-out to David, who honestly had the most zest for his job and pride in his work that I have ever seen in my life, in any occupation. I do not say that facetiously, this guy was really quite amazing; he even called me on my cell later in the morning to profusely apologize, because he had erred in the date given as the last-possible-day that the passports would arrive. He was one day off. I had a question for him, while we were going through the very tedious process, and when he answered I asked if he was sure. Sure? SURE? Ma'am, I have to tell you, I process many applications and I have been error free for well over a year. Okay. Thanks David!
But the issue was this: there was a grievous problem with my printer ink, but only on ONE of the applications. There was much discussion around this; would my application be rejected? Forty-five minutes and serious discussion with the supervisor, the supervisor's supervisor, and a random colleague who "used to work at the passport office itself," the answer was it will probably be okay. "I mean, we just can't say for sure. We just don't know WHAT Ottawa will do." David said to me very earnestly, which I feel is not just a comment about the passport office, but on the government as a whole. I had to be pretty zen about the thing, including when they suggested that I could drive downtown to the Harry Hays building, which would be quite the undertaking with all the downtown construction and road closures, then I would have to find and pay $25 for parking, walk several blocks with my then-very-painful hip, and wait in a lengthy lineup, but I WOULD find out FOR SURE if the printer ink was a deal-breaker. Well, I opted not to do that because I had to work, and also by this point I felt like I was about to lose my mind.
I guess I will find out, according to David, by July 15 if the application was rejected and I have to go through all of this again.
So I was feeling pretty out of sorts, which probably explains all the Erma Bombeck hold titles. The boys felt badly for me, and suggested we watch Top Gun on Saturday, which was immediately cheering. It reminded me of one of my favourite things I have ever written, Life Lessons From Top Gun, which I humbly suggest you read if you, too, want to be like David: cold as ice, no mistakes.
I must say, things are looking up this week. For one thing, the lilacs are fully in bloom. I was feeling a bit sorry for myself as I completely missed the Mayday being in bloom, as I was housebound at the time. But the lilacs are gorgeous and making up for it.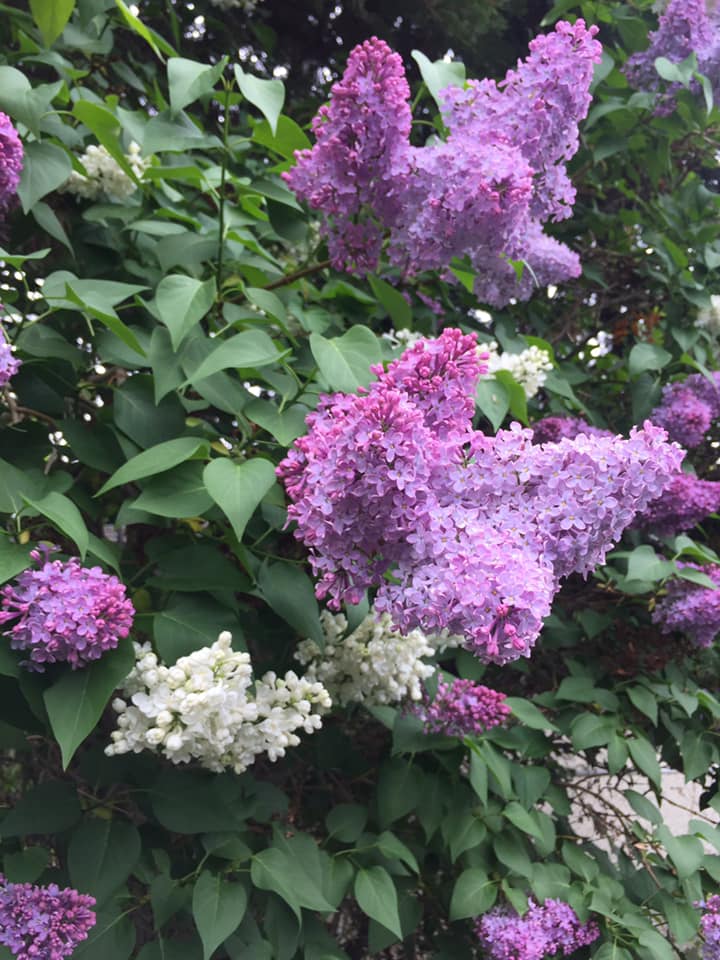 This weekend ushered in a new era; one in which I am now the shortest person in the house. My younger son surpassed me, which was a bit sooner than I anticipated. I know we all like to think with fondness about our children's young childhood, but I will say that I really love having teenagers. They are so interesting, even if their passport photos are much, much less cute than they were five years ago. MUCH LESS. They actually look like teenage angst meets white-boy thugs. Like, if you saw someone who looked like they do in those photos, you would probably cross the street, or at least avoid eye contact. But they are so fun and interesting, and in more exciting news, tomorrow is the Grade Nine Farewell. I wonder if girls still sneak liquor from their parents' cabinets in to the dances via their hopefully washed-out hairspray bottles. Ah, the aroma of Salon Selectives and spiced rum. I'll keep you posted. xo