God bless the junior high teachers. Yesterday the boys brought home their gym clothes to be washed, and they were much more toxic than normal, thanks to a random kid spraying Axe body spray all over the boys' locker room and in the tote boxes. My house is now a hazardous waste site. I thought back to my years in junior high and realized that the poor teachers must have put up with all the fumes from our Salon Selectives hairspray, which we would use between classes to keep our vertical bangs at an appropriate stiffness, plus all of our cheap drugstore perfumes, like Love's Baby Soft and Exclamation. It takes a very special type of person to deal with that age group.
Happy March, everyone! Although it is minus 28 with windchill this morning, at least it isn't minus 30. This is my new bar. The bar, it is low.
But who wants to talk about the weather? It's boring and depressing and there is nothing we can do about it anyway, except perhaps sell everything and move to Maui which, frankly, isn't really all that practical. Bundle up, buttercup. I'm considering a post that would contrast my normal weight with my weight when wearing all my winter gear. It would be an interesting, yet depressing, experiment. Maybe I could take a poll – how much does all my winter gear actually weigh? Well. This is a sad topic.
Let's talk about food instead! As you know from my weekly meal plan, Wednesdays are generally pita pizza night, and Thursdays are for wraps or tacos. You may notice that as the week goes on my zest for cooking evaporates, so that by the time Thursday comes around, dinner is a very simple affair. Taco Thursday happens about once a month; the rest of the time it's all about the wrap, which is the simplest dinner to make – literally we can go from zero prep to dinner on the table in about 25 minutes.
Pita Pizzas
No one needs a recipe for this. It is literally the easiest thing to make: buy pitas, put toppings on them, bake. Everyone can have whatever they want on their pizza, making this a very easy way to cater to vegetarians and meat-eaters. I always make extras so that the boys can take them cold in their lunches the next day. Do you know what makes a kid the lunchtime envy of all his friends? PIZZA FOR LUNCH. And these pizzas are way healthier than takeout, as well as being way cheaper. The only person who does not love pita pizza night is my husband, but we can't have everything we love for dinner all the time. Well, we can, but only if we are making the dinner, and the only person making dinner is ME, which is why all the dinners are things that I personally enjoy. I am a Kitchen Dictator.
Because pita pizzas aren't veggie-heavy on their own, I serve them with a giant – GIANT – plate of vegetables with dip. We are talking 1 pepper, 3 carrots, A FULL POUND of mushrooms, and broccoli.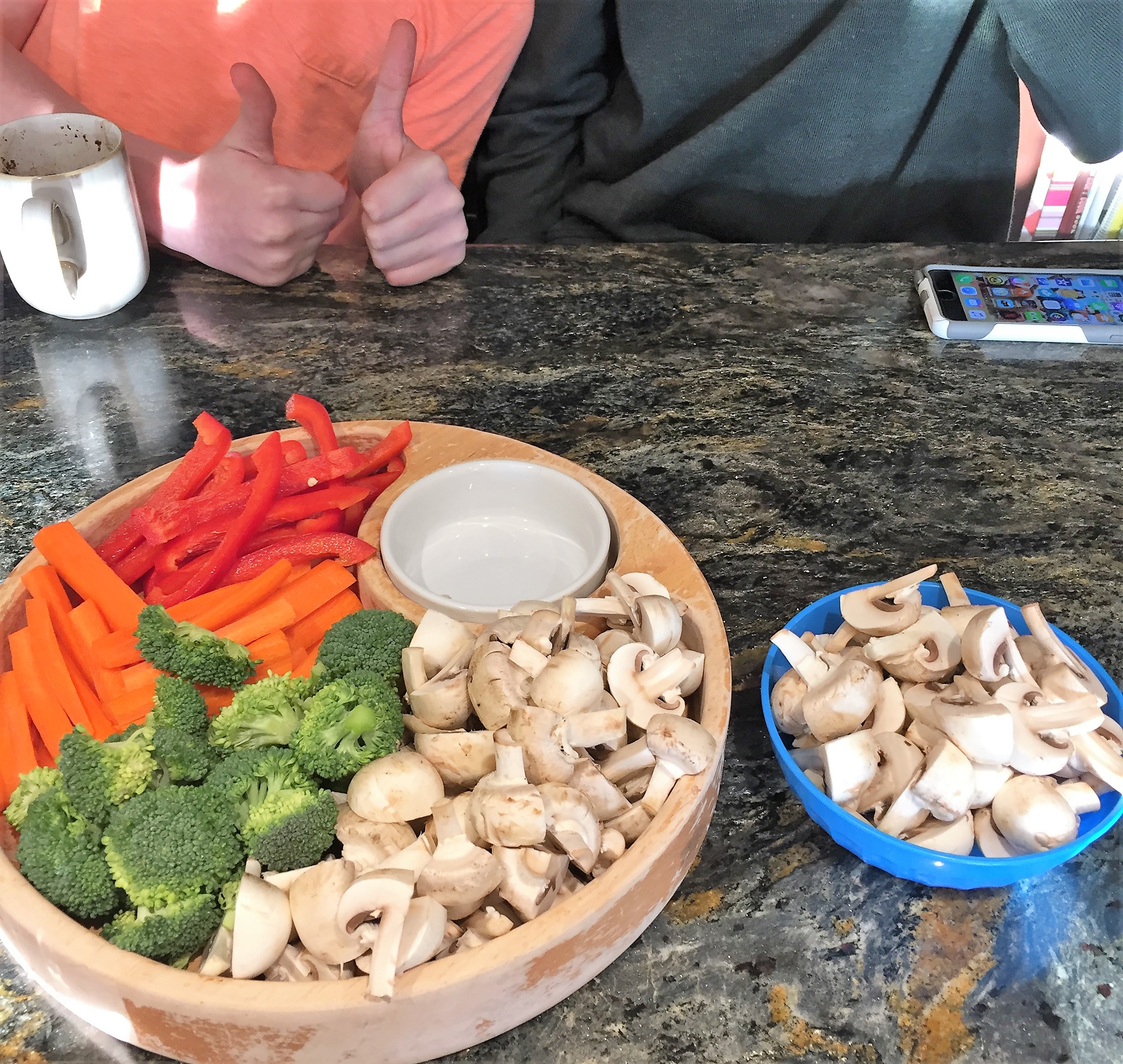 I start dinner prep when the boys get home after school. They hang out in the kitchen and eat – as they are walking bottomless pits these days – and tell me about their day. Something about me being occupied with knives and vegetables allows them to open up and chat before they scatter to parts of the house that I am not in. If I could give one piece of parenting teen advice, it would be to figure out WHEN they are willing to chat, and then BE THERE at that time.
Back to the pizza. My own pizza is less of a pizza and more of a pita smothered with as many veggies as I can pile onto it, plus Daiya mozzarella shreds. Most vegan cheese tastes like sadness, but Daiya is…pretty okay. At least it kind of melts. It's decent and serves the purpose, is what I'm saying. I also put sundried tomatoes on my pizza, which you can't see, but which elevate the whole thing.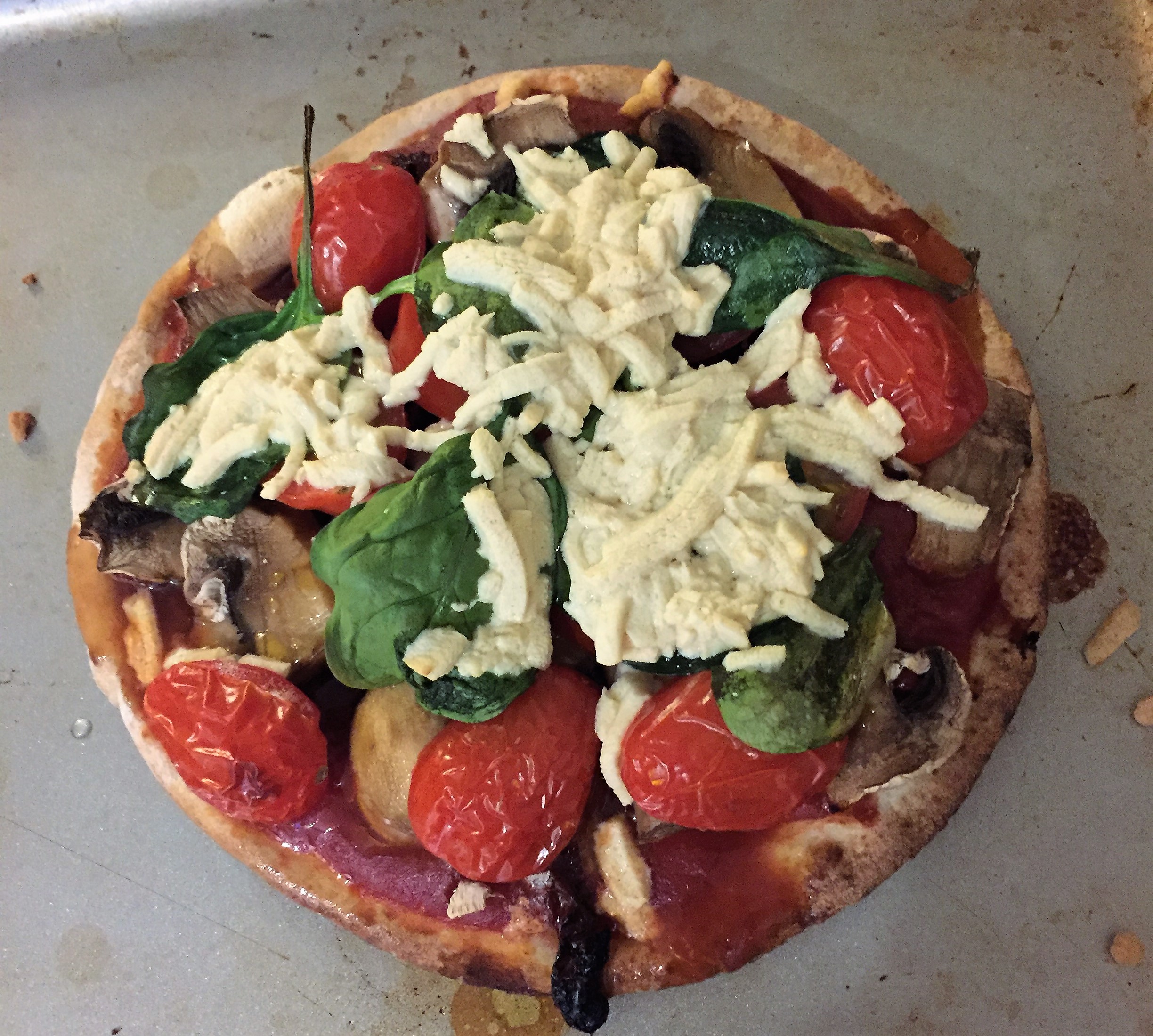 Wow, that does NOT photograph well. This picture reminds me of my Norwegian grandpa; he was, shall we say, not interested in consuming ethnic foods such as pizza. He was noted for saying, when viewing a pizza, "Who threw up on the lefse?" Oh, Grandpa. It's not like all Norwegian cuisine is something to write home about; let's not forget such atrocities as lutefisk. Whose idea was it to soak fish in lye and then EAT IT? Between my Norwegian and Scottish roots (HELLO HAGGIS) I've really covered all the Gross Food Bases here.
Wraps
Truly the easiest meal in the week; slice up vegetables and saute some chicken in olive oil for the guys. Serve with cheese and salsa for those who like it. I even buy shredded cheese which I never used to do but which ironically is less expensive in the long run as there is no waste, since only 2/4 of us actually eat cheese. I do not use Daiya on these because unmelted cold Daiya is pretty gross. Warm up tortillas and everyone serves themselves. Mine consist of a whole lot of avocado, pepper, and tomato, with heaping spoonfuls of salsa.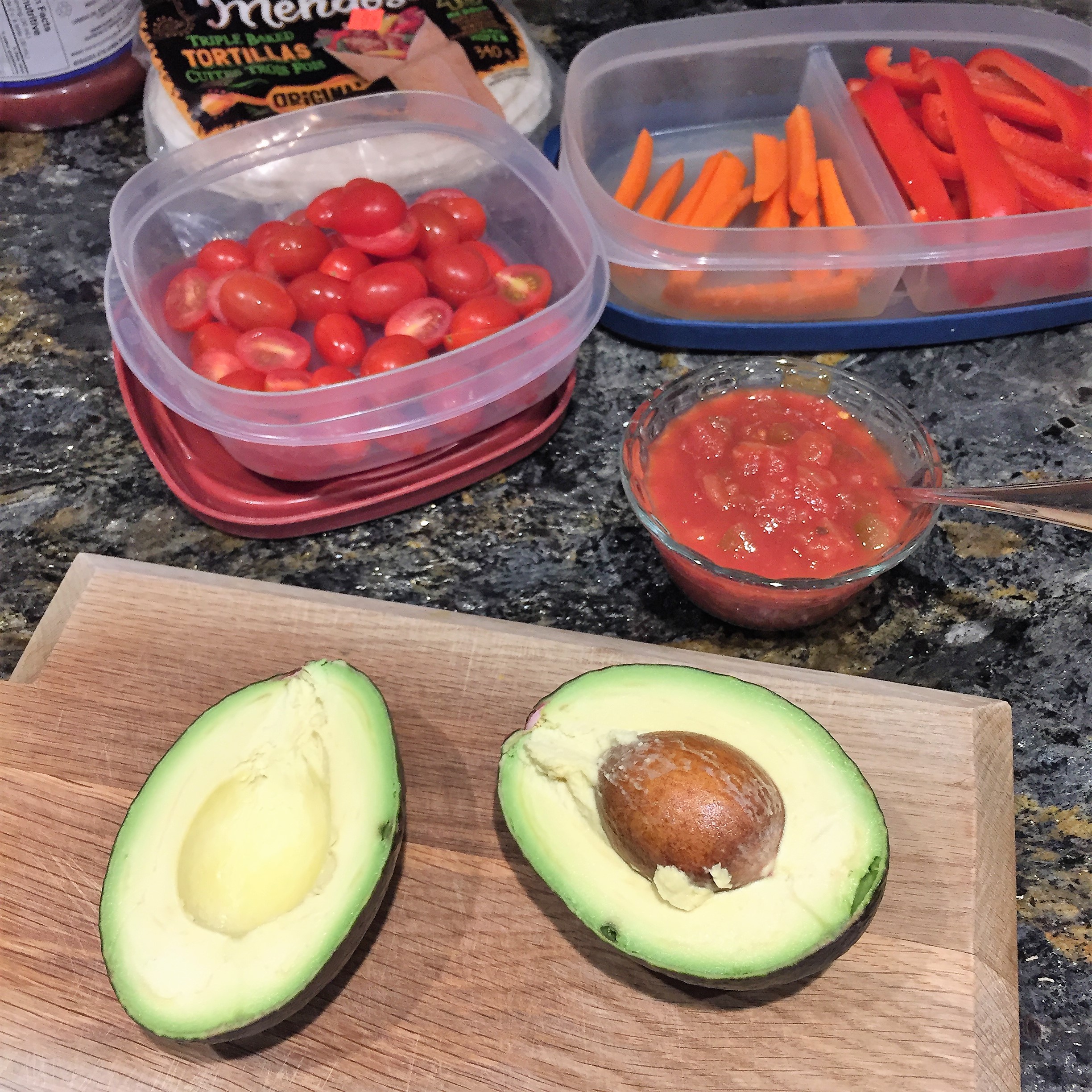 Will you look at that avocado? Is there anything better than a perfectly ripe avocado? Is there? Sex, I guess, but not too much else.
Taco Thursday
Not quite as simple as wraps, but almost, Taco Thursday is pretty popular. I use ground chicken for the guys, with just your standard package of taco seasoning. For me, I sprinkle black beans with completely unmeasured amounts of cumin, onion flakes, garlic powder, coriander, and chili powder. I just sprinkle until it looks good to me, and then I squirt some lime on top. Delicious and full of iron, protein, and all those good things that people ask about when you say you don't eat meat. Where do you get your protein? Those questions always make me want to make ribald and scandalous jokes, but I generally try to refrain.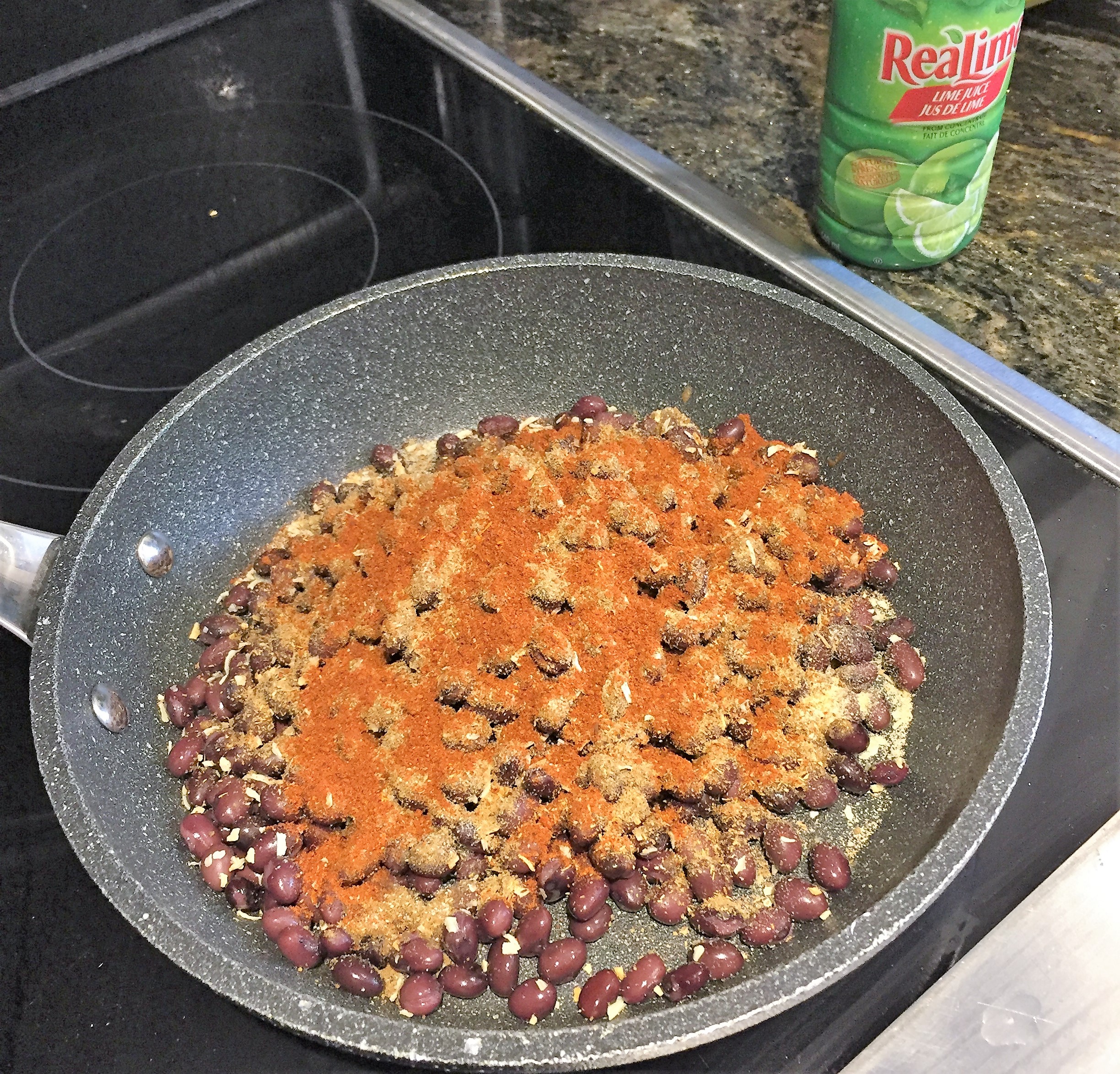 Today is Friday, which is my favourite meal of the week, and which also includes wine! Hooray! I'll chat about that next time, and until then, stay warm, my friends! xo