1) It has been unseasonably warm for the past week; the air feels soft, almost spring-like. I've been able to let the boys play in the snow after school until the sun goes down (i.e., 4:30) and I'm not even painfully frozen by the time we leave the playground.
2) While my friends and I were walking our dogs yesterday morning, we came across this and two other trees just like it: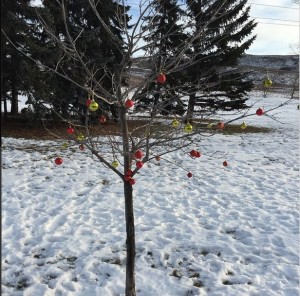 I keep picturing someone with an excess of ornaments heading over to the offleash, and it makes me smile. Frankly, it's inspiring. I have tons of extra ornaments, perhaps I'll start decorating the trees in the green space behind our house. Maybe the mannequin will come back, wearing a Santa hat.
3) I'm currently reading The Girl Who Saved The King of Sweden and it's delightful.
4) We went to see Big Hero 6 on Sunday and I found it very enjoyable, even if 50% of our family disagrees with me. I would love my very own Baymax to snuggle with.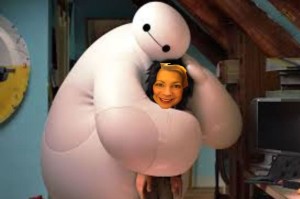 5) I went to the Ladies' Advent Luncheon with my mother, and one of the elderly ladies hugged me and said she remembered what an "exuberant young girl" I was, which I take as a compliment. Also, there were about four of us under age sixty and we all brought quinoa salads. Solidarity!
What's making you happy today?