Today I realized that as of tomorrow, there are only three more weeks left of school! June is a bit of an odd month, isn't it? On the one hand, I'm desperately ready for the summer to begin – lazy days, no more running back and forth to the school six times a day, no more volunteering (more on that later). I'm ready for sunshine, fun, and unscheduled days. But on the other hand, I'm really trying not to wish my life away since time flies quickly enough without me wishing for these beautiful, sunny, gardening-full days to be over. Also, I'm a little puzzled as to how I'm going to get all my work-at-home work done when the kids are home. I'll figure it out, I'm sure, but at the moment I'm wondering how I'll strike the right balance between "meeting deadlines in a reasonable manner" and "being a fun mom and creating summer memories that the children will cherish throughout their lives". We shall see.
Speaking of fleeting time, Mark brought home the permission slip for me to sign for the study of Human Sexuality. Eeeee, sex ed! I instantly texted my husband the news, who was confused and thought that I had to sign the permission form for him to take it next year, in Grade Five. NOT SO. I know that in fourth grade they really mostly talk about body changes, puberty, and hygiene – which, to be honest, a lot of the kids could use, I say from my experience as Book Fair Lady. Deodorant and toothpaste, two very vital items in the Division Two world. But still, sex ed. It seems so grown up. "It might feel awkward and embarrassing, but you can always ask questions!" I said cheerfully, from the minivan driver's seat. "Um, I think maybe we should ask DAD those questions," Mark replied. YES. GOOD IDEA. ASK YOUR DAD.
Volunteering, though. I have what is known as "volunteer fatigue" which means that I have lost all enthusiasm I ever had for doing things for the school. I remember when Mark started kindergarten, and I was so thrilled to be involved in everything, with fresh ideas and plans. Now I'm just like fuck it all, who cares about school supplies anyway. I was asked to speak at the kindergarten orientation tomorrow night, which I've done in years past. Sure! No problem. I can come in and give a five minute speech about how volunteers are the backbone of the school community and education is a partnership between home and school, and please volunteer for the upcoming casino fundraiser, it's awesome and we can buy SmartBoards. I can keep the cynicism at bay and put on my super fun enthusiastic face and all the cool kids are volunteering! But then I got an email asking me to come in at six, set up a table with handouts, and then be available for informal questions until 7:30. THE BEES ARE DOING WHAT NOW. I stewed about this for a bit, and wondered how on earth I could pull off such a thing, given that tomorrow the boys have karate and karate nights are a mad rush of everything. I grumped around feeling taken advantage of, until I realized that hey, this is a volunteer gig. I can change this. BE THE CHANGE YOU WANT TO SEE, PEOPLE. I emailed the AP and explained that I could do as she suggested, but maybe it would be more effective to give a brief speech about the importance of volunteering and the casino fundraiser, and then I could leave a signup form, and that would be my strong preference. She agreed to it all, and I was reminded that, yet again, the squeaky, but honey-sweet wheel gets all the grease and bees. Or something.
On Monday I was at a pie party, to celebrate the one-year anniversary of Rolling Spoon. If you're not reading it, you should: it's a fun mix of food and music. Also, they interviewed BLUE RODEO. Just like that time I met Jim Cuddy! Remember that? No?
But a pie party! Even though I don't actually like pie, it was a blast. It turns out that I am in the vast minority, here, and that pie is very popular. Look at all these pies!
I have to say, I'm pretty disappointed no one put a slice on the floor and yelled "FLOOR PIE!".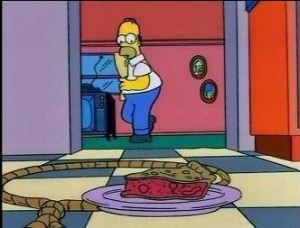 Maybe next time.