I love my neighbourhood. Today, within a 45 minute span, I did the following: dropped off the kids at school, went to the bank, went to the library where I got a new card to replace the one I've had for probably 30 years, bought dog food, put gas in the van, and picked up a bag of groceries. I have to wonder that if the grocery store was less convenient, would I be less laissez-faire about shopping? If I had to drive 20 minutes to get a package of bagels and some corn, would I be more thoughtful about my purchases? Probably. In any case, my quick stop at the grocery store was a bit longer than it would have been, due to a backlog of shoppers at the U-Scan checkout. It was all due to an elderly man with a full cart of groceries, who should have probably just saved himself and others around him much agitation by just going to the regular lineup. Om Shanti. I zipped my purchases through and left while still hearing the "Please wait for an attendant" automated voice over and over, and the man himself bitterly complaining that there WERE no stickers on the potatoes, so how could HE know what the code was? Word. Regular lineup, sir.
But, we must be patient, because one day we will be the elderly people holding up the U-Scan line. One day it will be me, and I will be fumbling in my giant purse that matches my pumps, with my slacks and plastic jewelry, wondering what the code is for KALE because it isn't ON THERE and WHY is it beeping?
Last night when Jake was writing in his reading log, he exclaimed that it was the last day of April, and to him, April went by really quickly. "Life goes so fast!" he exclaimed, Ferris Bueller-style, and I agreed. Time makes you bolder, etc. At this rate I'm going to be shopping for a giant purse in no time at all.
Speaking of giant purses, my friend Melissa Gaston at Yummy Mummy Club is having a Photo a Day challenge for the month of May, and today's prompt is "In Your Bag". Challenge accepted, Melissa! Not only did I take photos of the contents of my (non-giant) purse, I am also going to walk you through it. What could be more fun than snooping in someone's purse? What's that you say? Spring cleaning is more fun? Nonsense!
In My Bag
The truth is that in the past few years I've really whittled down what I carry around; I'm not just talking about when I would pack like a Sherpa for a day at the playground when the boys were little. I mean, up until a few years ago I would have everything from winter gloves – no matter what the season – to snacks and water bottles in my purse, and let's not even talk about how I had a compulsion to carry around every single "club card" from every store I ever frequented in my wallet, like George Costanza. As you can see, I've got the usual things: slimmed down wallet – no more club cards, except for grocery stores – sunglasses, car keys that have "in case of emergency" hair ties twisted around them.
I don't know exactly why I have a pencil and four pens in my purse. Well, actually, I do. Every time I go to a School Council meeting, I grab my notebook and throw a pen into my bag, never to be removed. Also: two nail files because one is not enough and also I get them free with pedicure. The toothbrush holder in the background holds no toothbrush. It is the perfect little compartment for a tampon. In these days of uncertainty, you never know when you might need one!
Yes, I have nine different lipsticks and glosses in my purse at any given time, but who doesn't, really? Also hand sanitizer and a dog poop bag. These two are related. I also found a rock that one of the kids gave me for safe keeping from our recent trip to Maui. I should probably do something with that. (Why is your bag so heavy? Rocks.)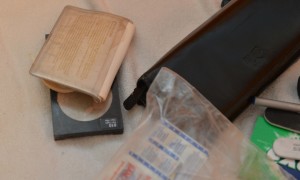 Not only do I have every lip product for every occasion at any given time, but I also have a powder compact, puff, and blotting papers, because while I like having a shiny happy personality, I do not like having a shiny happy face. Well, the upside of shininess is the lack of wrinkles…oh wait. I have those too.
Last, but never least, the "purse sized" package of tissues and a bag of bandaids. We don't go through a lot of Band Aids in our house; I guess we're not bloody folk around here. However, I have a plethora of cute, impulse purchased character bandaids. My children are now at the age that they would probably bleed to death rather than use a Spiderman bandaid, but dammit, I still have a full box of them. The solution, as I see it, is to keep them in my bag for playground emergencies as I am the Official Playground Bandaid Mom. Some child is always wiping out and nothing calms a sobbingly hysterical child like a Phineas and Ferb or Angry Birds bandaid for the teensy scrape on their knee. Just yesterday I supplied a Transformers bandaid to a little girl who had burst a blister while playing on the monkey bars; I had sold it as a Scooby Doo one but she was satisfied with Bumblebee.
I should note that my friend Lyn gave me Hello Kitty bandaids a few years ago and I share them with NO ONE. I love them so much, I'm practically TRYING to slice my hand on the grater.
This concludes the tour of my bag. Want to play along? What's in your bag?
****************************************************************
Speaking of bags, I have a bag of goodies for the winner of the giveaway, Nicole Sandblom. It was hard finding a bag that would fit the 4L of vinegar, but I did it. I kid! I kid! Congrats, Nicole, and thanks for playing, everyone!