On Tuesday I got the following text from my husband: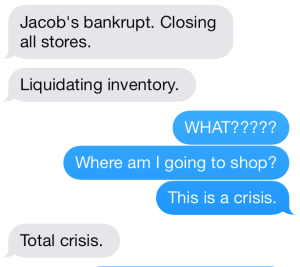 That text should probably tell you everything you need to know about a) my marriage and b) my husband, who immediately suggested I start shopping the liquidation sales before all my sizes are gone. He needn't have said anything, by the time I read the text I was online shopping.
This is a shopping crisis of massive proportions. Fully ninety percent of my non-yoga clothes – and one hundred percent of my sweaters – are from Jacob . People, what am I going to do? I've had some suggestions of other places with similar clothing, but I just…can't fathom life without Jacob. Their clothing was good quality, stylish, and age appropriate. I feel like I'm in a rowboat in the middle of the ocean with no oar and a Lieutenant Dan versus God-style storm brewing, but unlike Lieutenant Dan, I don't think I have the strength to fight this battle.
You see, despite what you may think if you looked at my overflowing drawers and closet, I don't actually like shopping that much, in that I don't like browsing around for things. For years – YEARS, PEOPLE – my entire shopping strategy has been this: walk into mall, walk to Jacob, buy things. I always knew what size I needed, I knew what would be flattering, sometimes I didn't even have to try things on. And now, I'm bereft. Am I going to have to go to different places and rifle through their racks, wondering what size I wear? Am I going to have to try things on, without the secure knowledge that I'm going to leave the store with nice clothes?
It's just too depressing. Did I mention the key points: stylish, good quality, AGE APPROPRIATE? Have you been to the mall lately? I feel like my choices are now Forever 21 or Tan Jay. I may as well give up and go through the rest of my days wearing a pink velour tracksuit with words on the bum, like the mom in Mean Girls. Or maybe go straight to elastic waist "pull-on" slacks and pumps.
Speaking of giving up and falling apart, it occurred to me the other day that tending to the aging body to maintain a graceful level of beauty is not unlike being a farmer of a very delicate and fussy crop, like basil, maybe. One wrong move and it's all shot. I was plucking my eyebrows/ upper lip/ chin, and thinking about how I needed to book a wax, and when was my next hair appointment, and I thought, what if I just stopped. What if I stopped all beauty rituals, what would happen? How long before I turn into Martin Scorcese/ Frida Kahlo/ Tom Selleck/ Bride of Frankenstein, with Yeti-like hippie legs and sandpaper hands. I'm guessing a week at best.
Well, I'm not ready to give up quite yet, despite such soul-crushing realizations. In the meantime, if anyone needs me, I will be in my room, rocking my collection of black sweaters and singing Goodbye Yellow Brick Road. Either that or liquidation shopping.